MUSIC
Kesha enlists Brian Wilson, Sturgill Simpson, and old Ke$ha to create a sometimes jarring portrait of herself, past, present, and future.
Kesha's fourth album High Road begins with a near-perfect hook.
"Tonight is the best night of our lives," she sings over an ear-worm of a chord progression, voice awashed in auto-tune. Suddenly the music stops. "B*tch, pick up your phone," a voice says. "We're going out."
It's jarring, tongue-in cheek, and a bit messy, like the rest of High Road. Kesha's always toyed with the limits of pop, balancing kitsch and genuineness, and true to form, High Road ricochets back and forth between pristine euphoria and camp, between childlike wonder and jaded ennui.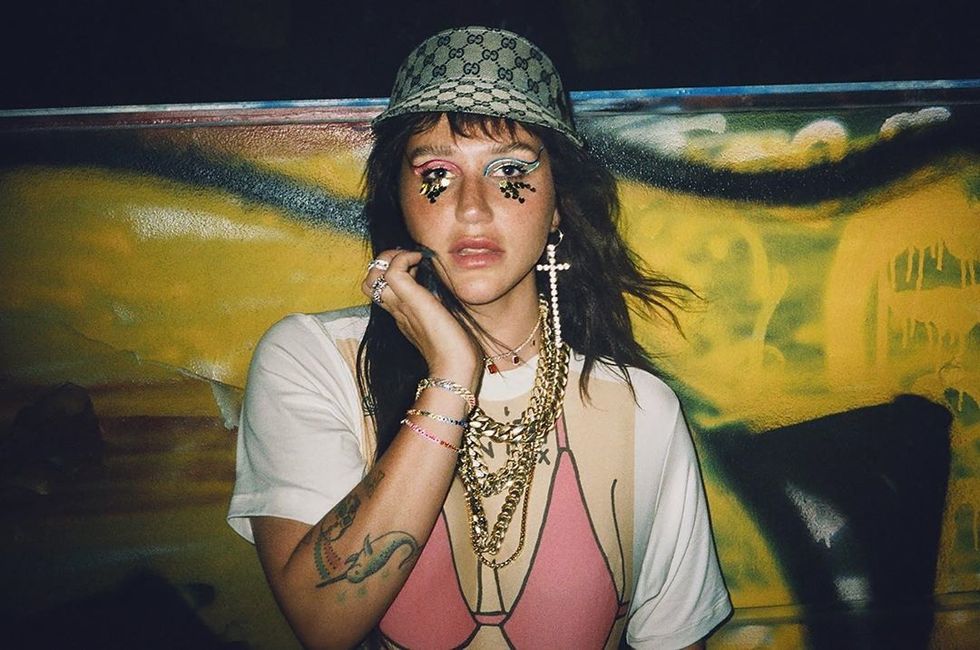 On "Shadow," Kesha flips between reflectiveness and crudeness. "Imma love you even though you hate me," she sings. "Hate is the poison, love's the elixir. If you don't like me you can suck my…." Her voice spirals into a choir of eerily beautiful harmonies, perhaps one of the more elegant arrangements that the phrase "you can suck my" has ever been spun into.

Maybe the contrast is the point. Kesha is an artist, but her medium is pop music's cliches and reliable symbolism. She pulls from other stars, sometimes copying Cardi B's flow, arguably adopting a bit of a blaccent in songs like "Honey." The transition from "Honey" to "Cowboy Blues," an ethereal, deeply beautiful acoustic number that mentions cats and talks with therapists and tarot cards, is also startling. At times, walking through High Road can feel like traveling through a bunch of different sets in Hollywood—a party, then a bedroom scene, then a desert under the stars. It's hard not to think of Lil Nas X's kaleidoscopic rendition of "Old Town Road" at this year's Grammys; Kesha's album feels like a similarly endless rotation through a carousel of lights and sounds.
Hovering over High Road is the well-known story of Kesha's past. Her fraught relationship with Dr. Luke dominated the headlines for months, exploding after Kesha accused him of abuse that nearly ended her life and attempted to free herself of her contract with him. The case dragged on and on, and when Kesha was finally able to break the chains, what followed was 2017's Rainbow, crowned by the breathtaking power ballad "Praying."
High Road finds Kesha borrowing from the ragged seriousness of that era, choosing to blend it with the glittery, vodka-soaked, gold-tooth fragments of her past and adding a sprinkle of openhearted optimism. Some of the album is so saccharine and manufactured that it's hard to listen to—the calliope-influenced, "Potato Song" could soundtrack mind-bendingly annoying TikToks—but it redeems itself with moments of beauty that feel like deep breaths. Similarly, the cosmic folky flashpoint "Chasing Thunder" is an inspiring power ballad which offers more scope than the glitchy cliches of the earlier bangers, but it winds up losing some of its power as it progresses instead of building to a truly satisfying chorus.
Few albums contain such an even mix of beauty and stupidity, of ugliness and effervescence. Kesha pulls it off with a wink, taking the high road and shrugging off the heaviest parts of the suffering that weighed over her for the past decade while not denying their existence. She practices self-confidence, but at the same time, she searches for unreliable men as if they could save her—an absent father and a man she briefly met at a Nashville bar both represent paths towards redemption and innocence that went untaken. Now all she has is herself and her scars, and she both celebrates them and mourns what could've been.
Maybe that's what we need nowadays—a movement towards optimism that doesn't disavow pain and suffering. Maybe we should be like Kesha on High Road, embracing the fact that none of us are just one thing; we're all collages of shallowness, mistakes, triumphs, Netflix binges, wild parties, best friends, transcendent experiences, days spent in bed, heartache, daddy issues, anxiety, clarity, and everything in between.
Kesha certainly thinks so. "You can be a woman who goes out and you party, and you have drinks … and you smoke some weed, and then you get a tattoo," she said to The Atlantic. "And then the next day you go for a run, and then you meditate, and then you go to the studio and write a song about a totally different emotion. That's just what being human is."