I'm constantly on the lookout for the best makeup brands on the market…and it's not solely dependent on what BeautyTok influencers tell me to buy. I try the product myself and get a sense of what works on me before making a sweeping judgment on the brand.
And while I agree that not every product works for everyone - especially foundations - I think there are some brands that just get makeup right. They don't skip out on ingredients, their products are long-lasting, and make you feel beautiful (like all makeup should).
With summer on the horizon, I normally ditch my full-coverage look for something more natural. After all, being tan makes me feel more confident and look less ghastly…so there's really no need for a full face. Let my freckles show for all I care!
But is the low-maintenance look as easy to achieve as it looks? My past attempts have said no.
For a less full coverage look, the obvious answer is a good skin tint. Skin tints and tinted moisturizers were all the rage last summer, thanks to the wave of lightweight products containing skincare ingredients like SPF and hyularonic acid.
However, despite the hype, some skin tints are not what they're made out to be. Firstly, they can transfer like crazy. If I accidentally touch my face, you can almost guarantee that some will show up on the back of my hand. Plus, the dewy look skin tints and moisturizers can melt into a sweaty mess by lunch, especially in the heat.
After a summer sweating through my attempts at the #CleanLook, my three requirements for summer makeup products were born: it has to be long-lasting, buildable, and sheer coverage.
And recently, I finally tried one of the viral brands I had been coveting: Ilia. As part of the Clean Beauty Holy Trinity — Kosas, Saie, and Ilia — the brand skyrocketed to fame via TikTok and social media for their non-irritating ingredients that don't harm the earth or your skin.
Ilia's goal is to make you feel beautiful in the skin you have, mitigating the need to pile on makeup to feel good. They use sustainable packaging made of recycled aluminum and glass, and emphasize the fusion of skincare and makeup as one. It's the perfect brand to support: they don't test on animals, their ingredients are chosen with you in mind, and you're going to feel gorgeous as a result.
While this all sounds great, the true test was how the products actually looked on my face — and how well they worked with my tried and true favorites.
Here is my full Ilia Beauty makeup routine:

After smearing on a bit of the Patrick Starrr Secure The Sweat Primer, I was ready to try the iconic Super Serum Skin Tint with SPF 40…and I was in awe. First of all, it's light enough that it looks like skin, but with a few extra drops, it covers my acne scars and pimples if need be. I genuinely felt beautiful in my skin, glowing when the light hit … but never overly sweaty. With a touch of under-eye brightener, I didn't feel as much transfer as the usual tinted moisturizer. I hadn't even set my face yet. This truly is what dreams are made of.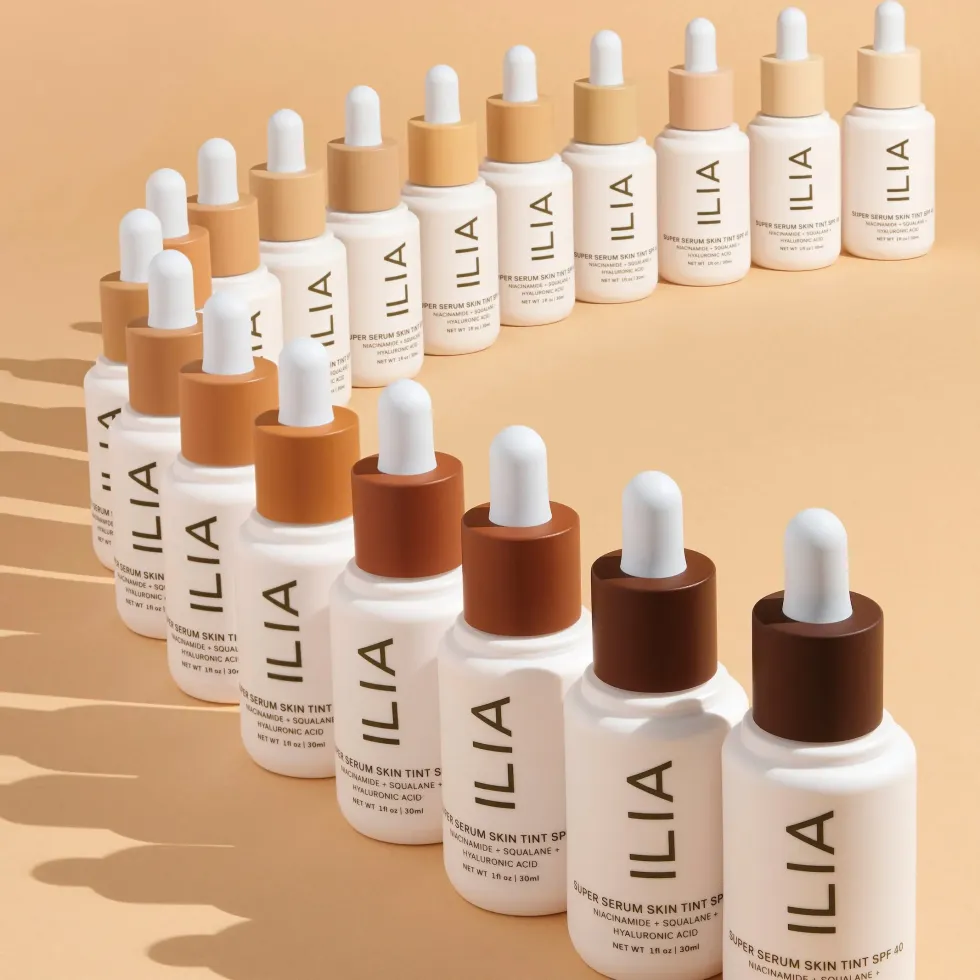 Ilia Super Serum Skin Tint
Ilia Beauty
If you know me, you know I'm all about my skincare, so heavy, pore-clogging products are a big No. With ingredients like Niacinamide for oil control in the summer, the Serum part of the Skin Tint supercharged my skincare routine … instead of sabotaging it.

Next up: the Multi-Stick in the peachy-pinky shade Whisper. For anyone who, like me, prefers quick and easy makeup in the summer, this is an answer to all your prayers.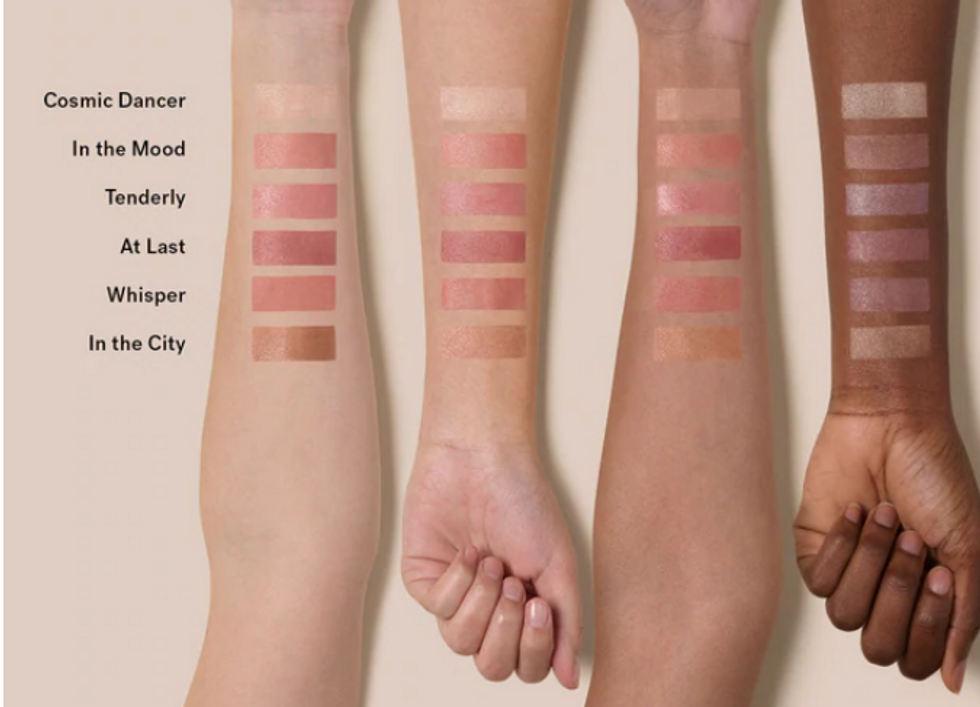 Multi-Stick Swatches
Ilia Beauty
I don't like to pile a bunch of product on my face, and I like compact packaging to keep in my purse for touch-ups. The Multi-Stick is a multi-purpose miracle. It's a blush and a highlighter and a tinted lip balm. Smear some on your cheeks, nose, and lips for the cutest flush of color. For me, this is a no-brainer, everyday use type of product. It's so easy to blend and gives a sheer glow reminiscent of Charlotte Tilbury.
To top off my look, I went with the Liquid Light Serum Highlighter in Atomic, a rose gold sheen. Let me tell you, a little goes a long way with this. I used a small drop on the tip of my finger and it was radiant. This serum highlight is also multi-functional - you can mix it into your foundation or use as a primer to give any foundation a dewy glow.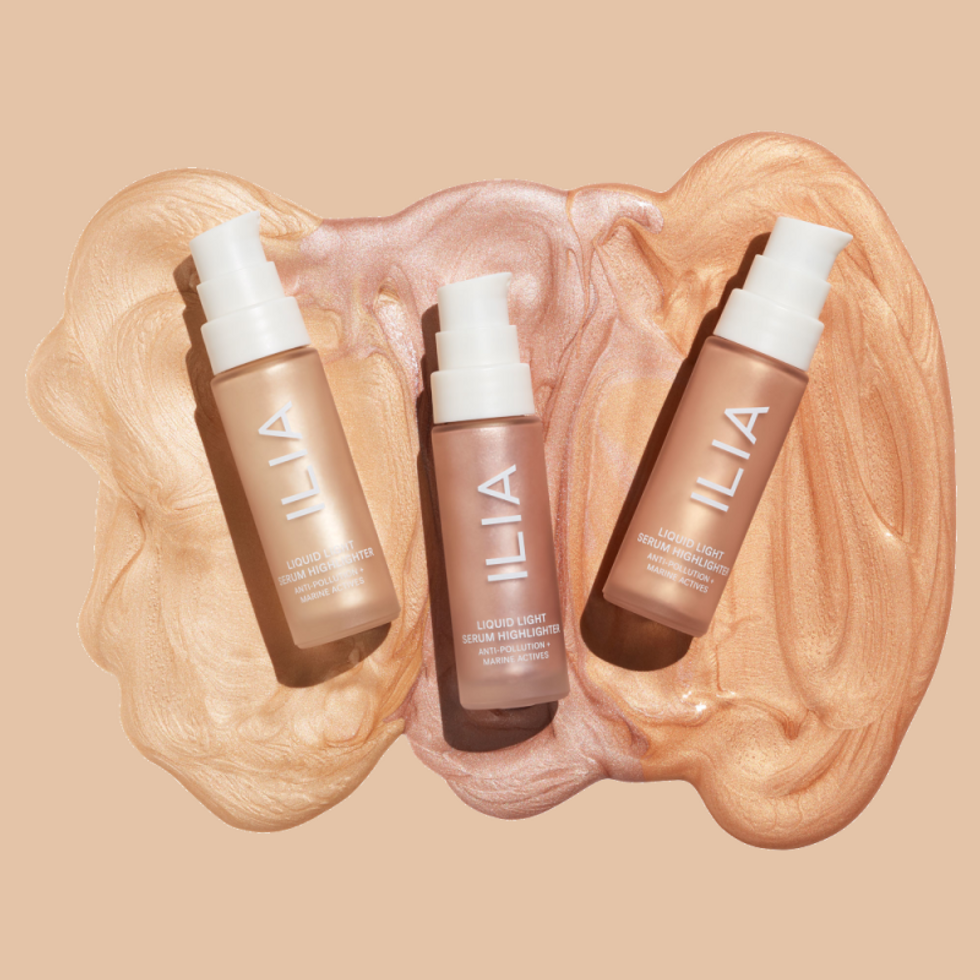 Ilia Liquid Light Serum Highlighter
Ilia Beauty
No look is complete without lips, so I chose the Balmy Gloss Tinted Lip Oil in the neutral shade Only You. I loved the doe-foot applicator made the product go on so smoothly, and it felt like butter on my lips. With Hyaluronic Acid, it's equally moisturizing.
Safe to say I was pleased with the products. In the mirror, everything looked great. But was it too good to be true? I was almost nervous to step out into the spring heat and potentially ruin the look.
Thankfully, my "all day wear test" proved that my makeup was staying put — a modern day miracle to most. With just a few products, Ilia made me feel like I could leave the house without scaring people. I looked well-rested, sun-kissed, and it lasted all day.