FILM
How a two-hour d*ck-measuring contest became a beacon for my masculine enlightenment.
We know the Fast and the Furious franchise.
It would be silly to try to pretend this series was going to offer anything even remotely resembling character depth or a logical story. That's not why people pay money to see these films. We pay for the stunts, we pay for the fights, and we pay for the explosions. But as a spinoff from the billion-dollar franchise, Hobbs and Shaw seems a little leaner than the films before it, a little more stream-lined, and weaker for it. The original Fast and the Furious franchise beat us over the head with a general theme of "family is important." Hobbs (Dwayne "The Rock" Johnson) and Shaw (Jason Statham) have no allegiance to this theme—or any theme, really. They're here to do one thing: be the manliest f**king men that were ever men on the goddamn planet.
Fast & Furious Presents: Hobbs & Shaw - Official Trailer #2 [HD] www.youtube.com
This wouldn't be the worst thing in the world if the film were to explore these elements in a constructive way—if they were to leverage the greasy, muscle-bound macho men to make a statement about… anything: our fear of automation taking over the world; our paranoia around secret, all-powerful organizations; the very real prospect that eugenics is inevitable, and we should all start freezing our reproductive material. Plus, that might explain some of the stuff the bad guy (played Idris Elba) was trying to do. Instead, director David Leitch, who previously directed Deadpool 2 and John Wick 1, continues his reputation for delivering spectacular stunts and gritty fight scenes. But when it comes to this film's dramatic, emotional beats, the opportunities escape him. This may not be entirely Leitch's fault. The script, written by Chris Morgan, only vaguely alludes to themes instead of actually exploring them.

But the ultimate problem is that Hobbs and Shaw is so damn tone-deaf about its own messaging that The Rock and Statham's characters are distractingly oblivious to how destructive and inappropriate their behavior is. As protagonists, their actions are framed as admirable displays of power, strength, and manhood. I'm here to be the buzzkill and call out that it's not cool—especially these days.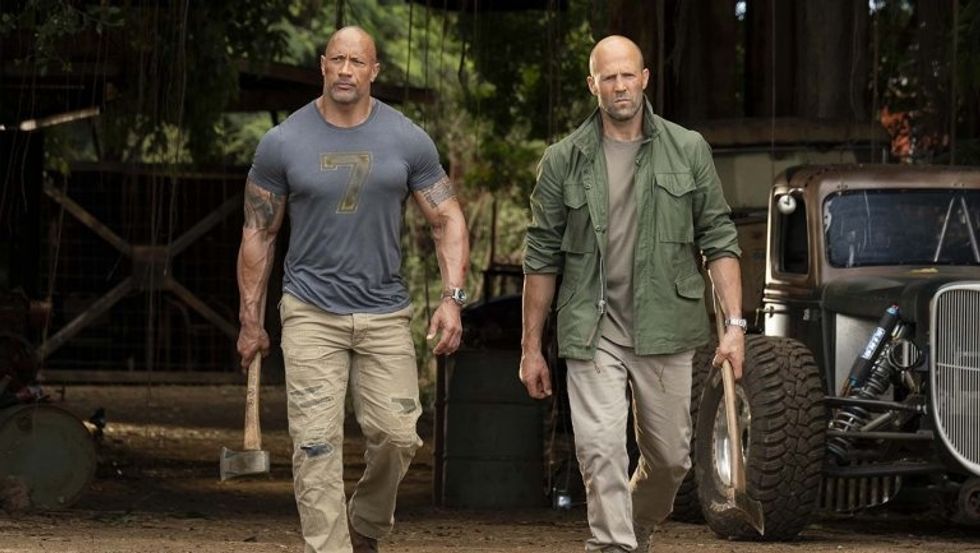 Source: Hollywood Reporter
Obviously, talking about toxic masculinity in media isn't new, and it's controversial by nature. It always pisses someone off, namely men; and as a man, I admit I have to readily check myself when someone writes something on the Internet that hurts my male ego. But you know what? Screw my male ego—watching Hobbs and Shaw is both a palate cleanser and a wake up call: It is pure male fantasy wrapped in childish wish-fulfillment, so much so that it makes an unwitting mockery of machismo in general. From the cinematography to the dialogue, you could teach a college course on toxic masculinity using just this film as a text. In short, toxic masculinity is the driving force behind every motivation of the film. The toxic elements in the film are easy to spot when you think about how all of the obstacles in the story get resolved. Inevitably, problems are solved in one of the following ways:

Being the strongest
Being hyper-competitive
Objectifying female characters
Being the Strongest (and inevitably the most violent):
While the old Fast and Furious gang drives cars, Hobbs and Shaw punch things. The Rock is a 6-foot-3-inch, 236 lb mound of muscle that is objectively the biggest and strongest "natural" human in the universe. He spends the entire runtime throwing furniture, smashing barriers, and bashing in bad guys. Statham's character is the same, except he replaces big, hulking brawn with slick, fast martial arts.
Is this awesome to watch? Absolutely. Does it get boring after the first hour? Yes, it does. These are two invincible, superhuman men, careening through piles of faceless baddies. The Rock runs down the side of a goddamn building holding a steel grappling hook with his bare hands. They will always win. Similarly, there's no substance to their characters other than being really strong. Apparently, that's all you need to be a hero.
Hobbs Vs Shaw - Elevator Fight Scene - FAST AND FURIOUS 9 Hobbs And Shaw (2019) Movie CLIP 4K www.youtube.com
Being Hyper-competitive:

Hobbs and Shaw do not like each other. From their very first moment on-screen together, they exude nothing but contempt for each other's existence. Their relationship is a back and forth tit-for-tat that never ends. The Rock and Statham have fantastic chemistry, but they're subjugated to such childish dialogue that I couldn't tell if the jokes were written or just spit-balled on set. Although that's not to say that some weren't funny.
Their competitive behavior did bring out the funniest scene in the whole movie.
Pick A Door Fight Scene - FAST & FURIOUS: HOBBS AND SHAW (2019) Movie Clip www.youtube.com
Objectifying Female Characters:

As the worst action-movie trope goes, any female character with value in the story must be either sexy or ass-kicking––two traits men find desirable and all-too-often mutually exclusive. Hobbs and Shaw leans into this trope hard. There are a total of four female characters with speaking roles in the film, and two of them are the main characters' mothers. As for the remaining two: One's reduced to being simply "sexy," and the other "violent." Admittedly, I don't even remember the "sexy" one's name. She's barely even introduced as a person; instead, the first time she appears on-screen, she blankly walks into the room, waits patiently for Shaw to approach her, and then they make out. That's basically all she does.
Vanessa Kirby plays the second female character with a speaking role, and she at least has a modicum of development. She starts off being a badass MI6 agent who is just as physically capable as all the men. She even has some emotional depth through her relationship with her brother, Shaw. But once she's infected with the super-dangerous virus (that the film tries to pass off as a plot), she loses most of her agency. She completely relies on the boys to get her out of a jam, which they are both more than happy to do.
Hobbs & Shaw's Sister Fight Trailer (NEW, 2019) Dwayne Johnson Movie HD www.youtube.com
Therein lies the problem with having violence dictate the progression of the story. There's no room for characters to make any meaningful choices that reflect who they are as people. We can't have anyone figure anything out without punching, because that's all the characters are shown to be capable of.
With all that being said, America seems to like this movie (enough for it to earn $181 million at its opening). I enjoyed it, too, in spite of myself. The Rock is limitlessly charming, and Jason Statham has incredible charisma and great comedic timing. They both kick-ass and are really fun to watch. But I'm going to argue that a $200 million action-blockbuster can be successful with more than just brute, gratuitous, man-child pandering. We can reach deeper into ourselves and find a story that goes further than punches and sexy ladies. I don't know what that looks like yet, and I'm not sure 2020 will have anything new to show us, either.