CULTURE
"I always thought I had to be gay, because I thought all guys were evil, but it's not true."
For those still celebrating Miley Cyrus as a queer icon, may we invite you to take a moment to reconsider.
Yes, she came out as pansexual and genderfluid in 2015, soon proving herself to be an advocate for the LGBTQ+ community by founding Happy Hippie foundation for homeless queer youth. Then, after ending her marriage to Liam Hemsworth, Cyrus briefly dated reality TV star Kaitlynn Carter before moving on to Cody Simpson, with whom she did an Instagram live on Sunday. Here's where things got...dicey, to say the least.
In the midst of the livestream, Cyrus stated, "There are good men out there, guys, don't give up. You don't have to be gay, there are good people with dicks out there, you've just got to find them," She said, while Simpson laughed. "You've got to find a dick that's not a dick, you know? I always thought I had to be gay, because I thought all guys were evil, but it's not true. There are good people out there that just happen to have dicks. I've only ever met one, and he's on this live."
Miley Cyrus: "You Don't Have To Be Gay"! | Perez Hilton www.youtube.com
Oof. Miley, honey, it's 2019! Twitter, of course, immediately popped the f*ck off.
Miley, this is so not it. Women don't "have to be gay" because they "can't find a good person with a d*ck". Don't… https://t.co/EF351icb3E

— Rosie Percy (@Rosie Percy)1571642656.0
Soon, Cyrus wielded a powerful, often misused celebrity weapon: the notes app apology.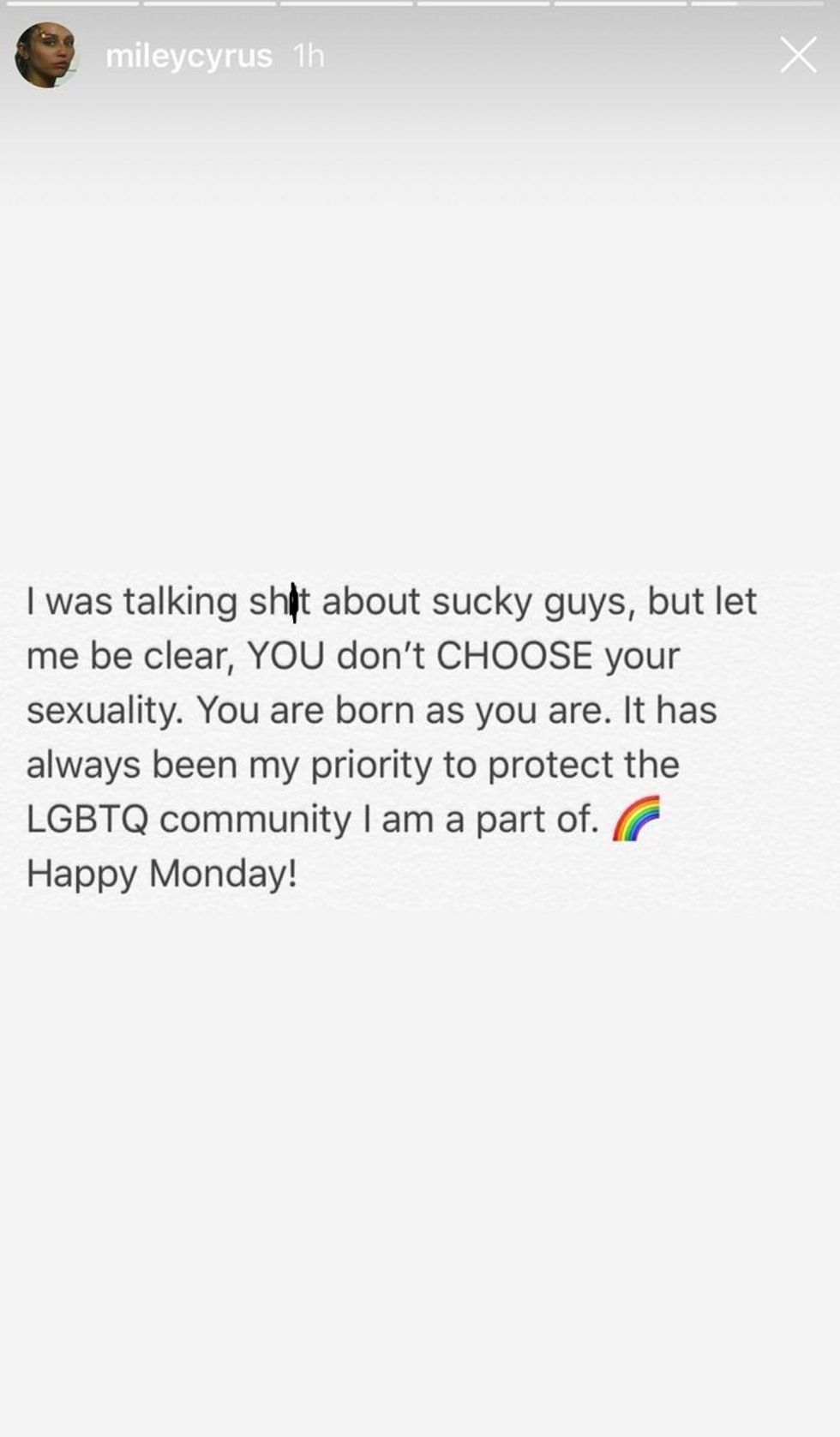 So. There's a lot of toxicity to unpack here. Let's start with the easy part: Cyrus' implication that the only good man she has ever met is Cody Simpson. *Cue her father, brothers, and Liam Hemsworth giving the camera a long, Jim Halpert-esque look.* Misandry aside, Cyrus implied that 1.) Being queer is a choice. 2.) Dating men is always preferable to dating women, even if you're queer. 3.) Cyrus herself chose to date women because of a distrust for men, not necessarily an attraction to women. None of these things were addressed in her apology; in fact, she didn't even bother to claim that she misspoke or that it was meant as a joke. All she really did was re-enforce that men are sh*tty.

To be clear, for anyone still living in 1950, being queer is not a choice, dating within the LGBTQ+ community is not an exciting and temporary foray into counter-culture on your way to a heterosexual relationship, dating men as a bisexual/pansexual woman is not somehow inherently preferable to dating women, and you don't get to call yourself queer just because you find men annoying sometimes. Being queer is defined by being attracted to genders other than the opposite gender to your own, and again, it is NEVER a choice. Just a little bit louder for those of you in the back: BEING QUEER IS NEVER A CHOICE.
If you still aren't sure, here's some science for you: A 2019 study by Andrea Ganna, lead author and European Molecular Biology Laboratory group leader at the Institute of Molecular Medicine in Finland, said that while her study did not find a "gay gene," it revealed "there are a number of genetic variations that can influence sexual behavior." Essentially, the research reinforces that queerness is simply "a natural part of our diversity as a species." That means that women being attracted to women is not simply a matter of thinking "all guys were evil" and so resorting to women—it's a matter of bonafide, biological sexual attraction.
Please do better, Miley.
From Your Site Articles
Related Articles Around the Web