Music Lists
The magazine put out an ill-advised campaign that proclaimed "Black is back."
ELLE Germany has come under fire for a new editorial campaign called "Black Is Back," which was offensive from start to finish.

The first problem begins with the ill-advised title, which seems to imply that blackness is a new trend, something that can be put on and taken off.
That wasn't all. The editorial used a photo of a model named Naomi Chin Wing with a caption that referred to a model named Janaye Furman. To add insult to injury, an issue called "Back to Black" of course features a white model on the cover.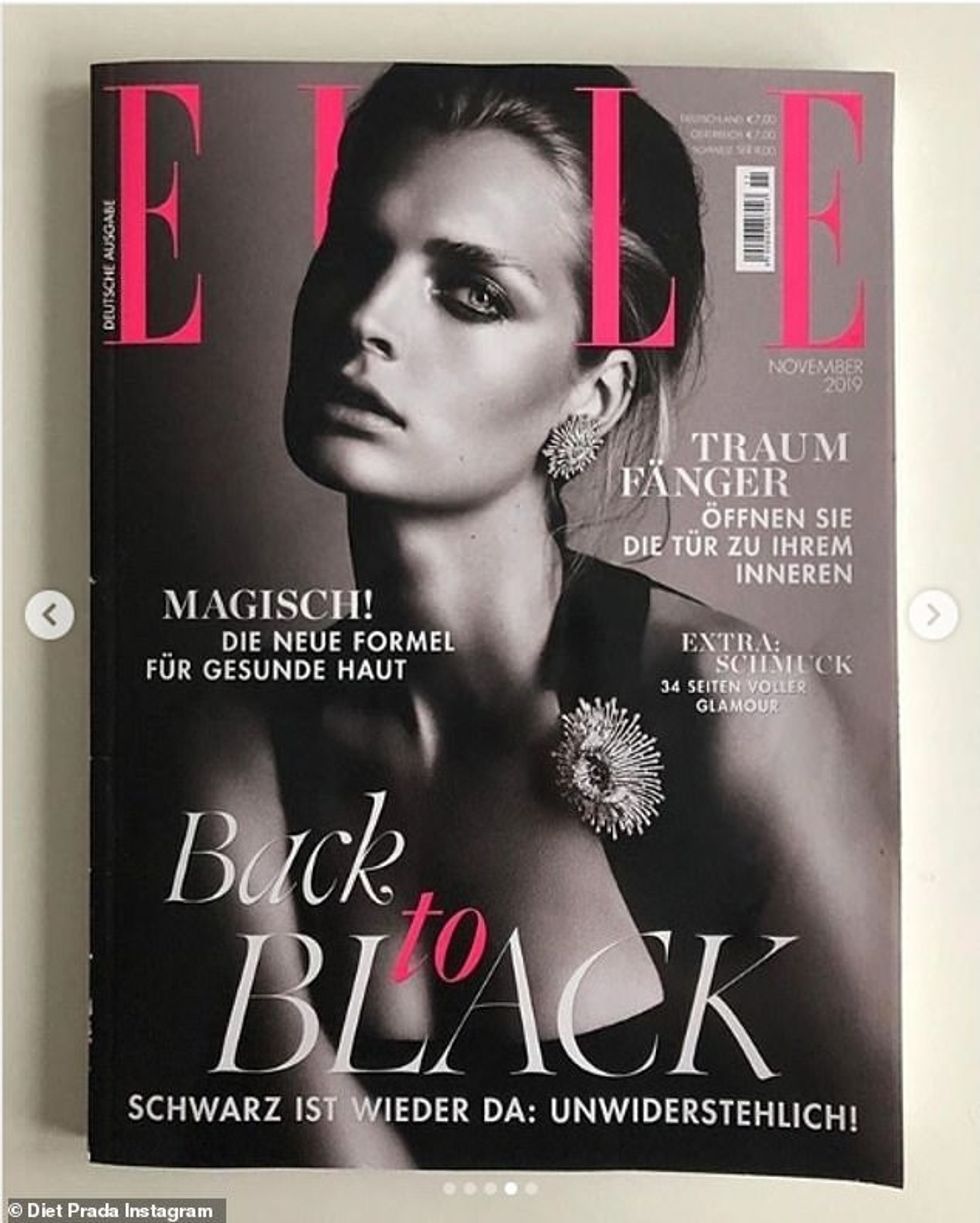 Daily Mail
Naomi Campbell lashed out at that, posting the caption, "This makes me so sad to see this, @bethannhardison @the_real_iman and I are here if you are not clear on the guidelines of diversity," Campbell writes. "Your mistake is highly insulting in every way ... I've said countless times we are not a TREND. We are here to STAY." She continues, "I too in my career have seen pictures of others models called me just because of the color of our skin, and recently seen many pictures of models of color being called being @adutakech... do you know what it feels like to do the job (@naomichinwing) and not even be given the right name credit?"
Adut Akech, a model who recently faced a similar issue—a photo of a different model was used in an interview with her—also commented, "SO SICKENING!! I'm over it honestly."
For her part, Janaye Furman posted herself sipping tea with the caption #blackisback.
The magazine's actions were first called out by the account Diet Prada on Instagram, which reports fashion industry missteps.

ELLE Germany responded with an Instagram post of their own. "This obviously was not our intention and we regret not being more sensitive to the possible misinterpretations. Misidentifying the model Naomi Chin Wing as Janaye Furman is a further error for which we apologize. We are aware of how problematic this is. This has definitely been a learning experience for us and, again, we deeply regret any harm or hurt we have unwittingly caused," it read.
Though this campaign is particularly riddled with missteps, this is far from an isolated incident. The fact that fashion magazines seem to have such poor sensitivity towards race reveals a chronic lack of diversity in higher-up editorial positions, and a lack of care and sensitivity in general. We can call-out publications for their mistakes all we want, but what we really should be calling for is an increase in diversity in all spheres of the media industry.

As one commenter wrote on ELLE Germany's Instagram post, "Perhaps if you had people of colour on your team (whose opinion you value), it may perhaps be an opportunity to make better executive decisions?"
Surface-level representation means nothing if it doesn't use input from the actual group that's being represented, and too often, diversity is used as a performance, something used to sell products. This is a problem that extends to the whole magazine and media industry. A 2018 study from The Guardian reveals that of the 214 bestselling magazine covers published in the UK last year, only 14 of them featured people of color on the front. The issue extends to children's magazines, meaning that so many kids still aren't seeing themselves represented in positions of power. While magazines like Vogue and Vanity Fair have made efforts to prioritize diversity, it isn't enough.