Losing weight may feel like an impossible feat if you've tried 100 times, 100 different ways. Sure it's difficult, but worse than that, it can be so inconvenient to completely restructure how you eat.
The help of a leading organization in the weight loss industry can definitely make a difference.
We put the top three weight loss programs to the test to see who'd come out the winner: Nutrisystem®, WW® (Weight Watchers®) or Noom®.
Ready to lose weight and feel great? We broke down all three options to help you figure out which is best for you!
Some Key Similarities
All three plans are designed for moderate and steady, long-term weight loss through healthy changes.
All have mobile apps available to download.
All programs promote physical activity but don't require it.
All have accessible support or coaching available
Some Key Differences
Nutrisystem® sends you high-quality pre-packaged, pre-portioned meals and snacks right to your door.
WW doesn't offer meals, but they offer some breakfasts, snacks and beverages.
With Nutrisystem®, you don't have to keep track of any numbers, but with WW you keep track of points
Noom requires you to log your process daily after each meal and after each workout.
Noom offers no food options
With Nutrisystem®, no foods are banned - you're just eating healthier versions of your favorite meals
Nutrisystem® Overview
Nutrisystem® has been around for over 50 years, so it's definitely not a fad. They have a strong reputation with a nutritionist-curated diet and use science focused on lower-glycemic foods for healthy weight loss and high-protein plans to control hunger. Nutrisystem is designed to keep blood sugar steady and show you how to achieve results that last.
New for 2022, there are so many premium foods that rival your restaurant faves; what other weight loss plan has Bistro-Style Toasted Ravioli with three cheeses for only 280 calories?! There's also pancakes, chocolate cupcakes, tomato soup, burritos, and more.
Nutrisystem doesn't believe in skipping meals to lose weight. One key factor with their plans is that you are encouraged to eat six times throughout the day. This strategy helps fight hunger and keep you full and satisfied longer.
There are several different Nutrisystem® plans available. The one you select will depend on your menu preferences and how many meals you want Nutrisystem® to prepare for you. They even have options for multiple lifestyles: a diabetes plan, and a plan you can do with a partner!
What we like the most aboutNutrisystem®is that the meal plan is simple and easy to follow! Instead of worrying about your next meal, you have perfectly portioned options waiting for you to microwave or heat up in a skillet in minutes.
You also still get to enjoy flexibility; cook up a family favorite or dine out at your favorite restaurant. With a balanced meal plan and so many tasty options, you'll stay away from mindless snacking, lose weight and learn how to keep it off.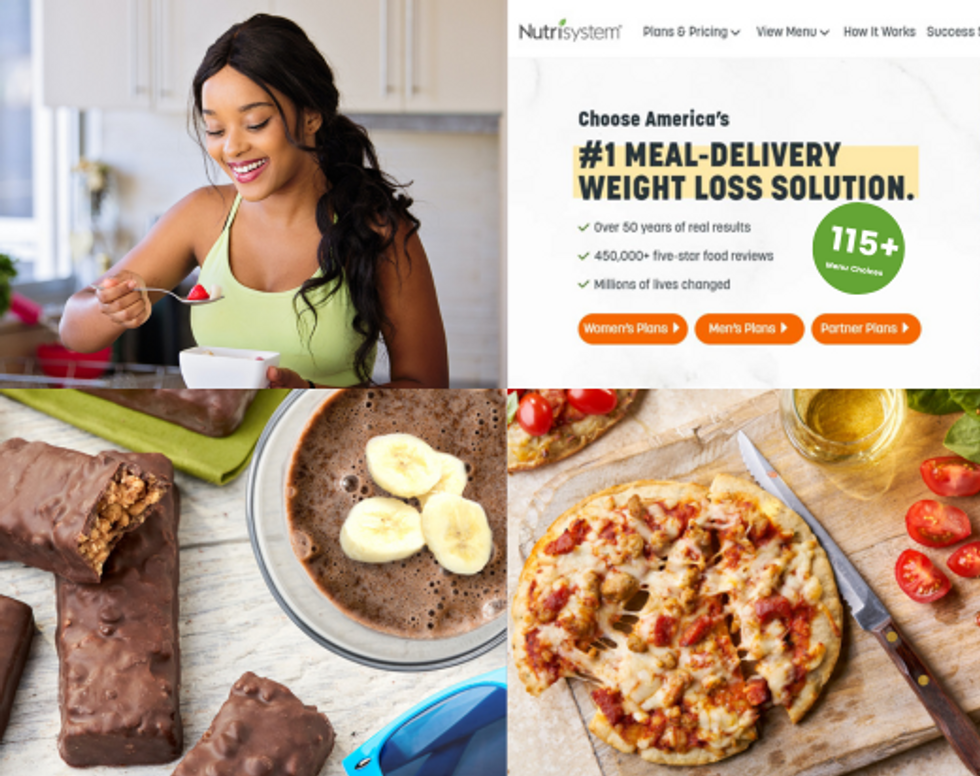 WW Overview
Weight Watchers rebranded to WW, with the tagline "Wellness That Works." The program works on a point system; foods and snacks are assigned a certain number of points and you have an allotted number of points or calories each day.
There are a great deal of zero point foods like certain fruits, vegetables and soups, plus an app that boasts individual customization.
You have to make the majority of your foods unless you subscribe to their snacks, and there isn't much of a focus on the nutritional value of foods. The point system is cumbersome, and may be hard to follow with a busy lifestyle. Without the options to enjoy your favorite snacks and desserts, one may go off course due to extreme cravings.
On the app, they match you with a color (blue, green or purple) and offer food choices and point breakdowns for your goals. They also have recipes, workouts and a social network of users.
WW has three different plans with different pricing and features. These range from a Digital membership to a combination of Digital and Workshops and Coaching. You might be able to find WW in-person meetings near you.
Noom Overview
Noom is strictly app-centric with a focus on behavior modification techniques, tracking, and customization.
You begin with a detailed quiz to determine what kind of recommendations they'll make for you (like if you need physical modifications or have allergies). However, they've come under fire for giving users the same results no matter their quiz answers.
The psychology has been critiqued for creating fear around certain foods and the technology skews towards the easiest-to-track foods (takeout) versus homemade ones.
The other downfall of the app is that in order for you to see those big wins, they might prescribe too few calories, so you'll see the number change on the scale, but it won't be sustainable.
They require a few minutes a day to give you a plan on exercises, foods to eat, and habits to break.
There aren't any official Noom foods or exercise classes.
Final Notes
All three can work, however, we're fans of Nutrisystem®. The convenience of having your foods delivered (and the fact that they're tasty and filling!) means you may not be as tempted to veer away from your goals. With Noom and WW, there's still an abundance of choice and a lack of convenience that can take you away from your goals, and too much tedious focus on numbers.
Getting a four-week meal plan delivered just makes everything so easy. Depending on your plan, you're still able to eat your own food or even celebrate with food in a smart way; they focus on the nutritional value, so even cookies have their purpose in your diet. Their longevity in the business (50 Years!), along with their commitment to continually innovate new recipes make them a success. New for 2023, you'll find high-protein Hearty Inspirations like Chicken Pot-Sticker Stir Fry and delicious Restaurant Faves like a broccoli cheddar soup even better than your local cafe.
We want a plan that makes weight loss as easy as possible, still tastes great and has us feeling full; we want delicious nutritionist-powered filling meals of the sweet and savory varieties, an app option (NuMi keeps track of your progress, creates accountability, and has tons of helpful blog content), and real results.
Choosing Nutrisystem means you are one step closer to your personal weight loss goal! Nutrisystem is with you every step of the way.
UPDATE: The awesome folks at Nutrisystem are extending a new special offer to our readers. Save 50% OFF Two Months Of Nutrisystem Meals & Shakes!
*We received complimentary Nutrisystem food for the purposes of this review. All opinions and results are those of Topdust's staff and may differ from yours. This content is sponsored by Nutrisystem.