CULTURE
Get One Now Before it Brings on Armageddon
Policy Genius
Last night, after work, I walked down to the Popeye's in midtown Manhattan, with a faint hope that I might be able to get in on the chicken sandwich hysteria.
Their infamous sandwich has finally returned after being sold out in an unprecedented frenzy this summer. Whatever food-science voodoo they're doing in their corporate labs has burrowed into America's cultural brain and laid eggs in the structure responsible for lifting one eyebrow skeptically and muttering, "It's just a f*cking sandwich…"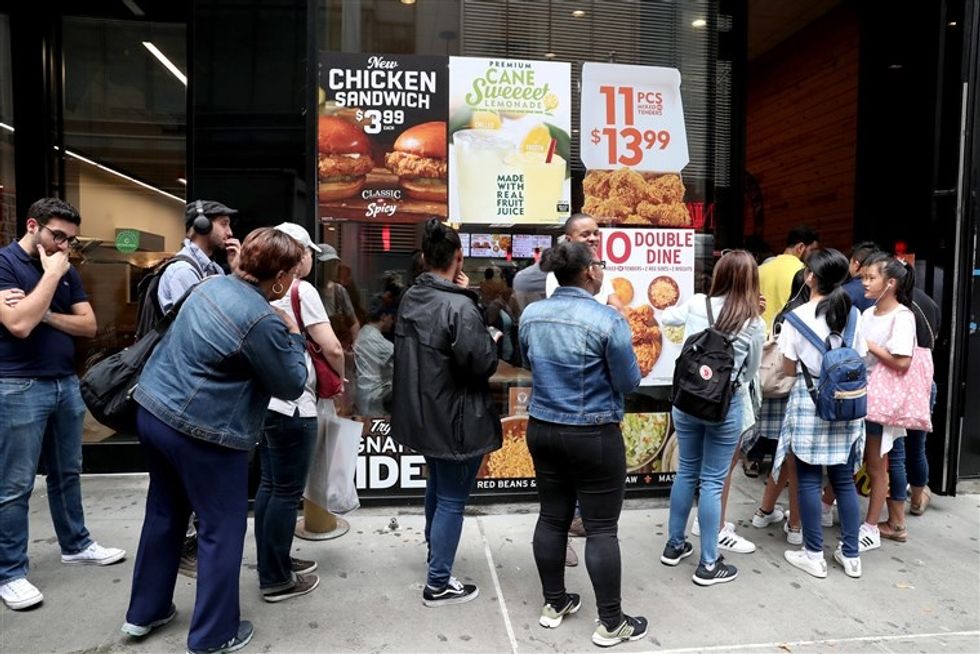 NBC News
With one new item on their menu, Popeye's has cemented itself as a major player in fast food and dealt a major blow to the evil empire of Chik-Fil-A. FOMO has taken over. People are literally dying and killing for these sandwiches. None of us wants to miss out on the latest sensation in mass-produced dining, and that includes me. As much as I'd like to point to journalistic motives for making the trek, I really wanted to try this sandwich, and I was really disappointed when I found that a line of 40 people had formed…despite the fact that the sandwich already sold out.
I was not optimistic that my commute home would offer better prospects, but I was in luck. Deep in Queens, not only was the line reduced to a more modest 30 people and moving at a rapid pace, but there were plenty of sandwiches to go around. At the front of the line, three cashiers were in constant motion to keep the customers and their sandwiches flowing. They had gotten their methods down to an assembly-line science that resulted in me receiving three sandwiches, two biscuits, and a side of coleslaw within two minutes of placing my order.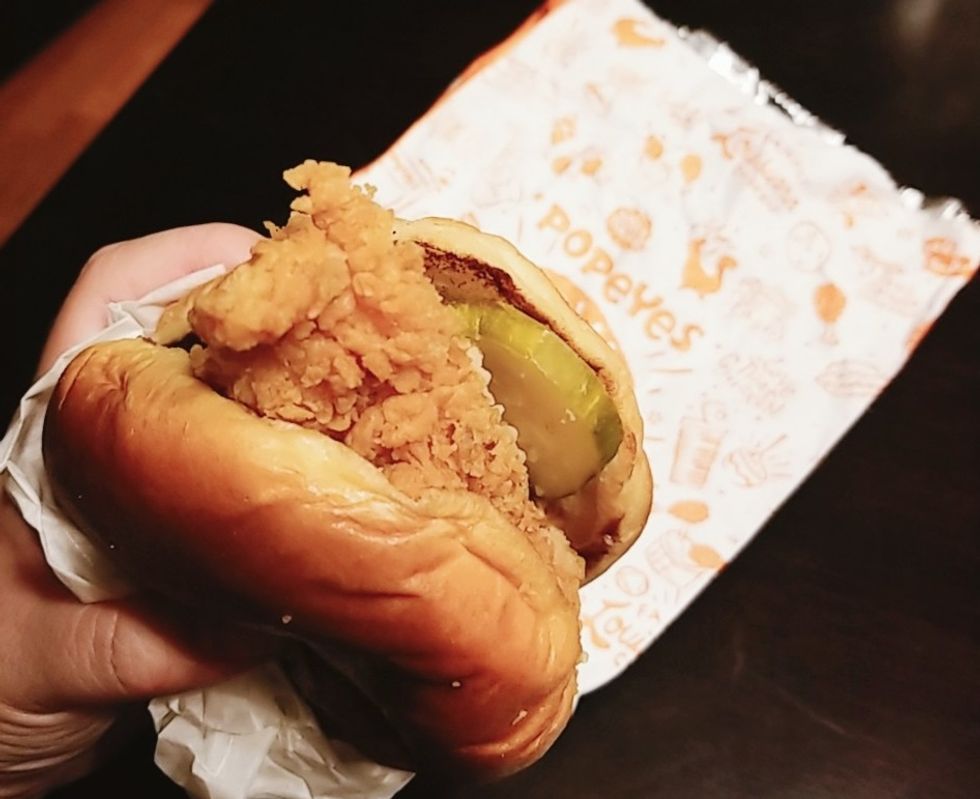 A very tasty sandwich
As happy as I was to be in and out so quickly, none of this seemed like a good sign for the sandwich itself. How could any sandwich assembled in such a systematized way—sold by the thousands for four dollars a pop—deliver on the hype that this one had been receiving? I was expecting disappointment. I was expecting a soggy, sloppy, luke-warm mess. Still, I wanted to give it a proper chance. I wasn't going to wait until I got home while sauce and steam were compromising the breading, soaking into the bun. I unwrapped and bit into the first sandwich a few steps from Popeye's entrance. It was…orgasmic.
Or at least, you know, really tasty. There's no use denying the truth that Popeye's has achieved a fast-food miracle. Something so affordable has no business being this good. I've had better sandwiches now and then, but not without spending three times as much, and even then, it's been noteworthy. But Popeye's breading is crisp and flaky, without a hint of grease. The brioche bun is soft and slightly sweet, meat is juicy and tender, full of subtle flavors brought out by the mayo, with just the right amount of salt and crunch from the pickles.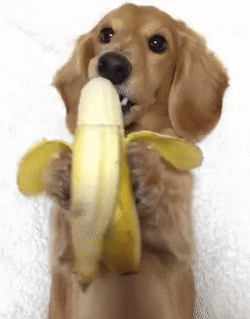 Way overrated
Having eaten one, the insane response it has received suddenly becomes the most obvious and predictable part of the story. It is undoubtedly overhyped, but only in the way that puppies are overhyped—because there is no sandwich and no baby animal that can fill the tremendous void in your life…but it can sure feel that way for a few minutes. The real issue is not that the sandwich is overhyped, it's that the sandwich exposes what might be the most destructive force in our society: FOMO is going to kill us all.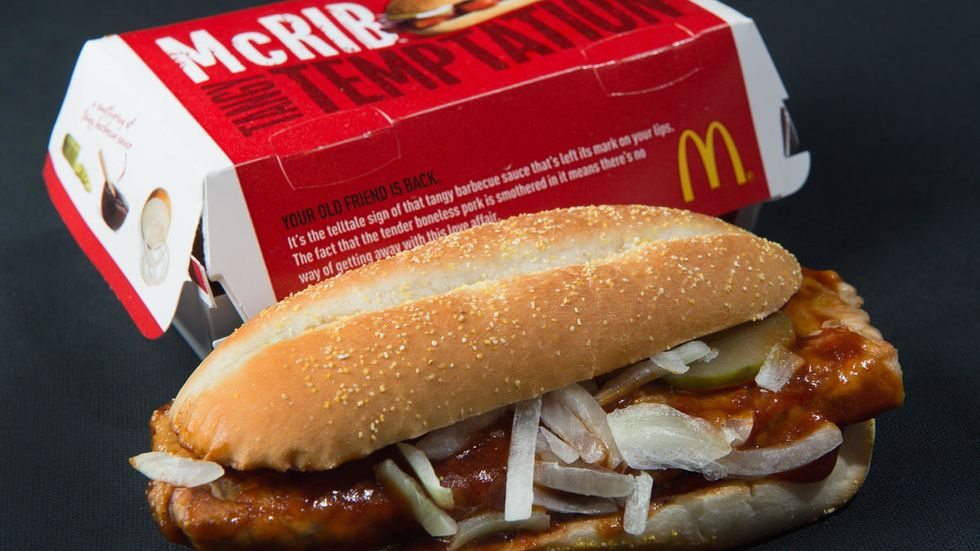 Nice try, McNobodiesGetty Images
How much waste and human misery is spreading out from Popeye's new sandwich and the ravening masses of us that are lining up for it? How many new franchises will open to tap into the demand? The transitory hyper-focus of internet culture has bled into literal meatspace. It's the "OK, boomer" of franchise dining, the "Gangnam Style" of foods. A meal—a physical, edible object—has somehow been memeified and gone viral, resulting in new heights of employee exploitation, untold expenditures for production, shipping, and processing, and what must be a pretty slim profit margin at this price point. People will inevitably compare it to the McRib, but that sandwich is a seasonal blip compared to this. This is a true game changer for fast food—to be followed by so many failed attempts to recreate it and a restructuring of business models to maximize the potential for this sort of craze.
Even if we know we're being played…we really won't want to miss out on what everyone is talking about. And to maximize on that impulse, whatever everyone is talking about will have to be cheap, ubiquitous, and available right f*cking now. Food heightens the FOMO phenomenon, because food is universal, but the same pressures are there for fashion, electronics, cosmetics. It's the iPhone 11, New Era caps, and Kylie Lip Kits. It's a new Black Friday every week, and if you don't go line up now, you are already falling behind.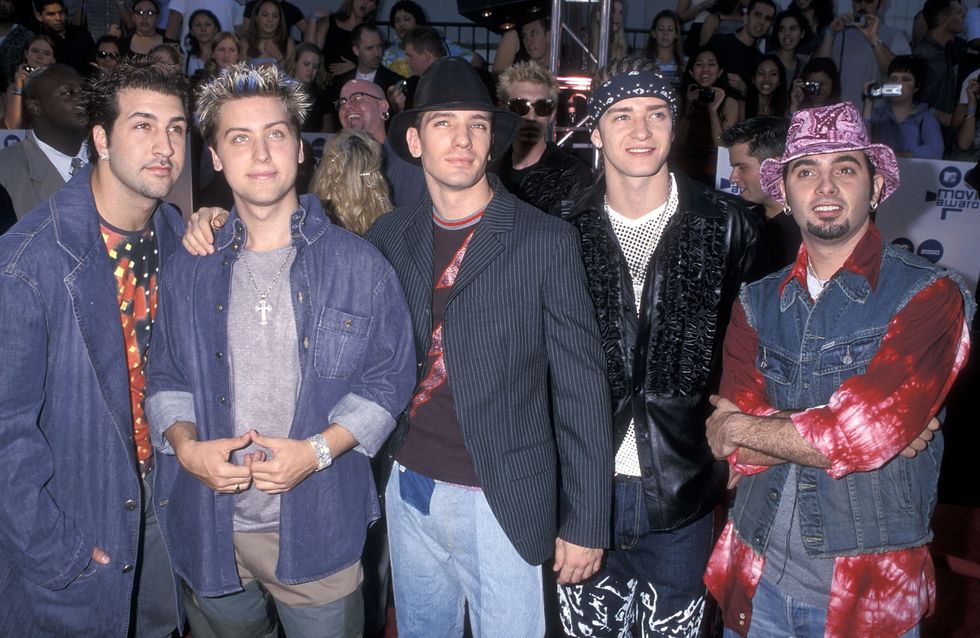 If you haven't already tried this sandwich, you are Chris Kirkpatrick's paisley bucket hat WireImage
So how do we counter the disease of hyper-consumption when consumption is the currency of our culture? If you have to consume to participate in the moment—and you absolutely have to participate in the moment—how do we save the planet? In a civilization where people will wait in line and fight and die before they miss out on the new sandwich everyone is talking about, the planet doesn't stand a chance.