The new trial that Adnan Syed, subject of the famed podcast, Serial has been waiting so many years for, is facing even more delays as the state intends to appeal the ruling in June that overturned his 2000 murder conviction.
As Popdust previously reported, the Adnan Syed case garnered world wide attention after it was featured on NPR reporter, Sarah Koenig's uber-successful podcast, Serial.
Now possibly one of the most famous inmates in the country, Syed is currently serving life in prison after being found guilty of the murder of his ex-girlfriend, Hae Min Lee.
Syed, now 35, was 19-years old when he was convicted of murdering Lee, back in 1999, and he has always maintained his innocence. A follow up podcast to Serial, Undisclosed dug into the case in way more depth and from more of a legal standpoint than Koenig's episodes. The Undisclosed team of lawyers were led by Rabia Chaudry, a lawyer whose brother is a close friend of Syed. Together, the team pulled apart the state's case, uncovered a whole heap of evidence and a potential alibi witness, as well as totally debunking the prosecution's timeline of the day of the murder.
They discovered a crucial fax cover sheet from AT&T which undermined the reliability of cell phone records that placed Syed in the area where Lee's body was discovered—something that was a key factor in the prosecutor's case. The prosecution's own cell phone expert was unaware of the document and signed sworn affidavits stating he was concerned about his testimony during the trial in the light of the fax cover sheet.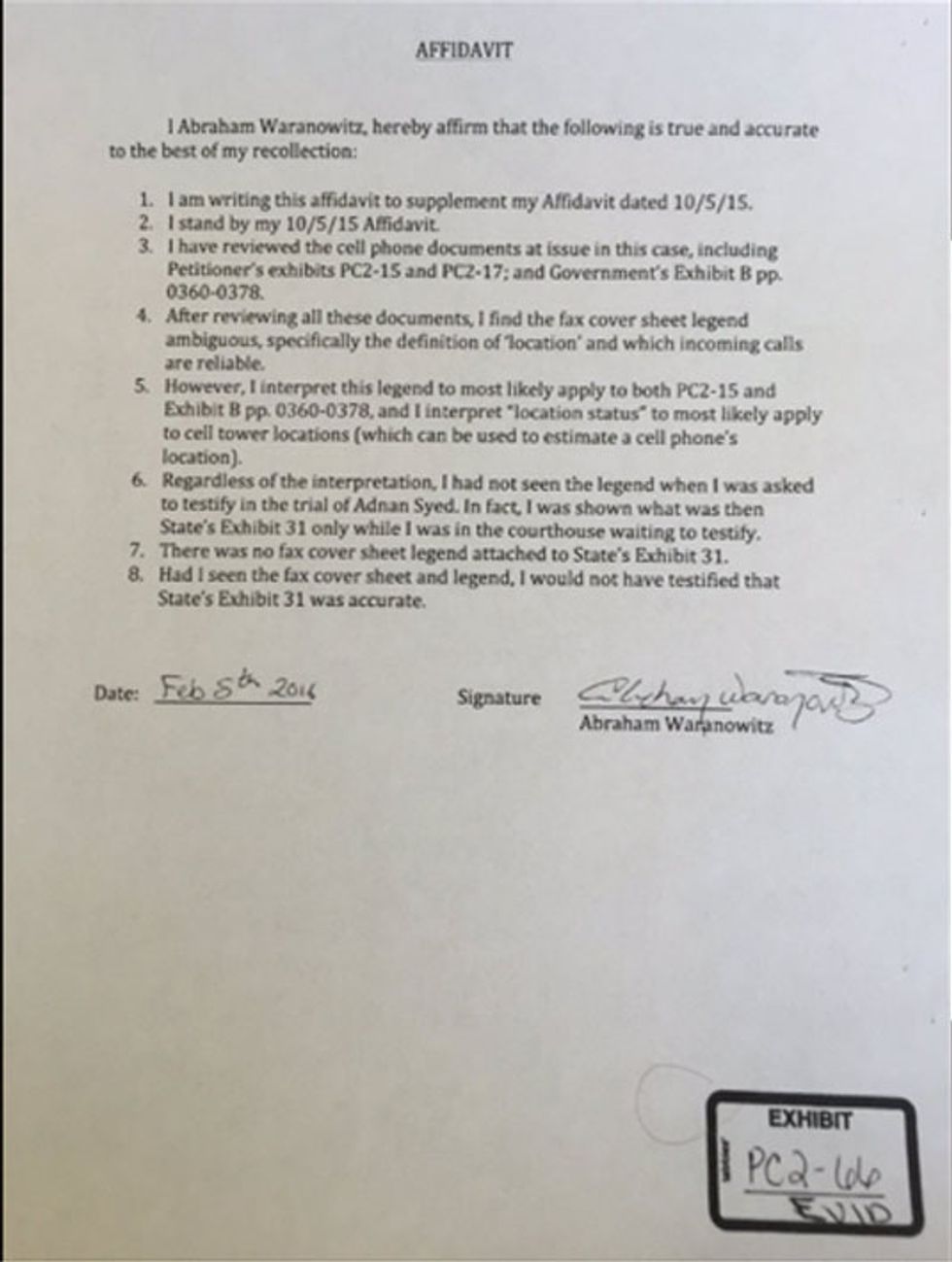 The affidavit signed by the state's expert who testified at the original trial.
---
READ MORE...
Adnan Syed Alibi Witness Testifies At Hearing For New Trial
Undisclosed—New Evidence Blows Apart State's Case Against Adnan Syed Yet Further
411 On Baltimore City PD Corruption, Racism, Witness Coercion And Coaching
---
Despite a hearing in 2014 where a request for a new trial was denied, Syed's lawyer, Justin Brown has been working tirelessly to get his conviction overturned. The new evidence, together with a ruling by Judge Martin P Welch that Syed's original defense attorney Cristina Gutierrez provided ineffective counsel, meant that on June 29 Syed was finally granted what he has waited so long for—a new trial.
However, it now appears that Adnan may have to wait up to ANOTHER year before his case is re-heard, as Maryland's attorney general has asked that the new trial be delayed pending their appeal of the June ruling.
They have until August 1 to file that appeal, and the process could take months, with the losing side then having the right to appeal further to the state's highest court for intervention. It is only at the end of that process, if Judge Welch's decision is affirmed, that a new trial date would be set.
The Maryland AG's office said that it would "defend what it believes is a valid conviction."
The thing is, if they are so utterly convinced that Adnan is guilty, why aren't they confident that they would get another conviction at a new trial? They are totally blinkered (as they have been from the start) and won't even begin to entertain the possibility that a series of seemingly unlikely events conspired and meant that they got it wrong.
At this point defending their office, the cops and their reputations is more important to them than a flawed conviction and a potentially innocent man in jail.
But hey, Adnan's been in prison for 16 years now, what's another couple of years right?