ABC
When I wept myself to sleep on Election Night 2016 and woke up to begin the long process of shipping all my pets to safe homes overseas, people told me I was overreacting.
"Sure, he's a petulant, sexist, racist asshole, but he's not a monster. He's not a dictator. He's not Stalin…"
Those words are echoing in my head today, made suddenly ominous and foreboding. And there is no consolation in the fact that I am vindicated. I am only thankful that I didn't listen to the people who tried to prevent me from shipping Hampton Sterling to that nice Dutch family. He is too fragile to watch what's becoming of our once proud nation, now that Donald Trump has revealed his true self. Stalin could not hope for a better heir to his legacy. Just as Joseph Vissarionovich before him, Donald Trump has begun the process of rewriting history to reflect current allegiances.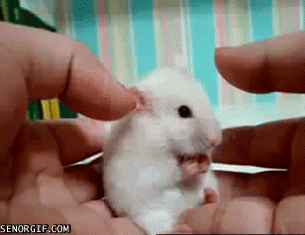 Avert your gaze, Hampton!
It started last night, half an hour into the ABC's broadcast of Dancing With the Stars, when Donald Trump was still rooting for his former press secretary, Sean Spicer to take home the prize. He tweeted, "Vote for Sean Spicer on Dancing with the Stars. He is a great and very loyal guy who is working very hard. He is in the quarterfinals – all the way with Sean! #MAGA #KAG" But don't bother looking for that tweet in his feed now, because Trump's coveted dancing endorsement wasn't enough to overcome Spicer's lackluster performance. This last-minute plea for votes was perhaps too late, or Trump's endorsement isn't as powerful as he thinks.
At any rate, the tally came in, and Spicer lost, and there is no greater sin in Trump's ethos than the sin of losing—especially on a reality show. Almost immediately, like Stalin erasing the men he's killed from his old photos, Donald Trump deleted that tweet. Did he ever think that Sean Spicer was "great and very loyal?" The official record has nothing to say on the matter. The moment would have been fully wiped from history if not for the brave souls who risked their lives by sharing their screenshotted contraband. In its place is a new tweet that merely says that Spicer's performance was a "great try" and a half-hearted claim that "we're all proud of you!"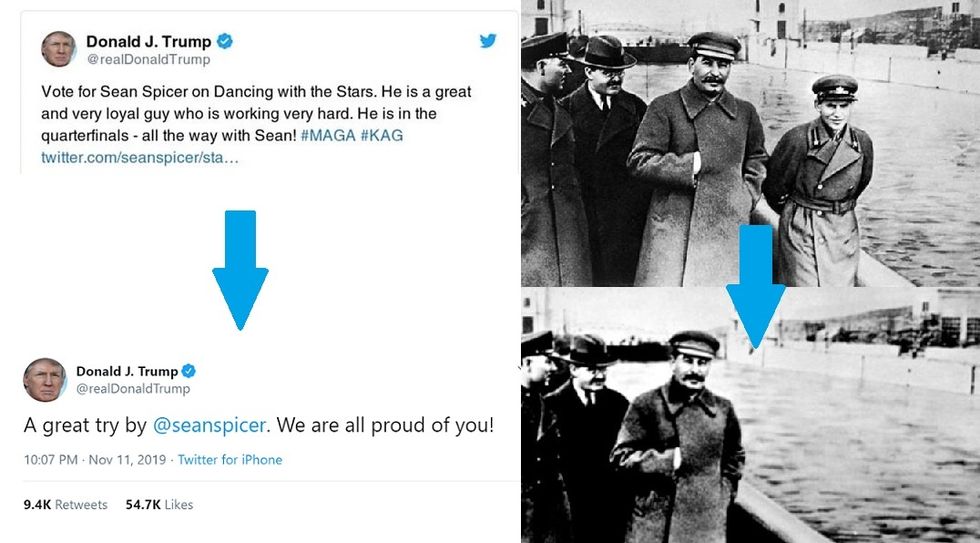 Pictured: The exact same thing
Trump has deleted endorsement tweets before, but never for anyone who was once so close to him. Where are the MAGA and KAG hashtags in the new tweet? They are reserved for people who are accepted members of the inner circle. Spicer is no longer a Made man. Like Scaramucci and so many others before him, the ranks have closed, with Spicer now on the outside. If you ask Trump tomorrow who his first Press Secretary was, he would say with a straight face "Sarah Sanders." These are today's alternative facts. The dictator's history reflects the present, and Sean Spicer is out.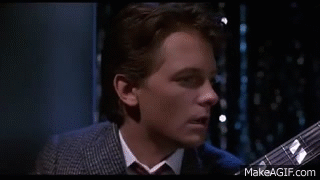 So many people want to focus on extorting Ukraine, abandoning the Kurds in Syria, putting children in concentration camps, or cutting funds to important social services while racking up enormous deficits as a result of tax cuts for our nation's wealthiest citizens. But let's spare a moment for a real victim of Trump's evil. Sean Spicer is being erased. If I were him, I'd be sleeping with one eye open, staring at my hand like Marty McFly in Back to the Future. But I'm not, so I'll fall asleep crying, staring at an empty hamster cage as usual.