Jordan Edwards/Popdust
It's cliché to say that an artist doesn't fit into a genre. For Sophie Powers, it's true. This is the result of someone making music that sounds cool rather than what she thinks people want to hear. Audiences know when an artist is original, and that's the key to Powers' early success.


Musically, the Toronto native is a blend of styles from the last 20 years. Part pop-punk, part hyperpop, part whatever else you hear, the foundation is sugary vocals mixed with booming percussion and grungy guitars. She's out to make songs that sound good on the radio but make the listener a little uncomfortable.

A passionate fan of anime and the culture around it, Powers has taken control of her aesthetics. She's created a maximalist universe with Y2K graphics and avant garde outfits inspired by video games and manga.

"If I can't find the extravagant outfit that I want, I'll design it myself," she says.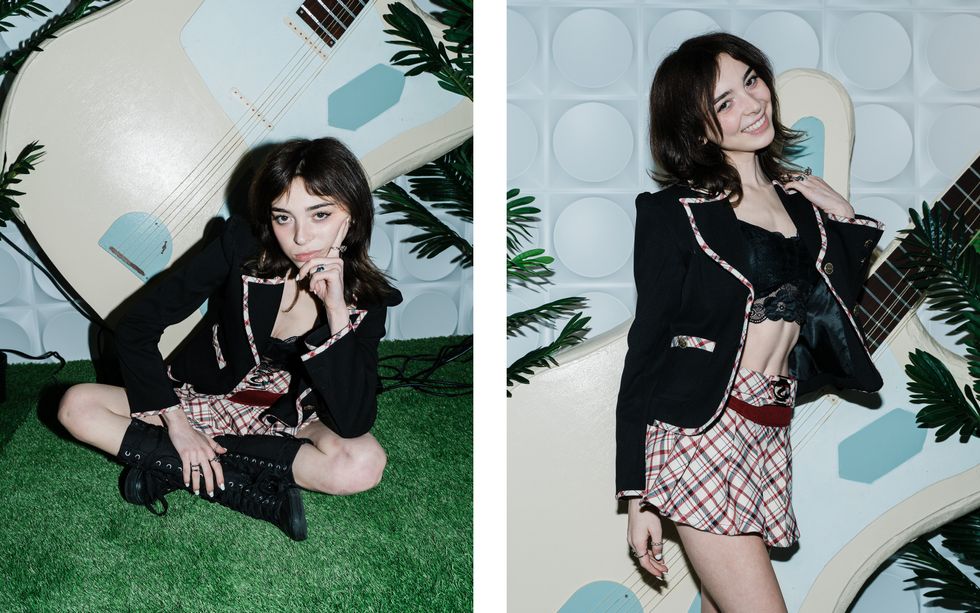 Jordan Edwards/Popdust
Her latest, "Bathroom Floor," goes in a more serious direction. Powers gets personal by opening up about her struggles with anxiety. To mark the release, she partnered with The National Alliance for Eating Disorders to raise donations.

"As the chorus of my song states, that's exactly where I was mentally, and physically while writing it," she said in a press release. "The track goes into depth about my struggles with self-hatred, depression, body dysmorphia, and escaping a dark hole through seeking validation and distractions from others . . . I never want to encourage or glamorize mental illness, but by simply speaking about it, maybe I can destigmatize the subject, and hopefully help someone else out who's struggling."

During our interview, she hinted at an upcoming debut album. It's always exciting when an emerging artist releases a complete body of work. With Powers, it's fun to imagine to imagine the world she'll invent. You trust her as an artist to make something worth listening to from start to finish.

Watch Jordana Lily talk to Powers about leaving Toronto for Los Angeles, the making of "Nosebleed," and what she's planning to do next.
For more from Sophie Powers, follow her on Instagram and TikTok . You can also catch her on tour .