MUSIC
The up-and-coming LA boy band talks night drives, inspirations, and the redemptive experience that is a concert where musicians and fans can come together and bond over the shared emotions at the core of being alive.
Weathers have a lot going for them. On February 7th, the four-piece LA-bred band of mostly newly minted 21-year-olds lit up Brooklyn's Knitting Factory with their tightly wound pop-rock, which takes notes from the 1975, M83, and Cage the Elephant while adding its own flavors of millennial existentialism. It's the kind of music that you can dance all night to or blast on a long drive while contemplating the inner workings of human existence. Their introspective lyrics spread the message that it really is okay not to be okay, while infectious drumbeats touch upon on the kind of stylization that's launched boy-bands before them to stratospheric stardom.
Popdust met up with them before the show to talk about night drives, inspirations, and the redemptive experience that is a concert where musicians and fans can come together and bond over the shared emotions at the core of being alive.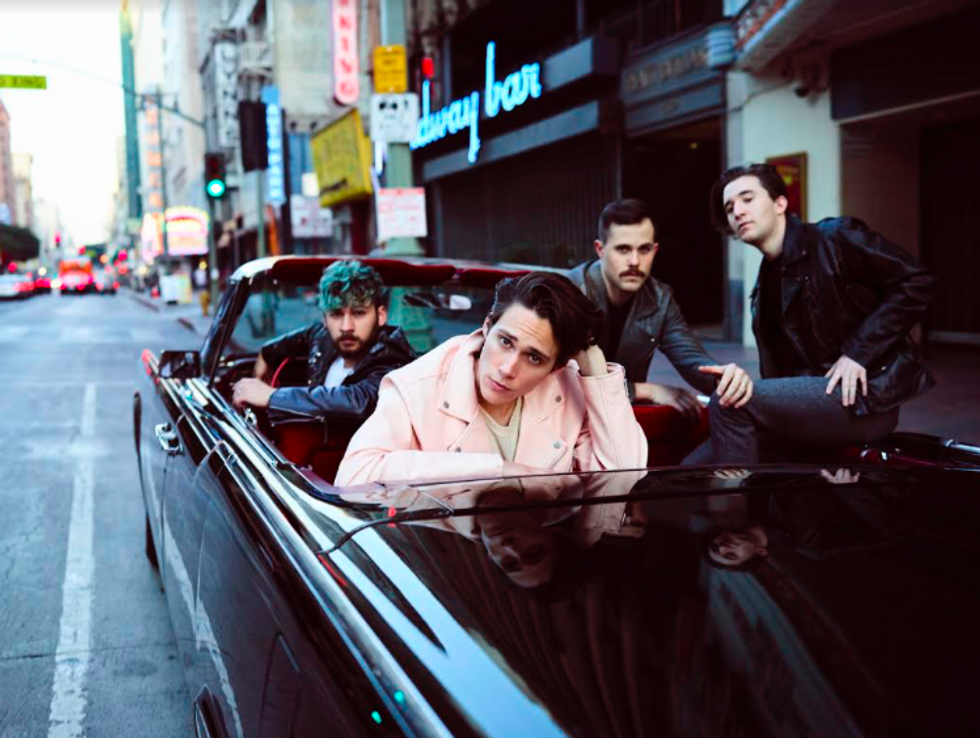 POPDUST: You've said you felt you underwent a big change after releasing your first music. What kind of change was it—was it a personal or sonic thing?

CAMERON BOYER: All of the above. You can hear it in our older stuff like "Happy Pills" and "I Don't Wanna Know." We were babies when that stuff came out, fresh out of high school, and we felt like we were someone else's project. After "Happy Pills," we decided to take some time off and wrote music for like a year and a half—which was terrifying, because a major label had signed us and we were telling them, hey, we're gonna change our sound.
That period led to Kids in the Night, which we feel like is a good representation of who we are as people, and will be for a long time.
POPDUST: What caused those changes?
Early on we had this rule where all the songs had to be dark and kind of creepy. But over time, we all kind of realized that we didn't want to flounder around in our darkness, if that makes sense; it's not a fun place to be all the time, especially creatively. We still wanted to have some of those darker tones lyrically, but we also wanted to have fun onstage and let loose and have the music reflect a new, more positive attitude while still keeping who we are through our lyrics.
POPDUST: Is there any specific role you imagine your music playing in people's lives?
CAMERON OLSEN: It could be pretty cool to have kids that listen to us now feel like, hey, Weathers was the soundtrack of our high school experience.
Weathers - Problems (Video) www.youtube.com
POPDUST: Your song 1983 is a love letter to driving in cars, which is such a classic teenage experience. Do you have any favorite car songs?

CB: Nightcall by Kavinsky. It was my number one most listened to track of 2017, I think.
BRENNAN BATES: Night House by Joywave was one of my recent favorites. It's very much a driving song—as well as Outcast by Mainland.
CB: Somebody Else by the 1975 is great too, and Midnight City by M83 is a go-to. I read that they wrote that song specifically based on the feeling of driving through Los Angeles at night.
Kavinsky - Nightcall (Drive Original Movie Soundtrack) (Official Audio) www.youtube.com
POPDUST: Can you talk a bit about your songwriting process? Who comes up with what?

COLE CARSON: Usually there's someone on a computer who's creating the base of a track, and on top of that we start humming melodies, and once we have a track and a vibe we add lyrics.
CO: A lot of Problems was created outside, without instruments, playing catch with a football—we just came up with a concept and lyrics.
CB: Olsen and I worked together on the album, but we've also been writing a lot together as a group.
POPDUST: I love how you guys often emphasize honesty in your songwriting and interviews, especially with mental health. Why is honesty important to you, and what's its role in your music?
CB: If you're not honest with yourself, then who are you? You have to be honest with yourself if you're going to create anything, otherwise it's all going to feel fabricated.
BB: Honesty is a huge part of communication in any kind of relationship, with a loved one or a fan or a friend. Creating this music and building that connection with people is a different kind of communication to harvest, and honesty is a huge part of that.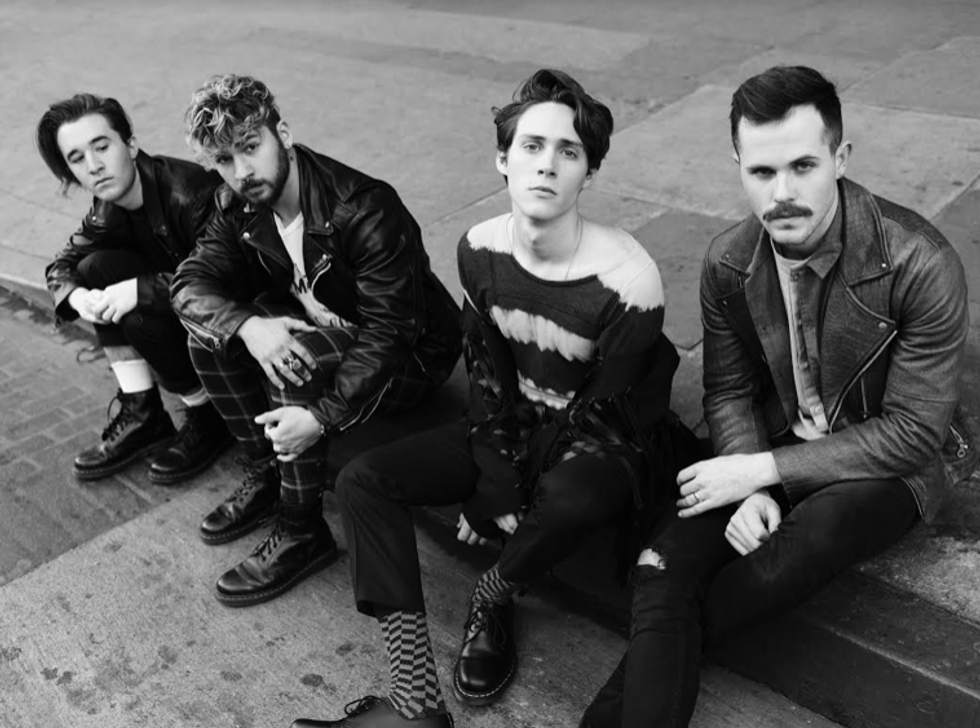 POPDUST: You've written songs about very personal themes. Is it ever difficult to perform them, or do you find it cathartic?

CB: The only song that gets tough to sing is Secret's Safe with Me; that one's really personal. It's not actually about me—it's about someone else—so that gets tough.
CC: Most of it feels pretty natural. We're proud of the things we've been through that make us who we are. Everybody is going through similar stuff, so it's pretty rad that we can go up there and be like, we're exactly the same.
CB: The first time we ever played any of these songs live was when we headlined the Troubador. Seeing people singing I'm Not Ok, we got that feeling that they're all probably singing about something totally different—but it's helping them just as much as it's helping us.
Weathers - Secret's Safe With Me (Audio) www.youtube.com
POPDUST: Have you had any especially meaningful interactions with fans?

CB: There's a fan who's printing out pictures and stickers to post around Vegas before our first headline show there, and other fans that are making T-shirts for us.
CC: Some fans have gotten tattoos of songs that meant a lot to them.
CO: Someone got Shallow Water, and someone got Take In the View from 1983.
CB: Someone last night asked me to write Nice 83 Vibe on a napkin so they could get it tattooed.
POPDUST: That must be wild—knowing something that you wrote will be on someone's body for the rest of their life.
So you just released a song called Dirty Money. Does that come from a place of personal frustration with capitalism, or is it about something else?
CB: The song has nothing to do with money at all, believe it or not… When you're in a band and you're young and you've got fans, it's easy to lose yourself a bit. The song's about battling egoes and the inner demons that come with being in the industry.
Dirty Money (Visualette) www.youtube.com
POPDUST: Has it been difficult to maintain a sense of self? Have you felt any disjointedness between who you are performing and backstage, or is the transition more fluid?

CB: Onstage is the only place I feel like I get to really let loose. Otherwise, I'm usually pretty quiet or awkward, I don't know. It's really only onstage that I let go.
CC: When I'm onstage I'm definitely a lot crazier than in person.
CB: You really let it shine through the playing of the drums. You let the music do the talking.
---
Eden Arielle Gordon is a writer and musician from New York City. Follow her on Twitter at @edenarielmusic.
---
POP⚡DUST | Read More...
Hollywood's Greatest Talent, Oreo the Raccoon, Has Died
RELEASE RADAR | Backstreet's Back after Six Years

Ali Caldwell Shows her True Colors