Rumer Willis channels Demi Moore channeling Jessica Rabbit—can anyone say va va voom? Talk about gorgeous…
Bruce's little girl has gone and got herself all grown up.

And, hello, can anybody say, Goddamn gorgeous!

Rumer Willis is channeling mom Demi Moore, channeling Jessica Rabbit, in a stunning new photo.

In the pic, Rumer models an absolutely beautiful flamenco dress in a bright tomato red.

But it's her flawless skin, long thick lustrous hair and impossibly teeny tiny waist that demand all the attention.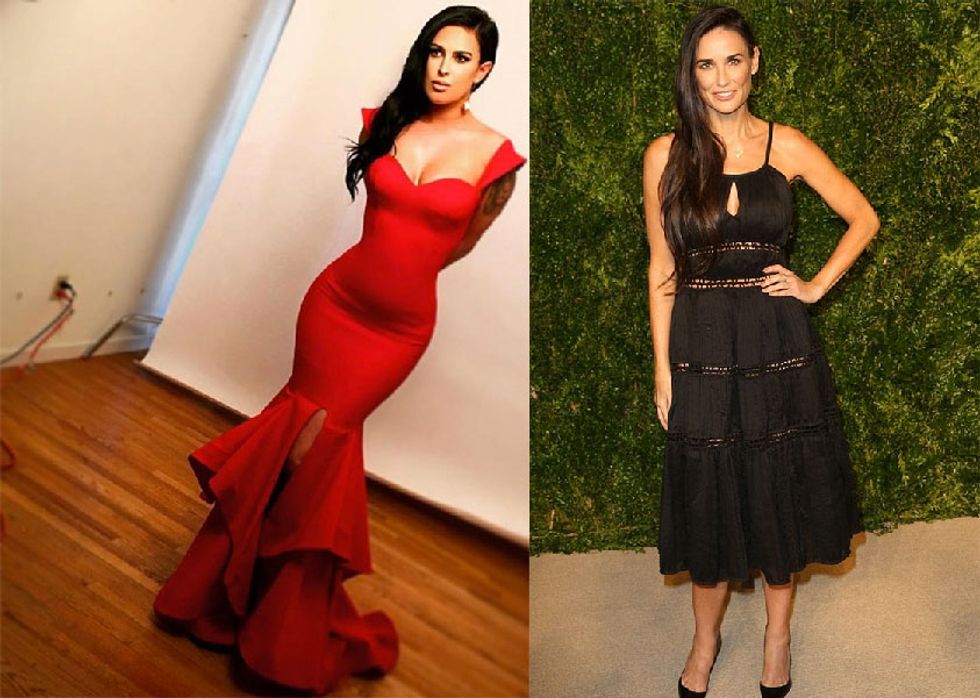 Rumer channeling momma Demi, channeling Jessica Rabbit....
Total old school Hollywood glamor, complete with Veronica Lake style hair 'do, with the added usual Willis sisters' unique stamp.

Love, love, love these girls.

The 27-year-old posted the jaw dropping pic on her Instagram Sunday night, teasing her followers with the promise of a "little project."

Captioning it:

Working on a little project with the dream team.... @thetylershields @jwujek @haleybuckner @tyeblue1 @bykilian. Can't wait to show you guys!!
As Popdust previously reported, Rumer has previously opened up about the pain of growing up in the spotlight as the child of a beautiful star.

She broke down in tears during a monologue on Dancing With the Stars last year, while talking about the bullying she endured as a Hollywood teen:

When you grow up with parents that are known worldwide and having so much attention from media and all of the tabloid magazines, it's really tough.

When I was a teenager I was super awkward, I don't think I really felt comfortable in my body or with how I looked and people were nasty.
People would say I looked like a man or something called a 'buttaface', which means everything good but her face, or potato head was the big term that everyone used a lot, basically making fun of the way I looked. ...
My mom who is one of the most stunning women I've ever met and who everyone was comparing me to, saying that you look more like your very masculine father than your beautiful Mom.

For years I thought 'Maybe I can get plastic surgery. If I change my face or get really skinny, that will be it, that will be the answer' and it's not.' ...

I went through a lot of huge changes for myself that really affected me in a positive way. ...

My sister Tallulah was in rehab and I was inspired because she didn't try to hide from it.
She really owned it.

She got in this mindset of saying 'Here are my flaws and it's OK. I'm still me and I'm still beautiful and it doesn't matter.'

I just realized that I could feel the same way and I need to stop listening to the bullies.
Well, they say revenge is a dish best served cold.

In Rumer's case, it's a dish served up in a stunning smokin' hot red flamenco dress.

Although, as she's proved, her beauty is ingrained and within as well.

The very best kind of beauty there is.
For more entertainment, music and pop culture updates and news, follow Max Page on Twitter