TV
For this new go-around, The Real World: Atlanta raised the casting age limit from 24 to 34, resulting in five cast members who add significant depth to the reboot.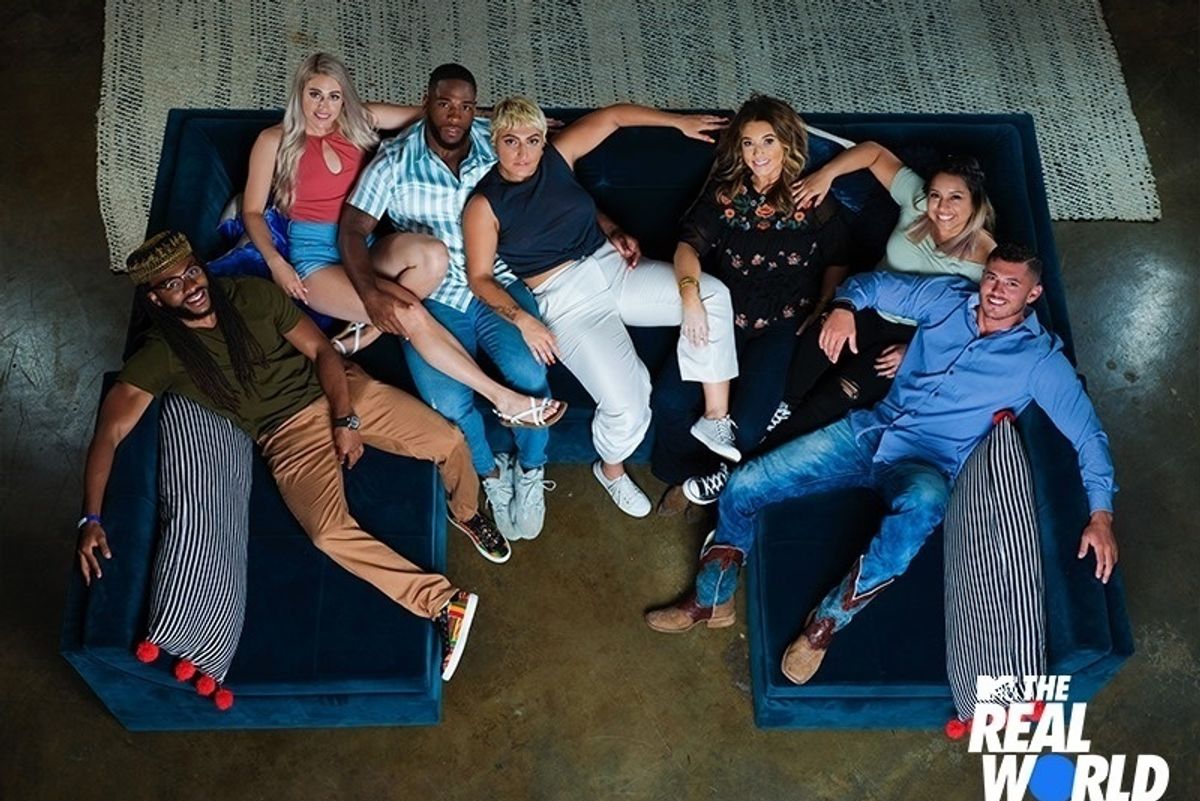 It's been two years since the last iteration of MTV's The Real World disgraced our screens. Now it's back, and most surprisingly, The Real World: Atlanta doesn't suck.
Moving the series to Facebook Watch, producers hit the reset button, rebooting the franchise to enmesh it with social media and today's consumer culture. Even when the show treads on well-worn tropes à la the "religious southern virgin," it harks back to what we originally loved about it: different people from all walks of life coming together, learning from each other, and confronting the status quo.
When The Real World launched in 1992, it was a ground-breaking social experiment hailed for its documentary-style depiction of issues like abortion, substance abuse, and death. Its representation of sexuality and race served as an educational tool for a young early-'90s MTV generation. At 9 years old, Julie and Kevin's New York argument was the first time I really considered racial differences, and Pedro Zamora's activism on the San Francisco season helped explain homosexuality and the AIDS epidemic to me in ways my parents couldn't.
In recent years, the series has shapeshifted repeatedly, disintegrating into a heaping mess of producer manipulation and sadness. Stunt casting's led to unstable situations that seemed like mental warfare on its participants: Exes moved into the house as permanent roomies on Real World: Ex-Plosion, while former enemies moved in on Skeletons and Bad Blood, which were equal parts cloying and distasteful. The show became a hollow shell of its former self, an extravagant circus act that threw ethics entirely out the window. If you bailed on the series miles back, no one would blame you.
But for this new go-around, The Real World: Atlanta raised the casting age limit from 24 to 34, resulting in five cast members who add significant depth to the reboot. Four of its seven cast members are minorities, leaning into the cultural demand for more diverse representation on our TV screens. Highlights include: Yasmin, a half-Muslim pansexual art teacher and champion of body positivity; Arely, a Mexican DACA recipient and mother to a four-year-old; Dondre, a pansexual black man who's vocal about supporting Trump and the wall; and Justin, a Georgia State University grad focused on African-American equality and social justice issues.
For the first time in a long time, the cast actually has something to say, and the diversity in the house has led to storylines that largely match up with today's most pressing issues. Arely's politically-charged immigration story—she can't complete her nursing exams due to her DACA status—conflicts with Dondre's strict Republican opinions, setting off Justin, who can't fathom how a black LGBTQIA person could ever support the current president.
And then there's Meagan, the virgin from Louisiana who's the easiest target of the bunch. After admitting she's not comfortable around homosexuality because of what's written in the Bible ("The ones that are shoving it down my throat, I can't deal with...because in the Bible it says one man and one woman"), her roommates pointed out Christian teachings commonly overlooked in everyday society, even by devout Catholics. Dondre went so far to ask her, "Are you half-assing your religion?" His question sent her into a spiral.
Meagan confessed, "What they're saying makes so much sense, and I almost feel this guilt for saying that. If there are other things in the Bible that we do, why is that one thing not OK? I feel like my whole identity is being challenged."
In the most recent episode, Tovah, a social worker from Arizona, discussed her sexual assault with her roommates, admitting that she lost her virginity when she was raped at 17.
"He started texting me and harassing me, like, 'I raped you. Have a great f**ed up life,'" she told the house. "It definitely changed who I was. It's a big part of how I act around people, how I view sex, how I view relationships," she continued in a confessional.
These seven new strangers aren't afraid to open up, resulting in a season that's as back to basics as we're likely to get. Thanks to its diversified casting and focus on issues affecting Americans today, the Atlanta season is a return to form. Is it perfect? Hell no. (The words and graphics plastered over every scene is damn near infuriating, for one.) The show will never reclaim its San Francisco or Seattle glory days, but it's still a refreshing pivot that could extend the franchise's life expectancy...if it can continue avoiding off-brand twists. Come for the topical life discussions and stay for the club treks, hot tub makeouts, and drunken verbal brawls; it's still The Real World, after all.
The Real World Atlanta: Official Trailer youtu.be