CULTURE
From Netflix, HBO, Disney, and more, the end of the year promises a big movie finish
In normal years, summer is the season reserved for blockbusters and big title releases from major studios. However, the past few years have been far from normal years.

After March 2020 sent the world into lockdown, theaters were closed for close to 18 months and the moviegoing experience has not yet recovered. Streaming — with its killer combination of convenience and the emerging high-quality of its original content — was already poised for a takeover. Streaming platforms like Netflix and HBO Max are increasingly offering hotly-anticipated titles, so who is going to pay for the cinema and all its trappings?
But, oh, was it grand to have the option. When going to the movies was suddenly impossible … it was all we wanted.
Though I consider myself a fan of the theatre experience, I've been known to watch a movie on my computer instead of the big screen when released on the same day.
However, having the choice stripped from me during the pandemic, I longed for the movie-going experience like never before. Both movie fans and movie makers have been itching for a return to the cinema. Many big studios held back their highly-anticipated films for when viewers had the choice to see them as intended.
This meant that, with greater and greater vaccination counts, movie rollouts are following a new schedule. Thus, the end of the year will be blockbusters galore!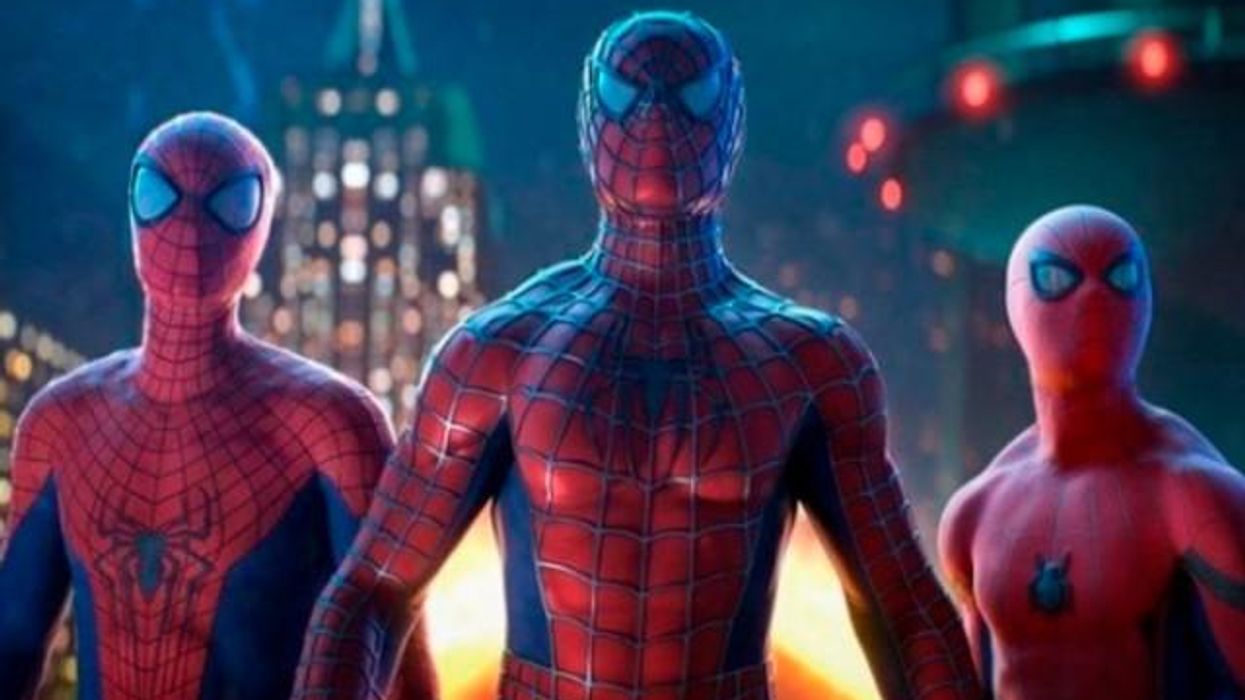 So far, the final quarter of 2021 has seen such mammoth releases as Dune, Eternals, Shang-Chi, The French Dispatch, and more. The remainder of the year promises a similar variety of high-budget movies and indies across streaming and cinematic screens, all with eager anticipation building behind them.
Here are some of our most exciting picks:
King Richard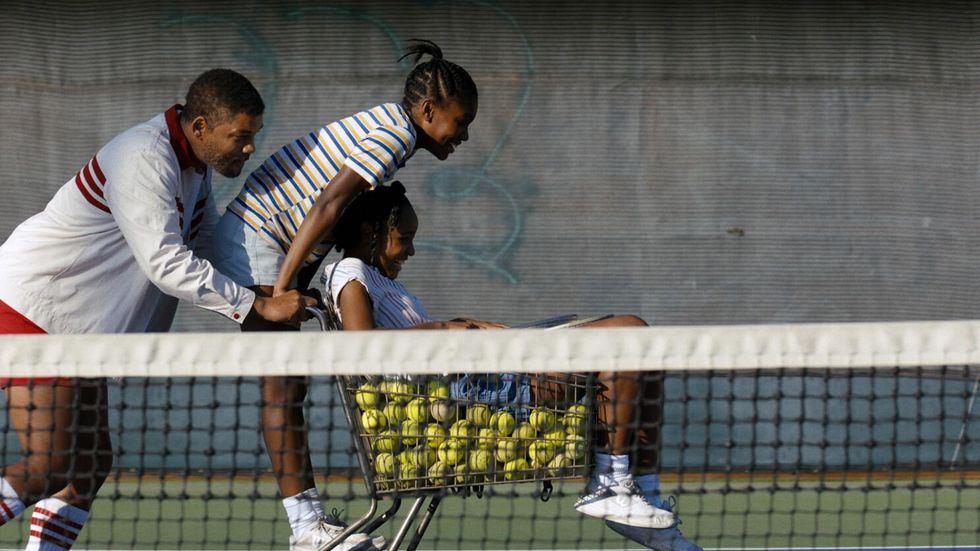 It is a rare living athlete who can reach the same level of influence as the Williams sisters, Venus and Serena. And fewer still have movies made about them while they're still alive. King Richard is as much an ode to their prodigious talents as it is to the man who nurtured them. Will Smith plays the tennis stars' father Richard Williams in this depiction of the tennis stars while they were still children. It's not just a sports movie, but also an exploration of race, perseverance, and family.
It's out November 19 in theaters and on HBO Max.
C'mon C'mon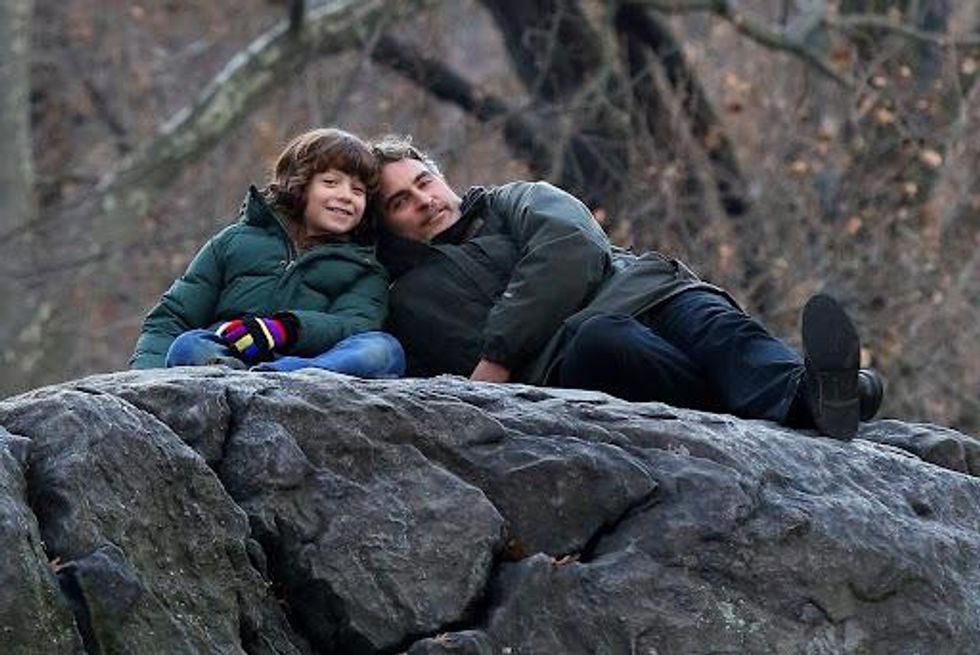 For indie lovers, C'mon C'mon will satiate your hunger for a long awaited new Mike Mills film. Mills — the director behind cult classics such as Beginners and 20th Century Women — is known for creating family narratives that explore relationships, time, and memory. C'mon C'mon promises to do the same. Joaquin Phoenix takes off the Joker makeup to play a man unexpectedly burdened with caring for his young nephew.
Together, they form a beautiful, transcendent bond — but how? You'll have to wait until November 19th when it is released.
House of Gucci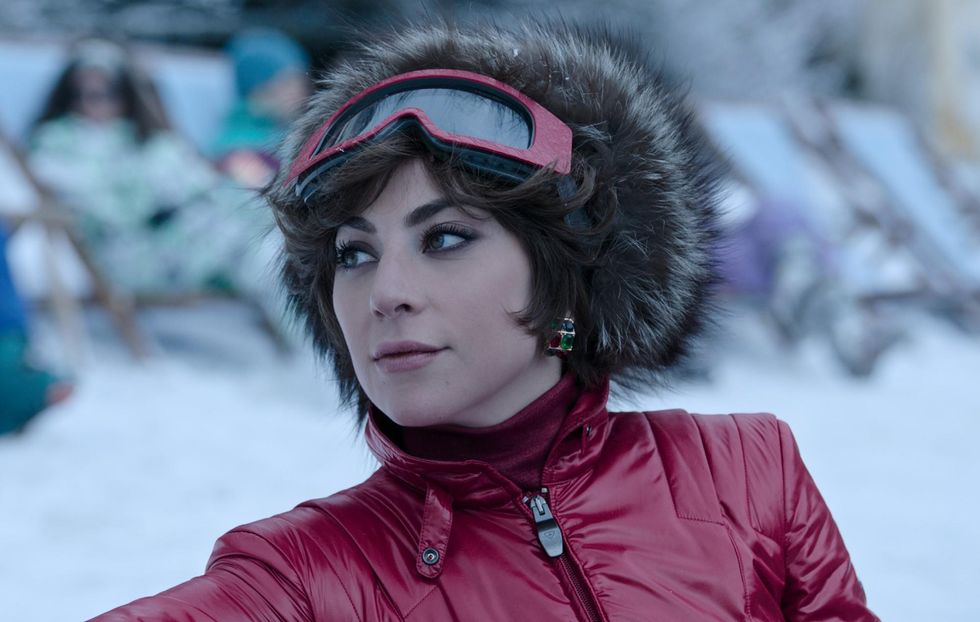 Lady Gaga. Adam Driver. Knit sweaters. Need we say more? Okay, we will. Since it started filming, we've been on the edge of our seats over this film. That's basically due our having been fed a steady diet of on-set paparazzi pics and teaser trailers — including the now-iconic clip of Lady Gaga stirring a visibly empty espresso cup. Oh, the pleasures of movie magic. Now, the official trailer is finally out and the full feature is soon to follow on November 24. Until then, we'll read all about how Lady Gaga perfected the accent and rewatch A Star is Born until we have another feature film to devour.
Spiderman: No Way Home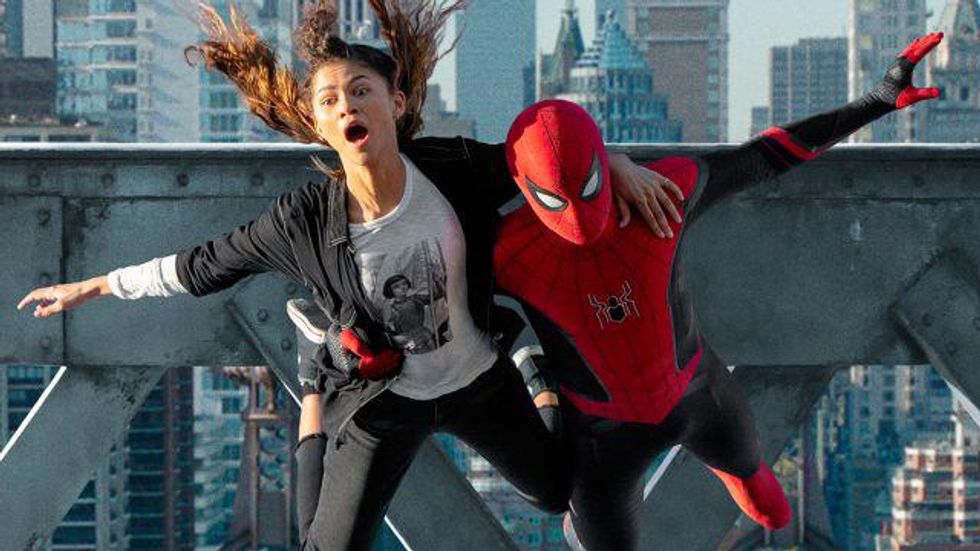 It's almost here! Finally! After the last Spiderman film Spiderman: Far From Home's cliffhanger — rivaled only by Avengers: Infinity War — and pandemic delays forced us to wait foreverrr for its resolution. But the wait will come to an end on December 17th. Here's what we know so far: the new film explores the idea of the multiverse — just like the animated Into the Spiderverse did previously. What this means for us: our favorite Spidermen come together as Tobey Maguire, Andrew Garfield, and other vintage villains all pop up in this can't-miss adventure.
The King's Man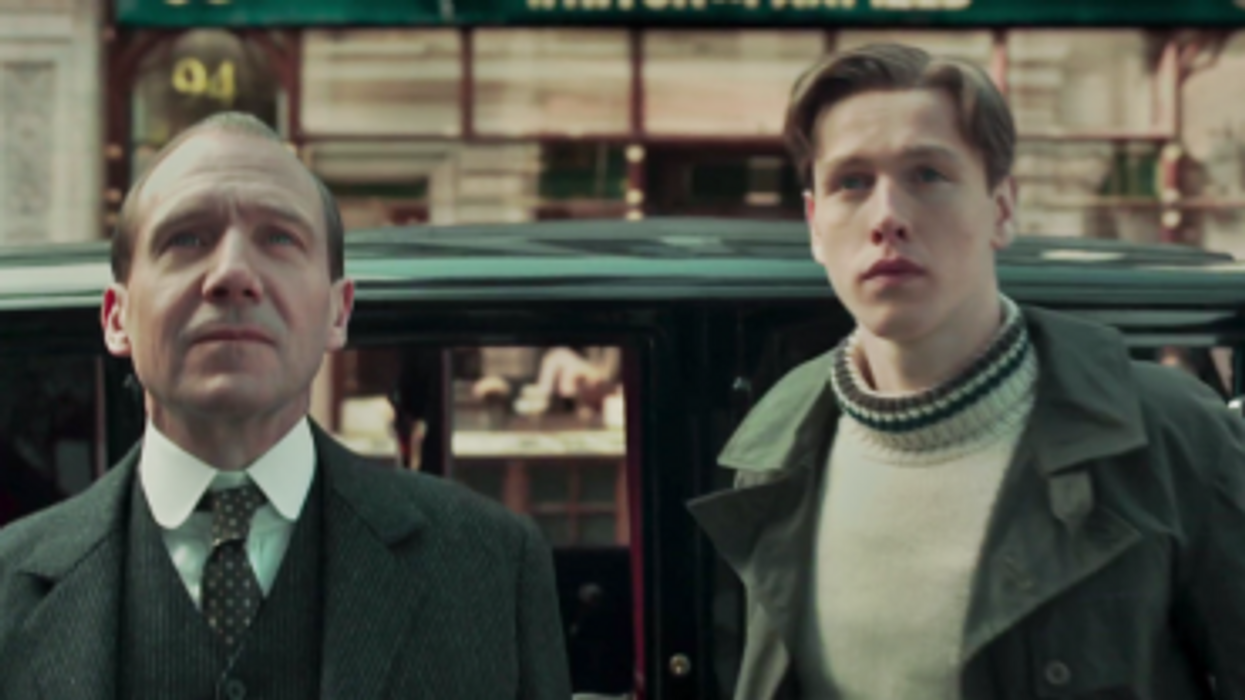 As much as we love a sequel, we like a prequel just as much. Kingsmen — the film series that made Taron Egerton a star — leaves behind contemporary London to explore the origins of the film's world. The King's MAn takes us to Oxford in the 1940s where Ralph Fiennes and Harris Dickinson play a father-son duo who forge the Kingsmen Agency. See you in theatres December 22!
Don't Look Up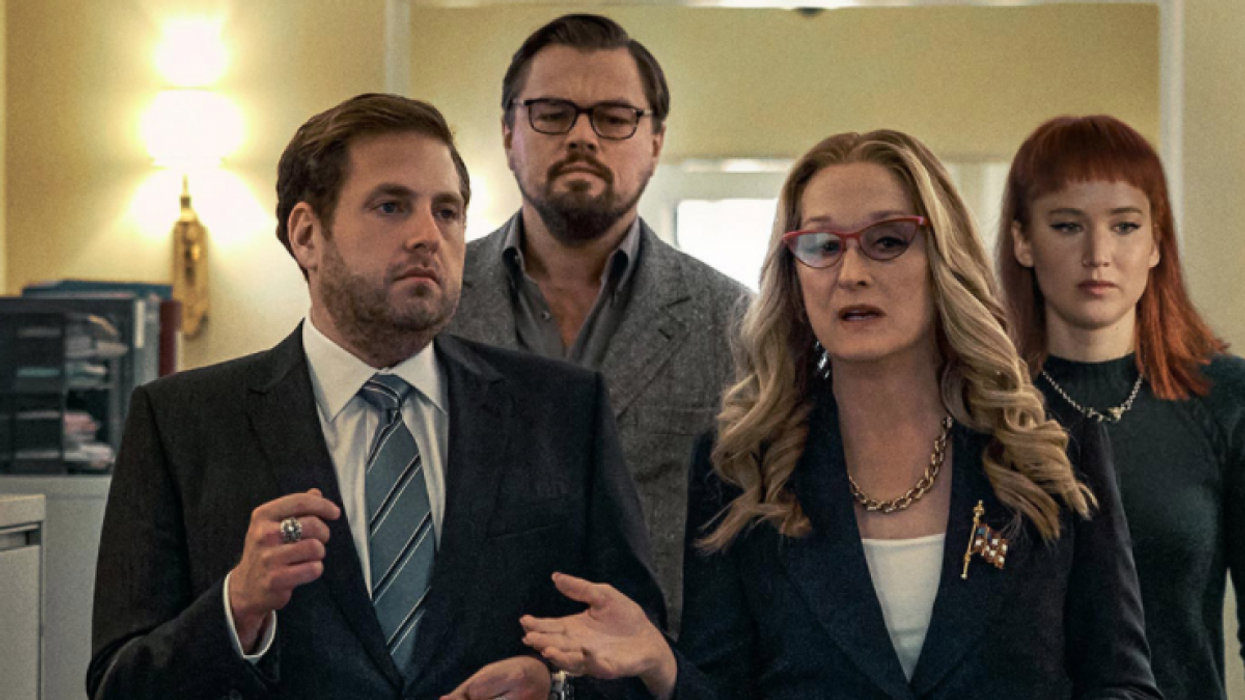 Every single celebrity you love is in Don't Look Up — a satire about the end of the world which might hit a little too close to home these days. The story follows Jennifer Lawrence and Leonardo DiCaprio, astronomers who discover the end of the world is approaching, as they try to get people to believe them. It doesn't go well. Despite the chilling parallels to our current apocalyptic state, we will be tuning in on December 24th to watch Lawrence and DiCaprio — joined by Timothee Chalamet, Meryl Streep, Jonah Hill, Cate Blanchett, Ariana Grande, Kid Cudi, and even more.
Licorice Pizza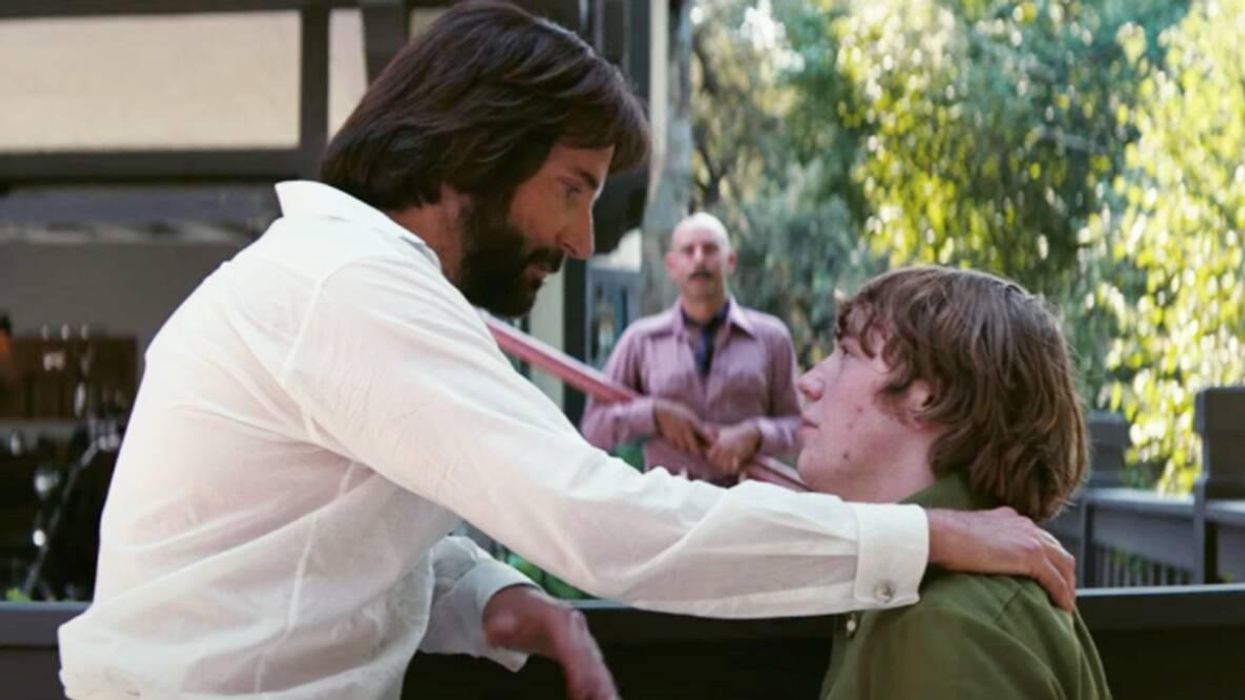 Paul Thomas Anderson is back at it with the off-beat, coming-of-age, sort-of-romantic comedy Licorice Pizza. The film is this season's Lady Bird — meaning it's sure to make its unknown teen protagonists stars. It also comes right on time, as the nostalgia for the 70s hit its peak this summer and people are still fiending for that summer magic. Also: Bradley Cooper. Say less.
Cyrano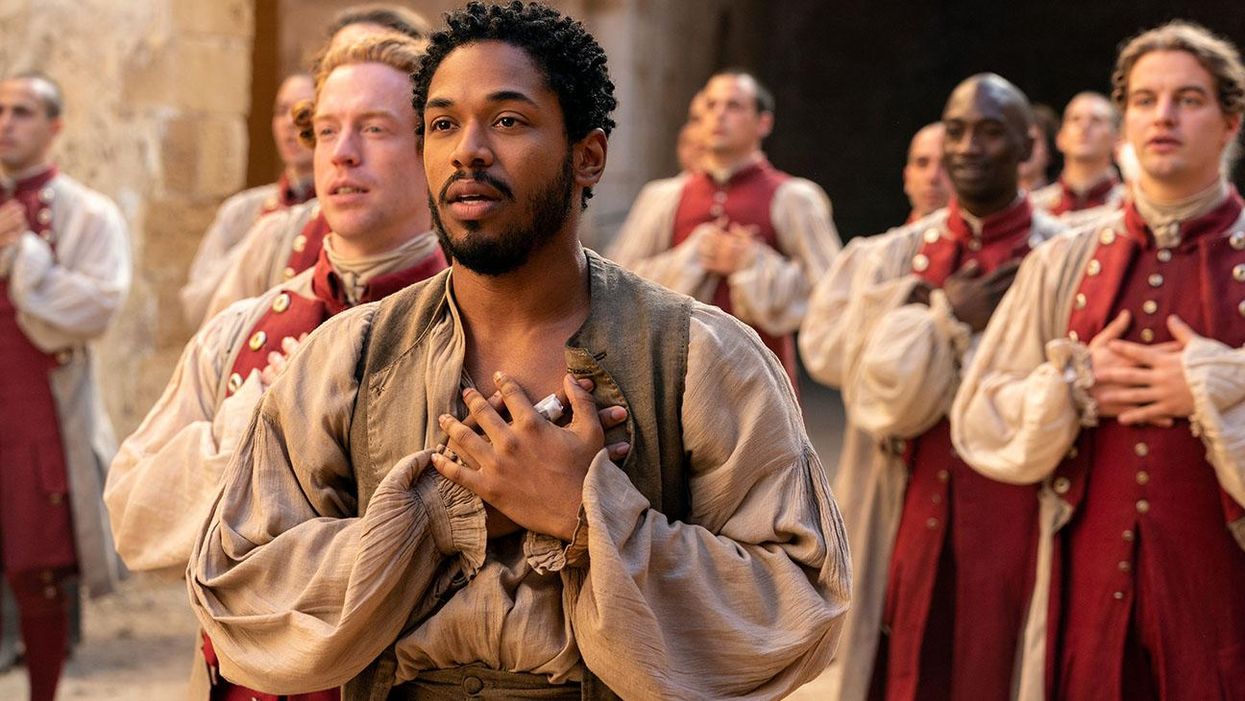 After these past few years, we deserve to feel good. Cyrano lets us finally, finally do that. On New Year's Eve, this cinematic production of one of the most iconic stories will make its way to theatres. Starring Peter Dinklage and Kelvin Harrison Jr vying for Haley Bennett's heart, this soaring romance is the perfect, hopeful story to end the year with.
CULTURE
Get your wallets ready, Harry Styles will be Pleasing you soon.
If anyone has distinctive hands, it's Harry Styles.

Ever since he started promoting his sophomore album, Fine Line, Harry has sported a pretty recognizable hand-scape. With "HS" rings that signify his initials and pink and black nails that match his album cover, his are some pretty recognizable fingers.
From head to toe, Harry has established a curated, quirky look. By not adhering to gender standards, he opens himself up to playful looks and bright colors both in his clothes and his beauty choices. While Harry is by no means the first to experiment with his self-expression, he is a mainstream pop-star committed to normalizing this expression in all of our everyday lives.
As much as he is a heartthrob and crooner, Harry has proven himself a mainstay in the fashion industry. As an ambassador for Gucci, and the latest muse for Gucci designer Alessandro Michele, he's travelled across the world doing stadium tours dressed in extravagant outfits and his signature nails.
He flaunted these nails during the 2019 Met Gala — where he was co-chair for the exclusive fashion event — and they're back again to advertise his new brand on our screens — and it's working.
For months, there have been rumors that our dear prince Harry — not the Royal one, the prettier one — is launching a beauty brand. Yes, that's right, our beautiful boy wants to help us be as beautiful as he is.
While at first it seemed too good to be true, it turns out the rumors were thankfully based in fact. So get your wallets ready, Harry Styles will be Pleasing you soon.
It all started with a tweet: "Find your Pleasing."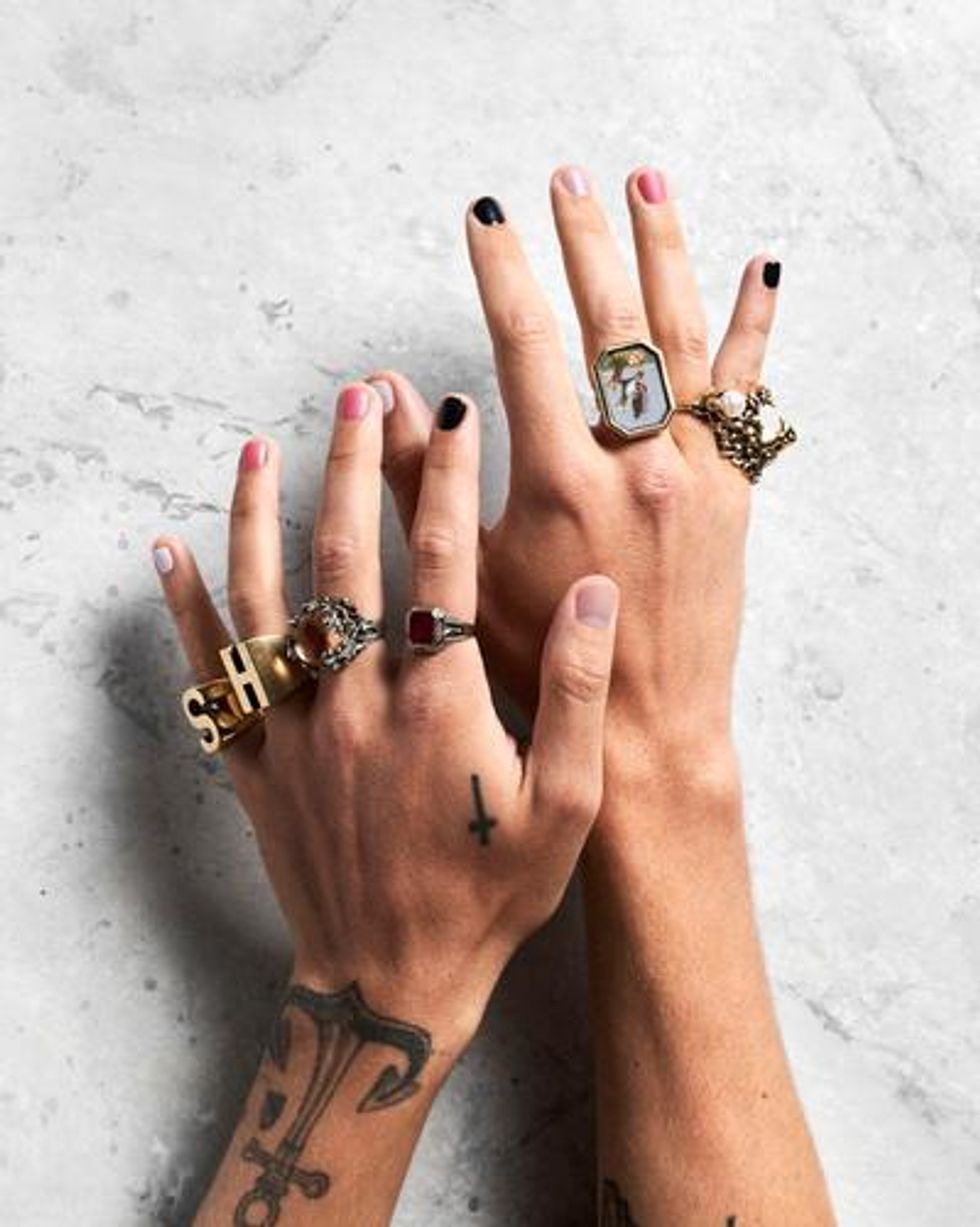 Obviously, we clicked the link — we did it with no hesitation, we're not ashamed to say. Obviously, we eagerly awaited what we'd find.
We were ushered into the glossy site, Pleasing.com, which showed the promised land: the four-polish, Perfect Nail Polish Set.
Everything about it seduced us: the futuristic, marbleized packaging that reminds us of alien spacecrafts (classic Aquarius move on Harry's part), in four distinct colors — white, pink, and navy with a pearl topcoat.
The brand focuses on helping you celebrate your uniqueness and individuality with all the combinations the polishes can make. So whether you imitate Harry's signature nail polish style or try out one of your own, the combination will be Pleasing.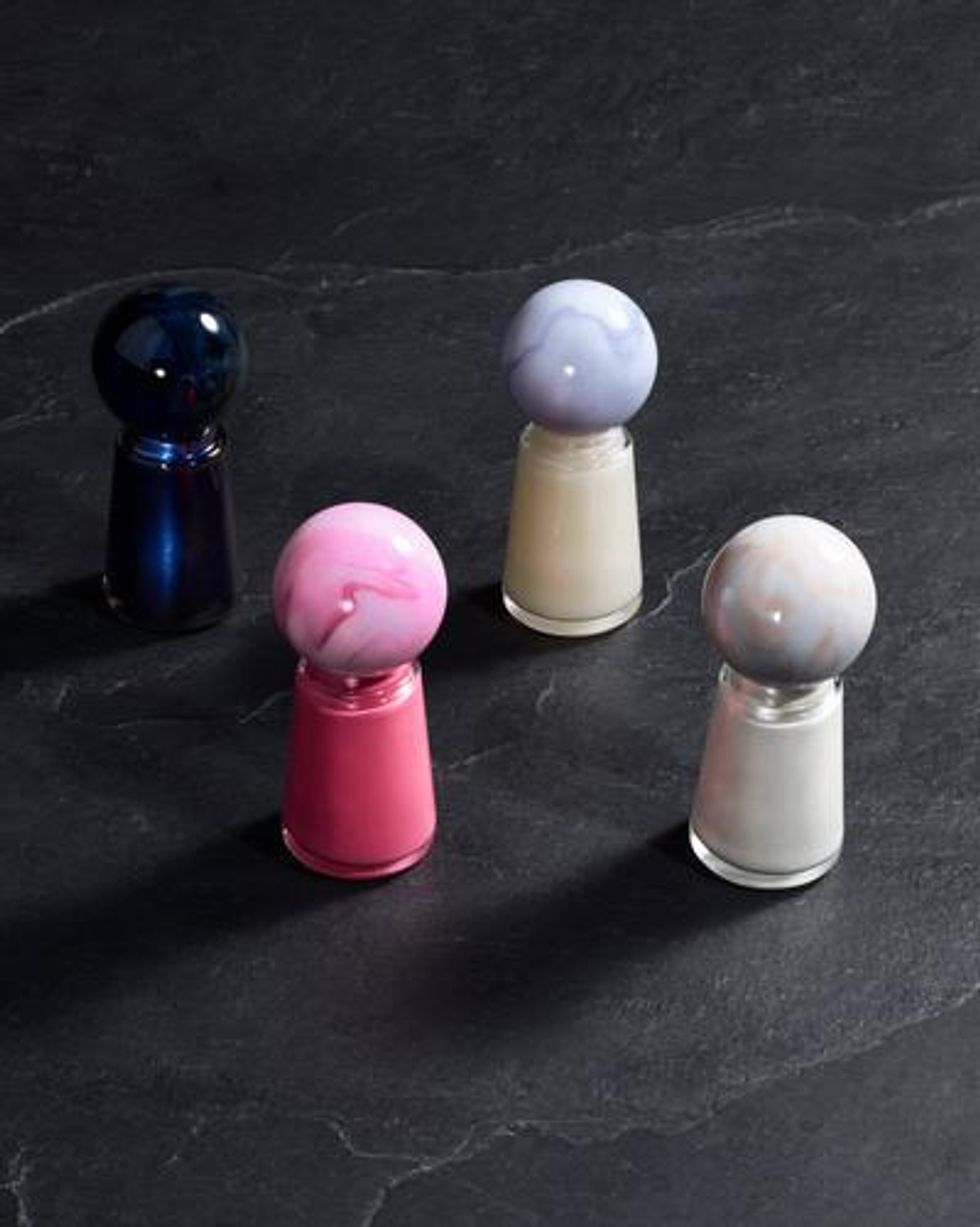 When I saw the promotion for Harry Styles's new brand, Pleasing, my first thought was, "those are Harry's nails." My second thought was, "how are his hands so pretty?"
I almost rolled my eyes — of course Harry Styles has pretty hands. The singer is always so immaculately groomed and immaculately dressed that it's part of his charm.
But while Pleasing will arrive on my vanity to get my manicures into shape, what am I supposed to do with my hands?
All cards on the table, my hands are not at their cutest. All that rigorous pandemic washing and hand sanitizing has left my skin flaky and dry. Lotions sometimes feel like a waste, because they hardly seem to penetrate the skin deeply enough to help … only to get rinsed away the next time I wash my hands.
Whenever I look down these days, my skin is noticeably worn and rough. Since I'm not ending my hand-washing measures any time soon, I've been looking for a hand treatment that actually works.
I've found the best life-hack for my dry, cracked palms: eczema cream. While I suffered from small bouts of eczema when I was young, I haven't had a flare up in years. But, seeking desperate measures, I went looking for something stronger that might help. Enter: Eczema Honey.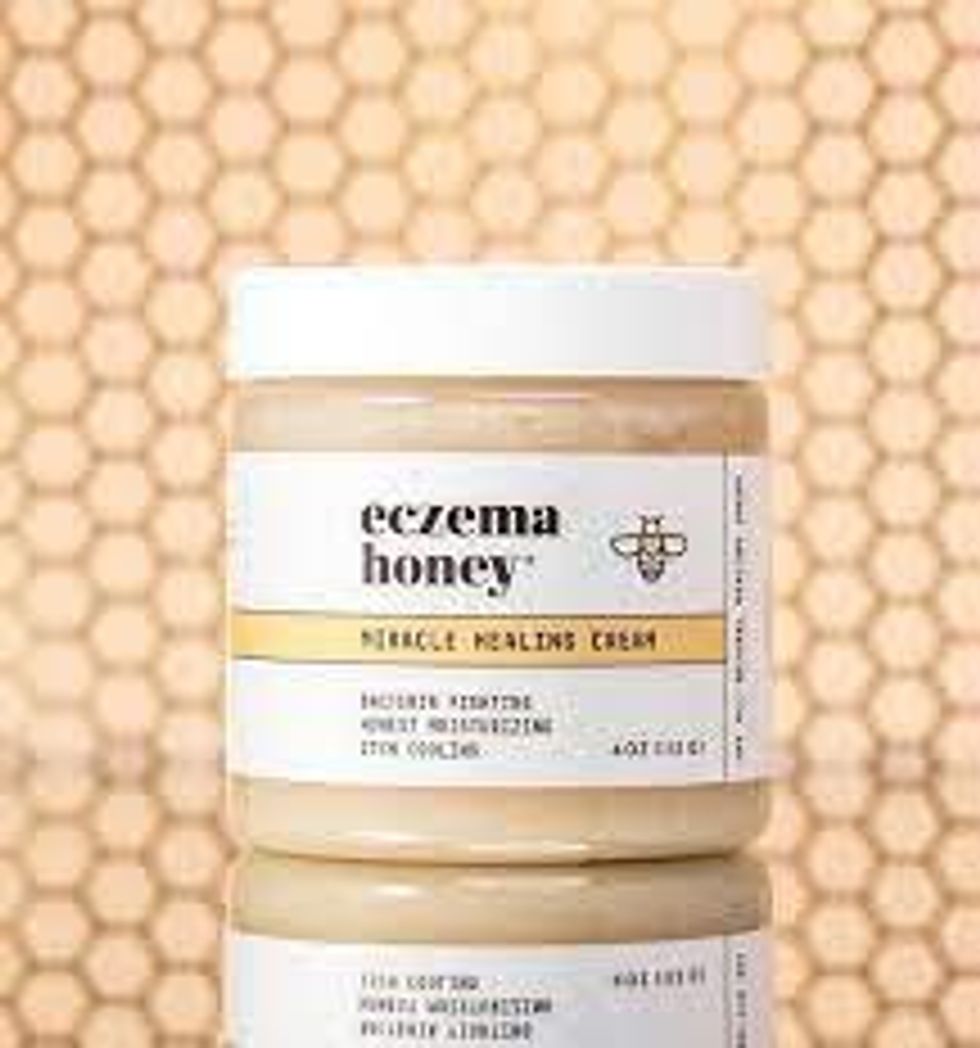 Eczema Honey Original Skin-Soothing Cream is the answer to my prayers. It's not just any eczema cream, it's leveled up and is more effective and more luxurious.
This supple cream has a high-quality texture which helps soothe your eczema. FDA and dermatologically approved, the cream melts into the skin to create a moisture barrier that guards and conditions your skin.
This premium formula blends active and natural ingredients. Colloidal Oatmeal is the main active, a skin protectant used in most eczema creams. Combined with the beeswax, pure honey, almond oil, and sunflower oil, Eczema Honey works as an emollient and hydrator in one.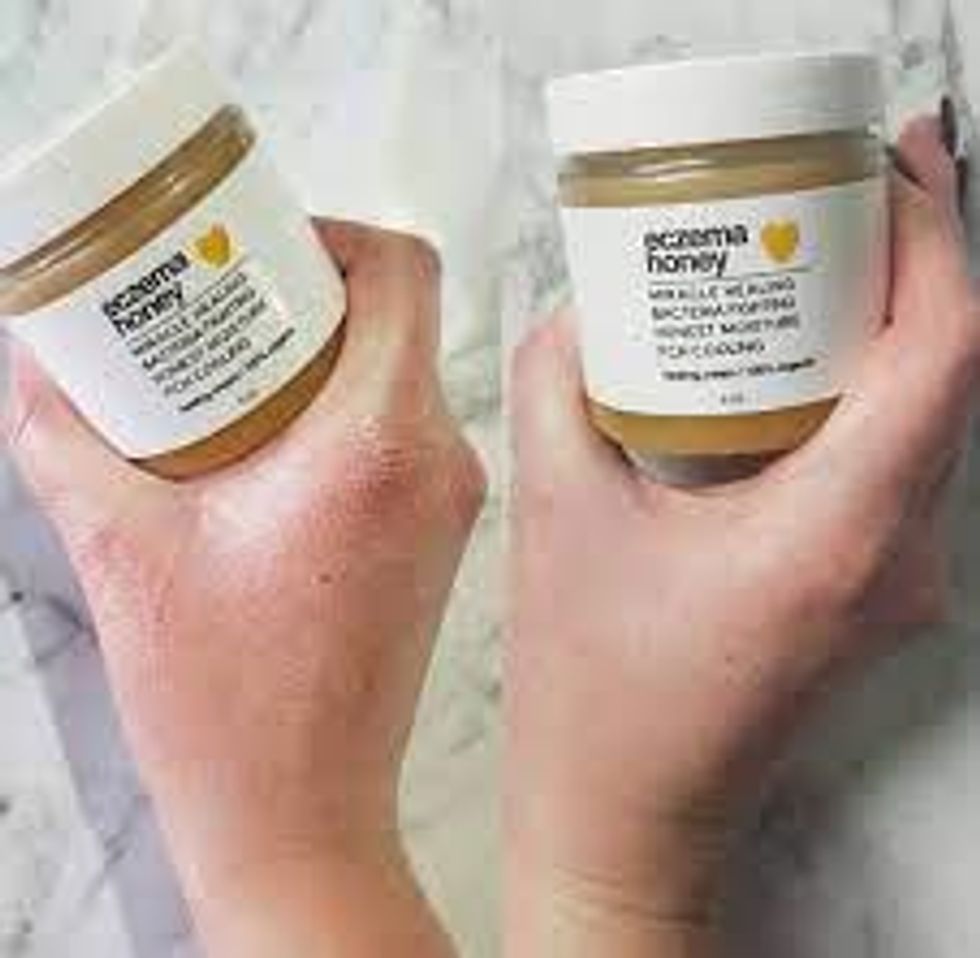 via Eczema Honey
As this soothing cream works to regenerate my hands, I'll wait with bated breath for Our Dear Harry's Pleasing polishes to finish off the look. Thanks to Eczema Honey, Harry hands — here I come.
CULTURE
How can we, mere mortals, achieve that GLOW
We need to talk about Zendaya.

I mean, we can't help but keep talking about her. But here's the thing — how did an ex-Disney star, whose current claim to fame is a soapy HBO teen drama, become Hollywood's latest darling?
The answer: she's literally perfect.
Now, with credits in Dune and the Marvel Cinematic Universe under her belt, Zendaya's set to step further into the limelight and her most recent lineup of looks prove that she's more than ready.
Since her earliest days, Zendaya has set herself up for success. Though she's ambitious, she is also grounded — a combination which allowed her to gracefully exit the Disney machine.
Instead of having the requisite meltdown, public crisis, or jarring rebrand that most former-Disney stars fall prey to, Zendaya took her exit at her own pace, choosing to say her final farewells right before the series premiere of Euphoria.
How did she do it?
How she knows best: through fashion.
At the Met Gala — the event that makes or breaks fashion icons — Zendaya waltzed up the red carpet in an electric, light-up Cinderella gown. What a brilliant way to pay homage to the movie magic of the studio that built her, then promptly dropping it for her debut as Rue, a teenage addict in HBO's Euphoria.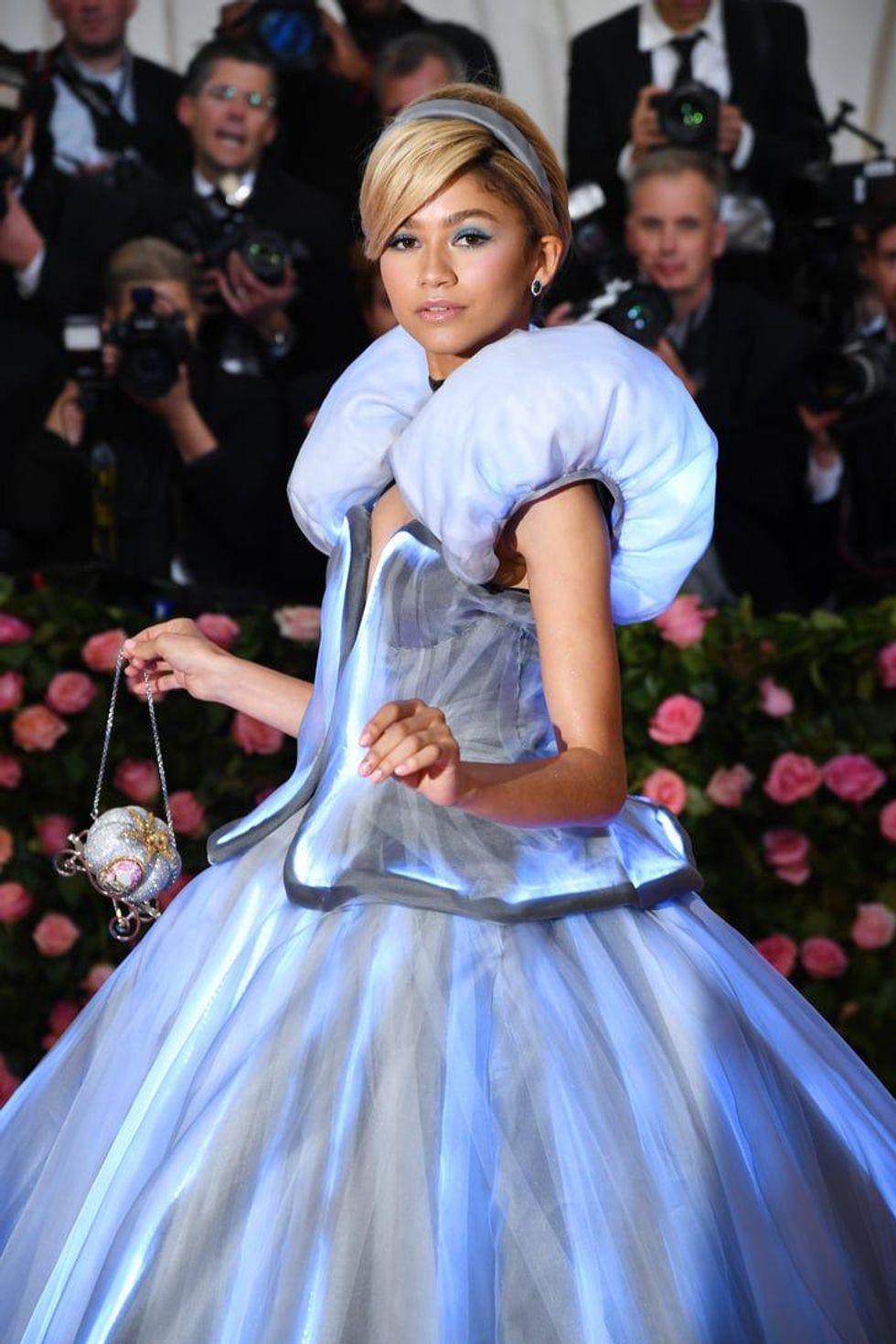 A literal Princess
By using fashion to cement this new stage of her life, Zendaya signaled that she is not just the type of Hollywood starlet who walks the obligatory red carpet to promote a project. Despite being famously lowkey, she makes constant appearances at fashion events and always delivers.i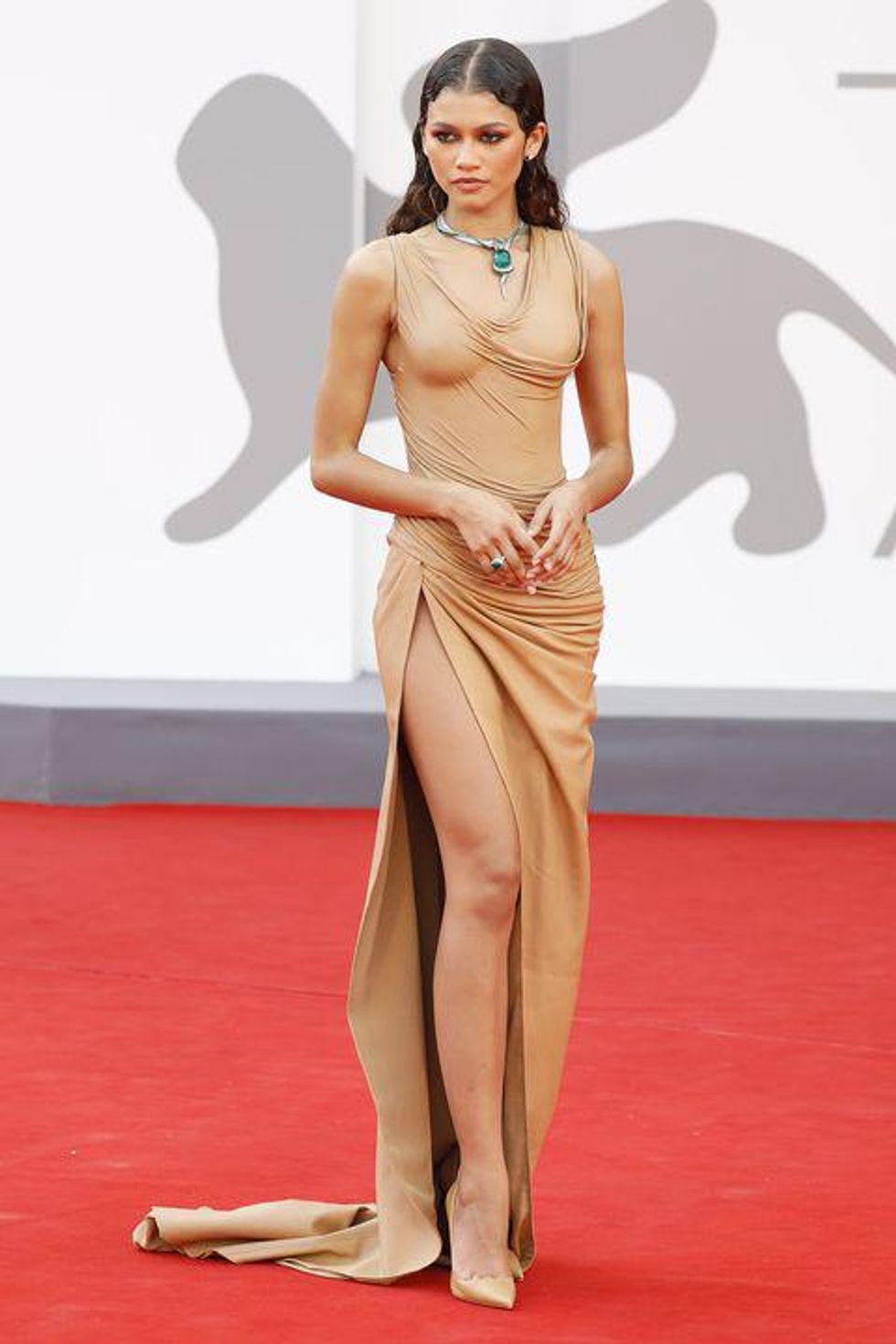 I mean ... HOW
She keeps going
And she's done it again.
At the CFDA Awards on November 11, Zendaya was a vision in red, wearing a two piece Vera Wang ensemble which made her look like the most gorgeous wedding topper. Giving his own awe-struck reaction, her boyfriend, Tom Holland (aka Spiderman) posted the look enthusiastically on Instagram with the cutest caption. So would we.
These garments' sleek, seductive charm are held up by Zendaya's effortless poise. In short: she wears them, they don't wear her.
This phenomenon can be attributed to a number of things: she's a vision of perfection that us mere mortals can only hope to attain, but also she radiates confidence, not to mention her meticulous curation of her aesthetic.
From head to toe, every detail about Zendaya's style is planned and thought out. But this doesn't mean it's extravagant at every opportunity — in fact, the opposite. Zendaya's simple, natural beauty balances the opulence of the garments and imbue her with an effortless glow.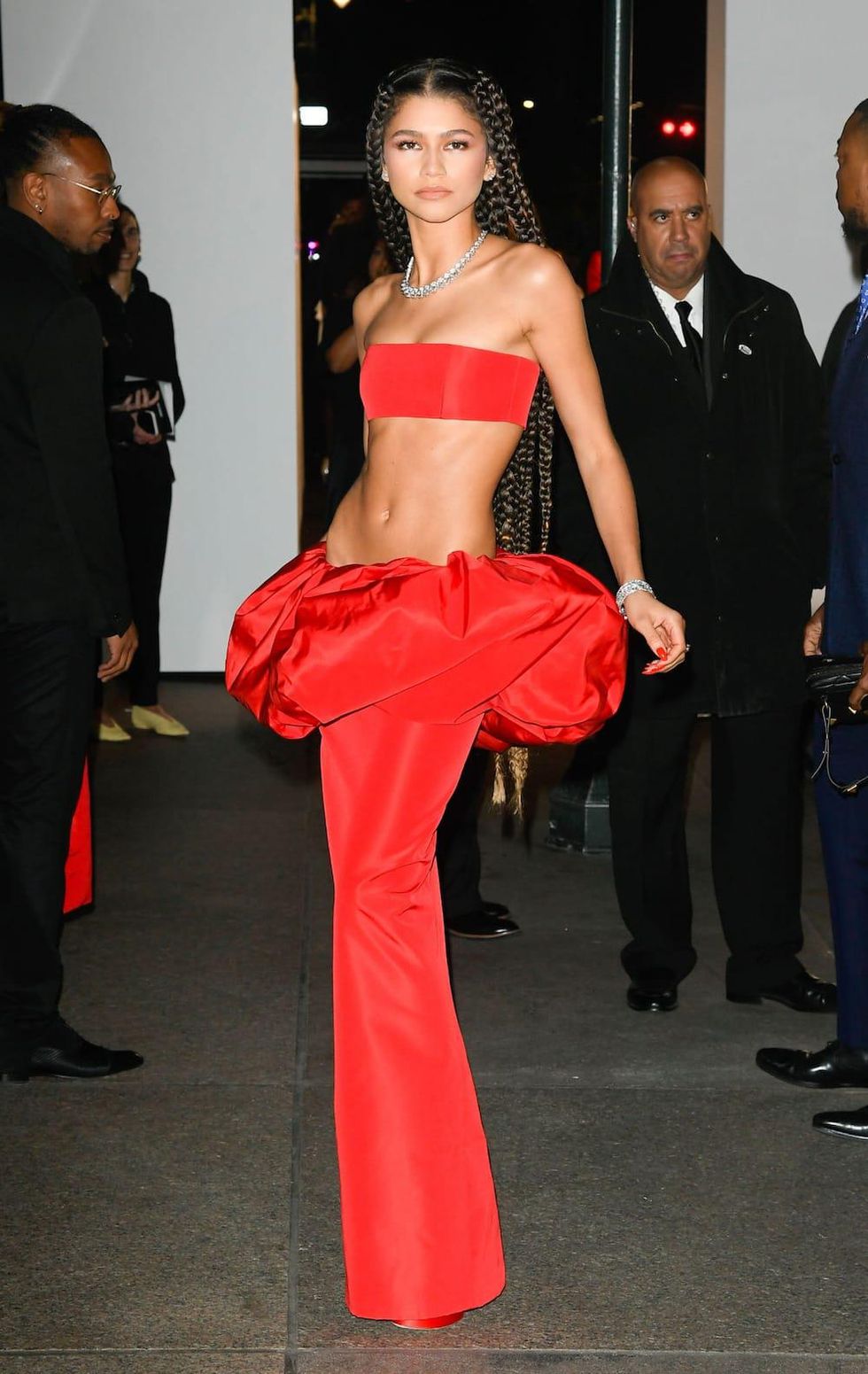 So … what about the rest of us?

While most of us aren't equipped with teams of makeup artists and stylists — amounting to nothing more than switching out sweatpants to wear around the house — we can take this lesson from Zendaya, in an effort to capture some of her charm.
By focusing on a glowy visage, perhaps we too can make any ensemble seem genuine and purposeful.
This is what I tell myself anyway. And it explains why — upon seeing the photos of Zendaya in Vera Wang at the CFDA awards — my first thought was: "let me go wash my face."
Though "clean" isn't an aesthetic in itself, it's both the first step and the finishing touch to any truly great look. The sophisticated restraint of simplicity works best when your face is naturally clean and clear. So, while we can't even approximate most of Zendaya's looks, we can reach for what is possible: clear skin.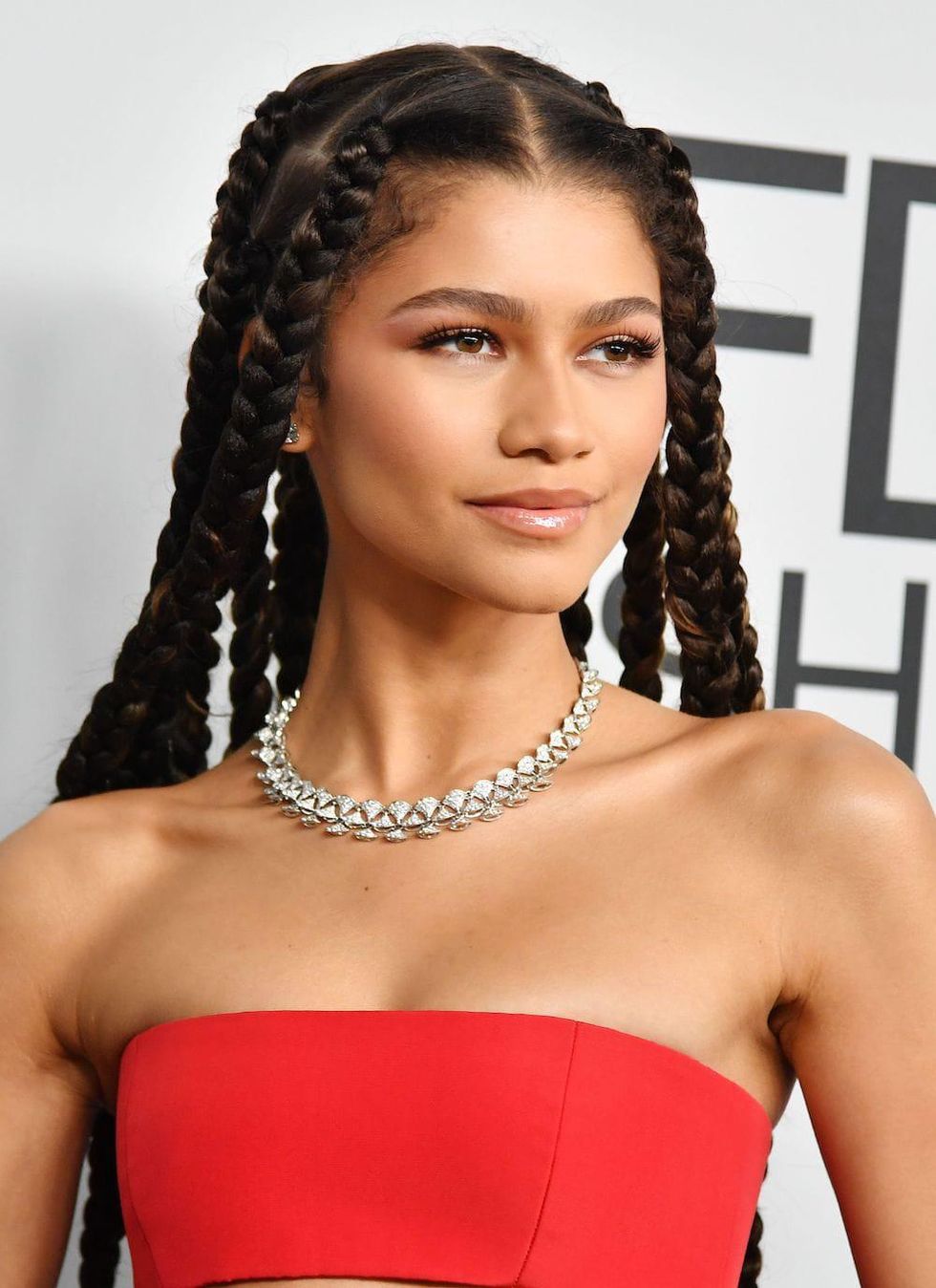 Why Banila Co?
Banila Co started with one product, a cleansing balm that goes on smooth and leaves your skin better for it. Whether you want a fresh canvas for makeup or are getting ready for bed, the Clean It Zero Cleansing Balm is step one.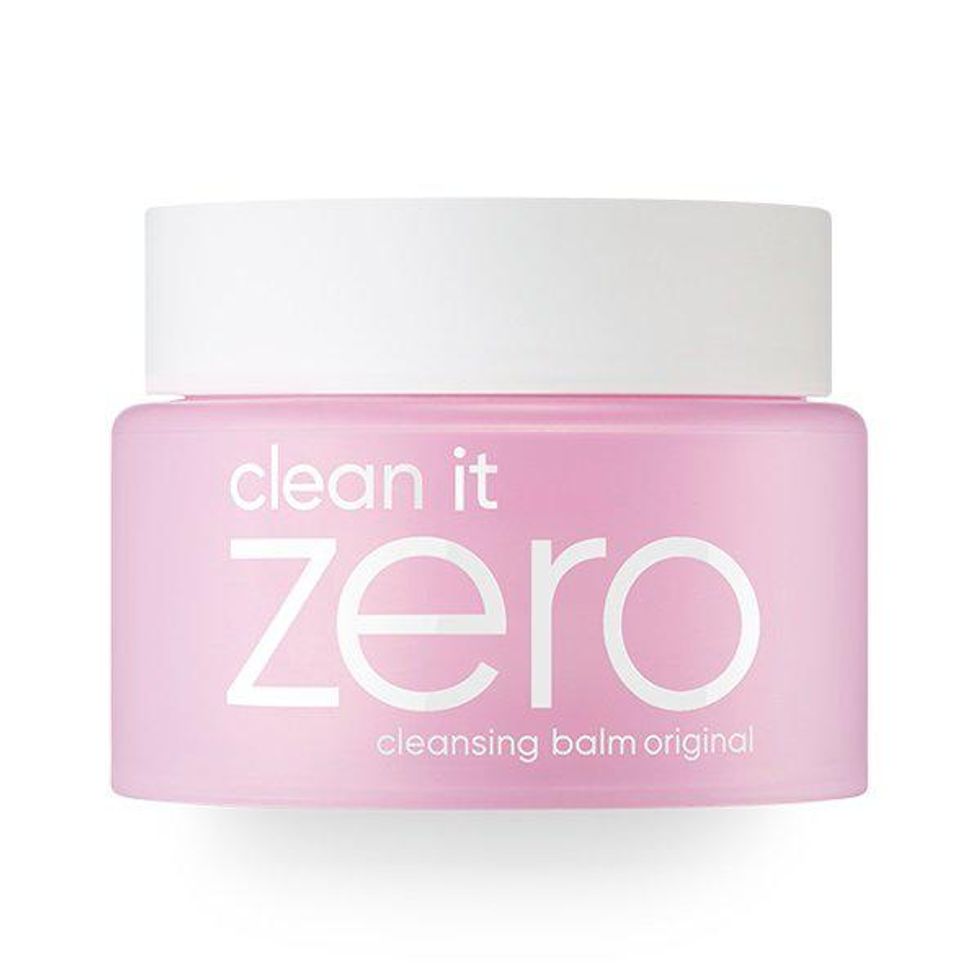 By focusing on skin health, Banila Co promotes basic skincare habits and creates products that ensure your skin will glow for days. It's not about momentary satisfaction, it's about forming lifelong habits and the long-term nurturing of our faces. After all, they're the only ones we have!
Banila Co delivers high-quality items that are an exquisite base for your entire makeup and skincare routine.
I'll admit, it's a fool's errand I've undertaken — trying to approximate Zendaya's stunning look. However, the little I can glean from her beauty secrets, I will.