Dev Hynes (better known as Blood Orange) has been making some of the most richly complex, genre-defying music and multimedia art of the past decade. Yesterday, Hynes continued this tradition with a new video for "Hope," posting a snippet on his Instagram account.
"Hope" was one of many standouts on Hynes' 2018 album, Negro Swan. Its video, out today on Apple Music, is just as elegant and innovative as the song it brings to life. It features a wide variety of notable collaborators, including Diddy and Tei Shi, and was produced and shot on 35mm by Elara Pictures.

Hynes directed and edited the video himself. You can see his signature ability to spin disparate imagery and genres into a cohesive whole manifested even in the short Instagram clip, which features slow-motion visuals of people running through autumn leaves, dancers spinning against a scarlet background, and the artists creating the track in a studio, Hynes shaping it into being from the mixing board.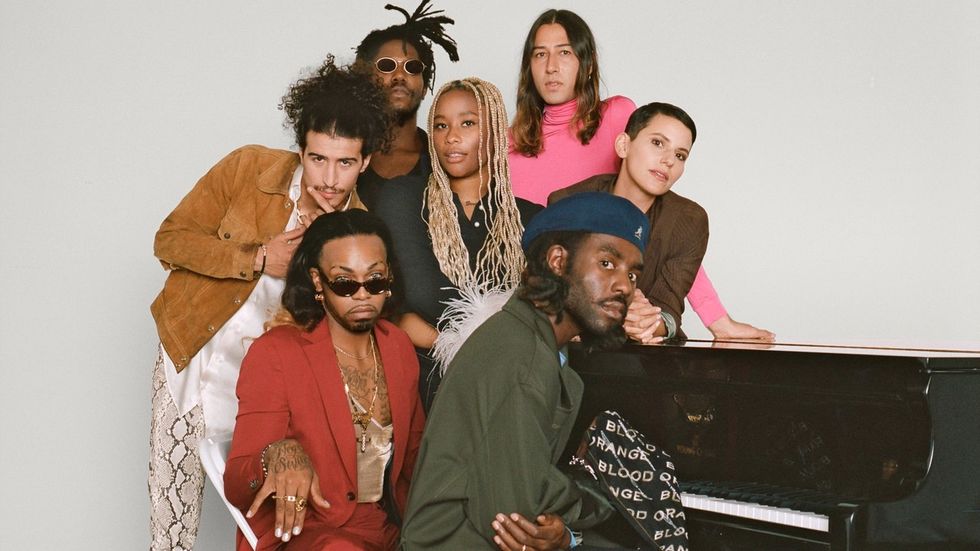 Hynes and friends at a piano. Image via GQ
The full video begins with Dominique screaming at a man on a busy street, asking him to hear her. Then, the first few chords come in, drowning her speech as the footage slips into slow motion. From there the video pans to Tei Shi, singing the song's riff on a crowded sidewalk, her pale blue jumpsuit adding spots of color to the faded concrete backdrop. These are shots of tentative optimism, of people just beginning to find their voices, discovering companionship and beauty in unexpected places.
Tei Shi - "Bassically" (Official Music Video) www.youtube.com
Most of the video takes place on the streets or in the studio, but every shot remains true to Blood Orange's vision, juxtaposing the quotidian with dreamy clips of bodies moving in surreal ways. We see dancers frozen in motion around a grand piano; moody, blue-washed shots of A$AP Rocky running across a city street and flipping off the camera under neon lights; Empress Of swaying against a screen of flames.
Ultimately the video seems to be about the gap between fame and intimacy, dreams and reality, fear and hope—a sentiment that's reaffirmed in its final monologue, penned and narrated by Puff Daddy.
"Sometimes I ask myself, what is it gonna take for me not to be afraid to be loved the way I really want to be loved?" Diddy asks over elegant piano trills. "I know how I really want to be loved, but I'm scared to really really feel that. It's like you want something but you don't know if you can handle it. You give me that hope that maybe one day I get over my fears and I receive."

Blood Orange will be on tour with Florence + the Machine and Christine and the Queens this spring.
---
Eden Arielle Gordon is a writer and musician from New York City. Follow her on Twitter @edenarielmusic.

---
POP⚡DUST | Read More...

Hatchie Shares Kaleidoscopic New Video for Single "Stay With Me"
The Vacant, Sparkly Capitalism of JoJo Siwa