FILM
Olivia Wilde's "Booksmart" and the Failure of (White) Feminism?
Twitter users took the meek opening particularly hard, with some decrying Hollywood's sabotage of female filmmakers and others criticizing the story. Did sexism lead to Booksmart's poor performance? No, but poor distribution, bad timing, and its niche appeal in a saturated genre did.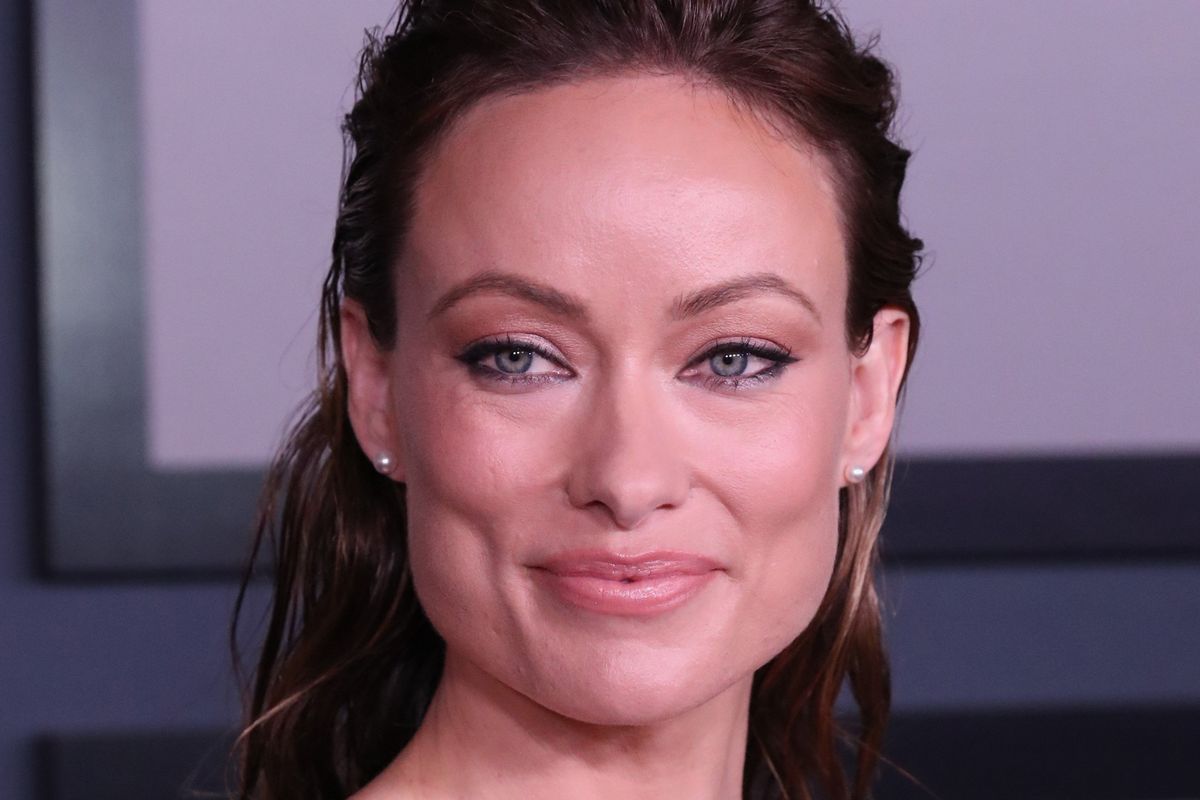 By Matt Baron (BEI/Shutterstock)
Early praise for the teen comedy Booksmart predicted that the film is "destined for instant cult status." But based on its disappointing opening weekend, movie-goers don't agree.
---
While the indie flick had a challenging release date, debuting while Aladdin and John Wick 3 were still dominating the box office, the film's critical acclaim and social media buzz contradict the film's mediocre $8.6 million in earnings. Twitter users took the meek opening particularly hard, with some decrying Hollywood's misogyny as sabotage of female filmmakers and others pointing out the story represents a narrow type of coming-of-age experience. Did sexism lead to Booksmart's poor performance? No, but poor distribution, bad timing, and its niche appeal in a saturated genre did.
Olivia Wilde makes her directorial debut with a quirky revamp of the nerds-gone-wild trope of teen comedies (the film's been called Superbad with teenage girls). Amy (Kaitlyn Dever) and Molly (Beanie Feldstein) are high school seniors who realize in their senior year that their straight-laced behavior and high academic achievements have come at a cost: They don't have any crazy high school stories. They spend one-night party-hopping in an attempt to cram four years of antics into their last day as high schoolers: an over-the-top "One Crazy Night" story that Wilde and screenwriters Katie Silberman and Emily Halpern described as "Training Day for high school girls."
After the film's wide release on May 24, Taylor Swift, Mindy Kaling, Ryan Reynolds, and Natalie Portman were among celebrities urging their followers to see the movie. Reynolds tweeted his support, "BOOKSMART. Don't walk, RUN to see this. Today and all summer. Holy shit."
Taylor Swift took to Instagram to promote the film, resharing actor Diana Silvers story and writing, "JUST BOUGHT TICKETS!! Guys go see Booksmart cause in this house we support @oliviawilde."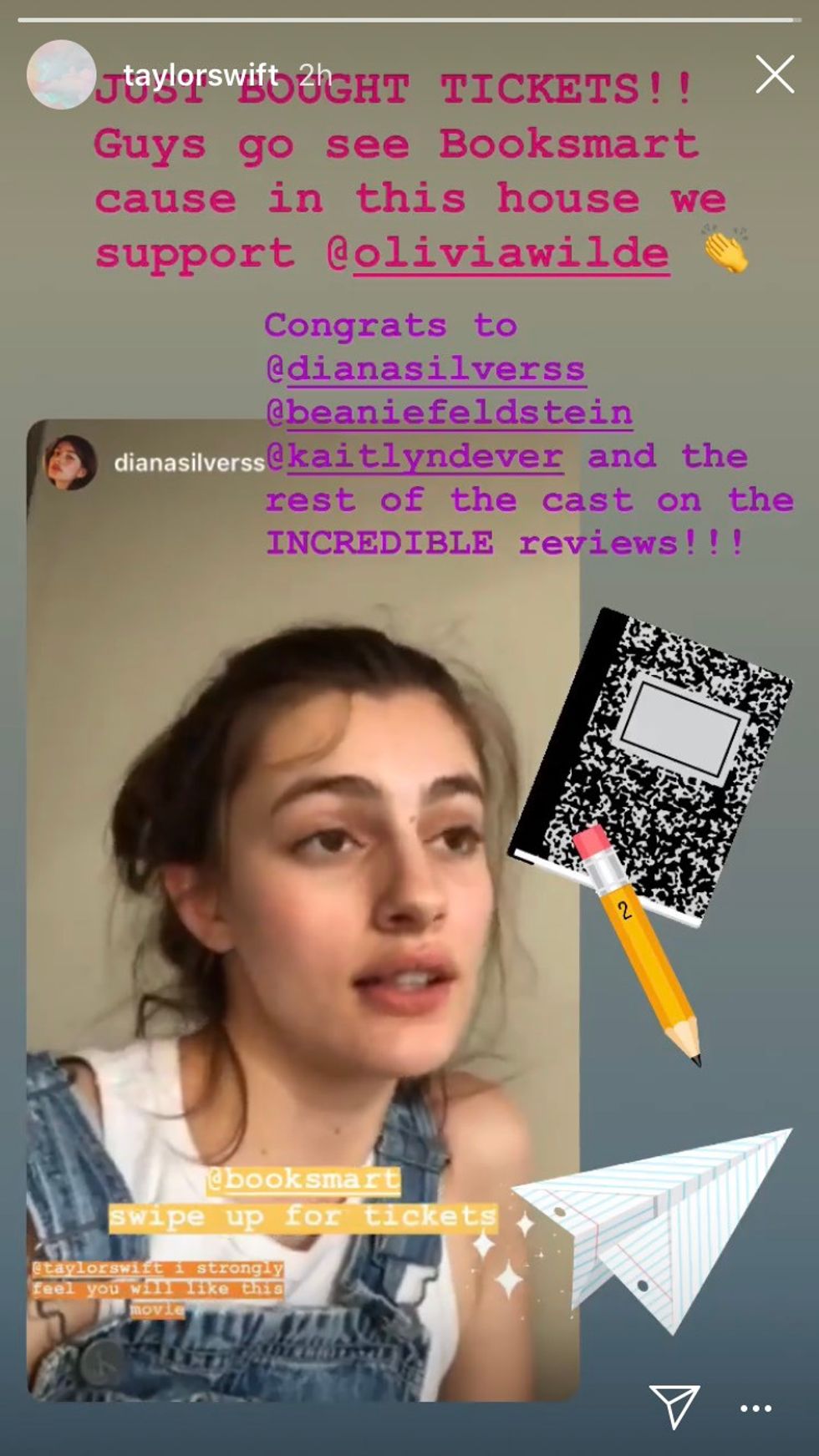 Instagram
Much of the film's hype was driven by the fact that it's a well-done female-focused comedy, written by two female screenwriters and helmed by a female director. Actor Lily Reinhardt (Riverdale) posted, "Just have to add my praise out there for #Booksmart. I loved it. I had so much fun watching it and you can tell it was such a joy to be a part of. Go support women filmmakers!!"
Even Wilde called for moviegoers to support the film in feminist solidarity. After a slow opening day earning just $2.5 million across 2,500 nationwide theaters, she tweeted, "We are getting creamed by the big dogs out there and need your support. Don't give studios an excuse not to green-light movies made by and about women."

Soon, the film's hype turned into a controversy over its feminist significance. Is the box office turnout of a female-led film indicative of the feminist movement in Hollywood? Yes and no––but mostly no. Forbes' Scott Mendelson argued differently, calling Booksmart a "box office failure" and "a sadly predictable tragedy." He wrote, "It's yet another example of audiences getting the very thing they claim Hollywood won't give them and looking the other way." He regurgitates the Hollywood disparity that "men get hired on potential while women get hired on history" and suggests that poor ticket sales will buckle the futures of other female filmmakers. He simply urges, "[I]f you want the (female) filmmakers behind your favorite female-centric comedies, dramas, and genre flicks to direct more studio pictures, you really have to support those films in theaters."

Firstly, the film's significance to feminism is overblown, as the causes and effects of Booksmart's underperformance are not solely contingent on movie-goers. Roxane Gay addressed the online bickering as simplistic views of both feminism and how the film industry works: "I've seen more than a few tweets basically pressuring people to see Booksmart or else more movies like it won't get made. This strategy never works and it is always deployed for movies that cater to anyone but straight white men." She adds, "It's aggravating. Going to a movie doesn't solve systemic issues in Hollywood. This idea that we are supposed to be so grateful for representation that we are in the wrong if we don't drop everything to offer or support is... a mess." Finally, she pointed out, "Smaller movies always struggle against big-budget fare. And if Hollywood looks at these numbers and decides to not make another such movie, that isn't the fault of the audience. It's Hollywood's fault!!!"
Second, the decision to give the film a wide release crippled its chances of making a stronger impact. As Slate points out, "Booksmart was set up for failure" (if you call sixth place at the box office a "failure") by United Artists Releasing, Annapurna Pictures, and MGM. The indie flick should have been rolled out slowly with a limited release that expanded to wider theaters. The momentum of word-of-mouth and critical praise could've generated more revenue and perhaps led to breakout success similar to A24's Lady Bird.

However, Booksmart was also released on Netflix in France the same weekend it opened in US theaters, which speaks to the film industry's larger problem of streaming platforms deterring at-home viewers from becoming movie-goers. Complicating matters further is the niche appeal of a coming-of-age comedy, which already makes finding the right audience for Booksmart tricky.
Olivia Wilde commented on the film's questionable distribution, as well as its ideal audience. On Friday, she posted, "A wide release for a small film is def a major gamble. I'm lucky my first movie is in any theater at all! Also proud a movie like this can be seen by the entire country at once. We made @Booksmart for everyone. 🐼"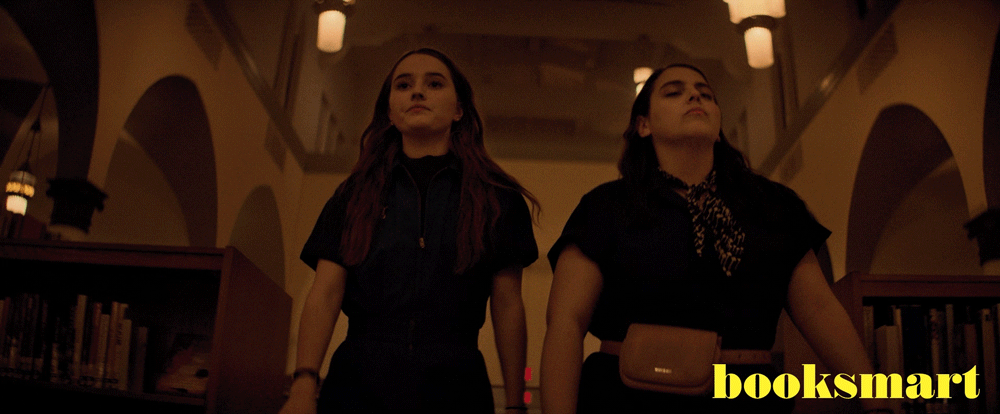 Giphy
On the matter of inclusion, some strongly disagree with Wilde. Film producer Franklin Leonard replied to her call to support "movies made by and about women" that are crushed by "the big dogs" by noting: "I completely understand being disappointed about 'Booksmart"s opening. I am too. You're going to have a hard time convincing me not to be happy about another big budget studio film starring people of color overperforming expectations, domestically and especially abroad." Similarly, writer and activist Millie Kendall criticized the film's focus on white women: "The fervor over Booksmart not doing as well as more diverse movies perplexes me. Did you think yet another predominately white coming of age story was going to appeal to the Black and Brown audience that drives the success of more diverse films??"
As a female-centric coming-of-age comedy, Booksmart faced multifaceted challenges at the outset. Online criticisms range from the film focusing on white feminism at the exclusion of people of color to condemning movie-goers for not supporting small indie films at the box office. As one Twitter user noted, "The hilarious thing about searching "Booksmart" on Twitter is that half the people think "the controversy" is about white feminism versus intersectional filmmaking and the other think it's about supporting small movies at the box offices."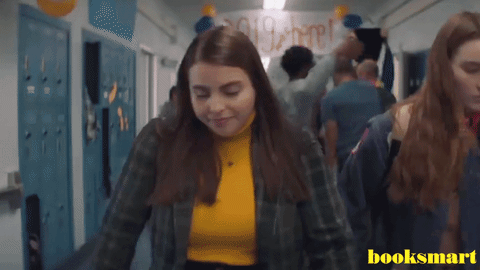 Giphy
Does the disappointing performance of Booksmart signal the downfall of feminism? Of course not. Is the women's movement in Hollywood dominated by white feminism? Frankly, yes. Is Hollywood going to stop green-lighting female-centric films? Not likely; they can't afford to. One study found that female-led films, in general, outperformed male-led movies between 2015 and 2018. Hollywood also isn't primed to cut down on female representation because, with male speaking roles outnumbering female speaking roles 2:1, there's too little to cut.