CULTURE
Women need to support women, but we have to keep our eyes on the prize.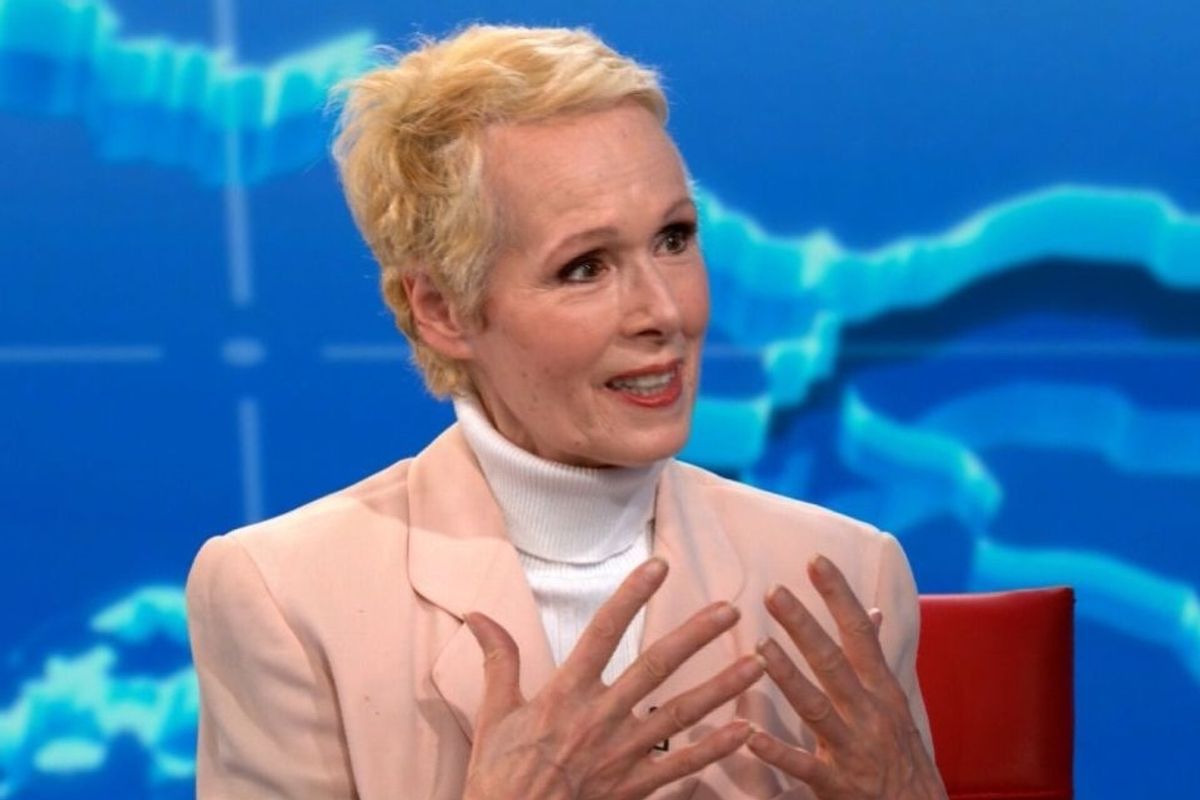 In 2019, E. Jean Carroll published an op-ed in New York Magazineaccusing Donald Trump of raping her in a dressing room in New York.
This week, Carroll said that ELLE Magazine—where she worked as an advice columnist for over 30 years—fired her because of the insults she had received from Donald Trump.
"Because Trump ridiculed my reputation, laughed at my looks, & dragged me through the mud, after 26 years, ELLE fired me," she Tweeted. "I don't blame Elle. It was the great honor of my life writing 'Ask E. Jean.'"
Carroll is currently embroiled in a lawsuit against Trump. In the 2019 op-ed, she said that Trump assaulted her in a Bergdorf Goodman dressing room. The essay was an excerpt from her book, What Do We Need Men For?
Trump denied the allegations, stating, "She's not my type."
Carroll sued the president for defamation after he accused her of lying last year. Since then, the trial has stalled as Trump's lawyers have insisted that before it can proceed, New York's Court of Appeals must decide if a sitting president can be sued. Carroll's lawyer is attempting to counter the delay, which could extend the case past the presidential election in November.
If Trump's lawyers fail to win their client further exemptions due to his position as president, Trump may be forced to submit a DNA sample. Samples from the black dress which Carroll was wearing during the alleged assault have been linked to an unidentified male.
"Our client filed this lawsuit to prove that Donald Trump lied about sexually assaulting her and to restore her credibility and reputation. From the very beginning, Trump has tried every tactic lawyers can think of to halt this case in its tracks and keep the truth from coming out," said Carroll's lawyer, Roberta Kaplan. "His latest effort—a motion to stay our client's case until the New York Court of Appeals decides the Summer Zervos case likely after November 2020—is yet another obvious delay tactic that is not grounded in the law and, like his previous attempts to stall this case, will be rejected by the court."
Regardless of the truth about any of this, what's happening is clear. E. Jean Carroll accused a man of rape, and she lost her job, at a women's magazine, no less, while he not only kept his position—he also maintained credibility with over half of the country, and he may well be re-elected. This indicates a much deeper problem with the way that the nation views rape, assault, and women's voices, even in this supposedly post-#MeToo time period.
While much has been written about the damaging effects that sexual abuse allegations can have on men, it turns out that an abuse allegation often fails to significantly damage men's careers, while it can destroy women's lives. What can be done about this? Women need to support other women, yes—but we have to keep our eyes on the prize: electing a non-blatant misogynist in November.
ELLE Magazine has not yet commented on the events.