FILM
Is The Bronx Safe for Tourists Flocking to the "Joker Stairs"?
Like the "Rocky steps" in Philadelphia and the horrible "Friends" apartment building in the West Village, the "Joker stairs" are now a hot tourist attraction.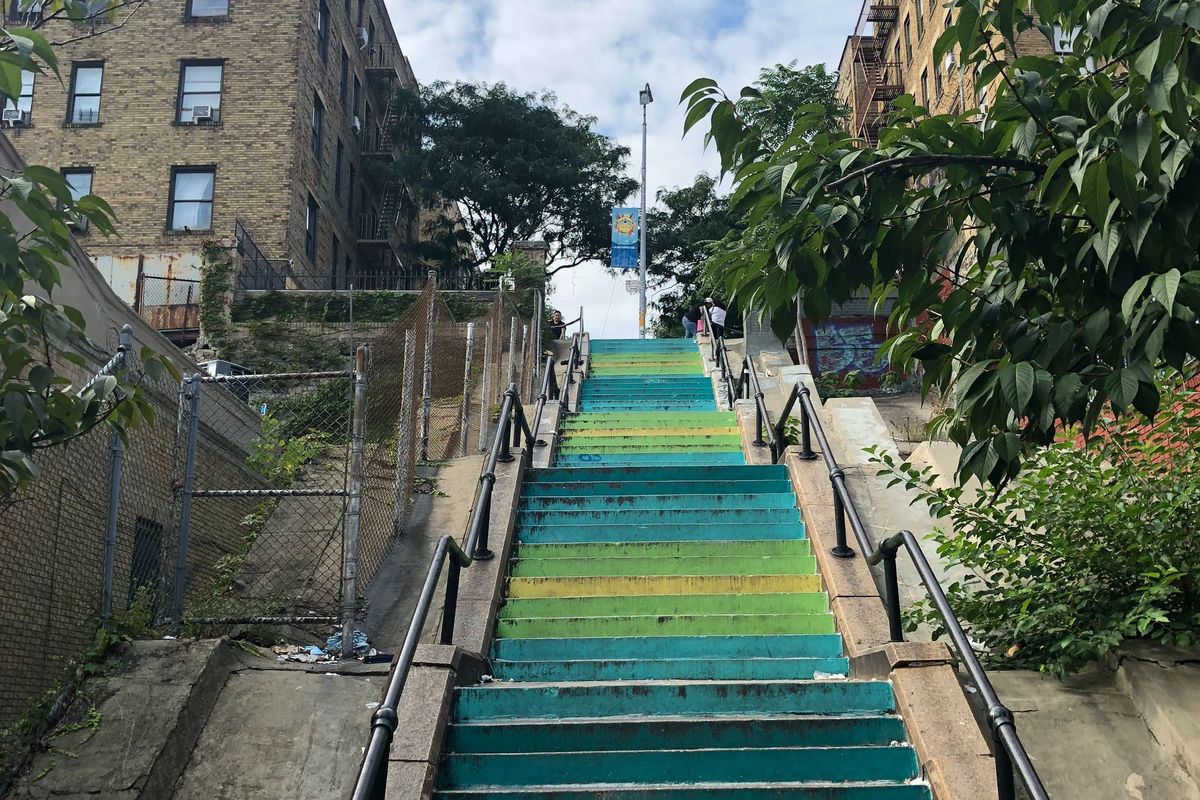 Photo by Roy Rafael (Unsplash)
On Google Maps, the Bronx staircase at 167th Street is now labeled "Joker Stairs."
---
The staircase is the location of a crucial scene in Todd Phillips' Joker, in which Joaquin Phoenix embodies Arthur Fleck's transformation from alienated comedian to violent misanthrope. While the film's themes have resulted in its treatment as both a cult classic and dangerous incel propaganda, fans are visiting the site to recreate the Joker's dance down the steps for Instagram. Or, if you take Fox News' word, "Instagrammers risk getting 'robbed' recreating 'Joker' scene: 'The Bronx is not a friendly place.'"
Like the "Rocky steps" in Philadelphia and the horrible "Friends" apartment building in the West Village, the stairs are becoming a tourist attraction. And like all iconic film destinations, locals hate the place and each and every tourist who flocks to it. Bronx locals have taken to Twitter to say, "Please, if you're reading this and you're not from around here (or ever been to the Bronx, Yankee stadium does not count) PLEASE DO NOT COME HERE. Thanks, Bronx Resident."
Another Bronx native drew the attention of Fox News with the comment: "Those awful stairs on 167 are now renamed 'the joker stairs' so I [sic] just want to remind everyone that the Bronx [sic] is not a friendly place for tourist attractions you will get robbed beloved."
Located in the South Bronx, the staircase is as unsightly and unkempt as most of the oldest New York neighborhoods are, hence its selection for Joker's dark and gritty Gotham aesthetic. But as for its safety, it's also on par with other old New York neighborhoods that have been touched by gentrification's renovations but not its sanitizing effects on public safety. Namely, the crime rates in the South Bronx are very similar to those of East Brooklyn, which are actually lower than those of Greenwich Village, and they're only slightly higher than those in Jackson Heights.

But more importantly, as much as the media and Fox News like to depict the Bronx (and also Brooklyn, before the hipsters took it over) as a center of crime, the fact is that the 10 murder capitals of New York State are all upstate. So while the Bronx has been named New York's "unhealthiest county" in terms of "quality of life, poor physical health, mental health, smoking, obesity, and physical inactivity" for the last seven years, it's clearly the perfect setting for Joaquin Phoenix's mental breakdown while still being safer than upstate, NY.