Luscious locks and #GoodHairDays give us that added boost to get through the day. While we try to keep our hair products on point, sometimes we have to dig a little deeper and start from within.
The first step to having healthier, thicker, and stronger hair is finding the right hair nutrition supplement. Our editors were keen to find a hair nutrition product that would be safe and beneficial.
Two of the buzziest products on the market? Moon Juice SuperHairand Sugarbear. After putting them to the test, here's what we found:
Key Similarities:
Both offer vitamins for your hair
Both have a subscription model
Both are 100% vegan
Key Differences:
SuperHair has carefully selected ingredients that clearly state where they are sourced, unlike Sugarbear
SuperHair is a capsule which delivers a higher dose and Sugarbear offers gummies
SuperHair's results typically take 4 weeks, while Sugarbear takes about 3-6 months before seeing results
Moon Juice's SuperHair: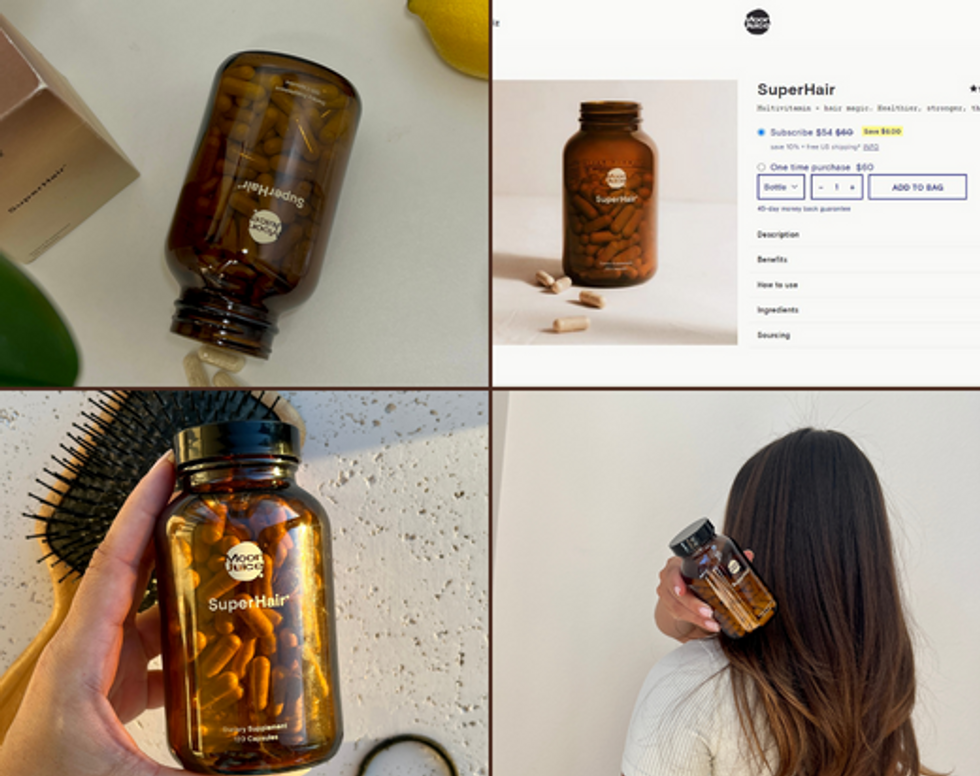 SuperHair is a hair nutrition multivitamin that addresses the nutritional deficiencies that inhibit the growth of healthier hair. These multivitamin capsules are carefully curated and utilize 5 bioactive vitamins and sustainable sourced balanced ingredients (the good stuff). It includes Organic Ashwagandha (to help balance stress hormones), Horsetail (which contributes to thicker hair), Iodine for thyroid hormone balance, biotin, and a multivitamin complex addressing nutrient deficits.
Moon Juice stresses a holistic approach with one target in mind: ingredients and formulas that actually work. SuperHair's formula was created for peak absorption with 100% traceable, unadulterated ingredients that only benefit your hair. With 4 capsules every morning, you should notice stronger, shinier, and healthier hair within four weeks.
Starting at only $54 a month with the subscription, SuperHairnot only keeps its eye on essential ingredients but its sourcing as well. Horsetail arrives from Spain, Iodine from Iceland, Ashwagandha is transported from India, and Wildcrafted Saw Palmetto (which helps inhibit the hair-destructive hormone DTH) is sourced from the USA.
SuperHair is vegan and strives to provide your body with what it needs to produce healthy collagen instead of adding animal or marine-tested collagen, which is contained in some hair supplements. Since it's a subscription model, the capsules arrive at your door monthly in a compostable pouch, even before you run out.

Sugarbear Overview:

Sugarbear Hair Vitamin Gummies are vegan, chewable, and include 9 different ingredients to help nourish and give you thicker hair. Zinc and Biotin are known to help maintain hair, while Zinc contributes to the maintenance of normal nails, and Vitamin B8 Inositol helps hair growth.
The website doesn't have much information about ingredients, benefits, or directions. While they claim to have all the good ingredients your hair needs, Sugarbear isn't transparent with their sourcing, unlike SuperHair. Each serving also has 2g of sugar and carbs.
Sugarbear Hair Vitamin Gummies claim to maintain your hair and proudly state that they are cruelty-free and made without hormones. Although we love that they are soft, chewable, and delicious, we aren't pleased waiting 3-6 months for results. With a subscription, Sugarbear Hair Vitamin Gummies cost $35.95 monthly.
Final Thoughts:
Although we liked the delicious taste of Sugarbear Hair Vitamin Gummies, it wasn't enough. We set out to pick a brand that was trustworthy and safe, and Sugarbear just didn't provide us with enough information about ingredient sourcing or quality. SuperHair's formula offers a higher dosage, more potency, and we like that we don't have to worry about adding more sugar into our diets.
SuperHair has incredibly well-sourced and selected ingredients that help and nourish your hair. Although it's a little more expensive, you can start to see results as quickly as 4 weeks, unlike waiting 3 months when using Sugarbear.
SuperHair's unstress model addresses and tackles the primary ways your system is compromised, which we greatly appreciate. It's a trusted and effective way to improve your overall wellbeing, which contributes to healthy-looking, amazing hair.
Our decision is made! We pick Moon Juice's SuperHair; it's our hair nutrition of choice! Trust us and subscribe to Moon Juice today!