Dogs are just like humans; sure, they can't do math, but they have the same basic needs, get the same diseases, and feel the same way about their owners as we feel about them (pure, unconditional love).
It's becoming more apparent that for humans, adding some vegetables to your diet isn't enough. A billion people are Vitamin D deficient, and it's getting harder to eat a balanced diet.
The same thing happens to our canine friends - if you already know about the dangers of kibble (reading the back of the package will shock you if you haven't), you may have already moved on to cooking Holly or Freddie beef and rice bowls. But this still isn't enough.
For optimal nutrition, meaning a longer life expectancy, more energy, and a shinier coat, your dog needs the balanced nutrients that a commercial diet can provide, but without the filler and processing that goes along with it. That means more of the good stuff in its natural state prepared and perfectly portioned to deliver the nutrition your dog needs to thrive.
The first pet health company to master this balance is NomNomNow. From humble beginnings of sick pup rehabilitation in a cramped kitchen to a full-blown kitchen in Nashville, TN, they've cracked the dog food code to help your pet reach the optimal balance for a happy life. But what makes them stand out from the other fresh food dog companies?
NomNomNow's got a name your 3-year-old can pronounce, but more Ph.D.'s on their team than you can count. They're dedicated to pet health, and their board-certified veterinary nutritionist is one of less than 100 in the entire country... In most veterinary programs, only one semester of schooling is dedicated to pet nutrition. That's one semester of knowledge before giving out advice on nutrition for the rest of their careers. Vets do their best, but a comprehensive specialized education is stronger at determining the ranges of pets' needs. Dr. Justin Shmalberg is responsible for your pet's wellbeing, and he takes his job very seriously.
NomNomNow provides a well-balanced diet from whole foods cooked individually at optimal temps and a perfected blend of vitamins and nutrients. Not only that, but your dog's needs will always be taken into account - that means allergies, portion size, breed, and age, all determined after you take a short quiz.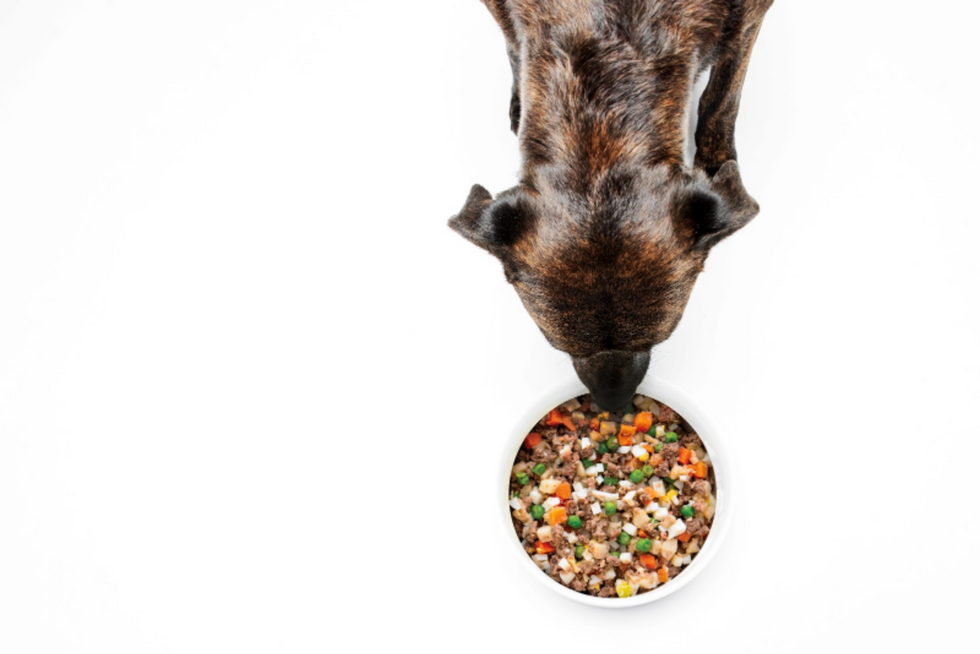 They also take inspiration from pet owners who cook for their dogs - a gently cooked bowl of turkey and rice with carrots is an incredibly healthy feast for a dog - but it's not complete just yet. Every NomNomNow meal comes with their NomNomNutrient Mix, which is an expertly formulated blend - there's fish oil for those omega-3 fatty acids and a full breakdown for every recipe on its vitamins, minerals, and proteins.
Even with the right combo of ingredients and supplements, consistency, and precision in preparation are crucial to nutrient availability and optimal digestion.
Suddenly, it doesn't seem so easy just to do it yourself… Even if you can replicate that at home, there's one problem that every pet owner has fallen into at some point or another: giving in to those puppy-dog eyes and overfeeding. "But he looks hungry!" We know, we know.
Unlike other dog food companies, when you order the Chicken Chow-Wow from NomNomNow, 1 bag = 1 meal. No scoops where you can give little extra or unclear instructions - after filling out their quiz online, they determine the perfect portion and recipe for your dog and deliver fresh meals right to your doorstep. The whole process is super easy.
So don't feel bad if you didn't know a Maltipoo and a Great Dane don't have the same dietary needs - it's never too late to give your dog a nutritional upgrade.
The pet nutrition world is tricky to navigate, and NomNomNow is breaking it down. Dogs deserve the very best food out there so they can be their happy, energetic, shining selves and live longer lives, thanks to the best nutrition (and the people who love them, of course!).