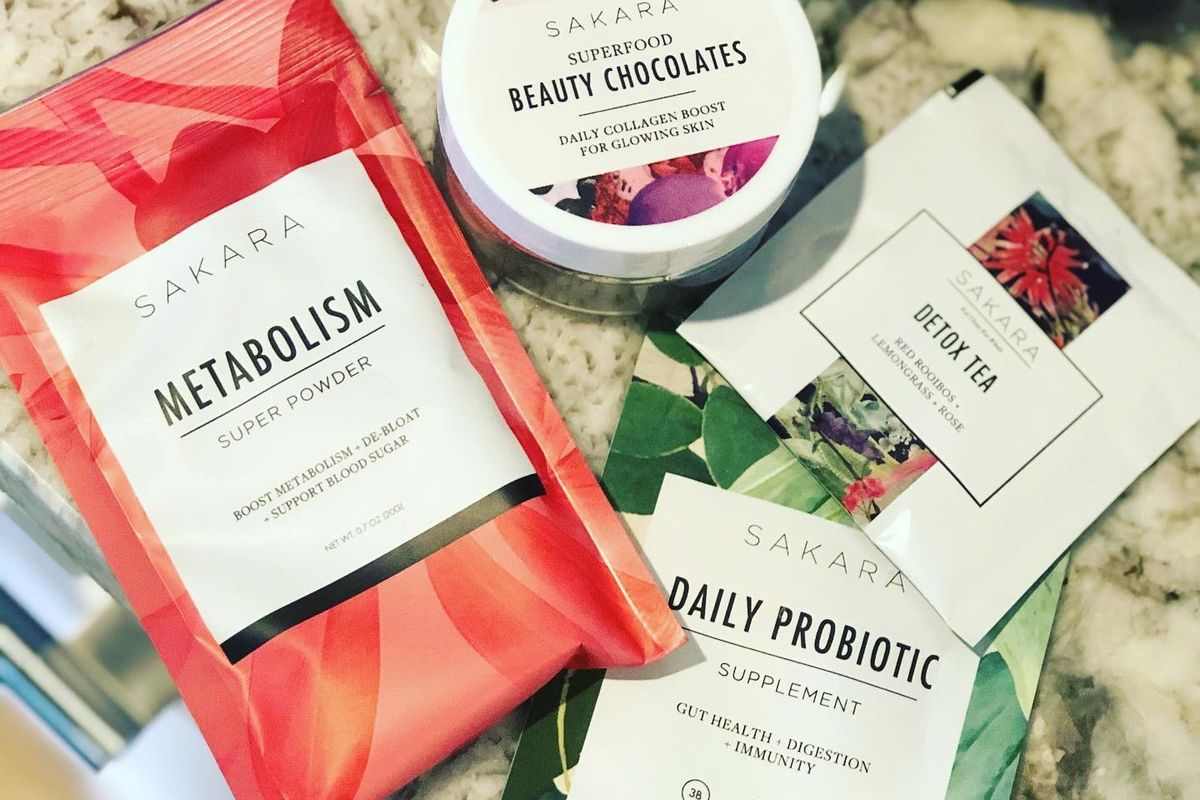 The last few months I've felt constantly bloated with intense sugar cravings and generally low energy. No matter how much water I drank, my eyes and lower abdomen always seemed a little puffy and I felt so sluggish in the mornings. Had I always felt this way and it was just getting worse with age?
Searching the internet obsessively for what was happening, and asking friends, the truth slowly began to dawn on me: my metabolism was slowing down.
I was bummed; I missed my stomach from a few years ago along with that energy that always seemed to course through me. I felt like seltzer that'd lost its bubbles.
I needed a metabolism reboot. I've been drinking green tea all my life and I definitely didn't need more caffeine, but I needed something.
The bloggers make it seem so easy sometimes. Beautiful house, kids, body….there was one I was following who posted photos with a red box from Sakara Life. She was already a big fan of their plant-based nutrition program and now she was praising their Metabolism Super Powder (!!!).
Most supplements out there contain harsh additives, synthetics, and caffeine that make me feel so jittery. I went to Sakara's site to learn more about the ingredients of Metabolism Powder.
Sakara's Metabolism Powder is an organic raw cacao powder with celery seed, gymnema sylvestre, L-glutamine, fucoxanthin, and black pepper piperine. My first thoughts were that some of these were pretty big words, and probably sneakier versions of the same toxic stuff in "flat tummy" products.
Turns out all of them are nontoxic and completely natural! Celery seed is a natural diuretic to eliminate bloat, Gymnema Sylvestre is an herb that regulates blood sugar and cortisol, L-Glutamine is an amino acid that supports digestion and controls cravings, Fucoxanthin is an antioxidant that lowers body fat, and Black Pepper Piperine revs metabolism and controls inflammation.
There are no negative side effects as all ingredients are from whole-food, plant-based sources.I was excited to feel the results.
After reading all the rave reviews, I ordered 10 sachets of Metabolism Powder to try a reset for myself. When they arrived, I added the powder to my morning smoothie, mixed with hot coffee, or mixed it with some warm almond milk to create a delicious afternoon drink. I also found it mixed well with almond butter for a chocolate-y morning toast spread.
Sakara Life has recipes on their blog for how to consume Metabolism Powder like chocolate mousse, cinnamon mocha latte, and cacao-chia pudding. One evening I chose to mix it with warm almond milk for a nighttime treat and it was rich and tasty. I followed it up with a 10-minute nighttime meditation and went to bed.
The next morning, I thought I felt better than usual and noticed I felt less bloated, but figured it was probably the placebo effect. However, after just one week, I felt so much lighter. I'd lost a pound maybe, but my stomach wasn't as bloated and the layer of salty puffiness around my cheekbones and eyes had gone down. My sugar cravings had also dramatically decreased. This really was a great way to help me restart my metabolism and counteract some of my body's natural digestive slow down.
Getting older can just mean getting wiser when I've got Sakara's Metabolism Super Powder to keep me feeling amazing. I recommend this powder to everyone now - it's yummy and can help you feel like the best version of yourself.
UPDATE: Sakara Life is extending a special offer to our readers: Receive 20% off your order of Metabolism Powder now! Use Coupon MSP20 - Only 9 coupons left!
Offer Expires In