Lately, my diet's been a dumpster fire. It's frustrating because I really enjoy healthy food, but I'm terrible at cooking it. Now that I'm avoiding trips to the grocery store, I've gotten into the habit of getting take-out most days and eating less healthy.
I have the best intentions, but now that I can't go to the supermarket to get fresh ingredients as often as I'd like, I've been having trouble prepping and cooking meals.
Recently, I've started to feel the toll of my unhealthy diet, mentally and physically - I crash at 3pm every day and feel lousy every morning. Feeling frustrated, I needed to know if there was an easy hack to eating healthy. That's when I came across Splendid Spoon.
Splendid Spoon is a wellness brand that has ready-to-eat, vegan grain bowls, soups, smoothies, and wellness shots that are designed to give your body the nutrients you need. Plus, all meals are delivered to your doorstep. I had a lot of reservations about trying it, but after reading all the great reviews online, I decided to take the plunge.
Here's everything you need to know about Splendid Spoon:
How does it work?
Splendid Spoon is a subscription service that delivers ready-to-eat, nourishing, plant-based soups, smoothies, grain bowls, and wellness shots to your doorstep.
Are the meals going to fill me up?
Before starting, I was extremely skeptical about whether smoothies and soups would fill me up, but they actually do. These meals are high in fiber and good fats and are designed to fill you up and satisfy your hunger.
Does it taste bland?
I thought that they'd probably taste pretty bland, but their meals are so much better than I expected. They take inspiration from all over the globe, so between the Moroccan Lentil Soup and the Butternut Squash Ratatouille, I can eat healthy meals that are full of flavor. The Mexican Tomato Soup is my personal favorite - it has the perfect amount of spices! Mmm.
Is it expensive?
I chose the Breakfast + Lunch Reset plan, which is $135, and it comes out to be only $8 a meal! I saved so much money with this plan - I was spending a ridiculous amount on take out before. They also have the Breakfast + Lunch plan, which is $95 a week, and their Lunch plan, which is only $65 a week!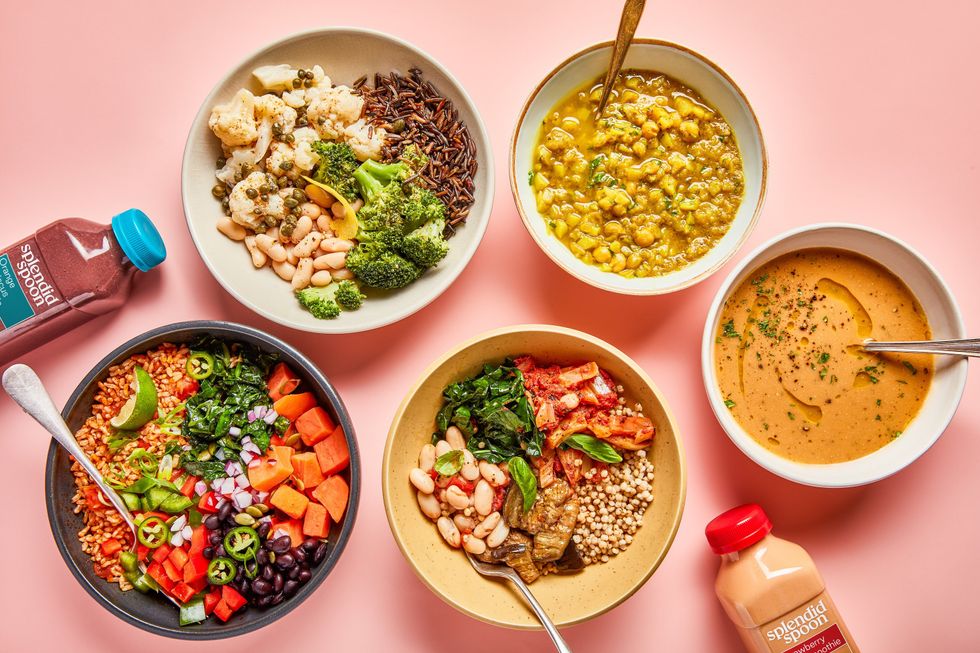 Will I get bored of the flavors?
Definitely not - there are over 40 flavors and meals to choose from. The smoothies satisfy my morning sweet-tooth with ingredients like coconut and banana - my favorite is the Chocolate Cherry Smoothie. Plus, the soups and grain bowls come in an array of exotic flavors - The Indian Aloo Gobi Quinoa, Red Beet Buddha Bowl, The Italian Tuscan White Bean & Tomato Bowl, to name a few. You can customize your weekly order so you only receive the meals that satisfy your taste buds.
Are they actually "healthy?"
All their grain bowls, soups, and smoothies are made with all-natural, super food ingredients that are vegan, GMO-free, and gluten-free. They're completely unprocessed and low in sugar and sodium. The whole grains reduce the risk of heart disease, stroke, cancer, diabetes, and obesity. Plus, they give you loads of energy.
Do they really involve no prep?
Yup. The smoothies come ready to drink, and the soups and grain bowls just have to be heated in the microwave. And when I'm busy or tired, I don't have to worry about boiling or cooking anything. Plus, the portions are already the perfect size, so no more overindulging or scouring my pantry for more food.
Since starting Splendid Spoon two months ago, I'm really starting to see the benefits. I feel so much better, and don't have the same energy crashes anymore. I've lost a few pounds without even trying, which is just an added bonus. Not to mention all the money I've saved. If you would like to start eating healthier but don't have time to prep meals, I couldn't recommend Splendid Spoon more.
Update: The folks at Splendid Spoon are extending an exclusive offer to our readers! Follow this link and get $15 OFF the Most Popular Plans!