Generation Alpha (born in 2010 to present) walks among us.
They've been wired into the Internet for all their lives, they'll be the most formally educated generation in history, and, if climate activism proves effective, they may avoid the ravages of climate change. And at 9 years old, the young generation already understands gender and sexuality better than any of their predecessors. Mattel knows that, and the Barbie-creators are cashing in on it. This week the toy company released the world's first line of gender-neutral dolls. As per the line's new slogan, Creatable World is "a doll line designed to keep labels out and invite everyone in." For $29.99, you can buy a generic, slim, 7-year-old child (long blond wig included).
The Creatable World doll is purportedly designed "to betray no obvious gender: the lips are not too full, the eyelashes not too long and fluttery, the jaw not too wide. There are no Barbie-like breasts or broad, Ken-like shoulders." Each doll comes with a wardrobe in mostly greens and yellows (allegedly gender-neutral colors) and includes hooded sweatshirts, sneakers, and graphic T-shirts as well as tutus, leggings, and camo pants.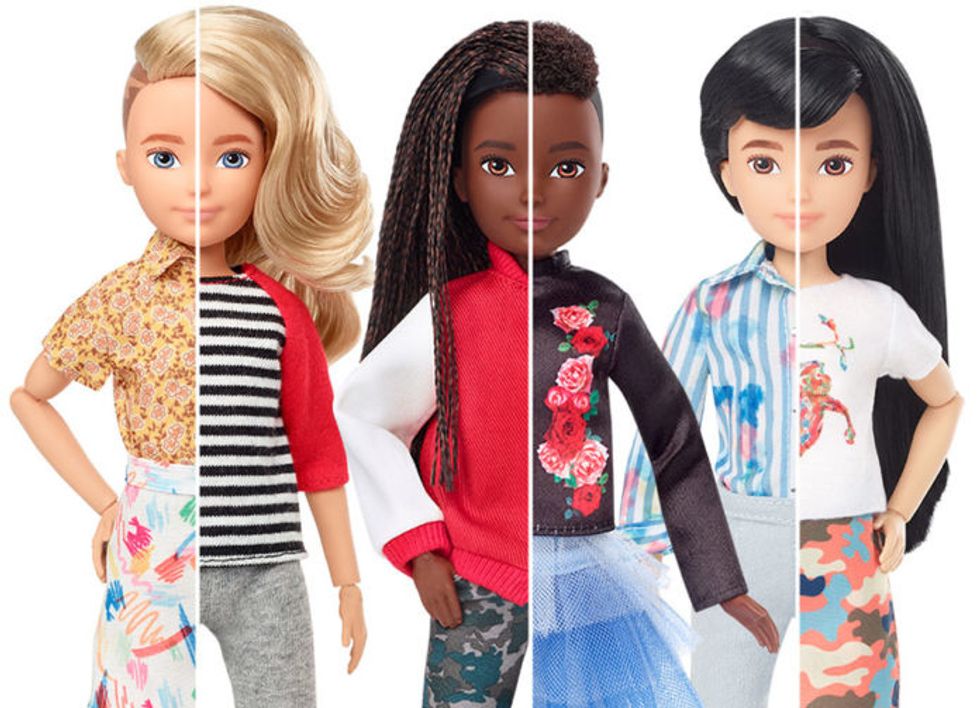 Gender inclusive dolls PA
Firstly, Mattel is dangerously close to confusing gender-inclusivity with gender-neutrality. While it's completely fair to say that non-binary identity is complicated, so is society's history of constructing the false binary between strictly male and female.

"Non-binary" is a broad term, individuals who self-identify as such express their gender through diverse means, from combining elements of both masculinity and femininity or rejecting both to reify the fact that those notions are fundamentally flawed. Mattel is very pointedly seeking to market towards non-binary people who "Identif[y]as either having a gender which is in-between or beyond the two categories 'man' and 'woman, as fluctuating between 'man' and woman', or as having no gender, either permanently or some of the time," as defined by the LGBT Foundation and Scottish Trans Alliance.
But all Mattel does is equip the doll with swappable features that reinforce the false gender binary: traditionally "boy" and "girl" clothes and a long, blond wig. On their website, they advertise, "Creatable World™ gives kids a blank canvas to create their own characters. Switch long hair for short hair—add a skirt, pants or both. It's up to you! Mix and match, swap or share." While mixing male and female signifiers is part of non-binary expression, that's not the whole story; gender-neutrality isn't just about the choice between wearing "a skirt, pants or both." It's about rejecting the inherent assumptions and biases that presuppose a skirt is for women and pants are for men.
Mattel introduces gender neutral doll youtu.be
Of course, that's a tall order for a toy company. Mattel president Richard Dickson says, "I think being a company today, you have to have a combination of social justice along with commerce, and that balance can be tricky." He adds, "We're not in the business of politics, and we respect the decision any parent makes around how they raise their kids. Our job is to stimulate imaginations. Our toys are ultimately canvases for cultural conversation, but it's your conversation, not ours; your opinion, not ours."

Ideally, the doll can be used as a blank canvas of gender. As TIME noted, "The doll can be a boy, a girl, neither or both, and Mattel, which calls this the world's first gender-neutral doll, is hoping its launch...redefines who gets to play with a toy traditionally deemed taboo for half the world's kids." In fact, the toy industry has been trying to adjust to society's shift towards inclusivity. In 2015, 81% of Gen-Zers said that "gender doesn't define a person as much as it used to." In a study by the Williams Institute at UCLA, 27% of California teens identified as "gender-nonconforming." In response, the toy department at Target stores no longer have gender-specific sections. Disney no longer uses "boys" or "girls" labels on their children's costumes, and Mattel eliminated "boys" and "girls" from its toy divisions.
But while the kids of Generation Alpha are alright with gender fluidity, their parents are not. In testing the new line of gender neutral dolls, Mattel found that "many parents fumbled with the language to describe the dolls, confusing gender (how a person identifies) with sexuality (whom a person is attracted to), mixing up gender-neutral (without gender) and trans (a person who has transitioned from one gender to another) and fretting about the mere idea of a boy playing with a doll." One woman even said, "It's just too much. Can't we go back to 1970?"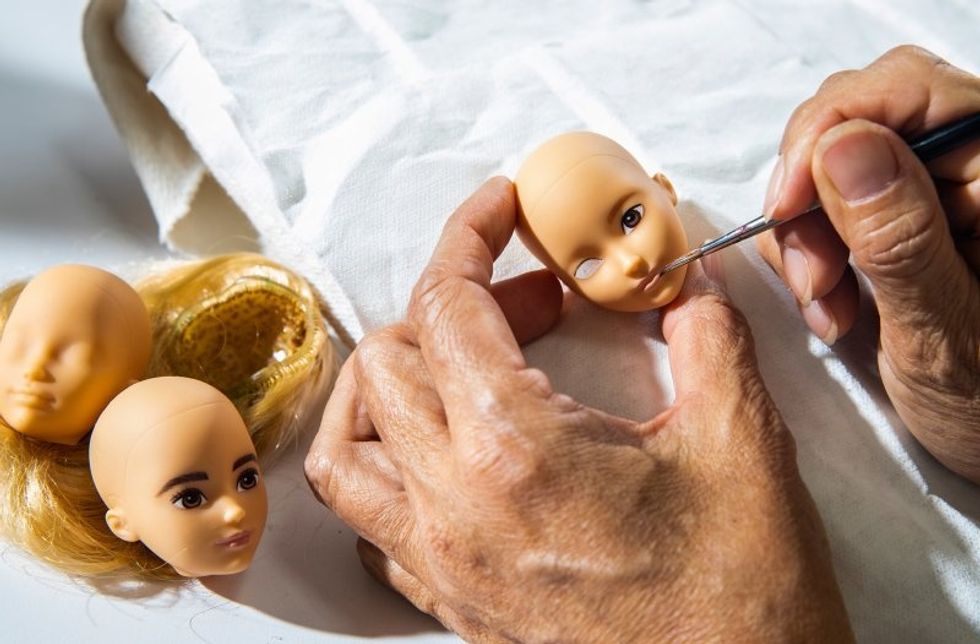 Angie Smith for TIME Magazine
In reality, Mattel's latest cash grab is the company's newest attempt to revitalize its brand by diversifying Barbie's signature emaciated appearance. After all, this week marks the 60th anniversary of Barbie instilling rampant body image issues in young children. Since 2016, Mattel has tried to combat negative publicity by designing three new body types for Barbie ("tall," "petite," and "curvy") and releasing a line of culturally diverse dolls modeled after iconic women in history, such as Rosa Parks and Frida Kahlo. Monica Dreger, head of consumer insights at Mattel, claimed to find inspiration for the new line from "a couple of gender-creative kids who told us that they dreaded Christmas Day because they knew whatever they got under the Christmas tree, it wasn't made for them." She added, "This is the first doll that you can find under the tree and see is for them because it can be for anyone."

Dreger adds, "So we're maybe a little behind where kids are, ahead of where parents are, and that's exactly where we need to be." But that doesn't make Mattel describing today's gender-nonconforming kids as "gender-creative" any less spooky. It, and the doll, screams of a marketing ploy that commodifies queerness for profit.