MUSIC
The punk rock legends answer the call to make protest music in an increasingly unjust and backwards world.
Bad Religion is one of the founding fathers of modern punk rock.

No, punk is still not dead. Nor is it just a soundtrack to teenage angst. Bad Religion is back, and they're picking up right where they left off—with three-part harmonies soaring over aggressive d-beat drums and rapid-fire power chords propping up smart lyrics that invite listeners to challenge all forces of oppression, idiocy, and injustice that plague the world. If Donald Trump's presidency has been good for anything, it's that it's given Bad Religion more than enough material and anger for a new record that sits comfortably among the 16 others that comprise the band's discography.
Age of Unreason is the band's first full-length album in six years. They were relatively quiet during the time of the Obama administration, partially because the urgency of the political moment was, comparatively speaking, not as palpable. And partially because the members of the group were all taking on their own endeavors. Guitarist Brett Gurewitz became the owner of Epitaph Records, lead vocalist Greg Graffin furthered his careers in academia and writing, and guitarist Brian Baker kept busy touring with Dag Nasty and others. But as the world began to unravel all around them, they knew it was high time to get back into the studio and speak out.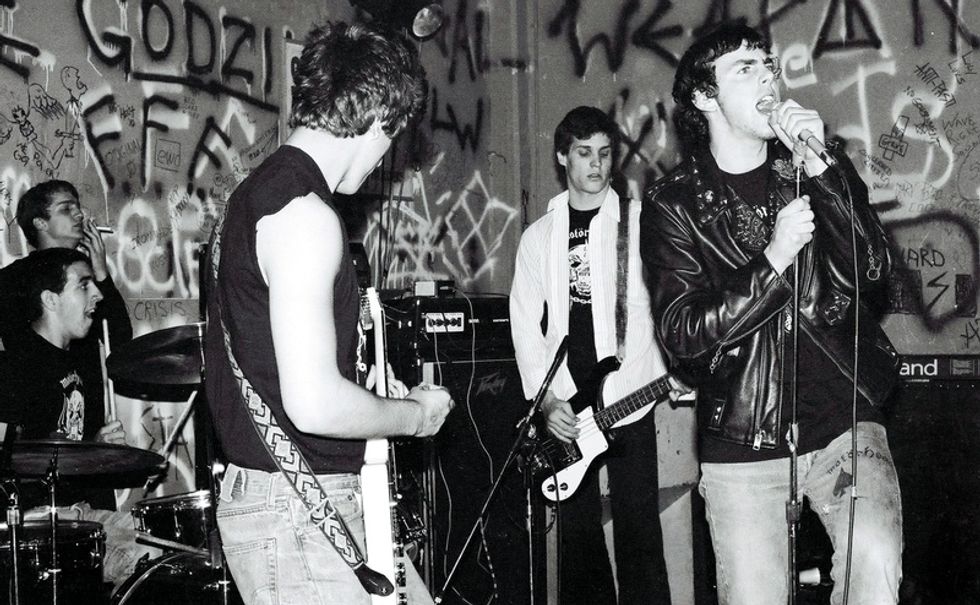 Bad Religion in the 80's
In an interview for Louder Sound, Brian Baker addresses the band's hiatus: "We haven't recorded a record in over five years, which is a reasonably long lapse of time for Bad Religion […] But the good news is that in those five years we've managed to see such unbelievable world changes, as a result of the chaotic new governmental situation that affects, seemingly, almost every country in the world, that there's plenty of information and plenty of things to write about […] Traditionally, Bad Religion's job is to identify social trends that could use realignment, speaking up for the general idea of good versus evil. So here we are."

And following in the tradition of what Bad Religion has always done so well, Age of Unreason is an album that confronts, unflinchingly, some of the most troubling social trends of these uniquely precarious times. The album begins, in classic punk fashion, with an explosion of breakneck drums leading seamlessly into the gritty and angry opening four chords of "Chaos from Within." Before the first 10 seconds of the track fly by, the band quickly sweeps you away with those epically lush three-part vocal harmonies that have become part and parcel of the Bad Religion's signature sound. "Cowering like settlers on someone else's land," they sing, "Mistaking advances of the natives / Who have come to lend a hand." This is exactly how a Bad Religion album should begin—angry, melodic, and in your face with political discourse.
The rest of the album doesn't waver much from the high level of energy established by that first song. Age of Unreason is a quintessentially Bad Religion album, through and through. All 14 songs and 33-and-a-half minutes of this politically dense (but youthfully catchy) punk album showcase the band at its best. This is an honest and effective effort from a band that has transcended the old punk anxiety of "selling out." Anytime a legendary or germinal band puts out new music for the first time in almost a decade, there is always going to be at least a little bit of a concern surrounding motivation. Old rock bands putting out bloated or generic songs as quick and easy cash-grabs in an era of fetishized nostalgia is nothing new. But this is not at all the case with Age of Unreason. Bad Religion is not simply churning out recycled punk riffs or vague, cliched appeals to rebellion in order to capitalize on their legacy; they are making new protest music for a new time.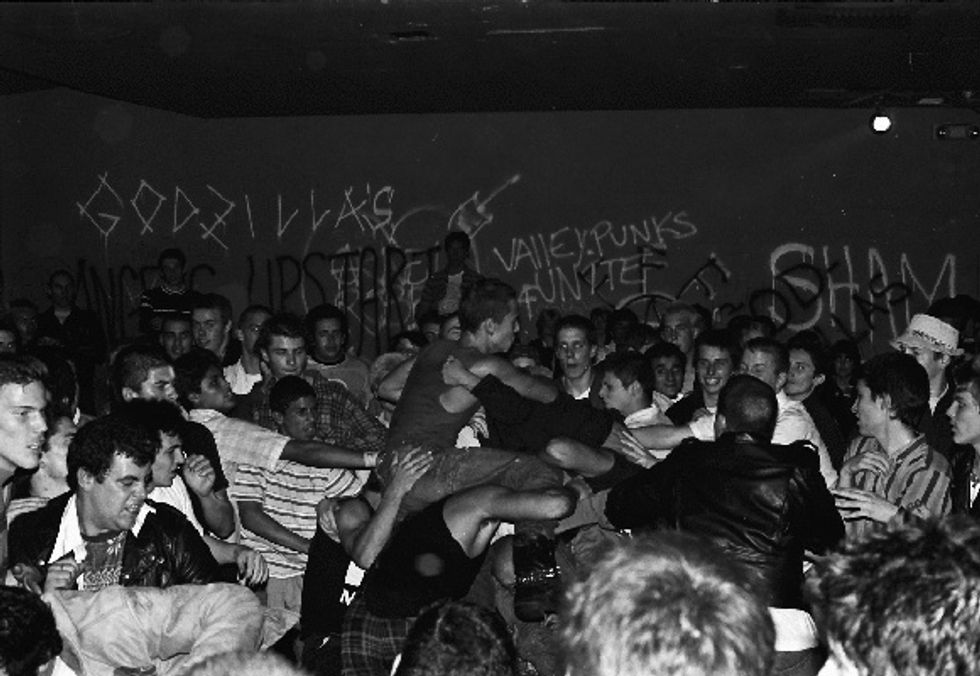 In the aforementioned interview, Baker adds, "I'm not trying to reach a new audience in a commercial sense at all […] But I think an accurate statement might be trying to reach new ears. The point of all of this is to try to initiate discussion and to try to encourage people who hear a Bad Religion song to figure out, 'Where does that come from?'"

Age of Unreason is pretty much par for the course for Bad Religion—short of a slightly folkier sound on "Candidate" and a few tracks that slow things down a little more than usual—there isn't a whole lot of evolution to be seen. But that isn't necessarily a bad thing. There is definitely something to be said for a group striking a consistently powerful and effective sound—especially when the music is as vitally important as Bad Religion's. On Age of Unreason, Bad Religion proves that the familiar can be just as revolutionary as the innovative, and reminds us that sometimes our new problems are just old problems in different masks.
Age Of Unreason
---
Dustin DiPaulo is a writer and musician from Rochester, New York. He received his MFA in Creative Writing from Florida Atlantic University and can most likely be found at a local concert, dive bar, or comedy club (if he's not getting lost somewhere in the woods).
---
POP⚡DUST | Read More...
Cynister Declares Independence in Their Latest Single "No Man"
Taylor Swift's BBMA "Mayochella" Performance Angered the Beyhive