Music Features
The talented multi-instrumentalist talks about stepping into adulthood.
Atlantic Records
Chosen Music/Atlantic recording artist Justice Carradine has returned with his infectious new single, "Limbo."
Co-written by Justice and produced by Luke Niccoli (Gryffin), "Limbo" is another unique offering of Carradine's high energy pop music. Combining alternative with R&B and funk, "Limbo" is a coming of age tale for Carradine, who was recently forced to grow up as he was thrust into adulthood. "'Limbo'" is about transitioning from one phase of life to another," he said. "When I wrote it, I was coming to terms with turning 20. It sounds kind of dumb, but at the time my identity revolved around who I was as a teenager."
"Limbo" is a follow-up to the singer's sophomore single "Necessary Evil," a rambunctious R&B fusion with a very different soundscape than "Limbo." Born in Utah and surrounded by music in his childhood home in Los Angeles, Carradine quickly became a multi-instrumentalist at 5 years old, having learned ukulele, drums, piano, and guitar. Not soon after, he started posting covers to YouTube, which racked up more than 5 million views. Now he's ready to take the next step to pop stardom. "Letting go of the way you identified for so long can be scary because it comes with uncertainty and anxiety," said the singer. "This song was my way of dealing with that."
Justice Carradine – LIMBO www.youtube.com
POPDUST: "Limbo" is following up two other fairly massive hits that you've had. I know that you're a multi-instrumentalist yourself. What's been your process for writing and recording? For all I know you could be playing every instrument on these tracks.

JUSTICE: Yeah! Well the records I have out I've worked a lot with producers on. The stuff that I'm working on now, I'm playing a lot of the instruments. So that's been cool and it gives me a lot more creative freedom, which is dope.
You mentioned when COVID-19 hit, you went back to Utah to be with family and ended up shooting the video there. How long had you been away in a LA?
I moved down to LA around a year ago.
Do you plan on going back to LA once things improve?
Yes, absolutely. I'm hoping it clears up soon because I really miss being in the studio. I have my little bedroom studio, which is cool. But yeah, I miss being in that LA energy, I guess.
Music has been part of your life since you were very young, but you actually started growing a fanbase on social media like Vine and YouTube before releasing any music officially. You've also done quite a bit with fashion and modeling. Have these audiences merged, or do they exist in their own worlds with different understandings of who you are?
I kind of feel like they're all connected. Cause a lot of the following I have on all the other platforms came from Vine which connected me with a lot of the people who support me in my music. They all, I think, have a lot of things in common across all the platforms. Yeah. So it's not separate in my head. I think it's all one.
Unrelated, but I'm curious, what do you record on? Like what DAW or software?
I just use logic. I found that the easiest. It's like the most user friendly. I tried learning how to use all the other programs, but it's just so complicated.
Yeah. Once you get really in tune with one, others are sort of like another language.
Yeah, exactly.
Once music venues and stuff go back to normal, do you think you'll be doing some touring?
I want to, I really want to, I'm hoping that by the time that does happen, I am able to have an EP out or something because I really want to do like smaller venues. There's a local venue here called Kilby Court and the max capacity is only like a hundred people, but it's like such a vibe and I've seen so many other artists that are in like being in the audience. Seeing performers there is really dope.
Yeah. You could do a nice showcase style performance. And you've toured before, right?
Yeah. I toured once with Spencer Sutherland and Amber Liu.
I'm interested in your favorite or least favorite parts about large tours like that, but also what your live show is like, given how many instruments you can play.
The past tours I've been on, I've kind been learning the ropes cause it's like a completely different life. It like flips my mind upside down just because it's so fast pace and whatnot. At live shows I always play my guitar just cause that's how I feel, like that's me, you know? And I have tracks, but I'm looking forward to having like a full band with me.
Yeah. That'd be cool.
Just cause it hits so different, oh my god. And my favorite thing about touring is just being in all the different cities and taking up on it. Cause it's so weird. Like they're all so uniquely them, the different audiences. And it's really fun, like adjusting, feeling that energy and then taking it in accordingly. And as far as least favorite things, it really is just like the lack of sleep...but that just comes with the territory.
For sure. Each city is going to have a different vibe and whatnot. I have to imagine that Salt Lake City is pretty different than LA energy. I've never been to SLC, but I'm guessing.
Well we actually did a show in Salt Lake City with Amber Liu and all my whole family came, it was honestly the best thing. And it's so weird playing in your hometown. It is so weird.
I can imagine. Especially once the music really took off for you... to come back home and do a show must be really cool. It's also great that you got to shoot the "Limbo" music video back home because that fits some of the song's themes, identity, growing up, and moving on.
Yeah. No for sure. It helped it feel more personal like, cause I wrote the song thinking, "this is what I was going through in my life," and I like every aspect of what I'm putting out to be extremely personal. I try to aim for that. So I worked really hard. I'm so proud of it.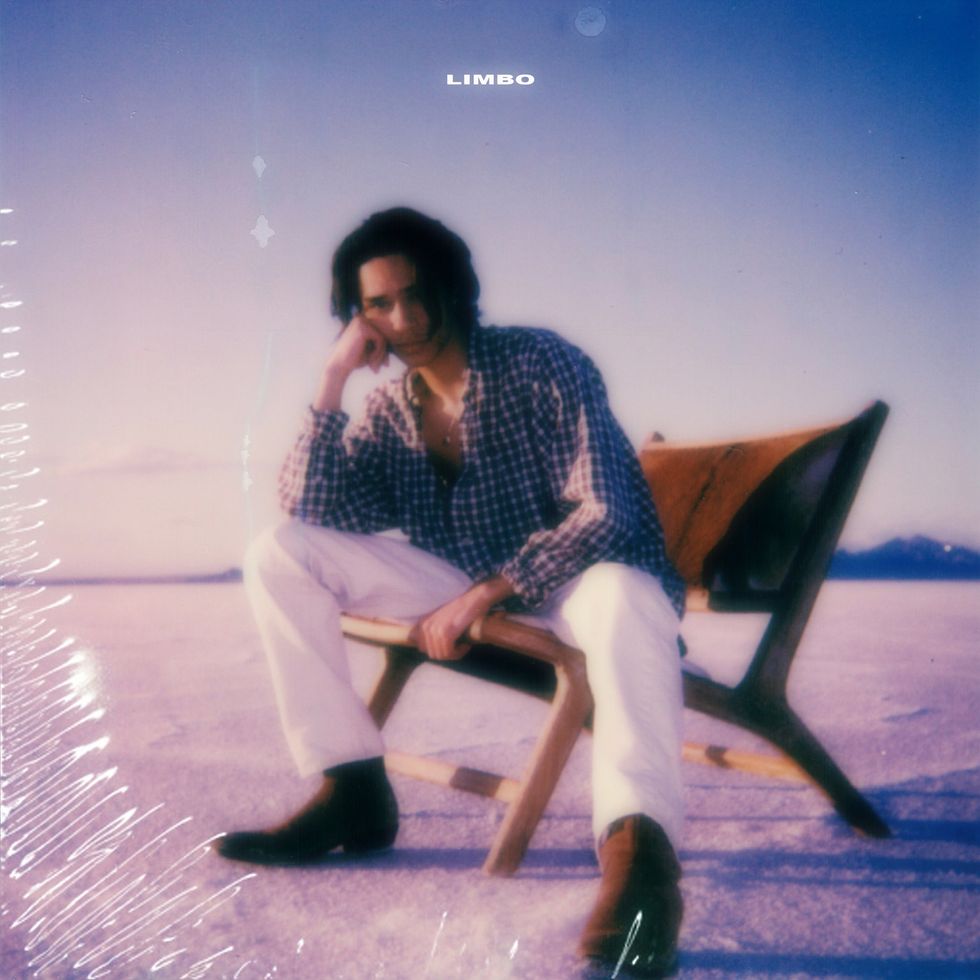 Justice Carradine "Limbo" artwork, shot on the Bonneville Salt Flats, UtahAtlantic Records
That's awesome. You definitely deserve to be proud of it. Speaking of being back home, you seem to be pretty close with your family. Is that fair to say?

Oh absolutely. My family is my best friend.
And many of them are musically gifted as well. Do they get involved with your music? Do you bounce ideas off of them?
Yeah. My grandpa, he was in a band back in his day. And so when I'm working on music by myself, I'll be like, "yo, how do you like this? What do you think? Like send me voice memos of you playing the drums so I can use them in my songs." And that's always great. And then my little brother is really into the electric guitars. We've been playing and it's so fun, connecting that way, you know?
That's awesome that you have younger brother that you can teach stuff to and family members that you can collaborate with. Before we wrap up, what should people be watching out for next with you? Where should they engage with you or are you maybe like live streaming stuff soon?
I mean, my Instagram. I've been trying to go live a lot more which is fun. I have a lot more music coming out, so I'm excited.
Right? Sweet. Well hopefully when stuff gets back to normal we'll be able to catch you live and host a proper interview and performance at the Popdust offices.
Yes, sir. That'd be dope.
Stream Justice Carradine's music on Spotify
CONNECT WITH JUSTICE:
Related Articles Around the Web