As Popdust previously reported, Aubrey O'Day is currently ensconced in the UK Celebrity Big Brother house.
She's merrily getting on with playing the games on the show, completely unaware that her boyfriend (and she thought future husband), Pauly D has taken her absence as an opportunity to end their 9 month relationship in the most cowardly way possible—by announcing it to the world before he's actually told her.
Blissfully ignorant, the housemates have been performing a task over the last couple of days that has caused uproar, not only among themselves, but has also seen viewers and critics opinions divided. The perfect task!
Called Artificials, the task sees half the housemates dressed up as robots and instructed to obey every order and request given to them by the 'humans' (and we use that term very loosely with this lot). The humans are not allowed to do anything for themselves, from making a cup of tea to putting on make-up, and some of the characters in the house have taken the opportunity to push things a bit too far....with hilarious, but disgusting consequences.
First some context...
One of the humans, named Heavy D is an emotionally stunted child in a giant man's body. Early on he set his sights on one of the young sexy girls named Chloe Khan—seemingly unaware of what the viewers were screaming at the top of their lungs at their TV screens—that he was punching well and truly above his weight.
Take a look at them below and tell us if you think we're being harsh...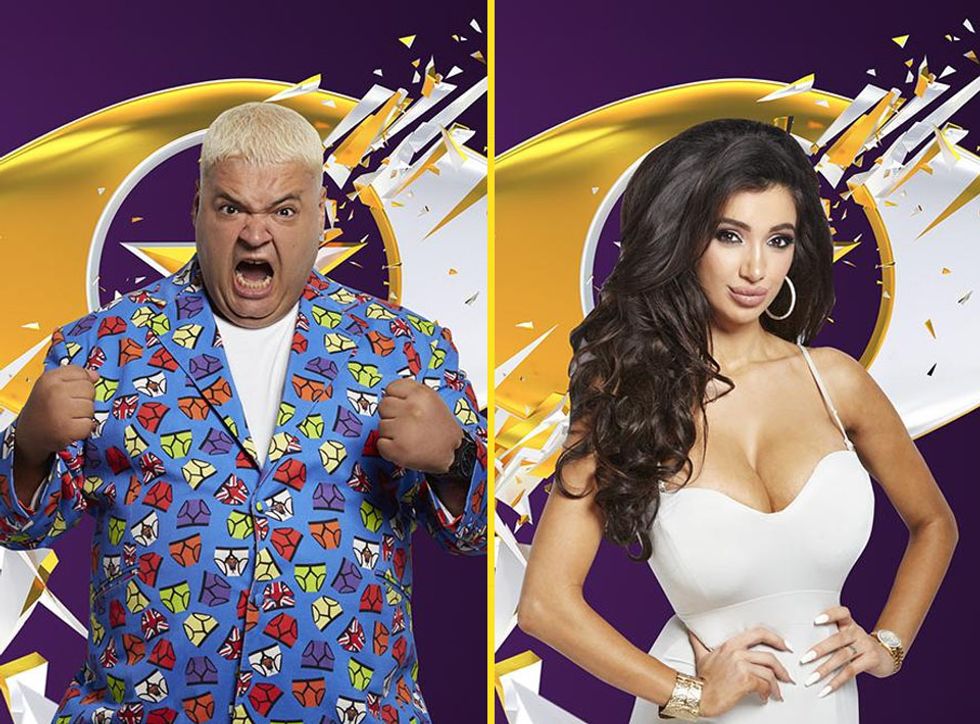 Do you see it happening?
Clearly he reckoned he stood a chance and that all he needed to do was yell his catchphrase 'Boom' a few times and she would fall into his arms. He had a conversation with her on the first night and asked if she was single—to which she replied that she was. Somehow, Heavy (remember we said emotionally stunted?) took this to be a sign that she was up for some romancing of the heavy kind.....
At some point in the next couple of days (they all merge into one after a bit) he overheard her talking about a guy she'd been seeing for a while. Well! That was it, he called her on her 'lie' and took it as a total rejection of him and the 'relationship' he'd built up in his head. She was completely bewildered and he's been gunning for her ever since—and what better way to get his own back than a task where he is a human and she is an Artificial, there to serve him.
Heavy has taken full advantage, and had poor Chloe running around doing his bidding. She responded with good grace, until he took it a step too far and demeaned her by insisting she hand-wash all his underwear, "skid marks and all". He ordered her to do this several times and took great pleasure in humiliating her in front of the rest of the group, mentioning his 'shit stains' more than once.
Chloe smiled sweetly and dunked his disgusting undies in a bucket.....but only after she had filled his shoes with water and made his bed, with a surprise of chilli powder, sun cream, condoms and lipstick covered tampons between the sheets to greet him! Nice one Chloe!
Needless to say, Heavy D did not see the funny side and could not comprehend why she would feel the need to do it. He thought it was ok to degrade her because it was all "part of the game".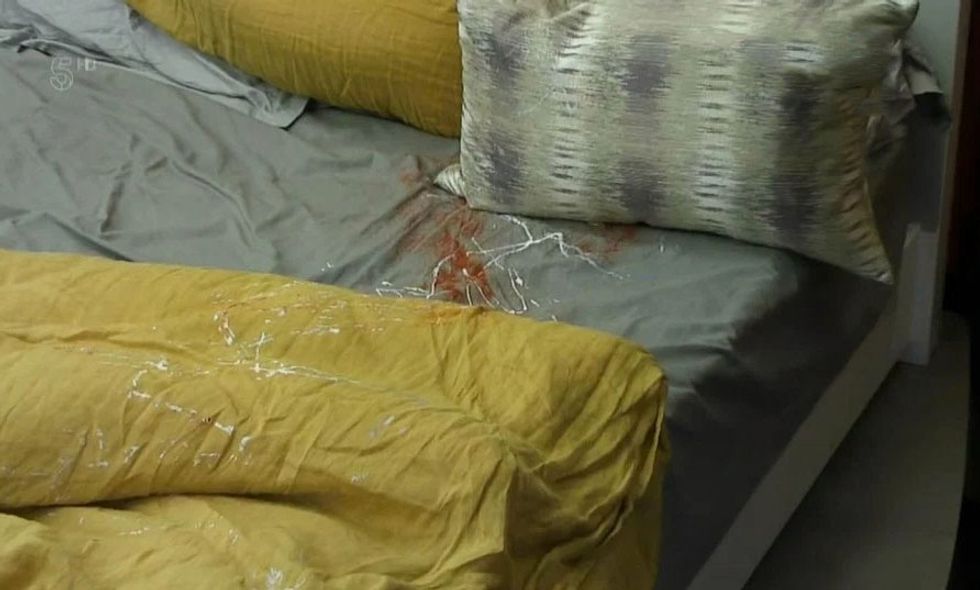 Boom!
Moving onto Aubrey O'Day......
Aubrey was an Artificial (quite fitting some might say), and as anyone who has seen Aubrey in anything before, she was NOT born to serve.
One of the human housemates also enjoying the task a bit too much was 26 year old Stephen Bear (known as 'Bear'), who has been the object of Renee Graziano's cougar attention (it was cringe TV watching her trying desperately to get him to kiss her the other night).
Bear had the Artificials running around after him all day (he'd even put one of them, Lewis Bloor, his competition for Alpha Male in the house, on timeout for 2 HOURS) and Aubrey had obviously decided enough was enough when he asked her to make him a sandwich and cup of tea.
'Yes of course' replied Aubrey. She went into the kitchen and obediently made his snack—adding a little ingredient of her own....saliva!
Yep that's right, she spat in both the sandwich and the cup of tea, before serving it to him and watching him enjoy.
Ewwww!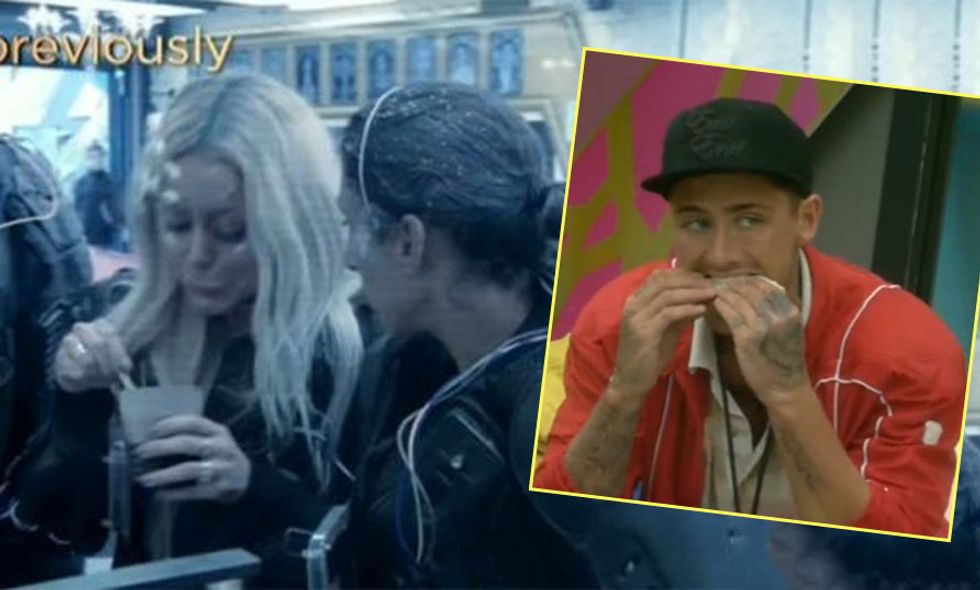 #spitgate
The only reason her act came to light was because she was called into the Diary Room and given a formal warning by Big Brother for 'giving another housemate her bodily fluids without their knowledge'. Big Bro also called Bear in and told him what had happened before giving him 'appropriate medical advice'.
Scroll down for video of Aubrey O'Day spitting in Bear's snack...
WTF? Seriously? What medical advice would he need from sharing as much saliva as if they'd shared a kiss? As Bear himself said, it might be disgusting, but he's had a lot worse in his mouth! (And up his ass judging by these pics)
Audrey (as Bear insisted on keep calling her), was forced to apologize with as much sincerity as she could muster, saying she was tired and had put up with his shit all day and she thought it was just banter.
Bear accepted her apology in his bravado, swaggering lad way saying he "wasn't bothered", and then spent the rest of the evening behaving in the exact opposite manner. He was bothered.
What REALLY pissed him off though, was Renee. The Mob Wife had given him her Godfather like assurance that he was to 'trust her' and that she would 'always have his back'. When he asked her about the spit sandwich, she didn't realize he already knew and totally lied to his face, quite clearly having Aubrey's back over his.

When Bear told her she was lying, she went all mafiosa on him; "Don't call me a liar, ever" . Errr, but you WERE lying Renee! She soon realized she'd been busted and tried to hug her way out of it, but she's blown her chance there.
Social media was in #Spitgate uproar, mainly about the fact that Big Brother let Bear eat the sandwich and drink the tea when they have eyes on the housemates 24/7 so will have known what Aubrey did!
The most disgusting thing about #spitgate is the fact that BB did not intervene before it was too late. #CBB

— Glinda (@Glinda) 1470282038.0
No WAY should big brother have let her give that to him !!!! I'm absolutely shocked she's still in the house #SPITGATE #bbuk .....

— me Shell (@me Shell) 1470257990.0
Now whilst spitting in someone's food is not normal socially acceptable behavior and not something we would usually condone, we think Aubrey (and Chloe) deserves a medal for retaliating.
Both Heavy D and Bear are hideous, loud, vile human beings and sometimes actions speak louder than words—the men enjoy physically intimidating everyone and they needed putting in their place. These ladies both gave them EXACTLY what they had coming to them!
What do you think?
---
READ MORE....
Tila Tequila Booted From Celebrity Big Brother Over Nazi Rant

Watch This Hilarious Live TV Twerk Fail!

Big Bro Live Show Cut After Farrah Abraham Gets Into Physical Fight

Celebrity Big Brother - The Perez Show Is Finally Cancelled

---