Every time you turn around, it seems like there's a new food trend, the meal kit is one of those.
With pre-packaged ingredients, simple recipe cards, and home delivery, it's a practical and easy option, and with the promise of a tasty meal every time, why wouldn't you try them? It is cheaper than a take-away and other delivery services, and you have more control over what you eat.
We decided to test a new contender, EveryPlate, and compare it to a traditional supermarket shopping experience.
In advance, we can say: it was incredible! We can't stop raving about the meals we cooked - how quickly we prepared them and how tasty they are.
EveryPlate

As the best-valued meal kit, Everyplate has not disappointed. It was a simple sign-up, everything was fresh and the delivery on time, and boy, was it tasty! There are 8 family-favourite recipes to choose from. I ordered 4 meals for the week for my family of 4, but you can increase the number of meals to 7! My favourite part was that cooking each meal only took 4 easy steps.
My kids' favourite recipes was the Honey Soy Chicken with fries and salad. It was super tasty and easy to cook.
Buying these ingredients in the supermarket would cost more than the whole weekly box!
Cheaper than a trip to the shops?

Of course, the supermarket is unbeatable when it comes to the selection of ingredients, and the variety of brands. But if you were to buy the ingredients for the same EveryPlate recipe, you'll soon notice that it's not necessarily cheaper. In fact, you're paying more, and ending up with a lot of leftover ingredients and packaging.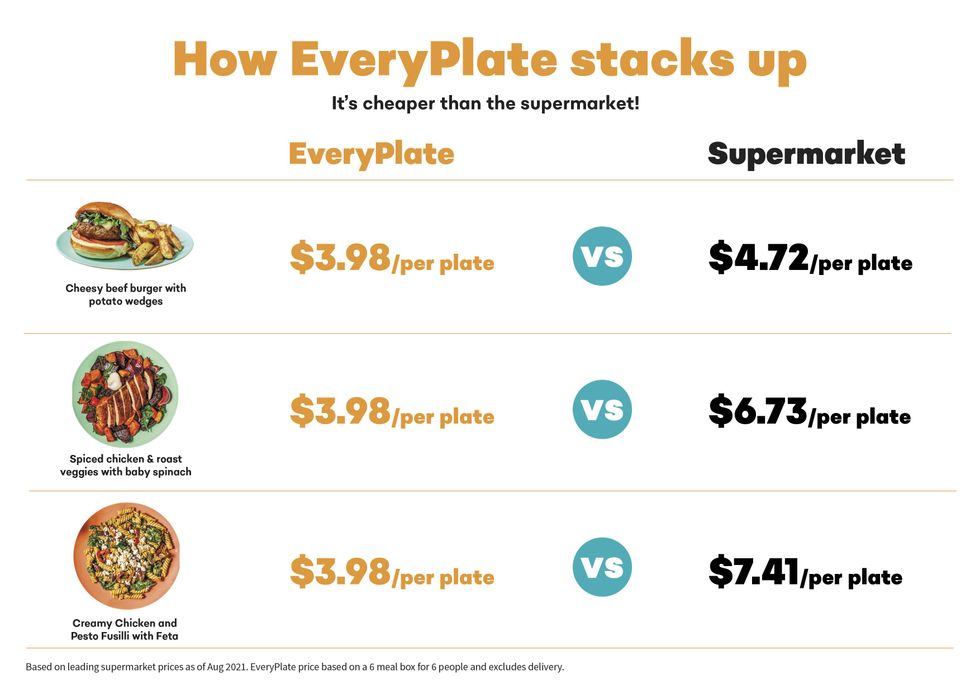 Better than the supermarket?
Maybe not better, but at least as good - and tasty. The contents of the boxes are indeed exactly matched to the recipes. You get only what you need, so there's nothing left over. No ingredients come in bulk packs and instead are tailored exactly to each meal and the certain number of people. Simply the right amount of packaged food, just as you need it for cooking and for a delicious dinner.
Conclusion:
I'm really excited about the concept and happy to have found a meal kit that fits the needs of my family. Easy recipes and value for money are essential for me.
Being able to choose from familiar cuisines and ingredients meant we cooked meals that are so, so much better than a takeaway - or even something we would buy and prep ourselves.
Update: The team at EveryPlate are extending a special offer to our readers! Follow this link to get up to 40% off your first box and 20% off a 2nd and 3rd!