CULTURE
thread beauty just announced Saucy Santana as their first celebrity face
via thread beauty
The latest venture of Melissa Butler, founder of the Lip Bar, is thread beauty, a brand created with inclusion and representation at the forefront. Described as a "Beauty Brand Created For Humans Of Color Who Are Expressive & Unapologetic In Their Being," thread beauty is a Black Owned Brand championing gender diversity and unbridled self-expression — we love to see it!

So it makes total sense that their first-ever celebrity ambassador is none other than Celebrity makeup artist and queer music icon, Saucy Santana.
As their first-ever Celebrity Beauty Ambassadorship, Saucy Santana is working with thread beauty to continue to push the envelope and push boundaries of representation in the mainstream makeup market.
For thread beauty, this partnership also emphasizes the brand's commitment as an ally to the LGBTQIA+ community. While some brands only show up for queer communities during pride, thread beauty currently donates 15% of every purchase on their brand site to LGBTQIA+ allyship organizations year-round.
SaucySantana is in full support of thread beauty's ongoing #takepride campaign, which has been active since June of 2022 and donates to LGBTQIA+ causes, including the LGBTQ FreedomFund, Black AIDS Institute, The Trevor Project and Joshua Home: An LGBTQ Safe Haven.
"It's one thing to be the first celebrity face of thread beauty, but to also be the first celebrity face as a black, feminine, gay man will mean so much to my community - especially for boys like me!" said Saucy Santana in a press release. "Within the community, boys that are considered bigger, dark skin, plus-size & feminine don't get a lot of opportunities. So it means a lot to me and speaks volumes to who thread beauty is as a brand, that they chose me for this opportunity to show up for my community and make us more visible! And I love that!"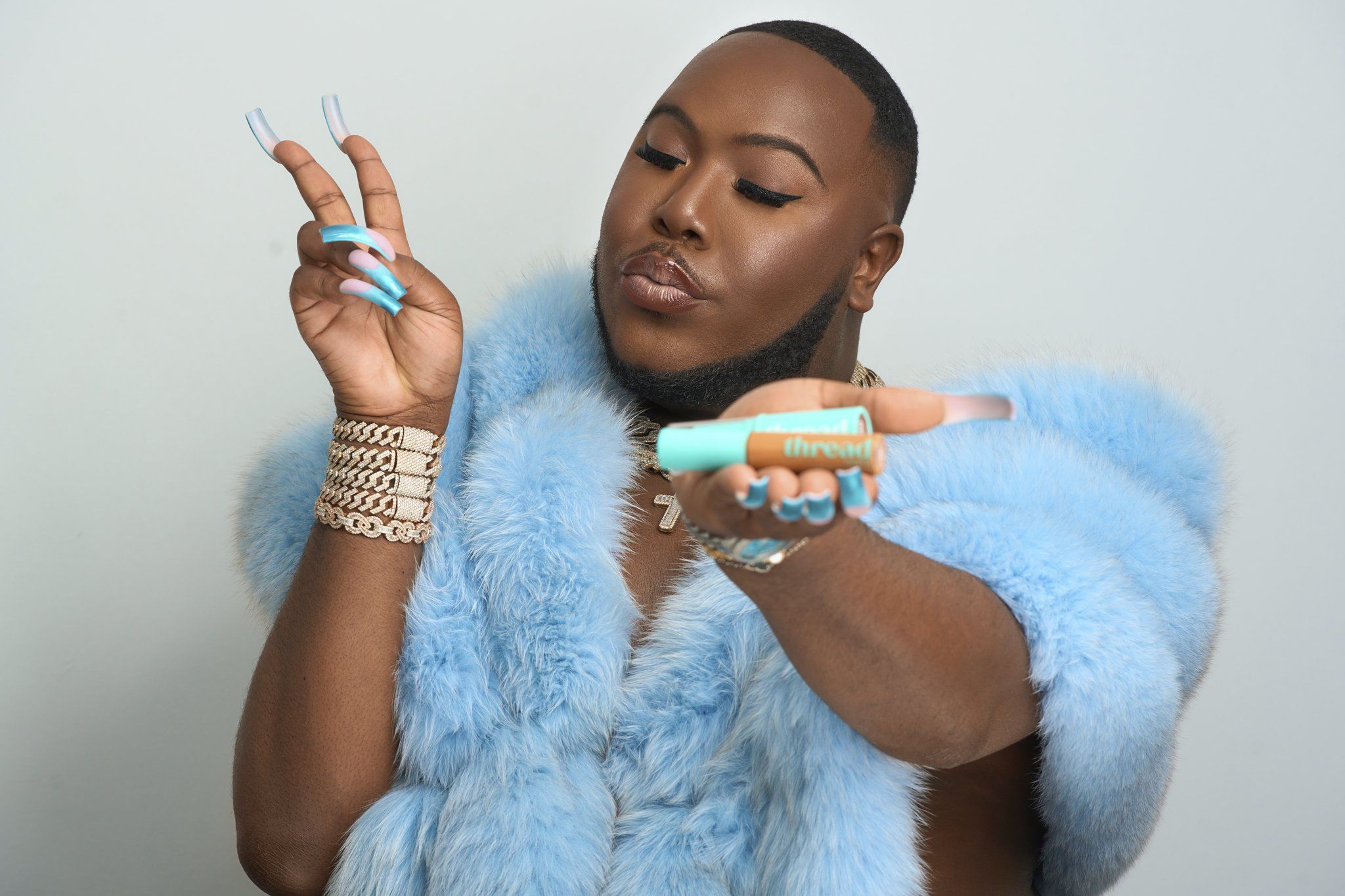 saucy santana x thread beautyvia thread beauty
Popdust got the opportunity to go behind the scenes of this partnership and ask the icon himself a couple of questions. Here is the inside scoop:
How does this partnership connect with your personal brand?
Considering that before I was rapping, I was a Celebrity Makeup Artist, this partnership with thread beauty feels like it is bringing me back to my roots. It's a full circle moment to collaborate with a makeup company that's excited about me, and I'm excited about their brand. With me being part of the LGBTIA+ community and thread beauty being both an ally and a Black-owned, female-based beauty brand, this partnership just made sense, as I make a lot of my music for Black females.
Also, when I first started doing makeup, even on YouTube, there wasn't anyone that looked like me, that I could reference and learn from. Everything was self-taught, so it's important to me to be an example for the beauty boys and everyone that loves beauty. Today, I have a lot of these supporters that look like me, for example, boys that have facial hair, a fade, and have full glam. This partnership can inspire them and represent what's possible. Like I'm out here living my best life and here's an example of how you can do it too!
What are you most excited about with this partnership?
I'm excited to be partnering with thread beauty because it is a Black-owned, female-founded brand that's relatable and affordable. I think it's a great thing that thread caters to a wider range of deeper, melanin tones, and everything is $8. I know so many pretty, dark chocolate people that used to have to spend $38-$42 to get a really good shade at a department store. The fact that thread beauty offers 26 shades at Target, and everything is $8 is groundbreaking. It allows the brown girls, boys, and thems, to be pretty at an affordable price.
thread beauty was created specifically for Gen-Z people of color, so it's fun to partner with a makeup company who is excited about me and my supporters, and I'm excited about them!
"Prior to launching thread beauty, we weren't seeing diversity in the beauty space, especially when it comes to men in makeup. thread was very proud to be the first brand to put a man-in-makeup on our main header displays in Target. I know first-hand that representation matters," says thread beauty CEO & Founder, Melissa Butler.
"If there's a little boy out there that wears makeup or wants to wear lip gloss but doesn't see that in the retail spaces,
then there's room for shame or the need to seek validation," she shared to announce the partnership. "I truly believe that without representation, you are left seeking validation, and thread beauty shows up to validate the niches that were not being previously validated - especially in the color cosmetics space. Who better to be the face of a beauty brand championing unapologetic self-expression and genuine authenticity than 'the' Saucy Santana? We are overwhelmed & overjoyed that we get to embark on this first partnership with him."
You can shop
thread beauty
online and at Target stores nationwide. Make sure to bump your favorite Saucy Santana song while you do.