Frontpage Popular News
How Greta Gerwig's Barbie Is The Hottest Thing This Summer
"Barbie has a great day every day. Ken only has a great day if Barbie looks at him."
- Helen Mirren, narrator for Barbie
Growing up as a girl, I played with all sorts of dolls: American Girl, Bratz, Polly Pocket, and of course, Barbies. I had the Dream House, the Dream Car, the color-changing mermaid . . . and let's not forget Ken. But as I aged, Barbie became more problematic.
Suddenly, we grew up and realized that Barbie didn't reflect the diversity (by any means) of our world very well. She was dimensionally impossible, but as we grew up she was our role model?!?! How could we spend our lives coveting a blonde-haired, cinched-waisted, pink-loving Barbie-life if the girl selling the dream was unattainable?
And then there were the controversial Barbies…1965 Slumber Party Barbie's scale was set at 110 pounds. She had a dieting book titled "How To Lose Weight" with the advice "Don't Eat!" OMG - our role model was promoting eating disorder culture!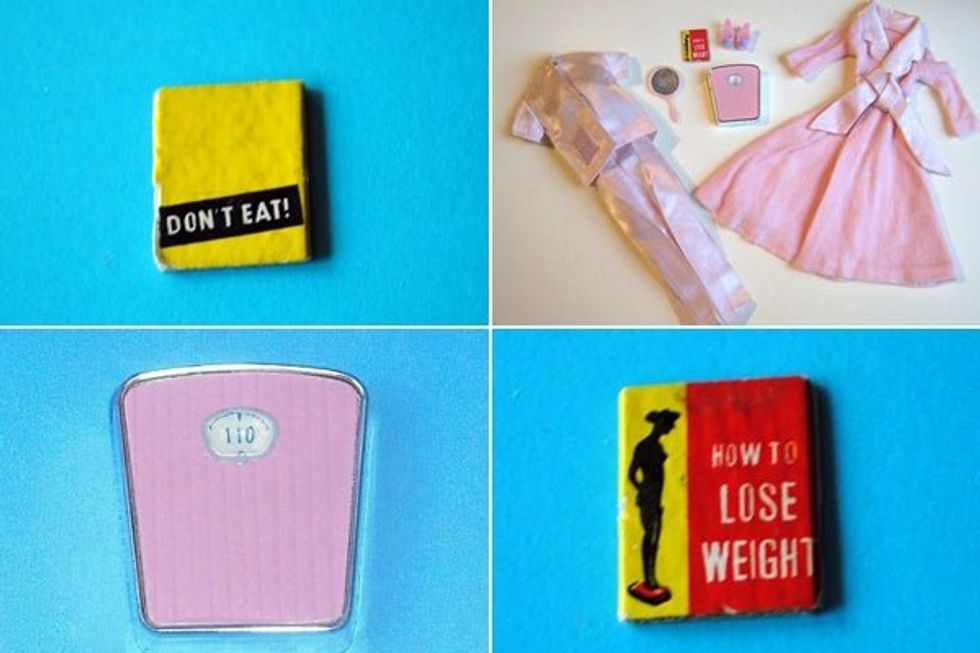 1965 Slumber Party Barbie
Daily Mail
Mattel was failing to realize that by making Barbie a doctor, lawyer, homeowner, extraordinaire, she truly was our role model as little girls. We were looking at these dolls potentially seeing what our future could look like. And if it meant being 110 pounds to have the Dream Car, that sends the opposite message.
But there is no one I have more faith in than Greta Gerwig to do the injustices of Barbie justice. We have just under one month until Gerwig's Barbie movie releases into theaters…on the same day as Christopher Nolan's polar opposite Oppenheimer, which has started its own collection of memes for a double-header day.
Barbie has already stolen the hearts of social media with perhaps the best marketing we've seen for a movie in a long time (barring the accidental chaos marketing of Don't Worry Darling). We've gotten picturesque stills of BarbieLand, the Architectural Digest tour of the Dream House, hilarious trailers, and of course the iconic movie posters. The main message of the posters? Barbie (Margot Robbie) is everything, and he's just Ken (Ryan Gosling).
From the trailer we can tell that Barbie lives in her pink world with other Barbies and Kens, like Dua Lipa being Mermaid Barbie. But one day when Barbie throws her party (complete with synchronized dance and bespoke song), she lets a thought out: "Do you guys ever think about dying?" Party halts.
Now that she's contempating her mortality, things for Barbie become less than perfect: her heels touch the ground (gag) and she falls off her roof (gasp)..So she's given a choice: return to her world (presented as a high heel) or go to the Real World and figure out what life's really about (presented as a worn out Birkenstock). Unfortunately for Barbie, she has to choose the latter.
In BarbieLand, she explains, " Basically everything men do in your world, women do in ours." As for the Kens? "I honestly don't know." If you can tell the theme of this film so far, it's that women are running the show.
But what Greta Gerwig gets right with Barbie so far is that BarbieLand is impractical. In the Architectural Digest tour, Margot Robbie shows us how the pool is fake because there are no elements in Barbie's world. She showers without water, has a fridge filled with decal food, and a lot, she admits with a laugh, is "not super practical, but nothing is for Barbie."
The success of the movie already is proving to be major. With Ryan Gosling's fierce dedication to being Ken, you find it hard not to root for this movie in the box office. He's given us quotes like "If you really cared about Ken, you would know that nobody cared about Ken" and coined the term "Ken-ergy."
On Jimmy Fallon, Gosling likened Ken to an un-cool accessory, saying that nobody really ever played with a Ken doll. " I was surprised how…some people were clutching their pearls about my Ken, as though they ever thought about Ken for a second. They never played with Ken! Nobody ever plays with Ken."
And we've already seen the blazing hot pink merchandise that has scattered stores. You can buy Barbie-inspired satin pillowcases, Barbie glassware, Barbie cookware. Our lives are suddenly immersed in our picturesque Barbie DreamWorld, but this time with a grown-up twist.
We're no longer emulating the Barbie look, per-se…but the Barbie Dream. It's about female empowerment and uplifting others, becoming successful in your own way, and loving the color pink always. It's more of the Barbie mindset than the Barbie body.
With a star-studded cast consisting of Will Ferrell, Margot Robbie, Ryan Gosling, Simu Liu, Emma Mackey, Kate McKinnon, and more…and an equally studded soundtrack with features from Nicki Minaj and Ice Spice, Dua Lipa, Ava Max, Charli XCX, Khalid, Lizzo, etc. This movie radiates power.
As a lover of all things pink, I'm here for the Barbie collabs. Here are my faves to get you ready for the movie of the summer:
Homesick Barbie Dreamhouse Candle