Interview and Photos by Jordan Edwards
Today, Devon Cole released her new single "Call U After Rehab" along with a music video (watch below). The ballad is a departure from previous releases like "W.I.T.C.H." and "Hey Cowboy."
"It's a love song about pausing a relationship in order to take care of myself," she says. "I was putting off my issues for a while and finding any way to justify my bad habits. Deciding to say goodbye to my closest comforts, to give myself the space and time to heal, felt like ripping off a bandaid that had been there for ages."

Raised in Calgary, Cole honed her vocals singing in show choirs. Now, she has one of the more versatile voices in pop music. She can effortlessly shift from dance to R&B. Jazz or country wouldn't be much of a stretch.

We met up with the singer-songwriter at Venice Beach to talk about the new track, her influences, and the massive success of "W.I.T.C.H."
How have you enjoyed LA? Did you find time to do stuff other than work?
LA has been great, lots of great sessions. I always make time to go to the beach at least once, because I love looking for ocean critters. And I even took myself out for a solo sushi date because I deserved it.

We're used to hearing upbeat dance-in-the-kitchen songs from you. Where did "Call U After Rehab" come from?
This song is a change of pace for me, and it's honestly super scary. It came from the deeper corners of my heart. Being vulnerable makes me want to vomit, but I think if it's scary for me to write and release, then it will probably resonate with someone. And I will still be dancing to it in my kitchen. And I encourage you to join me.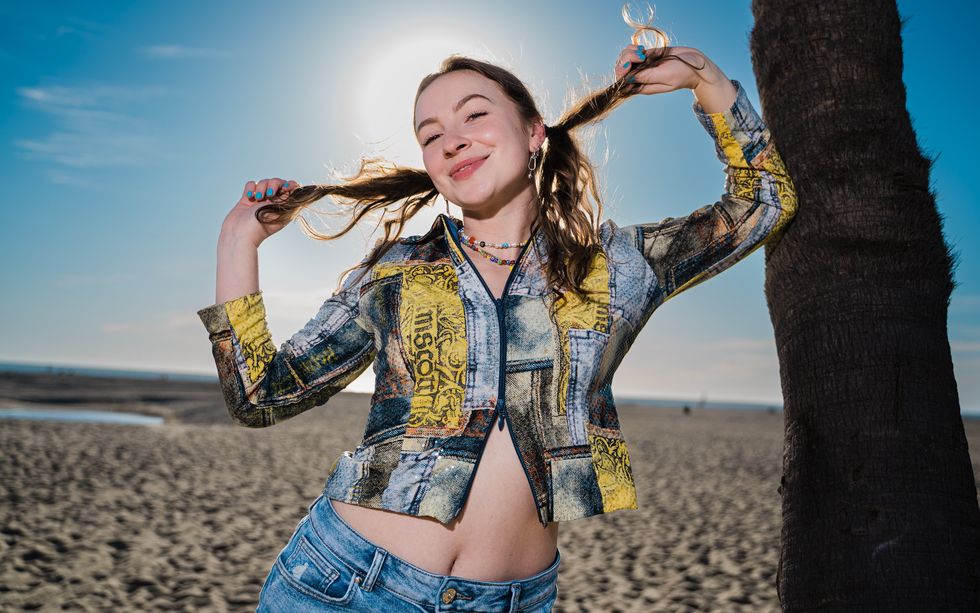 You're one of those people who seems to have effortless power behind your voice. Who do you look up to vocally?
That is so sweet, thank you so much. I get very in my head about singing and I tend to overthink it, so this means a lot to me. I think Charlotte Cardin is the songbird of our generation, and she's also my lord and savior. Jessie Reyez and Amy Winehouse are close seconds.

How do you get in the right mindset to write a song?
I don't think I try to find the right mindset at all. I've learned that forcing myself to write doesn't work out. Lyrics come to me most often when I'm not trying to write - like when I'm in the shower, or right before I go to sleep - and I keep my notes tab handy for those moments. I also try to keep my ears and eyes open throughout the day for song ideas, and that's where I've found the most success lately.

Was there a specific point or moment when you decided that you wanted to make music your career?
I always knew that I wanted to make a career out of music, since I was a petite thing carrying around my karaoke machine, but realizing that I actually could was a different thing. Somewhere in my late teens I came to terms with the fact that I was probably never going to be a popstar like I'd always dreamed. But once I started throwing stuff at the wall on TikTok and some of it hit - that was the external validation that I needed to realize that I might actually be able to make a career out of it.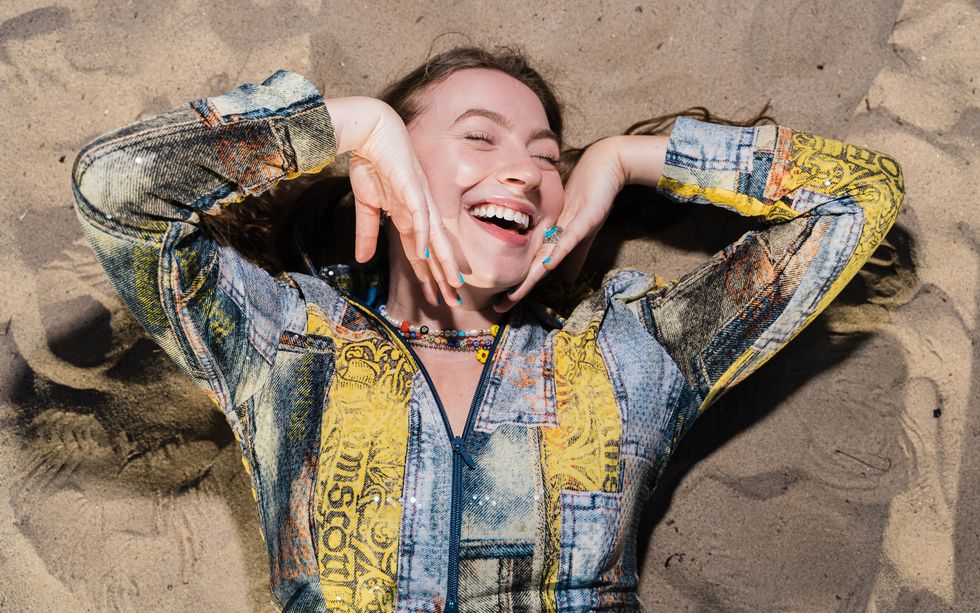 Now that you've had some separation, how do you feel about the success of W.I.T.C.H.?
Oh wow. W.I.T.C.H. was an incredible moment for me, and I feel so grateful that it happened the way it did. The best part of W.I.T.C.H. is that now I have this wonderful audience where I can continue sharing my songs and growing my artistry. It was a catalyst for a new phase of my career, definitely, cuz it got me signed and now I have a fantastic team behind me. I try not to think about W.I.T.C.H. as a bar that I'm trying to surpass, though, cuz the pressure of that feels awful. When I feel myself in a rut, I use W.I.T.C.H. as a reminder for me to continue trusting my gut and have faith in myself.

In honor of your JUNO nomination, who's your favorite Canadian artist?
Shania Twain, hands down.

What's next for you? Can we expect a full length album?
More songs, more performances, more fun. I will definitely write an album at some point, I don't know when. When I do, it'll be a body of work that I'm unbelievably proud of. But for now I'm still exploring my sound and figuring out who I am as an artist. I'm excited to get into touring and working on my chops in that area.
Devon Cole - Call U After Rehab (Official Video)
Devon Cole Spring 2023 Tour Dates
March 17 - Austin, TX @ Mohawk (Indoors) @ 1PM
March 17 - Austin, TX @ Carpenter Hotel @ 9:30PM
April 13 - Montreal, QC @ Petit Campus*
April 14 - Ottawa, ON @ Bronson Centre*
April 15 - Toronto, ON @ The Danforth Music Hall*
May 23 - Vancouver, BC @ Hollywood Theatre*
*supporting Valley

For more from Devon, follow her on Instagram and TikTok.