Culture News
In response to the adult content of an isolated incident posted online, the Swedish retailer is embracing the panopticon
A video of a woman masturbating in an IKEA recently went viral on Chinese social media.
In response, the Swedish retailer has announced plans to increase cleaning and security in their stores, stating that they are "taking the matter very seriously" and are committed to creating "a safe, comfortable and healthy shopping experience and environment."
The video is two minutes long and features a woman—some have identified her as an amateur adult film star known as Fullfive—wearing only a button-up shirt, pleasuring herself while shoppers move through the background. Either oblivious to what's happening or unwilling to confront the woman and her partner behind the camera, shoppers go about their business as she poses on an armchair, a bed, and a rattan floor cushion, her activity obvious only to the camera. The need for cleaning—if not just throwing that cushion out—is visibly apparent by the end. But does the video really warrant increased security, or is that impulse a stupid, knee-jerk response?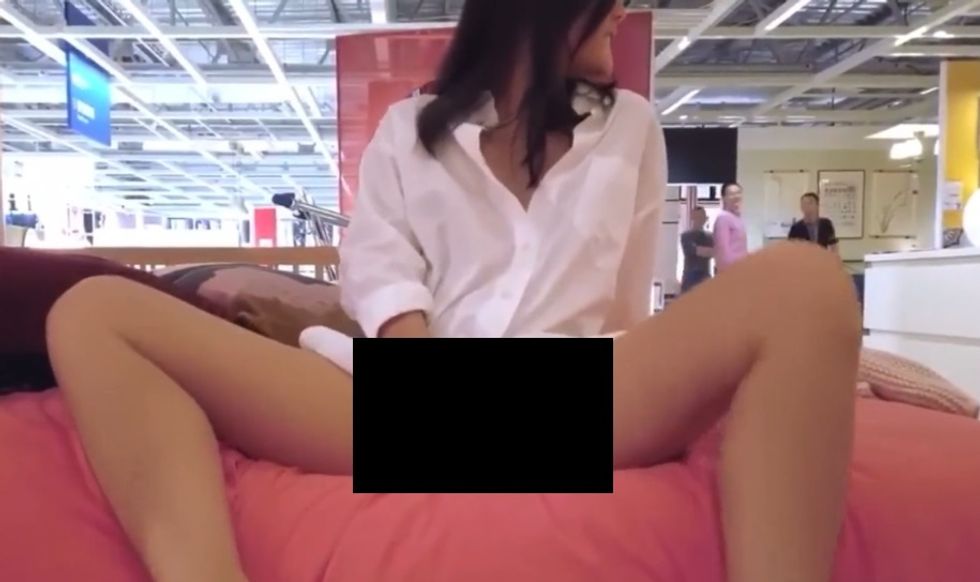 Admittedly, bodily fluids being spread around in such a public space present a possible health hazard, but so do children using display toilets—which must happen much more frequently than the events of the video. Beyond that, IKEA has good reason to maintain the kind of family-friendly atmosphere that would be undermined if there were women regularly masturbating in their stores… But there aren't.

This is just one video that happened to go viral. The fact that so many people have seen it is a PR problem, but it's still just one woman with an exhibitionist kink. It doesn't indicate that this is a widespread problem in IKEAs at large...but apparently NSFW shopping isn't new in China. In one 2015 incident, a clip of a couple having sex in a Uniqlo changing room went viral. Five people (including the couple) were arrested. The Chinese Cyberspace Administration issued a statement saying that the video clip "severely violated socialist core values." How can this sexy, anti-socialist shopping be stopped?!
Is it worth turning IKEA into a little surveillance state where you have to assume that you're being watched?
This is the concept of the panopticon. Originally proposed as a design for a prison, it has become a popular metaphor for the use of surveillance to control society. The basic idea is that if people operate under the assumption that some authority figure may be watching at any given time, they quickly begin to police their own behavior. From that perspective, if your only goal is to stop people from masturbating in an IKEA, then putting cameras everywhere and turning it into a panopticon is probably a decent solution—and it's the kind of solution that the world at large has been pushing toward in recent years. But what are we sacrificing to stop the exhibitionists of the world? How much energy should we devote to fighting off this fearful scourge of masturbating women?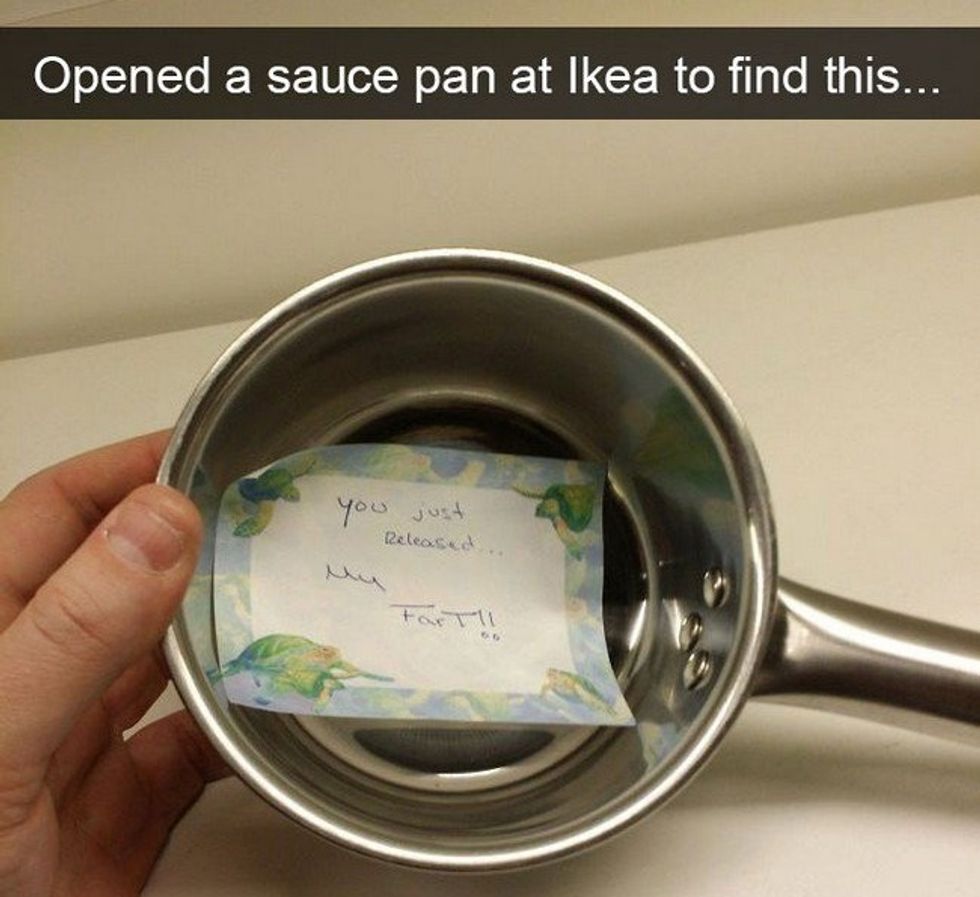 Isn't there a gray area of potentially embarrassing or inappropriate behavior that is still worth preserving? The only thing you're technically supposed to be doing in an IKEA is quietly bickering with your SO about the difference between the Grankulla and the Dagstorp. But isn't the point of those home displays in IKEA to give shoppers a break—an opportunity to fantasize and play house, and maybe act a little silly? Admittedly, that silliness probably shouldn't extend to public sex acts (probably), but what about taking a mid-shopping nap in a display bed, leaving notes for strangers to find, or posing for pictures in your spotless new home?

Would shoppers still be comfortable doing stupid things like that in IKEA if they knew they were always being watched and judged? And would anyone be able to tolerate the monumental task of an all-day IKEA trip without those moments of human levity to break up the endless labyrinth of flat-packed, mass-produced modernity? Should we trade the occasional store-masturbator for an epidemic of shoppers collapsing in despair under the crushing weight of life's hollow, endless monotone? Is that what you want?!
Melodrama aside, it should be clear at this point that the problem is not really with IKEA but with society as a whole.
As a species humans seem to be far too willing to give up privacy and freedom for a superficial sense of security. In China, the ruling party has opted to fully embrace the panopticon approach to maintaining order—with more or less constant surveillance of public areas and online activity, and embarrassing punishment doled out for people who step out of line. But the US is hardly better.
Edward Snowden's 2013 revelation that the NSA collects and processes more or less every form of digital communication made it clear that there is no real privacy any more. After the tragedy of September 11th, 2001, Americans were seemingly willing to give up that right for the assurance that we would all be safe from terrorism, but that safety is a fantasy—there will always be blindspots where a determined exhibitionist can slip out of their underwear, or a violent radical can assemble a crude bomb. And for the sake of that fantasy, we have given up so much.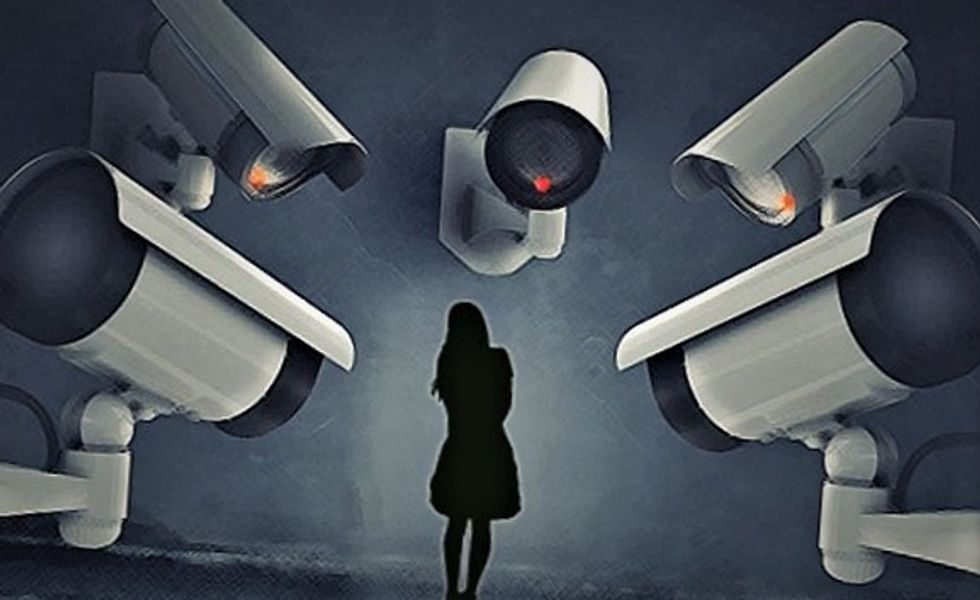 The gray area of embarrassing or inappropriate behavior is too wide and too valuable. Forget spinning on an office chair, what about Googling the woman who masturbated in IKEA in the privacy of your own home? Do we want to live in a world where that's a risky move? Where every politician who pushes for big, foundational changes can be blackmailed into backing down on the basis of their browser history? Or a world where researching how to resist an increasingly authoritarian government can land you on a terrorist watchlist?

How much of that is already happening? The tools exist, and we have no way to know how much they're being used. But if we are all willing to accept that the existence of one masturbating woman in an IKEA is grounds for the company to beef up security measures throughout their stores, then we're pretty much doomed.
In China the government has removed the video in question from social media, and if the woman is officially identified by the state's extensive facial recognition apparatus, she may face up to three years in prison on charges of "spreading obscene materials."