CULTURE
As Pride month ends, we look at the life of one of the most important figures in the push towards gay rights.
Content warning: This article contains a brief mention of sexual assault.
As Pride Month comes to a close, we remember Marsha P. Johnson, one of the principal figures in the gay liberation movement.
A Black transgender woman, Johnson was born in Elizabeth, New Jersey in 1945. Her parents were blue collar workers who raised Johnson with her six siblings. At age five, she began wearing dresses, but stopped after boys in her neighborhood began bullying and harassing her over her outfits. She later recalled being violently raped by one of these boys, who she remembered being around 13 at the time.
She had a religious upbringing and remained a devout Christian through her later life. In her adolescence, Johnson "always thought gayness was some sort of dream." She abstained from sexual activity until she moved to New York City at age 17 with only $15 and a bag of clothes. She began waiting tables in Greenwich Village; for the first time in her life, she met other queer people, and the "dream" of being gay was slowly becoming her reality.
With a newfound confidence to explore her gender identity, she ditched her birth name, put on a blond wig, and adopted the name Marsha P. Johnson. The letter "P" stood for "pay it no mind," a phrase Johnson would use to sarcastically dismiss people who inquired about her gender.
After arriving in New York, Johnson began performing in drag; she became known for her slender silhouette and her crowns of fresh flowers. She usually couldn't afford the ultra-glamorous ensembles worn by more extravagant "high drag" queens. Nonetheless, Johnson became one of the first drag queens to go to the notorious Stonewall Inn, a bar that had previously only been open for cisgender gay men.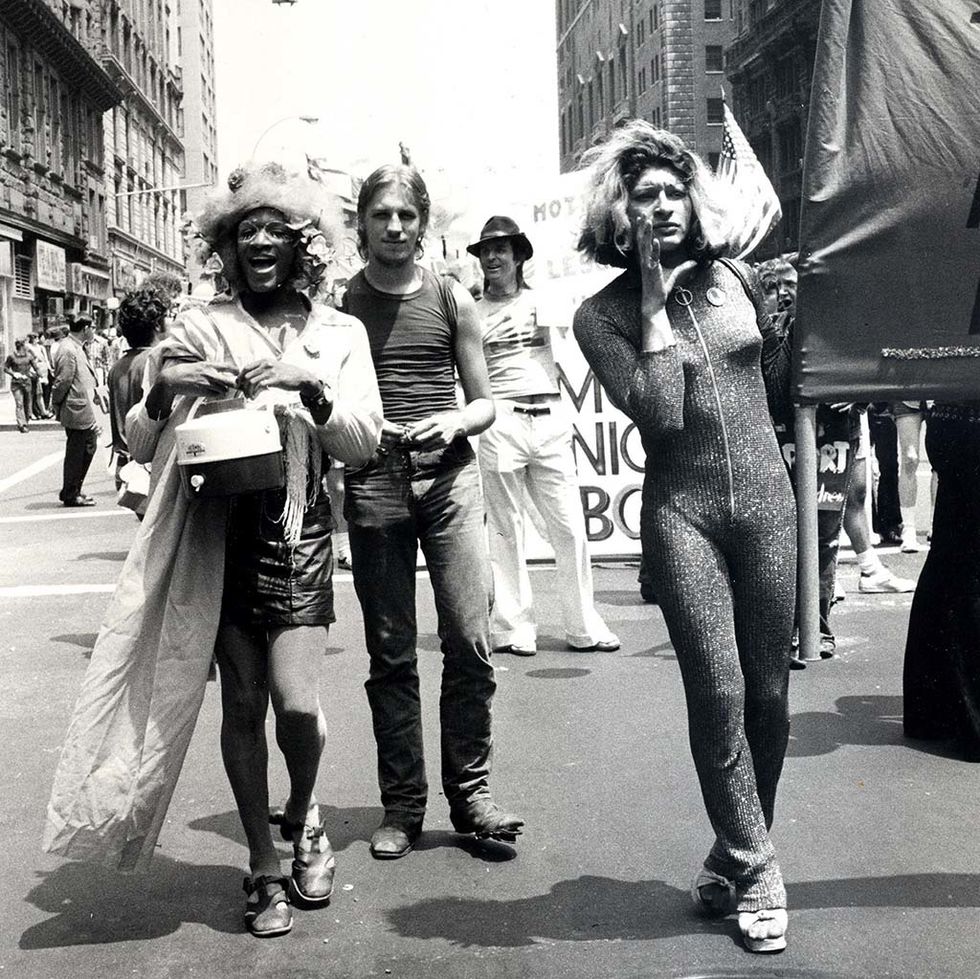 In the early morning hours of June 28, 1969, the Stonewall uprising occurred in the form of violent demonstrations by members of the LGBT+ community in response to a police raid. Along with fellow drag queen Zazu Nova and sex worker Jackie Hormona, Johnson is often cited as one of the leaders of the pushback against police during the Stonewall uprising.

However, Johnson later denied these claims, stating the riots had already begun when she arrived at the Stonewall that night. Witnesses have recalled her throwing a shot class at a mirror, shouting, "I got my civil rights," as well as throwing a brick at a police officer and shattering a police car windshield.
One year later, the first Pride parade occurred on June 28, 1970 to commemorate the first anniversary of the Stonewall uprising. Then called the Christopher Street Liberation Pride rally, Johnson joined the Gay Liberation Front—a group of LGBT+ activists—and participated in the march. The following August, she helped stage a sit-in protest at Weinstein Hall at New York University, after the university's administration canceled a dance event upon realizing it was sponsored by LGBT+ organizations.
Along with her close friend and drag queen Sylvia Rivera, Johnson went on to co-found Street Transvestite Action Revolutionaries (STAR). STAR helped push intersectional politics and provided housing in Lower Manhattan for homeless queer youth and sex workers. The first STAR House was a parked trailer that served as both a shelter and communal space; but after finding the trailer had been towed one morning, Johnson and Rivera found a more permanent location for a STAR House on Second Avenue.
Johnson and Rivera paid rent for the unit with income they earned from doing sex work. STAR was the first LGBT+ youth shelter in North America and the first organization in the United States to be founded by non-white transgender women.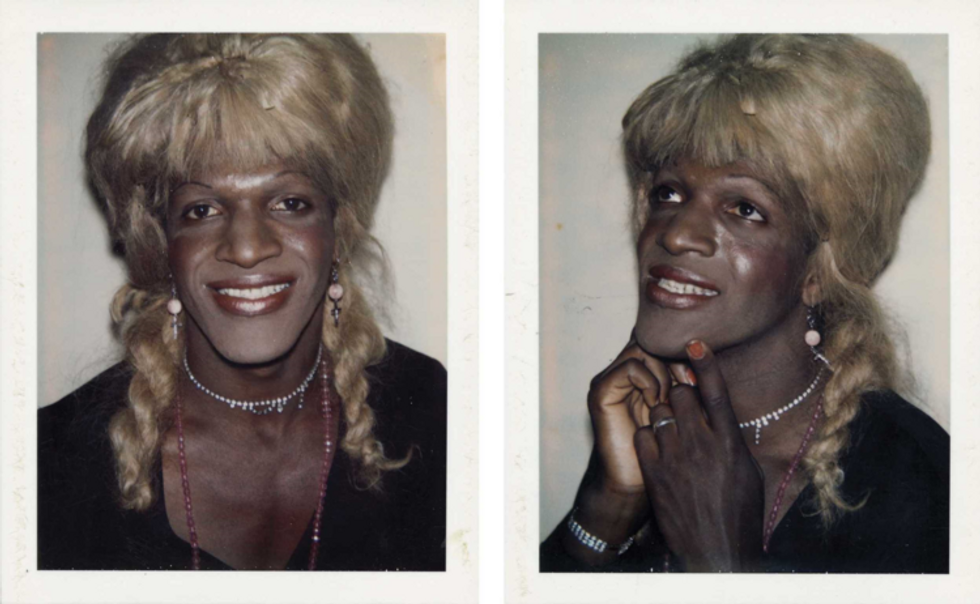 Despite making innumerable strides in gay liberation and maintaining a mostly lighthearted, positive, and generous persona, Johnson endured a great deal of pain throughout her life; she relied on sex work to survive while living on the streets in the '60s, her husband was shot by police, and she claimed to have been arrested over 100 times.

Her behavior was dangerously erratic at times, leading people to suspect she might have had schizophrenia; she could quickly take on a violent demeanor. For this reason, people long hesitated to acknowledge her impact spearheading the gay rights movement.
Finally, in summer of 1992, Johnson's body was found dead in the Hudson River. Her death was quickly ruled a suicide, although close friends of Johnson's maintained she was never suicidal in spite of her struggles with mental health. She was 46.
Despite not gaining much attention in mainstream press (the New York Times published a very belated obituary in 2018), Johnson was beloved by her community, and she continues to be remembered as one of the most crucial figures in gay liberation. She's been cited as a major influence by RuPaul, the drag queen known for hosting the competition reality show RuPaul's Drag Race.
Though there are still actions that need to be taken in order to achieve full equality for the LGBT+ community, it's irrefutable that Marsha P. Johnson is responsible for much of the progress towards true liberation. Johnson may or may not have thrown the first brick at Stonewall; but either way, she fought like hell for all queer people. Though she didn't know them each personally, they would all come to recognize her as a hero.