CULTURE
The soccer champion has become a beloved icon on and off the field.
Megan Rapinoe, the player who led her team to victory in this year's FIFA World Cup, has also managed to win the Internet's heart.
Well-spoken and radically feminist off the field, not to mention an indomitable star on it, she's successfully presented herself as a powerful, unapologetic woman, a symbol of political resistance and intersectional liberation.
"Disagree with her? Fine," writes Jerry Brewer in the Washington Post. "But there she is, striving to add to our women's soccer prestige. She's America. Like her or not, Rapinoe is going to represent us, and all of our spectacular complications. She is a mirror, unflattering, uncomfortable. Unavoidable." In essence, Rapinoe is America in all of its brashness and fearlessness; she's America in the radical vision and defiant spirit that the nation's founders dreamed of; she's America in the chaotic anger and exuberance that defines her country today. Here are six of her most memorable moments.
1. That time she spoke out against Donald Trump
Rapinoe's name made its way into national consciousness when a reporter asked her if, should the team win the World Cup, she would visit the White House. Her response has become a rallying cry for those opposed to Trump: "I'm not going to the fucking White House," she said.
This prompted a response from Trump himself. "Megan should WIN before she talks," he said. "Finish the job!" Later, the inflamed president continued, "Megan should never disrespect our Country, the White House, or our Flag, especially since so much has been done for her & the team," continued Trump, also telling Rapinoe to "be proud of the Flag that you wear" because "the USA is doing GREAT!"
Women's soccer player, @mPinoe, just stated that she is "not going to the F...ing White House if we win." Other tha… https://t.co/MbHN7KvVAr

— Donald J. Trump (@Donald J. Trump) 1561560157.0
When Rapinoe was asked to clarify her statement, she said, "I stand by the comments I made about not wanting to go to the White House with the exception of the expletive. My mom will be really upset about that."

2. That time she won the World Cup
Not only did Rapinoe's team win the World Cup, but she scored one of the game's two goals. In that moment, it was almost as if she always knew that she was destined to send that soccer ball ricocheting into the netted mouth of victory. It was a small kick for woman, but a giant, spiteful, radiant kick for womankind.
Needless to say, that goal was just one of Rapinoe's countless incredible moments on the field.
Top Ten Megan Rapinoe Goals www.youtube.com
3. That time she kissed her girlfriend after winning the World Cup—and all the gay moments that came before
Though the fact that Rapinoe has a girlfriend might be devastating to many of her adoring fans, admittedly, their relationship is beyond adorable. Rapinoe and her girlfriend, Sue Bird, met at the Olympics in 2016. Afterwords, Rapinoe "sauntered" into her now-girlfriend's DM's (in Bird's words) and the two have been together ever since.
These two really are the definition of a power couple. Bird is a championship-winning WNBA basketball player herself, so she can certainly understand Rapinoe's athletic lifestyle. She's also been supportive of her partner's newfound political drama, even penning an essay called "So the President F*cking Hates My Girlfriend." Among other things, Bird wrote about how she sometimes tries to see the world through Megan's eyes. "So the idea of Megan Goggles, I guess, it's this idea of like — they're this thing that I put on, and it helps me loosen up a bit?? And just open my eyes, and see the world from Megan's Extremely Megan perspective," she wrote. At the end of the essay, she brought it all back home with a statement that anyone who watched the soccer match can relate to. "But on Friday? It was like for this one, perfect, fleeting, uncomplicated day….. I was everyone. I was happy. I was crazy. I was PROUD. I was pretending to know about soccer. I was a little overwhelmed. I was pretty damn American. And I was in love with Megan Rapinoe." Same, Sue Bird. Same.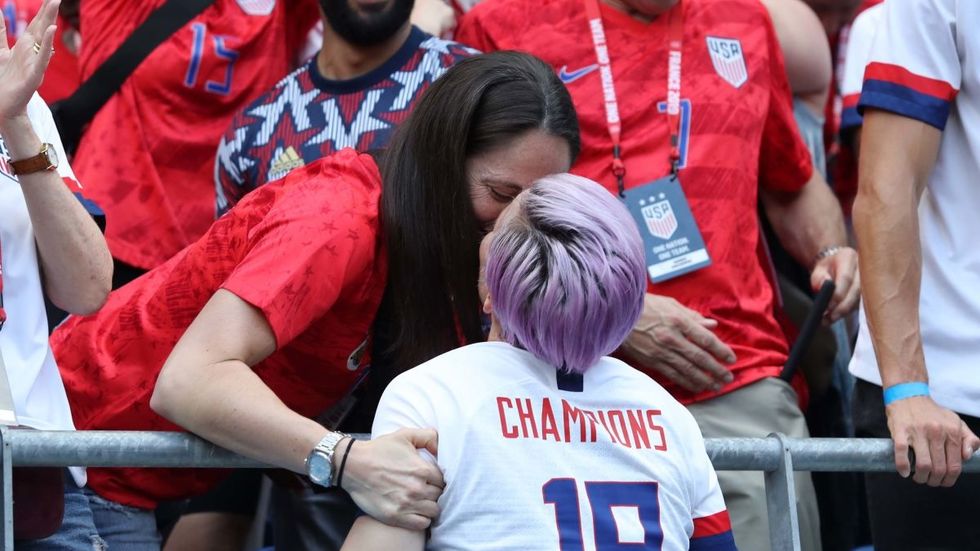 Image via CNN International
As if this relationship wasn't enough of a triumph for the queer community on its own, Rapinoe has long been an outspoken advocate for LGBTQ+ rights. In an interview with Yahoo! Sports, she said, "You can't win a championship without gays on your team. It's never been done before. Ever. That's science right there."

Then, of course, there was the time she was the first openly gay woman to pose in Sports Illustrated's swimsuit issue.
Image via Sports Illustrated
4. That time she and her team sued the U.S. Soccer Federation and demanded equal pay
The U.S. Women's Soccer Team showed its true tenacity when it sued the U.S. Soccer Federation for gender discrimination in March 2019. Regarding the suit, Rapinoe told The New York Times, "I think to be on this team is to understand these issues." She added, "And I think we've always — dating back to forever — been a team that stood up for itself and fought hard for what it felt it deserved and tried to leave the game in a better place."
Later in the interview, she continued, "We very much believe it is our responsibility, not only for our team and for future U.S. players, but for players around the world — and frankly women all around the world — to feel like they have an ally in standing up for themselves, and fighting for what they believe in, and fighting for what they deserve and for what they feel like they have earned."
So just how vast is this wage gap? The winners of the men's World Cup took home $400 million in 2018—while the prize for the women's game still stands at $30 million. In support of Rapinoe and her team's efforts, the crowd began chanting "Equal Pay" during the celebrations after Sunday's game, showing just how intertwined these athletes' political efforts have become with their sport.
5. That time that she took a knee for Kaepernick
Rapinoe's been publicly expressing her beliefs for a long time. In 2016, she was both the first white person and the first woman to take a knee in line with Kaepernick's protest against police brutality during the signing of the national anthem.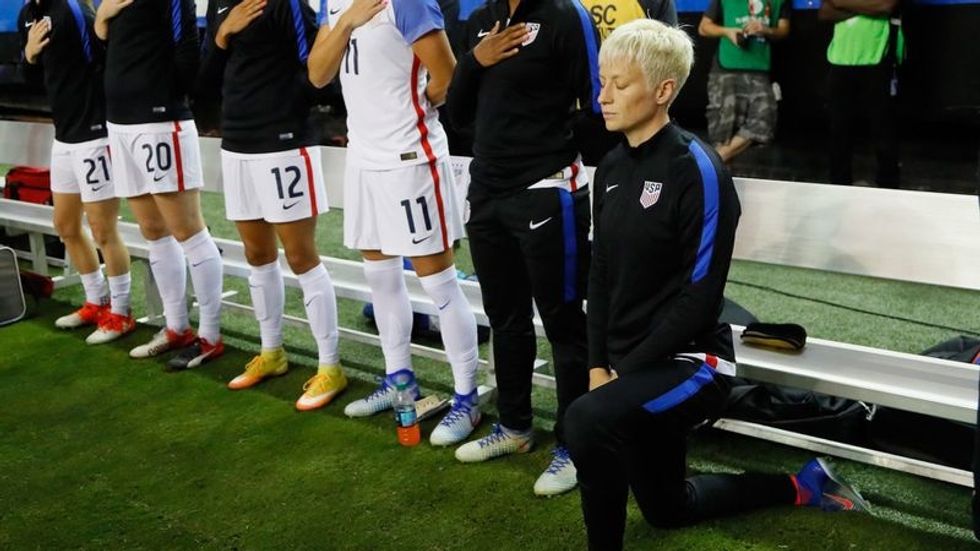 Image via the Los Angeles Times
Before the final match against the Netherlands, Rapinoe protested the anthem once again by refusing to sing it. When critics called her "un-American," she responded, "I think that I'm particularly and uniquely and very deeply American. If we want to talk about the ideals that we stand for, all the songs and the anthem and sort of what we were founded on, I think I'm extremely American."

6. That time she quoted Nipsey Hussle
After winning the World Cup, Rapinoe posted a photo of herself along with lyrics from the late rapper Nipsey Hussle's "Hussle and Motivate" as the caption. This only deepened her fans' adoration, as Hussle was a beloved figure who was extremely active in his community. In a sense, Hussle embodied the kind of compassion and drive that Rapinoe's also becoming known for, merging talent and activism into a public persona that might serve as a beacon of inspiration for us all.
I also didn't think it was possible for me to appreciate @mPinoe more, but her quoting Nipsey Hussle has brought my… https://t.co/bC2E7JNI8u

— Frederick Joseph (@Frederick Joseph) 1562580770.0
7. That time she became a meme
Even if you have no idea who Megan Rapinoe is, you've probably seen her in meme format. One photo of her in particular—the one in which she's beaming and holding her arms aloft in a celebratory gesture—has become an emblem of triumph and pride.
Now that she's worked her way into the Internet's collective consciousness by way of memetic distribution, one thing is for certain: Rapinoe is going to be seen and heard for a long time, societal expectations and American presidents be damned.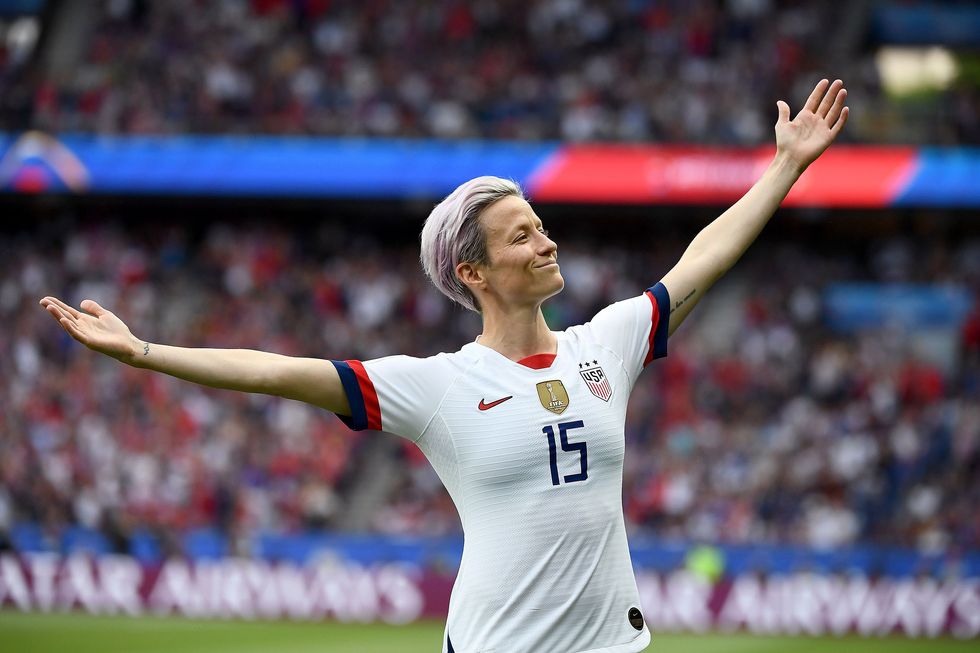 Image via PEOPLE.com
when I get my inbox down to ten emails https://t.co/yvBoAXZErA

— Mina Kimes (@Mina Kimes) 1561750543.0
Just look at her, occupying all that space. Centuries of men telling women to make themselves small, quiet, discr… https://t.co/tmYOZpamW5

— Jimena David (@Jimena David) 1562522658.0
"behold the field in which I grow my fucks and see that it is barren" -megan rapinoe https://t.co/cEjuHzOmEz

— lady (@lady) 1561751989.0