Arts
INTERVIEW | NYC artist takes on religion & politics in his debut one man exhibit.
Jason Ackerman
"If art, all art, is concerned with truth, then a society in denial will not find much use for it." -Jeanette Winterson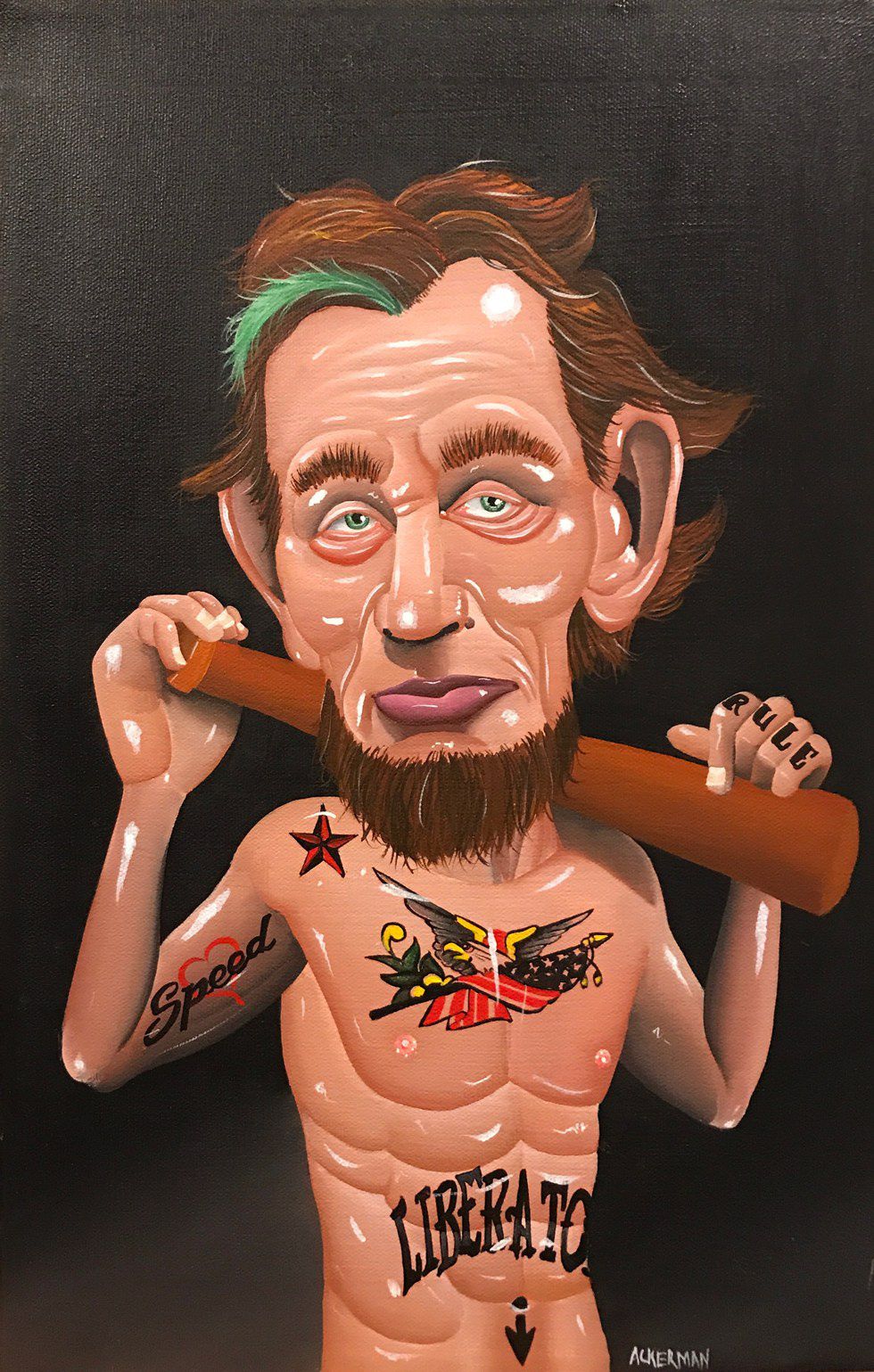 "The Liberator" Jason Ackerman
This quote sums up New York City artist Jason Ackerman's solo exhibition "Blessed" at The Living Gallery Outpost in Alphabet City which had its opening show on September 26th. The Florida native who is also a renowned tattoo artist @ Studio 28 has crafted pieces for his exhibit that in the eyes of some may register as controversial, but in reality are reminders on how some of the most profound and revered institutions in history had their flaws. Loaded with social commentary, Jason's paintings deliver his message in a tongue in cheek fashion depicting the likes of Gandhi, Abraham Lincoln, and the Pope as caricatures of themselves and highlighting some of their little-known and possibly overlooked skeletons. The catalyst to Jason's satirical statement on canvas came from a piece that isn't featured in the exhibit. It was a painting of President Donald Trump titled "Alternative Drive" that gave him the courage to take a more political approach when it came to his art. If the antics of Number 45 weren't "inspirational" enough, through a mutual acquaintance "Alternative Drive" hangs proudly in the home of iconic Motley Crüe drummer Tommy Lee. The reception from Lee and others was the match that lit the fuse and sent Jason on a crusade to bring the truth to the masses. We sat down with Jason to find out why do we as people love to paint our beliefs in government, important people in history and even ourselves with a certain brush.
Popdust: Tell us how the concept of your show came to be?

Jason Ackerman: I've been trying for a few years to get into galleries. I sent my portfolio to the Living Gallery Outpost and funny enough they saw The Pope painting and they just they called me and said We don't want to use you for a group show we want to do a solo show.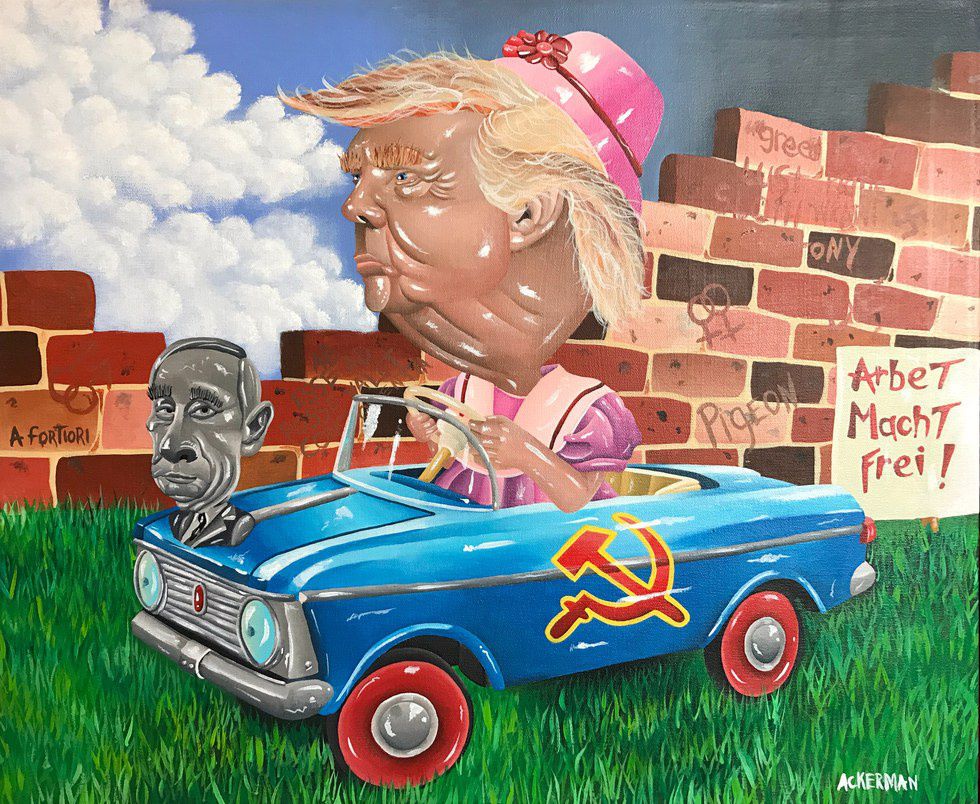 "Alternative Drive" Jason Ackerman
P: Why so many political and religious pieces?
JA: I think with the way the world is going right now, it kind of feels like we're on the verge of civil war. I'm a firm believer that those who forget the past are doomed to repeat it. And with the way things are going nobody wants to really speak the truth about everything that's happened.
P: Do you feel like the exhibit is you lending your voice to social commentary or do you feel like people misinterpreted it as you just going for shock value?

JA: I think it's a bit of both. People that don't know me would probably assume it's for shock value. People that truly know me know how I feel. I don't publicly outwardly speak how I feel. I believe everybody's entitled to their opinion. I just kind of keep mine to myself and I use my paintings to try to voice it. I'm just trying to show my truth.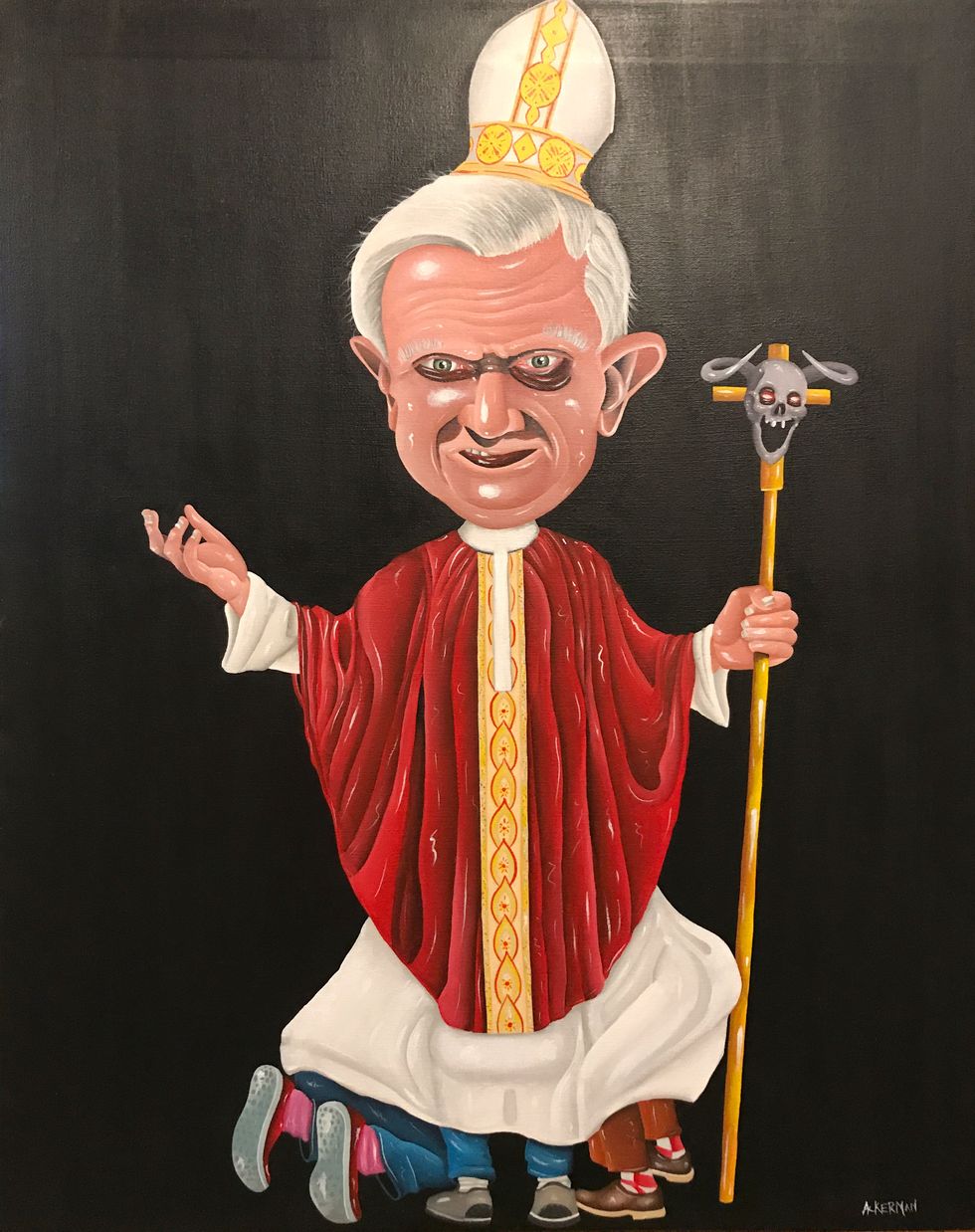 "Tithing" Jason Ackerman
P: You said the Trump piece is pretty much the catalyst to all the other politically charged pieces that were in the show. What gave you the courage to paint that one first?
JA: As far as the Trump piece goes I was really nervous about it. Just with all of the silly rhetoric that comes out of that man's mouth. The building of the wall, the possible collusion with Russia, the election, I just felt the need to put that. I didn't get a whole lot of negativity when I posted it or put it out there like Tommy Lee from Motley Crüe actually ended up buying it, and I'm honored that he did. But, that was the one that just sparked the fire in me to just say "F*ck It." I'm really just going to go for it and portray what I really feel on the inside about society today. I think I'm a social satirist that brings these people down to a size.
P: With Trump being president right now. What celebrity/public figure that has never held a political office do you think would make a great president?

JA: Will Smith. He's my favorite actor, and from what I know about him and his morals they are really good. He seems like a really good role model and he doesn't have the cuss in his raps to sell records. So, I mean...... That's pretty awesome. (laughs)
"Blessed": A Solo Exhibition by Jason Ackerman will run until October 8th @ The Living Gallery Outpost with a closing party to conclude on the same day.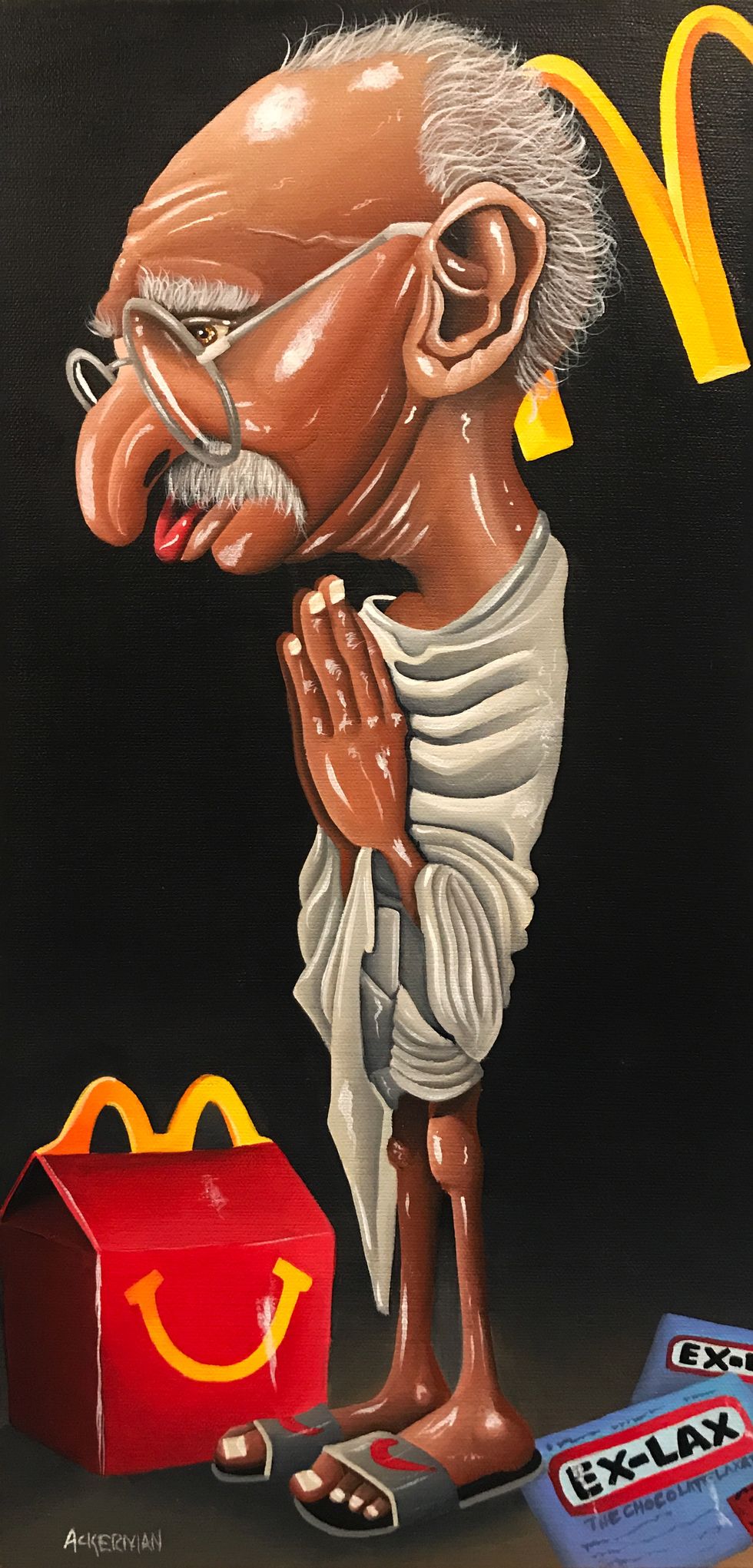 "Laxative Swaraj" Jason Ackerman