There are few things I love more than a bunch of powerful women commanding a stage for the night, so I couldn't miss the opportunity to attend FLETCHER's Pride event: FLETCHER & FRIENDS. On June 4, UPSAHL, Olivia O'Brien, and FLETCHER took the stage at the iconic Stone Pony in Asbury Park, NJ to celebrate Pride Month 2023 with a concert. And, honestly, I wasn't disappointed.
Let's kick it off with the fact that this was my first time at the Stone Pony. It definitely fells like what my dad refers to as "a part of music history." This is the hallowed ground where The Boss - Bruce Springsteen - got his start. Springsteen grew up in Asbury Park, playing the stage weekly at the Stone Pony (he's played at the Pony more than any other venue). Now, it's a year-round venue with an outdoor Summer Stage that hosts huge names in music like Demi Lovato and Louis Tomlinson.
There is absolutely nothing better than attending a concert beachside, and Asbury Park is the king of live concerts. Festivals like Sea.Hear.Now are massively popular, where artists like Stevie Nicks and The Killers are headliners.
FLETCHER - another music phenomenon that hails from Asbury Park - returned for a hometown concert of epic proportions. It was filled to the brim with fans, which even FLETCHER herself was impressed by. During the show, she noted she'd played the venue twice before (once where she had to beg family and friends to attend, another to a small gathering of 500). But this show is by far her biggest with a crowd of 4,000 strong.
FLETCHER's surge in popularity isn't surprising, considering she had mega-hit "Undrunk", a song she herself admits she is tired of singing… No matter, FLETCHER puts a rock spin on the single that could go number one on its own. In fact, I wish she'd release it so I could play it on my own.
In total, FLETCHER sang 21 songs. What I was most impressed with wasn't merely her giving us a full on concert, but her band and her soaring vocals. My friend and I were genuinely moved by her voice, which is super powerful. She can belt along with the best of them and croon to her heart's content accompanied by a rocking band that kept the energy high.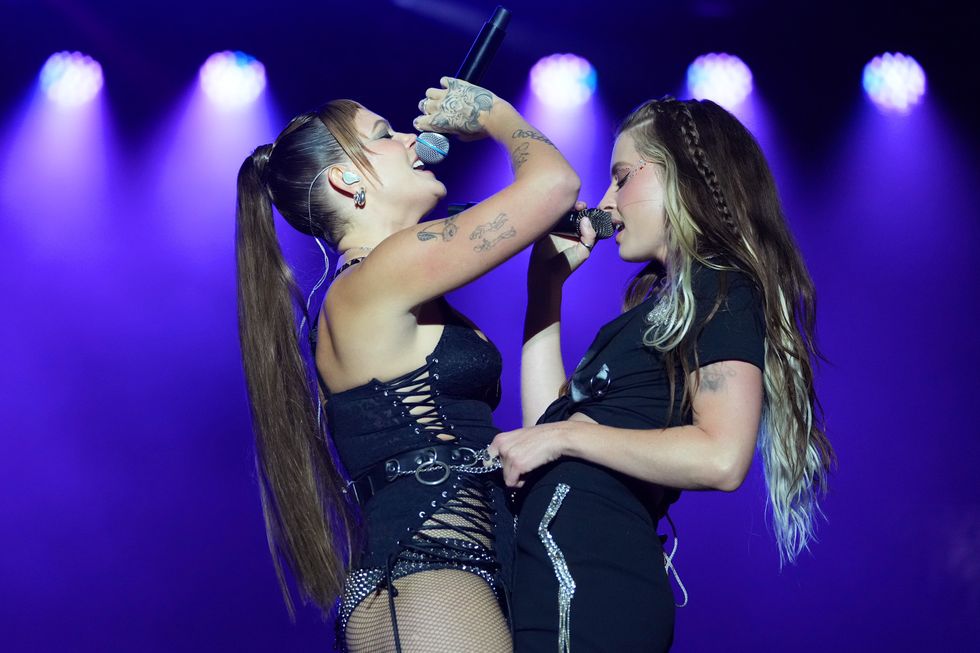 Tove Lo (left) and FLETCHER (right) performing June 9, 2023
ALLISON DINNER/EPA-EFE/Shutterstock
Another sweet moment was when she brought a young fan onstage to dance and perform "Cherry" with her. FLETCHER had seen a video of the fan saying she was going to the concert. So, when the girl came on stage, FLETCHER told her that this was her show and to dance her heart out. The crowd went wild.
FLETCHER's gratitude for performing her songs for this particular crowd was obvious and she did not disappoint. A high point of the show were her covers: an electric version of Britney Spears' "If U Seek Amy" and SZA's "Kill Bill", as well as Springsteen's own, "I'm On Fire." She debuted a new single dedicated to her home state, "Jersey In Me" alongside home video with clips of her friends and the glorious beach.
FLETCHER also brought out Olivia O'Brien for a fun rendition of their song "Bitch Back" and they had a total blast singing up there together. If there was a theme of the night, it was all about being yourself, having fun as a whole, and forgetting about life beyond the music.
She also played a decent chunk of her debut album Girl Of My Dreams - which came out in September - including an encore of her single "Becky's So Hot." She's had a huge year, performing alongside Miley Cyrus at her New Year's Eve Special, touring the UK and Europe, and now this hometown concert.
This show launches FLETCHER's "Meet Her At The Bar: The Pride Month Experience", where a series of pop-ups at women-owned, queer bars are celebrated across the country. This is the second year in a row doing Pride Month pop-ups, where she's helped raise over $50,000 for GLAAD.
FLETCHER's iHeart video for her song "girls girls girls" and encouraged the crowd to sing the words "because she knows we knew them" and dance away. The entire crowd - who'd already experienced two performances, danced as if the night had just started.