Woweee! Miracles DO happen!
Real Housewives of Beverly Hills star Yolanda Foster Hadid's recovery from Lyme disease has continued with such a dramatic return to health that Yolanda has been able to return to modeling!
As we all know, so stricken was she by her crippling disease, that Yolanda was "unable to get out of bed for two years" and spent "14 months in her bathrobe" as her health went downhill after her diagnosis in 2012 (it's so weird that she was able to film RHOBH literally running around Beverly Hills on a treasure hunt and diving joyfully off the bow of a yacht during that time though).
Yolanda has strongly defended any inference from her co-stars about the severity of her disease. They (like the rest of us) we left confused by her bed-ridden, IV Instagram posts interspersed with snaps of her enjoying life to the max. She cried off a lot of Housewives events and could only manage to film a small portion of the Season 5 reunion before returning to her bed as she was so weak and debilitated from her "Lyme brain" .
And who can forget the <whisper> Munchausen's row, or the surprise of those close to her children when she claimed that two of them, Anwar and Bella, (who are managing to forge successful modeling careers) were also victims of the incapacitating disease?
It's hardly surprising that her situation was questioned when she was busted trying to manipulate situations to garner sympathy with pictures like this;
What a touching sentiment for her caring son (obviously his strength isn't compromised by his own Lyme disease). A shame that the picture from another angle tells a different story—just a fun moment between mother and son;
Then of course there was 2015 Lyme Disease fundraiser—a gala that David and Yolanda (then) Foster were honorary chairs of. Sadly they couldn't attend the event due to "the severity of her symptoms of Lyme disease".
The severity of these symptoms didn't seem to prevent her from visiting her family in Holland at the exact time of the event and posting a number of pictures in which she doesn't seem all that out-of-action. The pictures have subsequently been deleted after she was called out on on Twitter regarding her non-attendance at the event;
@YolandaHFoster you lied about why you didn't attend https://t.co/45crRaJCsL you were visiting your mom https://t.co/MLpbc5NvOV

— Lily (@Lily) 1458837130.0
Wow—those symptoms look so severe!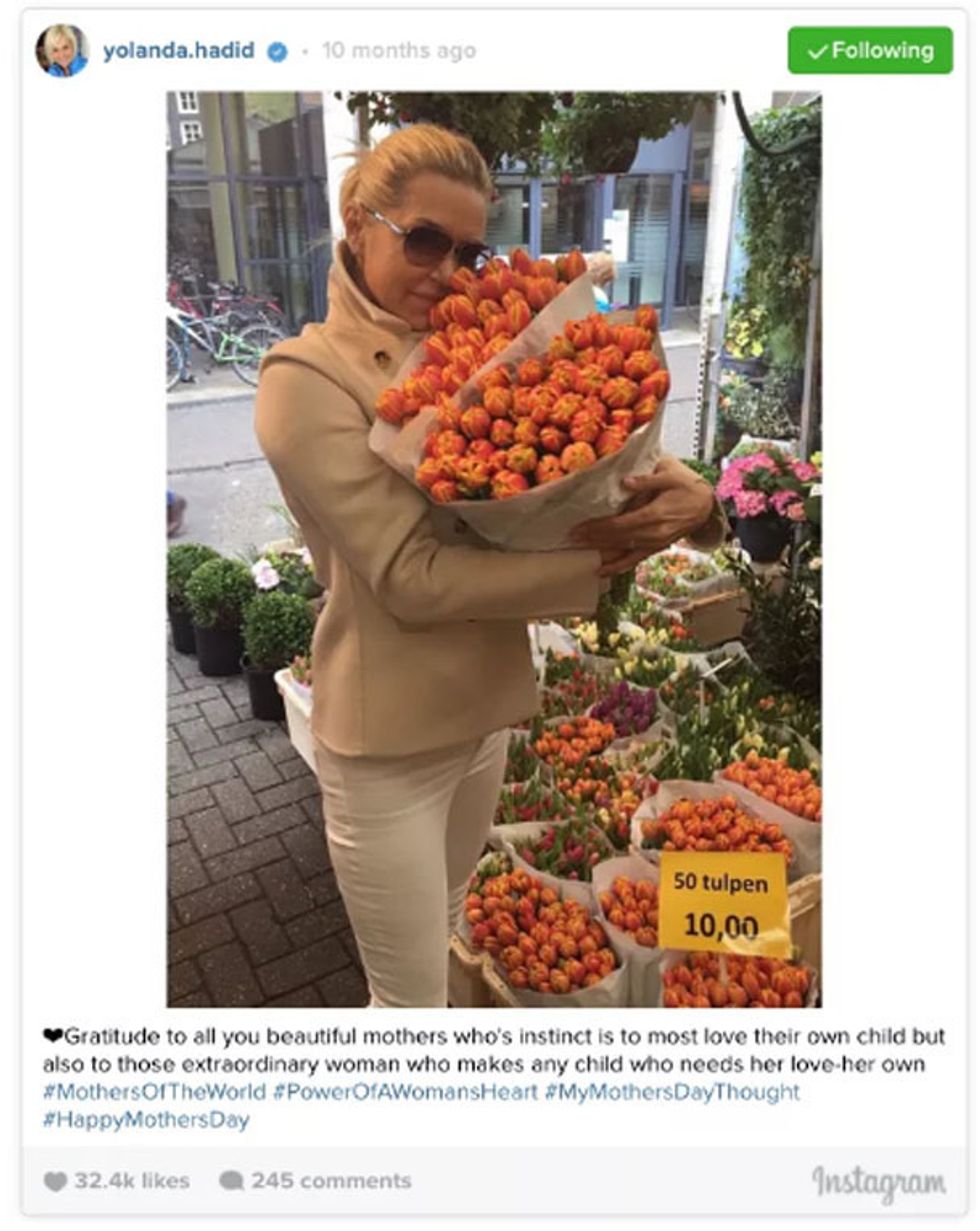 Clearly bedridden.
---
READ MORE...
Yolanda Foster Files Divorce Papers—Wants Spousal Support
House Tour Tuesday—Yolanda Foster's Luxurious LA Condo
Lisa Vanderpump's Friendship With Mohamed Hadid Is Over...For Good!
---
For some though, all became clear when news broke of her impending divorce from husband David Foster. Whether she was attempting to court public sympathy, get their pre-nup invalidated or just get some good old fashioned attention, the fact remains that she has made a miraculous recovery since her divorce.
As is well documented by Yolanda herself, she traveled the world trying out all manner of bizarre alternative treatments for her "chronic" condition that even doctors have come out and said is clearly fake misdiagnosed and does not exist in the form that she claimed to be suffering from.
Could it be that when David departed he took with him the cash that was funding these hugely expensive treatments? That maybe the treatments were counter-productive and confusing her to her body? Hmmmmmm....
Well whatever has happened, Yolanda was able to assure Bravo that she would be well enough to continue filming for the franchise. It seemed though, that much like the viewers and her fellow Housewives, Bravo had had enough of Hadid's illness and would only renew her contract for Season 7 if she dropped her 'battle to health' from her storyline. Yolanda refused and parted company with Andy Cohen and friends.
Fast forward a short month or so and Yolanda's miraculous recovery has continued to such an extent that she has now been able to return to her former career of modeling!
She posted to Instagram (where else?) a snap from a photo shoot, captioning it that she is getting back in action and the hashtag #GoodDay.
Thank goodness she had one of her 'good days' on a day that she had a modeling shoot booked!
Congratulations on your miracle Yolanda! Long may it continue!