MUSIC
The Brit synth-pop duo gave a monumental performance at Brooklyn Steel, and there's seemingly no slowing down from there
Photo Jay Pinho
There's something about IDER that feels out of this world...
Heavily stylized production, a grungy stage presence, colorful visuals meshed with the group's wistful vocals tones make it seem like the duo lives in a world of contradictions, both alien and terrestrial, and once you start you can't get enough of it. They've been burning a trail behind them the last couple of years, one that's taken them from touring the UK and Europe, through to guesting at SXSW, hitting the wider world, and now opening up for Norwegian pop sensation Sigrid at Brooklyn Steel.
Brooklyn Steel is a cavernous venue. It takes a lot of people to fill it, and it takes double their energy to make the place come alive. IDER drowned the room. They emerged out of smoke and light like a pair of optical illusions, and took on the sold-out venue as if it was the most natural thing in the world. Megan Markwick behind the keys and Lily Somerville on guitar, the London-based duo carried energy and confidence, running and belting song after song to delighted hundreds. Asked about their dynamic, IDER responded candidly "We are quite playful on stage and perform a lot to each other," going on to confirm what most people suspect. "Our chemistry is a huge part of our performance and our identity as a band."
IDER shares a fascinating dynamic onstage. When you break down what they're doing it doesn't read like a whole lot. Keys, guitar, vocals, beat. And yet when you watch them they are all-consuming. Their ferocity was at its peak when they performed "GMLAA" acapella, their eyes locked, harmonizing with one another perfectly. When the pair are in sync, they are ethereal and immediate.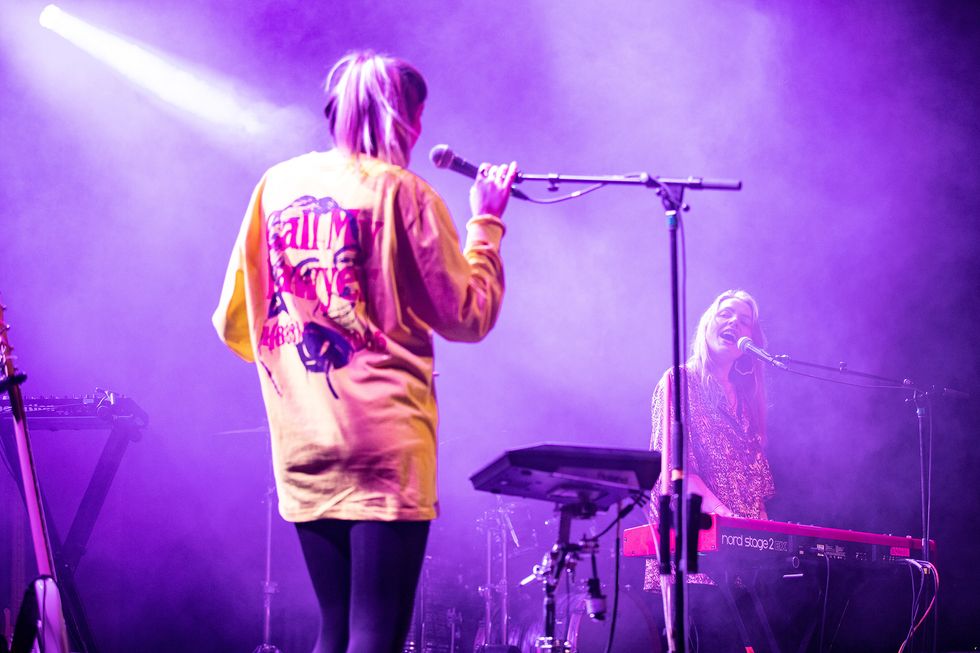 Photo Jay Pinho
Sigrid followed them on stage and, naturally, brought the house down, but before that IDER indelibly left their mark. "It was amazing to see some people singing along to our songs," they said of the show, adding, "The sound in the venue was incredible." Their down-to-earth, deliberately under-choreographed synth-pop munificence resonated with New Yorkers in a way that not all acts can do. Perhaps it's their folk origins that keep them grounded in the here-and-now. Perhaps it's the British factor, making their voice unfamiliar yet familiar. Perhaps it's just good old-fashioned musical and lyrical intelligence. Whatever it is, it's not to be missed. IDER are on tour now, and, if there's any justice, will be for the rest of recorded time. In their own words: "We're gearing up to the release of our debut album this summer. We also have plans for touring and festivals and pushing ourselves further with our live show."

---
Thomas Burns Scully is a Popdust contributor, and also an award-winning actor, playwright, and musician. In his spare time he writes and designs escape rooms. You can follow him on Facebook, Twitter, and Instagram.
---
POP⚡DUST | Read More…

F*** Yeah It's Summer. The NSFW Anthem You Didn't Know You Needed
Eddie Izzard: transgender, hilarious, and heartbreaking
'Pop Punk High', a pop punk musical comedy? Um... yes please!