Recently, a lot of people are trying out vegan diets, even people who would have laughed at the thought of trying it a few years ago. It's become more than just a trend, but an aspirational lifestyle change.

This is not just because of the many health and environmental benefits, but also because it's become more accessible for people to cut meat out, thanks to plant-based meal delivery services.
We've looked into it, and we discovered that the two most popular plant-based delivery services are Splendid Spoon and Revive Superfoods.
Our editors tried both to find out which was the ultimate vegan, superfood meal delivery service, here's what we found:
Key Similarities
Both are plant-based food delivery services
Both deliver foods right to your doorstep
Both have meals that contain lots of superfoods
Both offer smoothies, soups, and meals
Both are preservative-free
Both meals are heated in a microwave
Key Differences
Splendid Spoon smoothies arrive ready to drink, Revive's smoothies have to be blended
Splendid Spoon offers 60 meals altogether, Revive offers only 29 meals
Splendid Spoon offers extra Wellness Shots, Revive offers no extras
Splendid Spoon offers Noodle bowls, Revive doesn't
Splendid Spoon Overview
Splendid Spoon has 3 different plans, a Breakfast plan; a Breakfast, Lunch + 1-Day Soup Reset plan; and a Breakfast, Lunch, Dinner + 1-Day Soup Reset plan.
I signed up for the weekly Breakfast, Lunch, Dinner + 1 Day Reset, which means I get 5 smoothies, 5 soup & grain bowls, 5 noodles, and 5 light soups. I chose the meals I wanted, which was tough because there are 60 delicious and nutritious meals to choose from.
Looking at the ingredients, they were all packed with superfoods, some of which I'd never even heard of! (That's how I know it's healthy.) The delivery arrived in a few days and I placed all the meals in my fridge knowing that they would be good for a week.
I started the week off with the Raspberry Cacao Smoothie which was delicious and curbed my morning sweet tooth. I just grabbed it from the fridge, it came ready to drink, so no prep was needed. I was surprised at how filling it was. The Red Beet Buddha Bowl for lunch was delicious, it only needed a few minutes in the microwave, and it was ready.
The Creamy Butternut Squash Noodles for dinner were so tasty, I had to remind myself that I was eating healthy food! Overall the meals were all very satisfying, and the convenience of zero prep made eating plant-based meals a breeze. Some of my other fave meals were the Strawberry Goji smoothie, the Red Curry Noodles, and the Vegetable Bolognese Bowl, to name a few.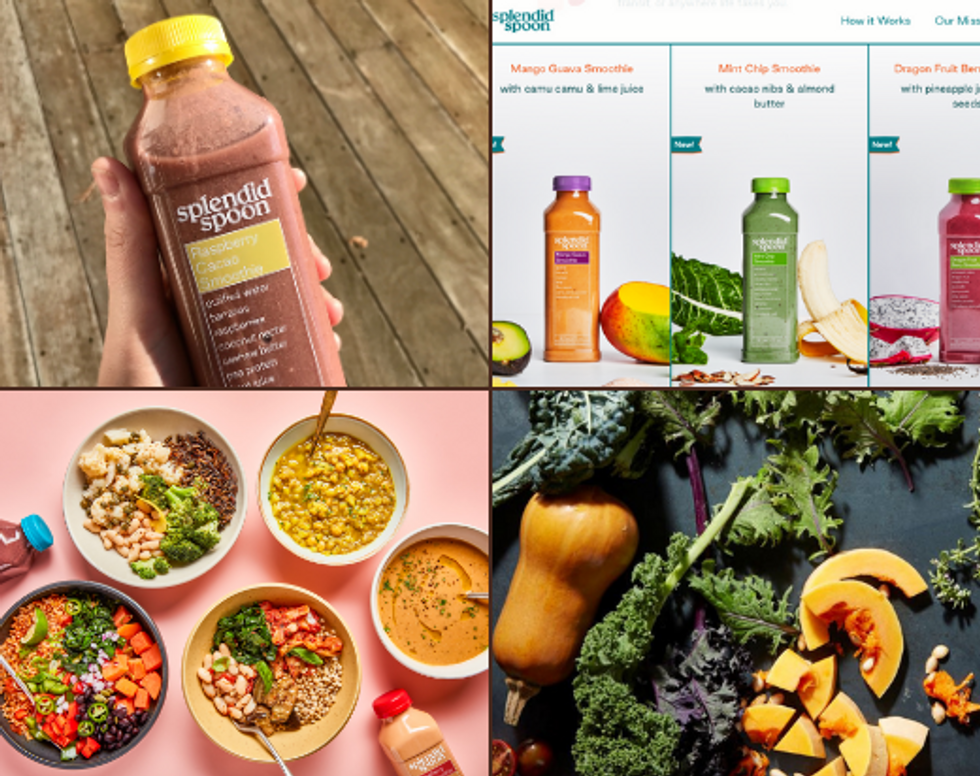 Revive Superfoods Overview

Revive Superfoods offer three plans; 9 cups a week, 12 cups a week, or 24 cups a week. I went with the 24 cups a week plan and selected the cups (meals) I wanted.
Again, for breakfast I choose smoothies. For lunch and dinner, I chose from their "Supermeals" (similar to Splendid Spoons grain bowls) and soups. They offer a wide selection of smoothies (16) but between their Super meals and soups there are only 9 cups, so I ended up adding the Artisan Bean & Tomato soup twice.
The box arrived in a few days and I was excited to see if it measured up to Splendid Spoon's deliciousness. First up I had the Heart Beet smoothie, the cup came with all the ingredients, which I had to blend in the blender myself. It was yummy and kept me satisfied for a while.
For lunch, I had the Carrot Ginger soup which was really good, then I had the Cauliflower Couscous SuperMeal for dinner. I'll be honest, at the end of the first day I was left a bit unsatisfied. Their SuperMeals and soups are perfect lunches, but for dinner, I crave something more substantial.
I continued for the rest of the week and found myself switching back to my old sugary cereal for breakfast because I didn't have the energy to make the smoothie and wash the blender afterward (I'm not a morning person).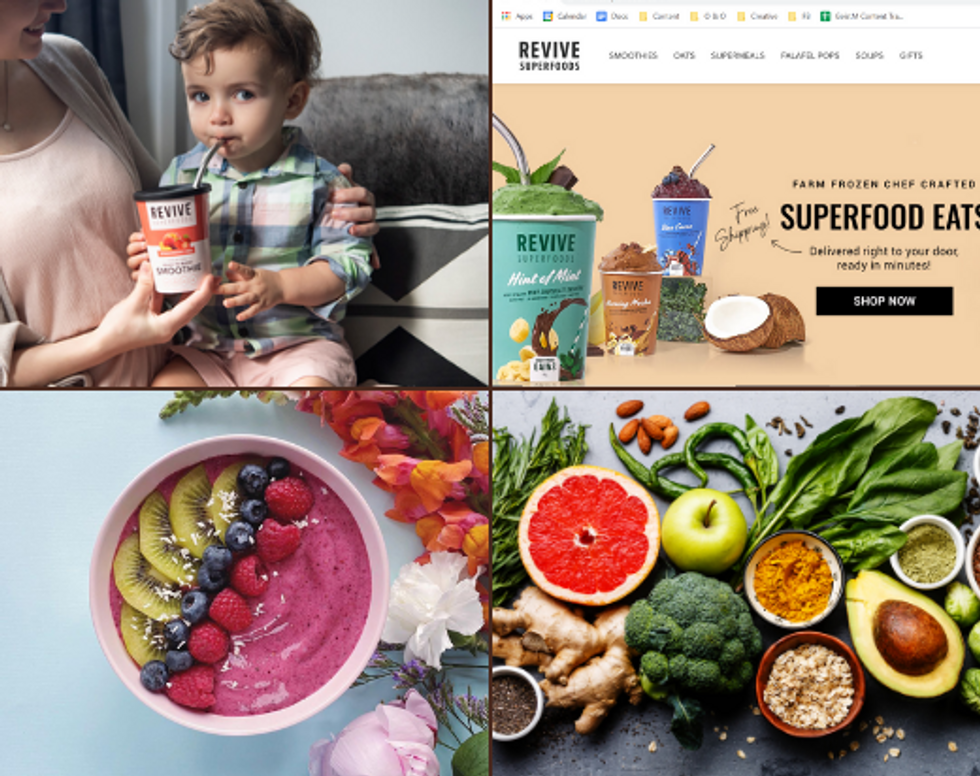 Final Thoughts

At the end of trying both Splendid Spoon and Revive Superfoods, I'm sticking with Splendid Spoon.
If I'm going to be adding plant-based meals into my diet, it needs to be as easy and substantial as possible. In the morning I barely have the energy to get dressed, so blending the Revive smoothies and then washing the blender feels like a hassle (yes I am that lazy in the mornings). Drinking my Splendid Spoon smoothies as soon as I take them out of the fridge is the perfect way to start my day.
Splendid Spoon offers 15 smoothies, 30-grain bowls and soups, 8 noodle bowls, and 7 reset soups to choose from. Revive offers 16 smoothies, 6 SuperMeals (grain bowls), and 3 soups. I can see myself getting sick of having the same grain bowls and soups every week with Revive. Variety is important to me, and Splendid Spoon is constantly adding new meals to their menu so I'll never get bored.
Lastly, as I mentioned, Revive's meals fall short of what I feel are appropriate for dinnertime (I find myself needing a midnight snack or dessert). Splendid Spoons noodle bowls are wholesome and very satisfying dinners, I could see myself eating plant-based meals all week with Splendid Spoon. Plus I felt satisfied and energized all day every day.
Splendid Spoons plans are completely flexible, you can pause or cancel at any time. If you're looking for an easy way to eat more healthy and plant-based meals, check out Splendid Spoon.