CULTURE
What's fair game in the battle for a more progressive country?
In one of the strangest combinations of people to ever come together in a headline, Melania Trump and rapper T.I. are butting heads.
The First Lady's spokesperson is asking people to boycott rapper T.I. because of his promotional video that shows a dancer resembling Melania Trump stripping. The video features T.I. in the Oval Office, watching out the window as President Trump takes off in the Marine One helicopter. The rapper then sits down behind the president's desk, and the Melania look-a-like walks in, drops her jacket that reads, "I Really Don't Care Do U?" and then, naked, stands on the desk. The unlikely pair later leave the office and spray paint over Trump's portrait.
T.I. released the minute long clip on his twitter, with the caption:

"Dear 45, I ain't Kanye. 😳" In a clear reference to Kanye West's support of President Trump, something T.I. has openly disagreed with.
Dear 45, I ain't Kanye. 😳 https://t.co/BCS8nkbn1M

— T.I. (@T.I.)1539391984.0
Dear 45, I ain't Kanye. pic.twitter.com/BCS8nkbn1M
twitter.com
In response to T.I.'s video debut, Stephanie Grisham, Trump's communications director, tweeted Saturday:

How is this acceptable? #disgusting #boycottT.I. @Tip https://t.co/HvnFahfsVK

— Stephanie Grisham (@Stephanie Grisham)1539469750.0
How is this acceptable? #disgusting #boycottT.I. @Tip
https://twitter.com/etcanada/status/10512085916909...
…
twitter.com
Usually, we'd be raving about a politically conscious music video from an icon like T.I., and enjoying any displeasure from the White House, but in this case, we have to *shudder* agree with Grisham.
While it's difficult to argue with the intention of T.I.'s video — an obvious rebuke of the Trump administration — the manner with which T.I. goes about his criticism is questionable. The video moves from naked Melania to a montage of T.I. defacing parts of the White House, a sequence that suggests that T.I.'s implied sexual relationship with Melania is another aspect of the disrespect and property defacement aimed at President Trump.
This is an unfortunate continuation of an age-old trope, a trope that says sleeping with another man's wife is a way to seek revenge on that man, in most cases ignoring the agency of the woman involved all together. This trope objectifies and minimizes Melania as nothing more than an extension of her husband.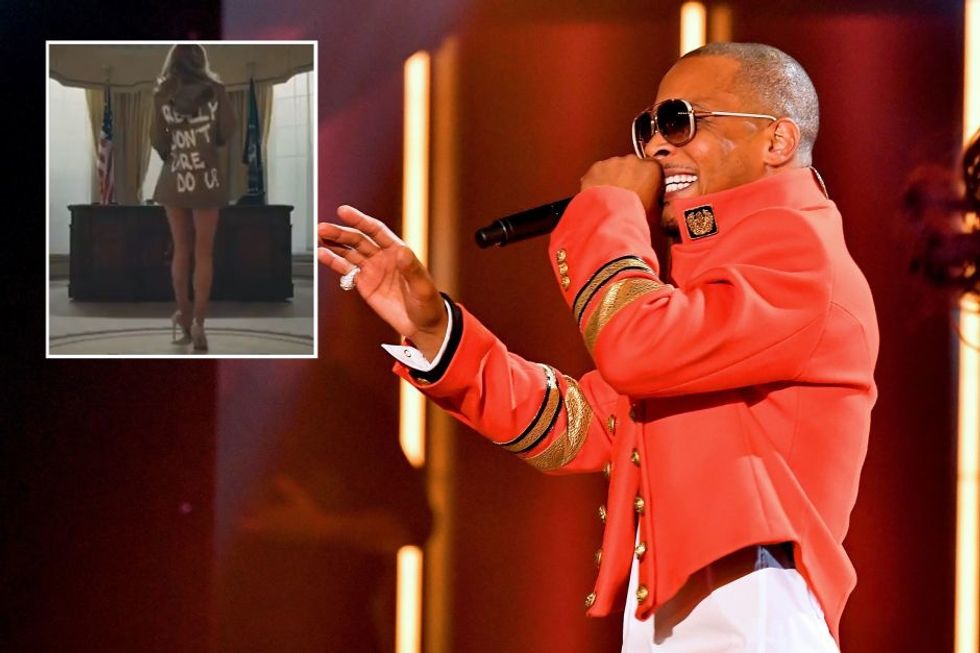 El Diario NYC
Additionally, the artistic combination of sex and hate is a toxic one. Having been an outspoken critic of the Trump administration, it is doubtful that T.I. likes Melania Trump. Yet, he sexualized her in the video, even suggesting a sexual relationship with her. So, in the video, Melania is not only positioned as the property of her husband — an object to damage like the rapper damages the paintings in the later part of the video — but T.I. is also suggesting a connection between sex and a woman's domination. In positioning sex with Melania as a tool with which to seek revenge on the President, T.I. has — perhaps unwittingly — added to a culturally embedded, sexist narrative.
Don't get me wrong, the Melania look-a-like removes her clothes with full volition in the video, but keeping in mind how T.I. feels about the Trump administration, it's impossible not to see the video as an attempt to shame both the first Lady and her husband. This connection between female shame and sex is disturbing and is furthered by this video, regardless of what T.I. intended to say.
You may think this is a bit of an overreaction to an objectively interesting video aimed at a damaging the current administration, and you may be right. But the conversation is bigger than a minute long T.I. video. The conversation is about what is, and isn't, fair game in the fight to restore our country to progressivism. If we want to criticize and condemn Trump for his blatant misogyny and disturbing rhetoric about women, we can't suddenly turn a blind eye to these sexist narratives when they're used against him. A woman does not earn respect and humanization by behaving a certain way or agreeing with certain politics, it is her right.
---
Brooke Ivey Johnson is a Brooklyn based writer, playwright, and human woman. To read more of her work visit her blog or follow her twitter @BrookeIJohnson.
---
POP⚡DUST | Read More…

Nominations are In - Rock & Roll Hall of Fame to Induct New Artists
Montel Williams Suffered a Stroke