MUSIC
A few months ago, Doja Cat was trending for her "Juicy" music video, causing people to question: Wasn't she canceled?
RCA Records
In early August 2018, Doja Cat's cow-print top got in the way of her music career.
The distracting clothing choice manifested into a meme-sensation: "Moo!" Overnight, a singer I saw perform for 200 people just months prior was now being noticed by artists like Chance the Rapper (who would give his stamp of approval).
Last year, "Moo!" was more than just a meme; it was the beginning of a movement. It was a part of a cultural shift to meme music, and it became a cash cow, so to speak. It inspired Halloween costumes, overpriced cow-print items on Depop, and Instagram captions. To the casual observer, Doja Cat seemed to come out of nowhere—a breakout sensation similar to Cardi B. Her silliness, vibrant visuals, and sharp lyricism demonstrated more potential than others would care to see.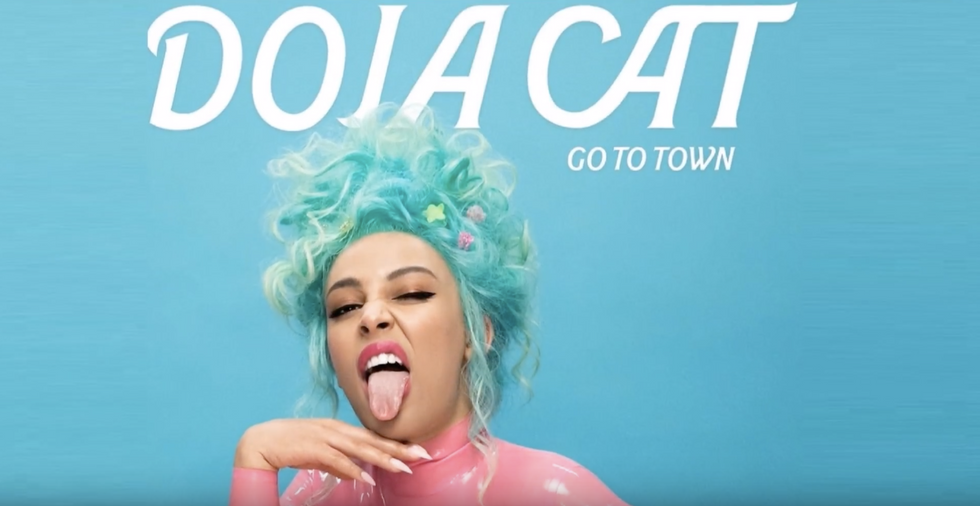 In actuality, Doja Cat had been on the music scene since she was 16, with her single "So High" released in 2014. Her debut album, Amala, came out months prior to "Moo!" but received little recognition beyond her small cult following. Her fans remained well-fed with her debut's smooth vocals, playful delivery, and bopping raps—until "Moo!"
But then, peak cancel culture snuck up on the then-22-year-old after gaining a massive, too good-to-be-true herd of fans. Someone read through three years of content on her Twitter feed to find transphobic and homophobic slur-ridden tweets written when she would've been a senior in high school. Doja Cat's initial response to being "canceled" failed to take accountability and used the same homophobic slur in question in her "apology." Her fumbled contrition took a few times to nail. She tried multiple times to apologize afterward, but the damage was done.
And just like that, it was as if Thanos snapped her out of our collective, mainstream consciousness.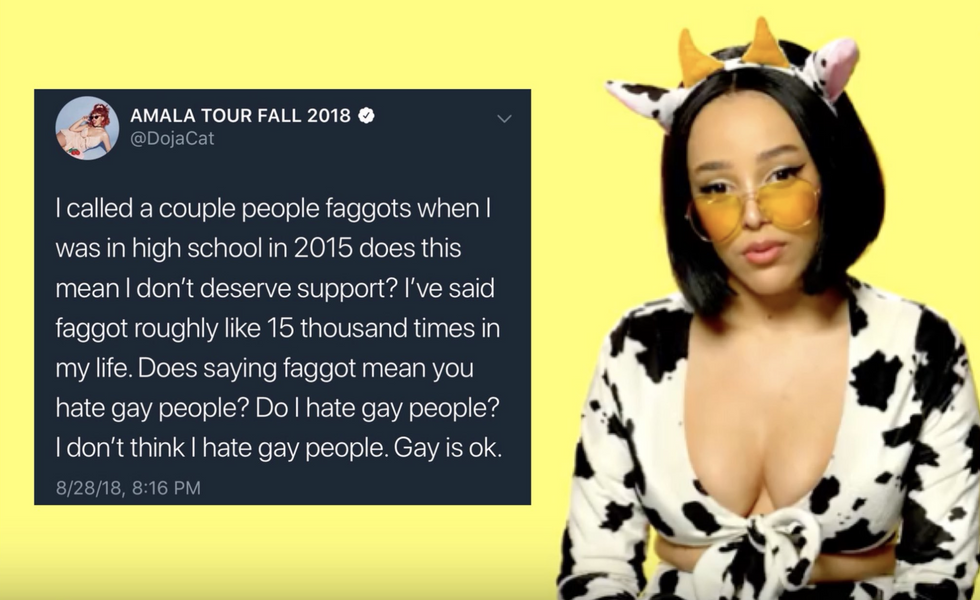 But on Thursday, Doja Cat dropped an enthralling music video for her remix of "Juicy," featuring overrated and outdated rapper Tyga. The original track was released back in early 2019 on her deluxe album of Amala. Only now is it getting attention after its inclusion in HBO's Euphoria and with this attention-grabbing music video.
Doja Cat, Tyga - Juicy (Official Video) www.youtube.com
When the video began trending on Twitter, it reintroduced her music and fun, flirty aesthetic to mainstream audiences. People began tweeting to praise the slick, rich visuals, her natural body, and how fantastic the song itself was. Still, some remembered her fall from grace and praised her as their "homophobic queen."

It took one year (almost exactly) for Doja Cat to be fully praised and recognized for her talents after being exposed for her past poor judgment.
Unfortunately, it seems that male performers like Chris Brown and XXXtentacion receive praise no matter how bad their misdeeds are, including verbal and physical abuse. The late XXXtentacion is still remembered fondly, with performers like Billie Eilish and J. Cole coming to his defense—even though he beat his pregnant ex-girlfriend. Most men in the hip-hop and R&B communities are given endless leeway for their horrendous actions; meanwhile, female artists aren't given the same allowance to slip-up and show flaws. People remember Ariana Grande's donut-licking, Taylor Swift's lack of political activism, and Miley's odd, problematic comments more than Chris Brown beating Rihanna or Drake texting underage girls. As a woman, your words weigh more than a man's actions, except if you're loud and have a lot of opinions, like Cardi B (she's not "cancelled", she just sat down with Presidential candidate, Bernie Sanders).
Is a year of irrelevance enough punishment? Who's allowed to decide? Why does cancel culture even exist in the first place, when it's obviously an inadequate measure of wrongdoings and demonstrates severe social biases?
Today, Doja Cat may be the only musical artist that went from up-and-comer to breakout sensation to #canceled to up-and-comer all over again. Over the past year, Doja Cat's still amassed millions of views for her nostalgia-ridden hit "Tia Tamera," featuring XXL's Freshman Class rapper, Rico Nasty. The comments are flooded with people wondering why the song and the performers haven't blown up just yet.
Doja Cat - Tia Tamera (Official Video) ft. Rico Nasty www.youtube.com
But this week, it seems that Doja Cat has finally made her way back into the limelight. Should we be thankful? I don't know. But her hard-working, lyrical genius is finally getting more recognition than her problematic past.