TV
Veronica is better as a closed-off, emotionally-stunted pessimist, with a soft marshmallow heart deep inside.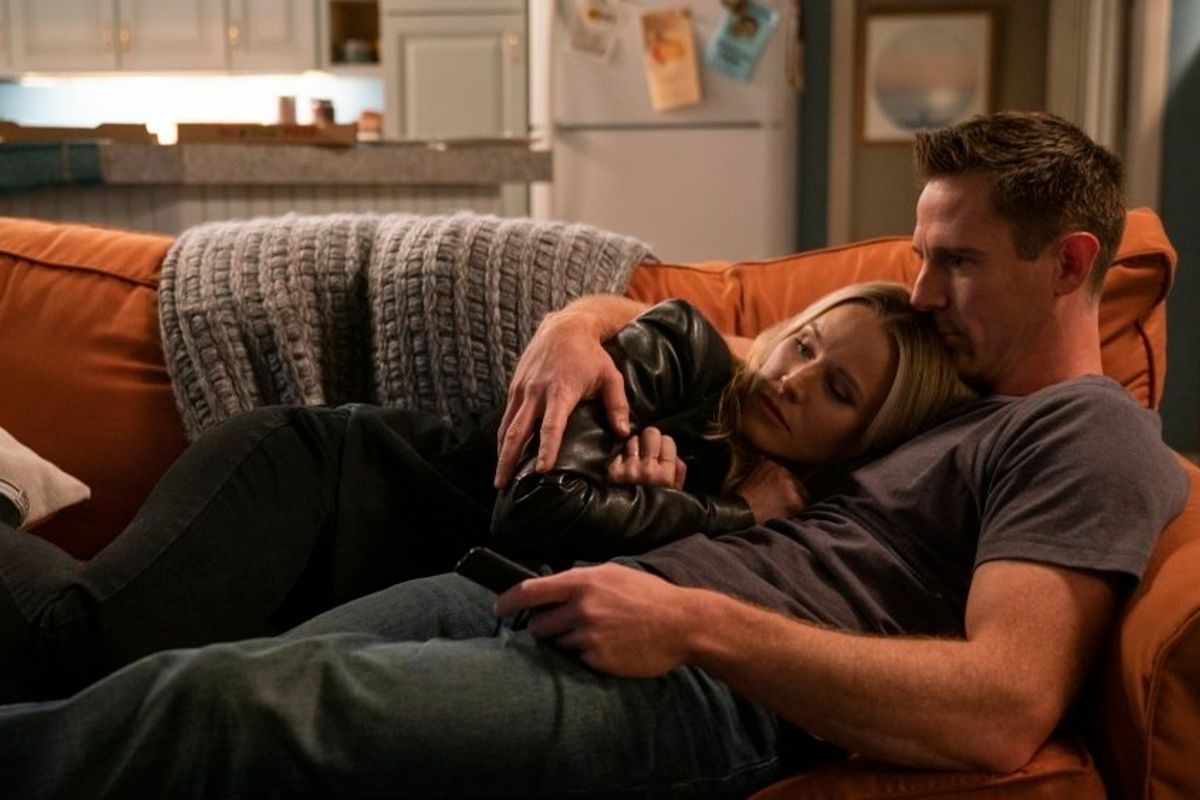 Hulu
*SPOILER WARNING*
Fans were elated last week when Hulu's reboot of Veronica Mars dropped one week early following the cast's panel at San Diego Comic Con. The hype quickly turned on its head after viewers binged the eight-episode fourth season only to find that Veronica's nemesis-turned-lover-turned-husband, Logan Echolls, was blown to smithereens by the last bomb planted by serial bomber, Penn Epner (Patton Oswalt). So what happens when an underdog series with a cult-ish following kills off its fans' favorite love interest? A fandom fractures.
When the series began in 2004, Veronica Mars (Kristen Bell) was a young teenage private eye, following in her Sheriff dad's footsteps and trying to solve her best friend's murder. Meanwhile, Logan (Jason Dohring) spent much of the first season as a volatile rich kid organizing bum fights and ostracizing Veronica when her father fingered the wrong guy in the murder case. But soon, Logan and Veronica bonded over their grief over the loss of Lily Kane, and they ended up secretly dating at the end of season 1, kickstarting an on-again-off-again affair. Fans of the series (coined "marshmallows") shipped them hard, creating the nickname "LoVe" for the two unlikely lovers.
Six years after its cancellation, fans raised $5.7 million on Kickstarter to see their favorite sassy sleuth back in action, resulting in a 2014 movie that fueled the saga of LoVe and reignited their sexual tension. Now, 15 years and another tumultuous season later, Logan and Veronica finally tied the knot— only for Logan to be offed just minutes after the nuptials. To say some marshmallows are upset would be the TV understatement of the year.

@BornCancelled @susanmichelin @IMKristenBell @jason_dohring @RobThomas I know it's hard for male TV writers to unde… https://t.co/w02wkGFsan

— LindaPB (@LindaPB) 1563708957.0
Good morning to everyone, except Rob Thomas. #VeronicaMars https://t.co/JQcoStlvuK

— R. (@R.) 1563777627.0
What upsets me the most about the shit show that is the VMars reboot is how 95% of the promotion was based around L… https://t.co/q9eGEu4is3

— Elle Jae💚#IDONTMIND (@Elle Jae💚#IDONTMIND) 1563621275.0
Warning: #VeronicaMars spoilers Rob Thomas finally spoke out on THAT twist. And his reasoning feels incredibly se… https://t.co/LyL40isK70

— Erin Crabtree (@Erin Crabtree) 1563815225.0
Although the quick one-two of marriage and death might have had a rushed execution, you can't help but balk at the overreaction from fans. Longtime fans have given up on the show, turning their backs on creator Rob Thomas for good. Some have even called him sexist and the writing lazy. For me, a strong reaction of any kind is a good sign; indifference is the enemy of fiction. I'd also argue that one character should not make or break a show. But in all the excitement, some may have missed the clues dropped by Thomas and Bell; and clearly, fans' failure to crack the case left them feeling blindsided.
But we can't say we weren't warned. Before season 4 debuted, Thomas tweeted, "The movie was nostalgic. The Hulu limited series isn't going to be. Hardcore So-Cal noir. One big case...This is a detective show." Bell even chimed in on the press tour, stating, "You might not want this version, but you do need this version."
It should've been clear that this was no longer the CW's Veronica Mars, nor would the season serve up a double-scoop of fan service like the movie did. As Thomas told TV Guide, "The show started out as sort of a teen soap-noir detective show hybrid. And in order for us to keep doing these, I think it needs to become a detective show—a noir, mystery, detective show—and those elements of teenage soap need to be behind us."
It was the right call. LoVe's relationship was just as much a ticking bomb as the explosive that killed Logan, and Veronica's tendency to emotionally manipulate Logan early in the season proved it. Drawn to the bad boy version of Logan from seasons past, the writers made it clear that Veronica was baiting him to lash out, despite his efforts to put his demons to rest. He worked overtime to overcome his traumas and be a better man for her, but Veronica remained hardened by her own past. Her initial rejection of Logan's proposal and her inability to confront their problems at his request is textbook Veronica: Trust is difficult for her, so she stays guarded. In sum, she's deeply flawed.
The DNA of the show needs to expand to move forward—and Veronica needed to be separated from Logan to do that. A season of couple's therapy isn't compelling television, nor is Logan's perpetual on-call status for the military. Veronica is now a woman in her 30s, and without Logan she can dig elbow-deep into her next case as a workaholic with severe trust issues, a passion for justice, and an extensive taser collection. Without Logan, her fire will burn brighter than ever.
It's uncertain if Veronica Mars will fight, scratch, and claw its way to a fifth season. If it's anything like its namesake heroine, it will. But the polarized reaction to Logan's death draws a definite line in the sand. There are those with fantasies of LoVe who refuse to let go of the past, and there are realists who can accept a necessary evil if it means more of the show they love. Veronica is most compelling when she's fighting from the bottom. Like so many classic noir heroes before her, Veronica is better as a closed-off, emotionally-stunted pessimist, with a soft marshmallow heart deep inside. She's the underdog we root for because she never gives up. But, as in all great fiction, the protagonist can't have everything she wants, and as viewers, neither can we.
---