Culture Feature
Raymond the Smug Cat and the Dark Underbelly of "Animal Crossing"
Raymond's popularity sheds light on a bizarre underside of the Animal Crossing fandom.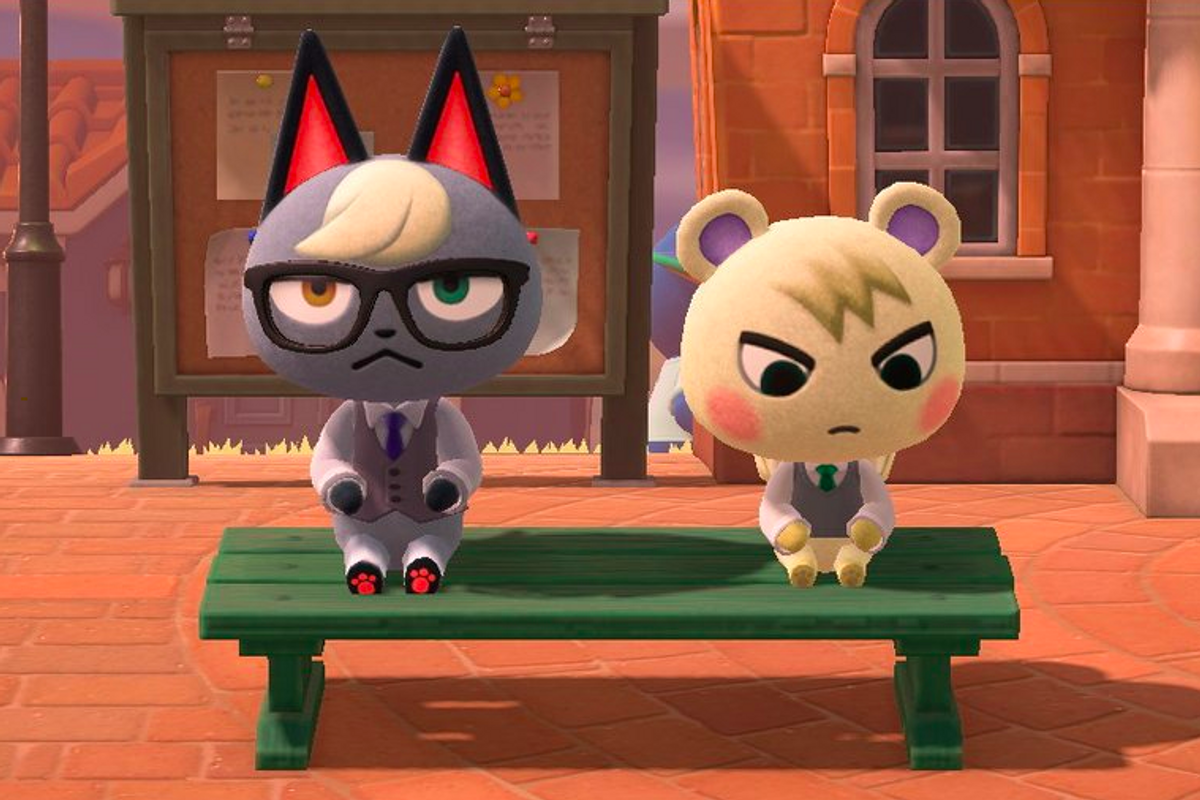 Nintendo
Raymond is a smug cat who highlights his heterochromatic eyes with hipster glasses.
He is essentially the same exact character as every other Animal Crossing villager with a "Smug" personality type, but again, and this is very important, Raymond is a cat with heterochromatic eyes and hipster glasses. As such, he has completely broken the Animal Crossing community.
---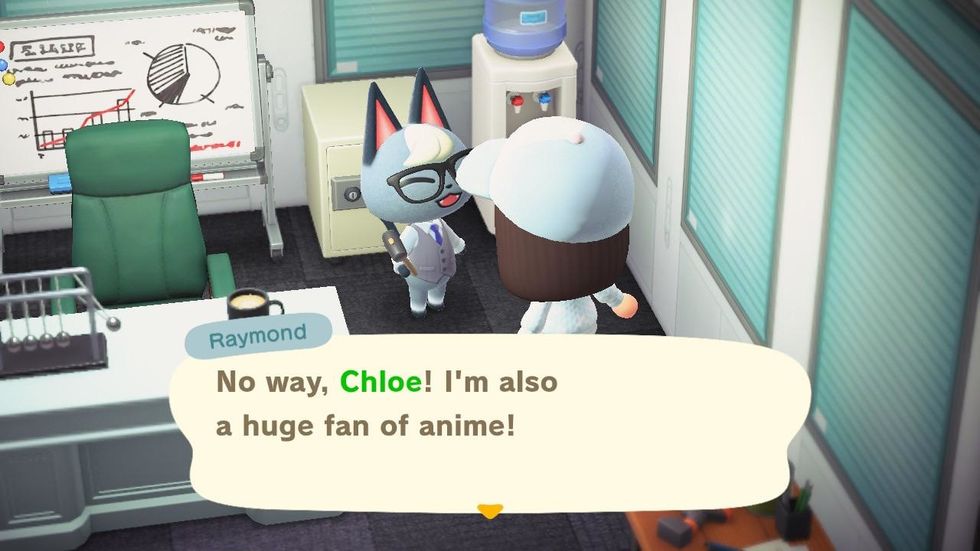 https://www.reddit.com/r/AnimalCrossing/comments/fsj0iq/raymond_loves_anime/
It's nearly impossible to step foot into any Animal Crossing-centric corner of the Internet without seeing dozens of posts about Raymond—love posts, backlash posts, endless Raymond memes. But there's more to Raymond's popularity than simple fan posting.
Raymond's popularity also sheds light on a bizarre underside of the Animal Crossing fandom—a virtual black market characterized by backdoor deals and fictional animal trafficking.

To be clear, "selling" Animal Crossing villagers is not unique to New Horizons. Since 2012, certain New Leaf forums have provided spaces for players to offer up desirable villagers (or "dreamies," as the community refers to their favorites) in exchange for in-game currency. Back then, villager trading was a somewhat complicated process that required players to wait for the targeted villager to randomly decide to move. Afterwards, the buyer would come to the seller's island on the villager's move-out date and talk to the moving villager, which would lead that villager to move to their island.

Then Animal Crossing amiibo cards came along and changed everything. With an Animal Crossing amiibo card, all you had to do was scan the card of your favorite villager and they would move to your town. Popular villagers could be endlessly generated without any need for trading or waiting. Outside of people exchanging rare items, the player-based New Leaf economy largely died.
But New Horizons is significantly more popular than New Leaf ever was, and while Animal Crossing amiibo cards are still supported, they're also out of print (although set to be reprint later this year). This has resulted in an insane demand for the cards on eBay, driving the prices of popular villager cards up anywhere from $30 to $100 each. Still, once in possession of a villager's amiibo card, the player has unlimited access to that character forever. And perhaps even more importantly, using an amiibo card in Animal Crossing: New Horizons allows you to select which villager you want to move, anytime you want. That villager will then immediately start packing up their house ("in-boxes," as the Animal Crossing community says), making them available to "sell" at a moment's notice.
This brings us back to—you guessed it—Raymond, the smug cat. New Horizons has eight brand new villagers who don't have amiibo cards, and the most popular amongst them is Raymond. The fact that there's no Raymond amiibo card means that he's impossible to get without someone naturally encountering him in-game first, causing the player-based Animal Crossing black market scene to re-emerge with a vengeance. Traditional forum posts are a thing of the past. Now, entire online storefronts like "Nookazon" exist for people to list their Raymonds (and anything else in the game, too) for bidding wars.

Moreover, the Turnip-based "Stalk Market" has generated a massive influx of bells for many active Animal Crossing players, making the game's primary form of currency worthless in most player-to-player transactions. Instead, the market now revolves around Nook Miles Tickets, which allow players to travel to deserted islands to farm resources and potentially encounter new villagers.
Ultimately, all of this, largely driven by demand for Raymond and a few other "dreamies," has resulted in a bizarre cycle wherein a player can sell Raymond for 1000 Nook Miles Tickets, giving them 1000 more chances to hop deserted islands in search of...more Raymonds. Rinse and repeat. Oh, and lest anyone think there's no potential for profit, plenty of eBay accounts now sell "genuinely encountered" Raymonds at $10 to $20 real-world dollars, with hundreds of sales.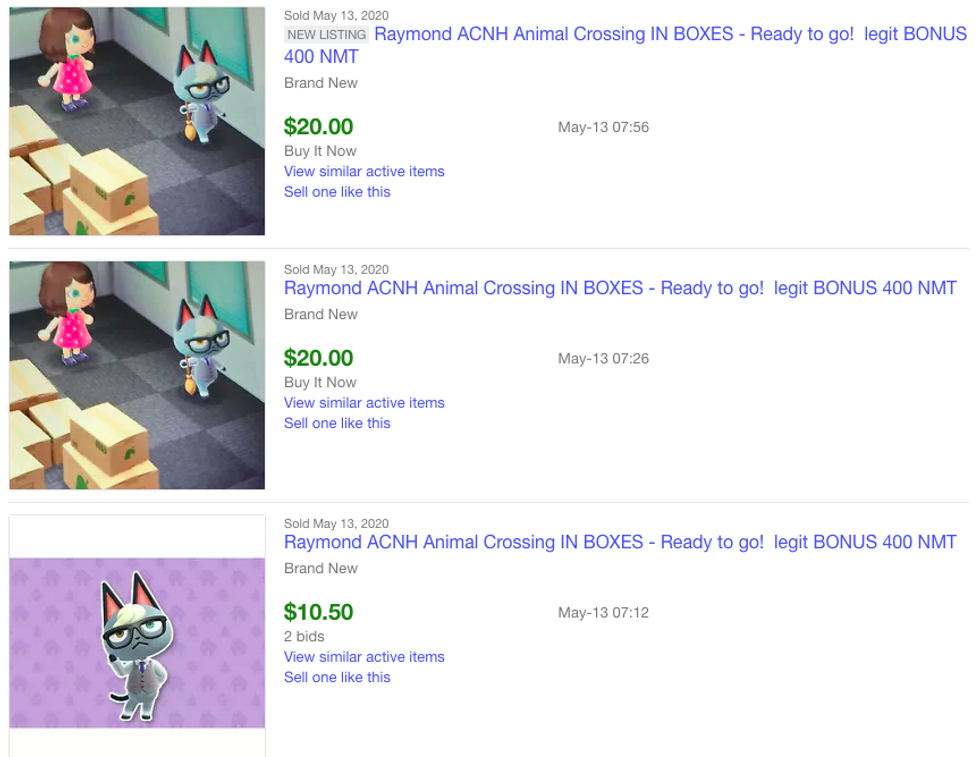 On one hand, Animal Crossing is a video game, and all of the villagers are virtual bits of data without real feelings. But at the same time, something about the whole Animal Crossing villager black market scene feels...wrong.
Animal Crossing is designed to be a relaxing experience revolving around slow-paced, real-time gameplay and forming friendships with the animals on your island. Its widespread use as a social outlet and means of creative expression stands testament to its spirit as a game meant to be experienced.
Of course, with a game as open-ended as Animal Crossing, different people are bound to find different ways to experience it. Still, it's a sad reflection on humanity that in a game so heavily geared towards relaxation, such a large subset of players have taken it upon themselves to build a virtual, hyper-capitalist meta-economy–turning the cute, friendly villagers that the game intends you to form connections with into commodities. Meanwhile, "ugly" villagers are oftentimes treated like dirt, abused and ridiculed despite their personalities being exactly the same as their more conventionally attractive alternatives. For many within the Animal Crossing community, creating a perfect island with top-tier villagers becomes a status symbol instead of a personal goal dictated by personal preferences.
Animal Crossing is a game, sure, but the way players have twisted it seems to speak to something dark, and maybe even sad, at humanity's core. Are we truly unable to bond and relax outside of the reaches of greedy, hierarchical ideologies? Or are we doomed to endlessly chase after Raymond the smug cat?
---
Want to READ MORE?