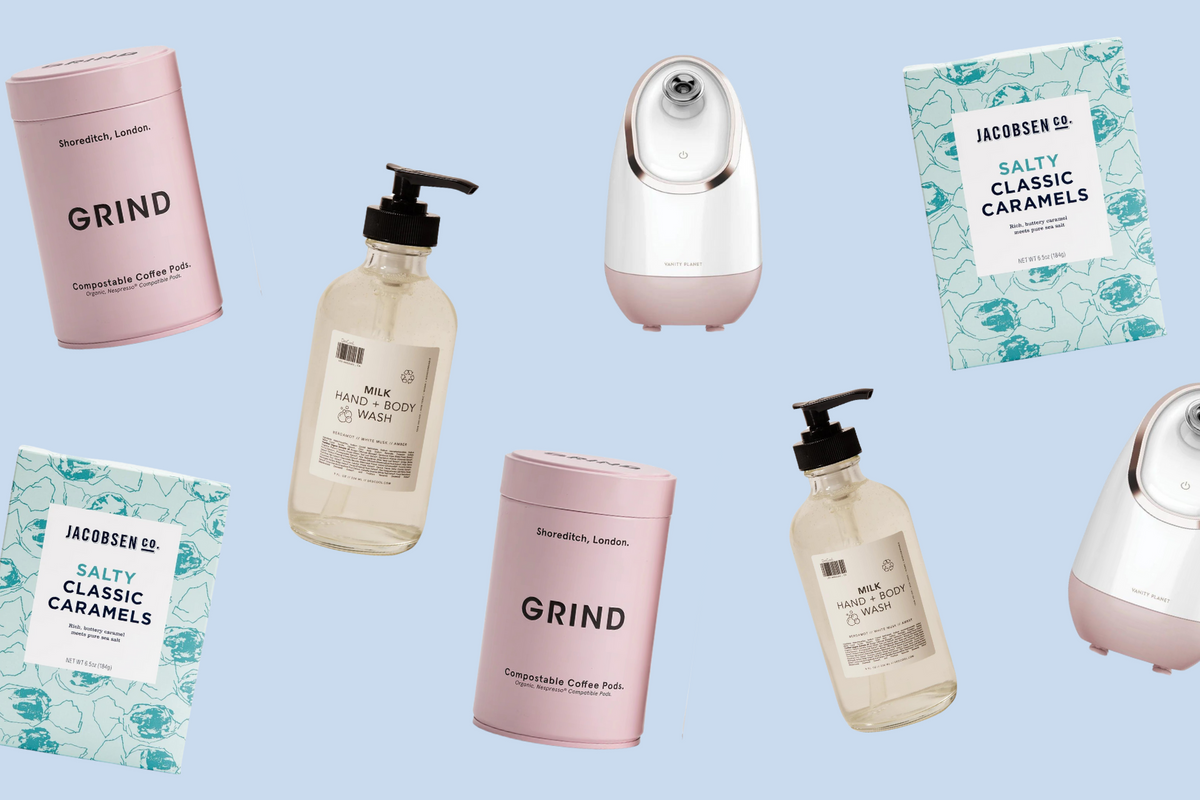 When I was in fourth grade, there was this boy who would always say "Happy White Rabbit Day" on the first of the month. And even though I just thought he was weird running around saying 'rabbit rabbit' for hours on end, I silently say it to myself every time the first of the month comes around.
---
While I had no idea this was actually a real saying – see FDR and apparently, even George Washington (am I the worst American?) – the phrase 'rabbit, rabbit,' or wishing some a happy white rabbit day, is the equivalent of wishing them luck.
Now that March has officially come to a close, it's time to wish each other endless rabbits and take a look at some of the best things our editors bought last month.
Jenna
Grind Coffee - As an LA girlie working on NY time, my mornings are nothing short of a mad dash. In a perfect world, once that alarm goes off I'm making coffee, washing my face, and taking my supplements. In this world, I'm jade-rolling the sheet creases out of my face with my camera off and making espresso.
Grind Coffee delivers compostable coffee pods that are compatible with the original style Nespresso machine. They have eight blends, and ship directly to your door – and yes, I am subscribed. I mix and match my order with their Light, House, and Dark blends. I even drink it black it's that good and god damn it, the packaging is millennial pink which I simply cannot say no to.
LKC
Jacobsen Salt Co Salty Caramels - This is so rogue, so forgive my sweet tooth (no pun intended since I'm in desperate need of a tooth extraction as I write this), but I have to shout about these from the rooftops. I love a sweet treat. Never do I finish a meal and not think: "now I need something sweet." I balk whenever my dinner or lunch companion declines to see the dessert menu. But now the dessert menu at mi casa is the jar I have begun to keep stocked with these salt caramels. They're buttery smooth and the perfect balance between sweet and salty. I feel like a little old lady, handing these out to guests and keeping them in my pockets. But believe me, they're worth it.
DedCool Milk Hand Wash - I was a cultish buyer of The Laundress in their heyday, but now their reign is over thanks to BacteriaGate or RashGate — whatever we're calling it. Like, ew. Looking for a nice detergent that wouldn't do me literally dirty, I discovered DedCool and their fun but sophisticated scent won me over. What I didn't expect was my love for their new hand wash. The scent "Milk" is addictive and it doesn't make my hands super scaly. Win-win.
Jai
Vanity Planet Aira Ionic Face Steamer - You can laugh at me all you want for buying into every skincare gimmick on the market…but this one changed my life for the better. There are tons of benefits to facial steaming besides feeling like you've stepped into a luxurious spa. It helps aid moisturization, cleanses your pores, clears breakouts, and helps your skincare absorb better. Use it during the serum step of your skincare routine, with a face mask, or just on clean skin. It's my favorite way to unwind at the end of the day. Catch me glowing without having to pay for a facial.