MUSIC
At Kings Theatre, FKA twigs served crowds the most emo pole dancing music of all time.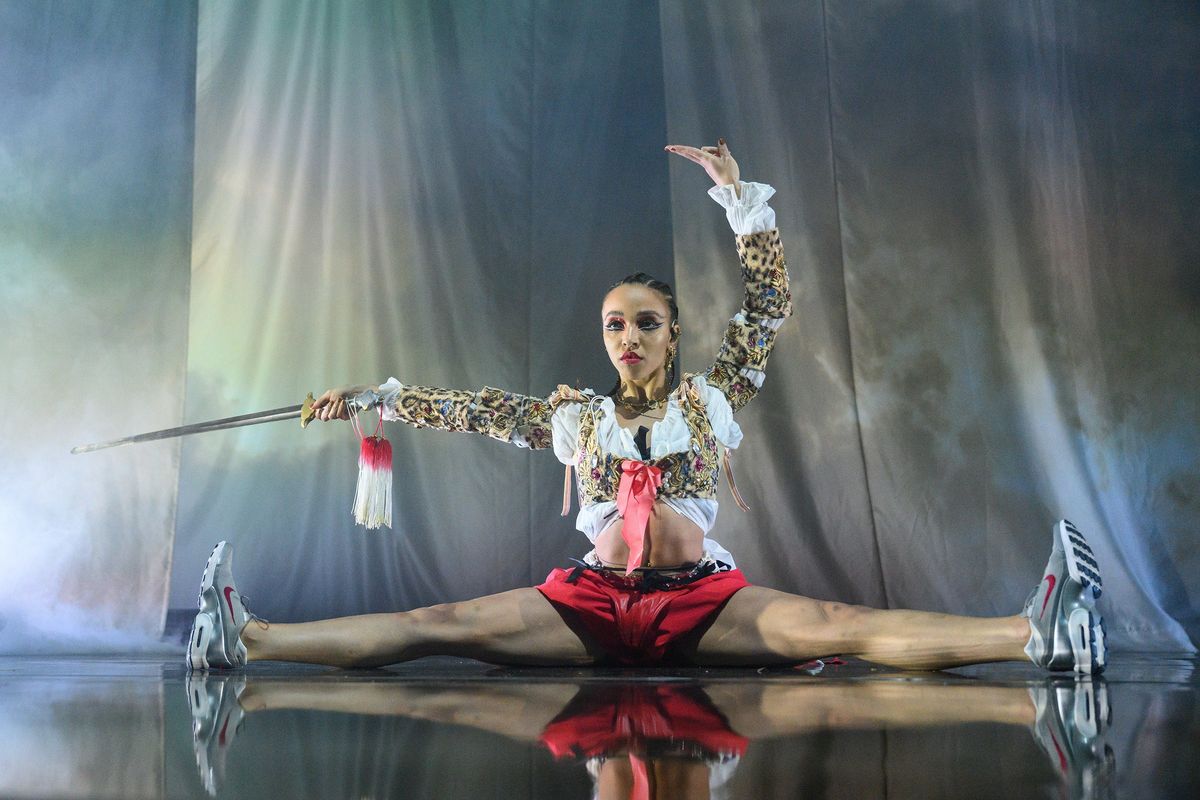 At Brooklyn's Kings Theatre, FKA twigs performed magnificent physical and vocal feats and mesmerized a massive audience with her technical acumen and emotional intensity.
During the show, she tap-danced, pole-danced, hit operatic high notes, and even demonstrated an incredible sword-fighting sequence during a musical interlude in the middle of her song "sad day." The show consisted of innumerable costume changes and intricate choreography, mirrored by four talented backup dancers and soundtracked by three impressive instrumentalists. Though she began the show solo, the dancers and musicians slowly became more and more incorporated into the act until they all moved together as a single entity, eventually ending the performance in an embrace.
FKA Twigs - Sad Day (Live with Sword Dance) Paris We Love Green 2019 www.youtube.com
Twigs was promoting her new album, Magdalene, and she fully leaned into its theatrical and biblical imagery, sporting a variety of traditional, religious, and regal costumes as well as barely-there lingerie for her pole dancing routine. Throughout it all, there was not a single misstep or missed note, but there was one underlying dissonance: How could Robert Pattinson possibly have let someone like twigs slip away? The kind of desperation in twigs' Magdalene songs also seems to be asking this very question. If I can reach such heights, and inspire such devotion from audiences, she seemed to be screaming throughout the show, why don't I do it for you?

Though undeniably impressive, the show may have been better suited to a smaller theatre. During moments of silence, audience members kept screaming and shouting up to the stage, distracting from the show. Then again, it's hard to ask an audience of that size to keep quiet, especially when witnessing someone with twigs' star power.
FKA Twigs - "Mary Magdalene" + "Home With You" LIVE! from the House of Blues Boston 11/19/19 www.youtube.com
Perhaps aware that she wouldn't be able to get a word in edgewise without someone shouting, twigs only spoke to the audience a few times, once to greet the crowd and once to ask a series of pointed questions. "How many people came here alone? How many people are single? How many people have had their hearts broken?" she asked, waiting for hands to raise between each question, laughing at the enthusiasm of New York City's affirmative responses. "Well, I have."

It was a moment of rare intimacy and rawness which reminded the crowd that, in spite of her superhuman physical and artistic abilities, twigs struggles as much as the rest of us with matters of the heart.
FKA twigs - Cellophane www.youtube.com