In an old marketplace, a story unfolds. Of a bride who threw herself down a well. Of the gargoyle who guards that well. Of the Badkhn who told jokes at her wedding. Of the man she was to marry. Of the man who she truly loved. In this story, the world of the supernatural and the world of the living intertwine for a night, as one man attempts to raise an army of the dead and turn the earth upside down. Spirits fly out of people's bodies. Giants appear. It seems that anything is possible in A Night in the Old Marketplace.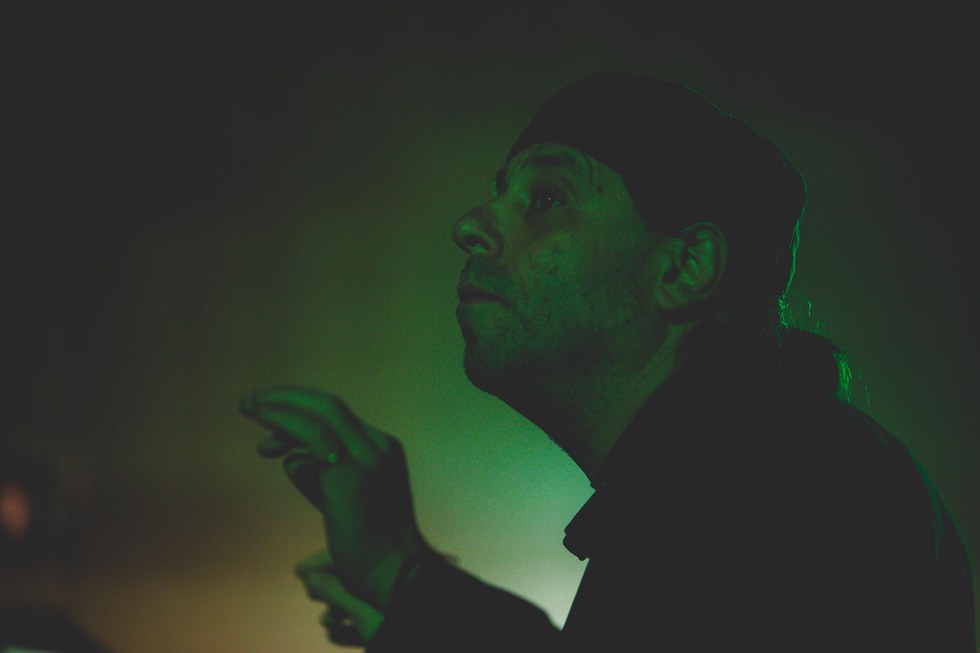 Photos by Victor Nechay
This is the new musical being developed by Alexandra Aron, Frank London, and Glen Berger (Creator/director, composer, and lyricist/book, respectively). It is an intriguing new piece, based on I. L. Peretz's Bay Nakht Oyfn Altn Mark, and performed in concert as part of the National Yiddish Theatre Folksbiene. Blending traditional Klezmer structures with a mixture of more modern musical modes, Frank London's work is astounding. The thought of an evening of traditional Yiddish tunes might sound dull to many, but any doubts are quickly cast asunder by London's intense overture. A tuba (Ron Caswell), percussion (Aaron Alexander), trumpet (Frank London), and accordion (Art Bailey) are accompanied by blistering electric guitar licks (Brandon Seabrook). They come together to create a musical world that feels rooted in tradition, and, at the same time, apocalyptically modern and supernatural.
Lending their vocals to the cause are Judith Berkson, Steven Hrycelak, Manu Narayan, Sofia Rei, and Lorin Sklamberg. Each is a formidable talent as a soloist, and as a unit they are indistinguishable from a full Broadway chorus. As they sing of bridal woes and the specters of regret, the watcher is transported to a Tim Burton-like world of dark wonder. All of this is woven together by Edgar Oliver and his intriguing storyteller's baritone. Glen Berger's text is that written by a man with a complete mastery of macabre tone. As performed here (accompanied by gorgeous claymation visuals), it is a brilliant tale of the melancholic and subtly sadistic.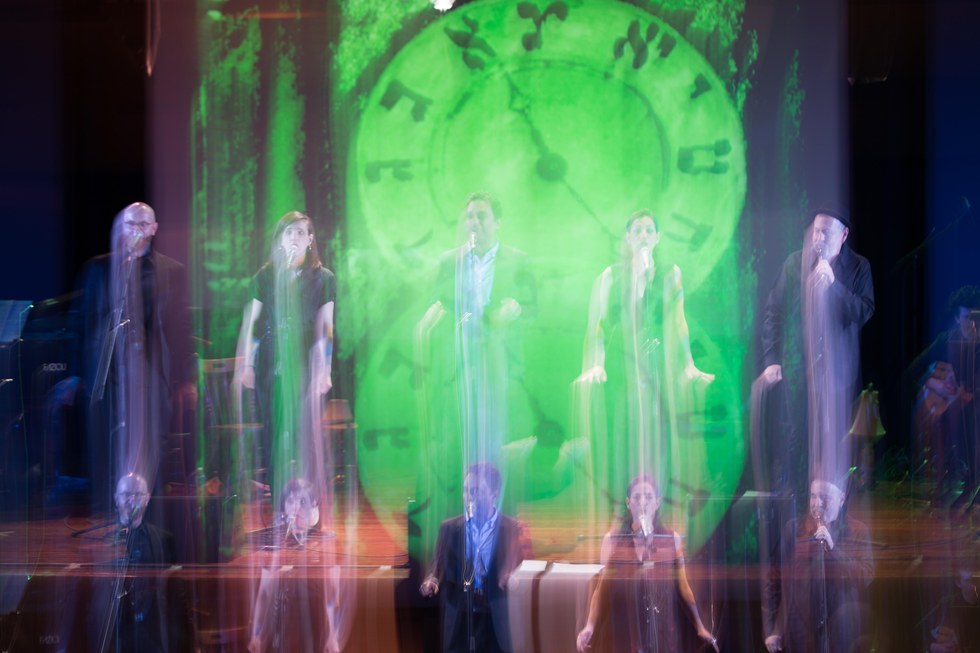 Photos by Victor Nechay
Of all the work presented so far this year by the National Yiddish Theatre Folksbiene, A Night in the Old Marketplace is likely the standout. It is evocative, moody, and occasionally explosive. In its current concert form it is a formidable piece of work. One can only dream twisted dreams about what this might look like as a full production. Aron, London and Berger have built the foundation of something that deserves the right to move on to the next stage of evolution. With notes of Neil Gaiman, old wives tales, Yiddish heritage and Hot Topic psychedelia, this is a show in the making that demands your attention. Its short concert run has now concluded, however, the soundtrack can be purchased here, and more details about its development can be read here. Happy listening.