MUSIC
Improv Group On The Spot Just Dropped the Raunchiest, Craziest, and BEST Song of the Summer You Will EVER Hear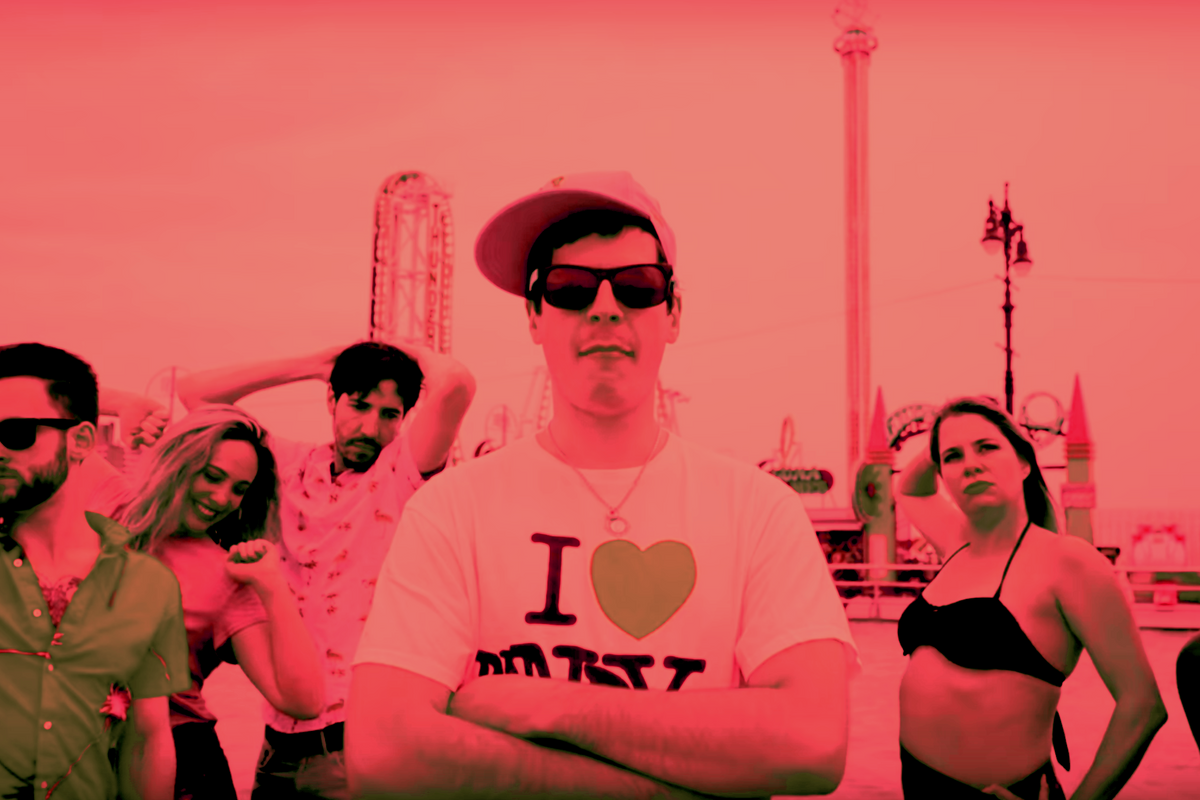 On the Spot
It's loud, it's proud, it's the NSFW song of the summer you've been waiting for...
On The Spot, an NYC-based improv troupe, has come up with this Lonely Island style summer anthem, and it is something special. Featuring gratuitous language, ridiculous rhymes, killer breakdowns, and an over-the-top embrace of all things Summery, it is both unstoppably hilarious, and just a damn fine party jam. "The song was born from a full cast rehearsal which was guest run by the amazing Rachel Rosenthal," says On The Spot director Patrick Reidy, "She encouraged us to create choruses that were as dumb and simple as possible." The rest is all on the screen.
The video features the On The Spot team jamming out on Coney Island beach in a variety of increasingly gratuitous scenes to increasingly gratuitous lyrics. The bar is set high by Andrew Whitbeck chanting the opening chorus, "F*** yeah it's summer, got my T-shirt on, and I'm going to the pool, and I wanna get it on," which immediately sets this party to eleven, and won't ever let it come down. First up is Pat Reidy rapping on the boardwalk, shirt blowing in the breeze, chest tattoo out and proud, telling wintertime it can go do something you can't bring up at your grandmother's birthday.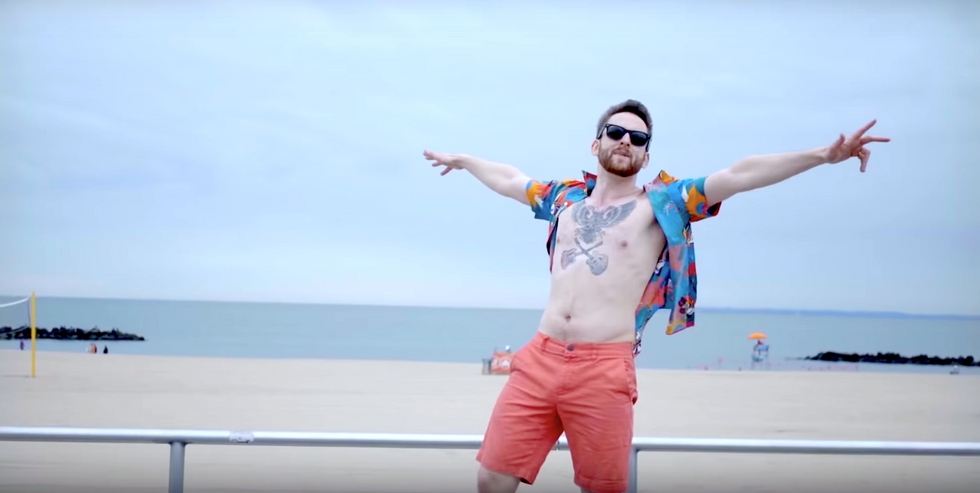 At the beach with raunchy lyrics
This is followed up by Chris Catalano making a Harry Potter innuendo you will never be able to un-hear. Then Andrew Del Vecchio jumps in on unnecessary acoustic guitar, and performs what may be the most lit version of "Wonderwall" ever. La Dynasty shows up and drops some of the filthiest fire since Fresh Kills was the subject of an arson attack. Hot on the heels of that is Nathan Armstrong breaking it down in seductive Boyz II Men fashion (and also dumping you because it's summer). The chorus then comes back in, and just when you think it can't get any more insane, Thomas Burns Scully emerges from the ocean, Jason Momoa style, and rips in to a solo. The chorus repeats forever as awkward white men and gorgeous women dance on the sand until the end of time.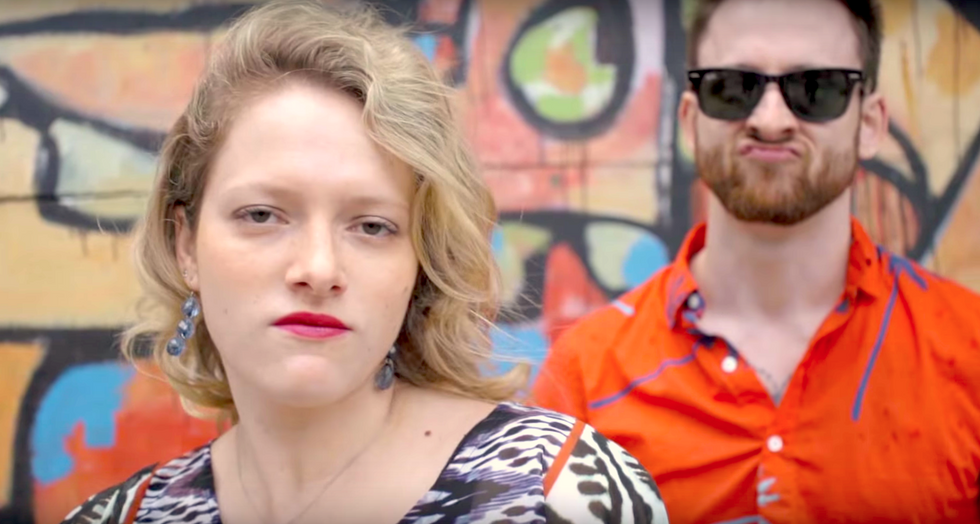 Summer just got a little crazier
If you have ever listened to The Lonely Island and felt great about your life, then this track is for you. If you like over-mixed, over-autotuned, Pitbull style, takes-itself-way-too-seriously club anthems, then this track is for you. If you used to sit in your room and play Weird Al on repeat, then this track is for you. If you like smartly written (but hugely raunchy) lyrics about the middle three months of the year, then this track is for you. Watch the video multiple times and you will pick up new details each time. It's that good.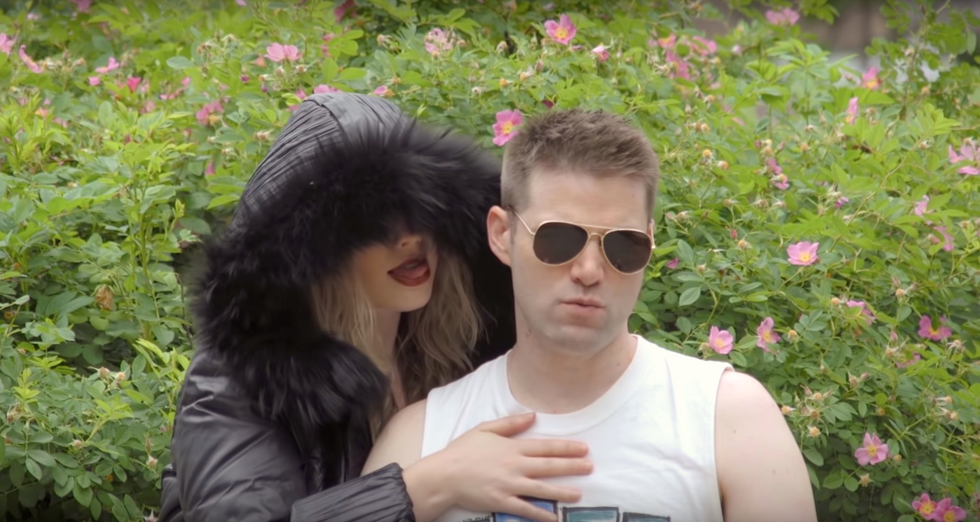 Your summer single
On The Spot isn't normally an unstoppable party juggernaut though. While they definitely do know how to pump up the jam and worship the gods of summer, their regular grind is creating improvised musicals every Monday night at the Broadway Comedy Club. Their show has been critically lauded over and over again, and has attracted guest stars from the heights of Broadway. If you liked this video, you will love this show. Go see it.

---
Listen to F*** Yeah It's Summer

From Your Site Articles
Related Articles Around the Web