Culture Feature
The Gorilla Glue Lady's New Hair Care Line Is an Inspiration
Tessica Brown's success points to the upside of making terrible decisions.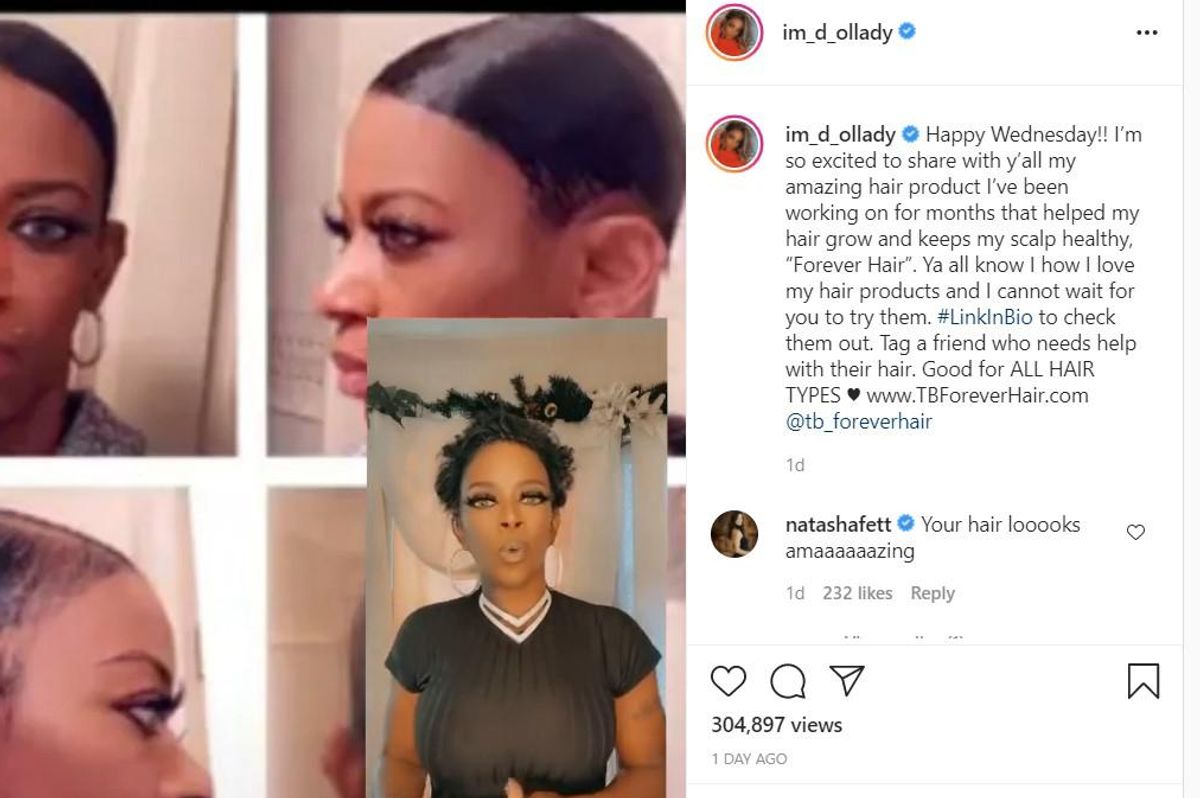 Back in February, Tessica Brown become an overnight celebrity when she shared a video on TikTok explaining the lead-up and the aftermath of her decision to put industrial adhesive in her hair.
Having run out of her usual firm-hold hairspray, Brown used a bottle of spray-on Gorilla Glue to hold her hair in place — ignoring the various safety warnings that should have made it clear what a bad idea that was. Weeks after the fact, she had still been unable to remove the glue, which had transformed her hair into a sort of thin laminated helmet permanently attached to her scalp.
---
At the time, Tessica Brown's story seemed to have reached a happy ending when a surgeon offered to remove the glue from Brown's hair and scalp — which involved a lengthy procedure — for free. She could finally lay to rest the embarrassing chapter of her life when one of the worst decisions she ever made accidentally launched her to the heights of viral fame.
Except that it turns out she had no interest in putting it behind her... Ever since the incident, Brown has been selling hoodies and t-shirts immortalizing the image of her glue-hardened hair, and emblazened with the motto "Bonded for Life." And now she's taken the next step, releasing her own line of hair care products called Forever Hair.
The line includes an edge control gel and, of course, a "Forever Hold" hair spray for "firm, flake free hold w/ lasting shine." But there is also a "growth stimulating oil" which Brown claims to have formulated herself with the help of professionals in order to quickly and naturally regrow her hair in the months since she lost most of it to one terrible idea.

It remains unclear why anyone looking for new hair care products would place value in the endorsement of a woman who coated her head with Gorilla Glue. But if this works out for her, Brown will be an inspiration for every person who's ever made a terrible decision about their bodies.
Did you put nail polish on your teeth to avoid a trip to the dentist? Congratulations on your new line of hime dental equipment, and the whitening mouthwash that doubles as nail polish remover!
And what about that at-home microblading you did with a tattoo gun? Not only is your accidental unibrow plastered on t-shirts and baseball caps, but now you can have your own line of brow fillers and a branded at-home tattoo-removal laser!
If this works out for Brown, and this kind of foolishness becomes the quickest way to escape the endless, thankless toil of labor under late capitalism, we won't blame anyone for trying to get a tan from their toaster oven.