When I first realized I was bisexual, I didn't know any girls who liked girls in real life.
I grew up in a community that was supportive of gay rights in theory, but queerness still felt shrouded in discomfort and otherness.
Because of this, every morning of eighth grade I'd wake up, stumble out to the kitchen table, and wish it wasn't true. I wanted to erase these troublesome, fluttery feelings I had for the pretty girl I'd seen on the dance floor that summer. I wanted to wake up and be straight. I wanted to erase myself.
I wonder how much of a difference seeing a video like Hayley Kiyoko's "She" would've made in my life, had it come out at the time. "She" is a pristine pop song from one of the most prominent lesbian artists making music today, but it's also a reminder that even though gay rights have become accepted by the mainstream media, discovering your own queerness as a teen can be incredibly scary and isolating.
It can also be a source of power and inspiration. For the "She" video, Kiyoko dons a baby butch outfit, complete with a wig that resembles the short emo-kid haircut she had at the time. At first, she's awkward and uncomfortable, but eventually she finds the confidence to pick up a guitar, and soon enough she's a rock star jamming out as crowds scream her name.
Hayley Kiyoko - She [Official Video] www.youtube.com
"I actually got emotional putting on the wig," she told Teen Vogue. "It brought on a wave of feelings and reminded me of how insecure and hard I was on myself during that time. I felt a wave of pride as well knowing I overcame my fears and I was now celebrating that moment. All my insecurities are the reason why I became me."

The video will be relatable to anyone who's ever felt the pain of being stuck in the closet, either by their community or by their own internalized homophobia or both. "When I was younger, I hid so much of who I was, and secretly felt so different and alone," Kiyoko added. "But I was really inspired by artists like Tegan and Sara and Lance Bass; they made me feel like I could turn my dreams into a reality. Having representation is so important and means so much to the future generations."
Despite increasing levels of widespread protection and acceptance, LGBTQ+ kids still face many challenges. According to the Human Rights Coalition, 4 out of 10 American teens ages 13-17 feel they live in a community that does not accept queer people. LGBTQ+ kids still face high levels of violence, being twice as likely as others to be physically assaulted. The survey also found that although 9 out of 10 kids say they're out to their close friends, 92% said they've heard negative messages about queerness.
These messages can have deadly consequences. According to the Trevor Project, suicide rates are three times higher for LGBTQ+ youth. Things are even more difficult for transgender people, who receive less acceptance and support than cisgender people; according to the same study, 40% of transgender adults say they've attempted suicide.
Queer people of color experience unique challenges as well, facing high levels of poverty and intersecting challenges. For example, "disproportionate numbers of LGBT people of colour live in places that lack any explicit state-level protections for LGBT people," said Ineke Mushovic, director of the Movement Advancement Project. "This means that LGBT people of colour face a high risk of economic harm from anti-LGBT laws."
In spite of the accessibility of these statistics, it's easy to forget how harrowing the experience of growing up queer can be—particularly for kids in situations wherein homophobia is a reality and other issues like poverty are at play. Though 77% of the kids surveyed by the Human Rights Coalition say they know things will get better, that doesn't mean that queer and trans kids should have to suffer. And until every single kid can joyfully embrace who they are in a safe and loving home, the work isn't done.
To make this work happen, we need not only to promote surface-level love for queer people. We need to address the forces that lock queer (and non-white and non-able-bodied) people in loops of poverty, that permit conversion therapy, that codify employment and housing discrimination, and that prevent trans people from using their chosen bathrooms and accessing the health care they need.
Though these realities are painful, it doesn't all have to be about suffering. As Kiyoko said, visible and high-profile examples of queer joy and acceptance can be invaluable.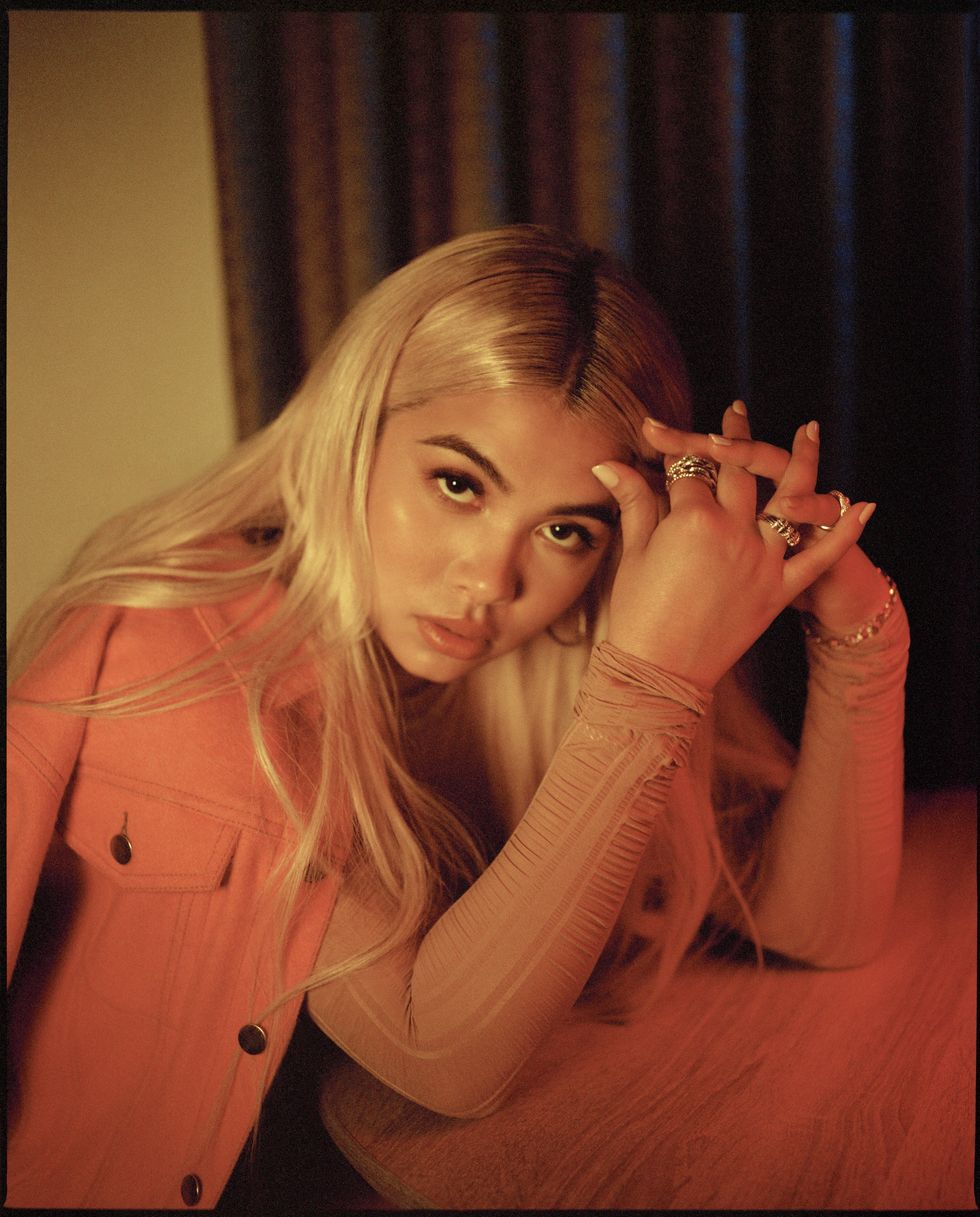 press.atlanticrecords.com
Personally, I've come a long way since the day I first came out to my Siberian husky, in private, because I was too scared to consider whispering the words to another human. For me, getting to know other bisexual girls helped me learn to accept myself—shout out to the girl from summer camp at age 14 who casually said "I'm bi" in a meeting and changed my life—and over the years, I learned to truly appreciate my sexual identity. Nowadays, when every other person I meet seems to be queer (I do live in New York), it's so easy to forget about those years of shame.

Hayley Kiyoko's video sent memories of that time flooding back. It reminded me that I made it out—and that there's still work to be done to make sure every kid can do the same.
Listen to I'm Too Sensitive For This Sh*t here, and check out her tour dates here.