sponsored
How Clothing From Le Tote Cured My Closet Clutter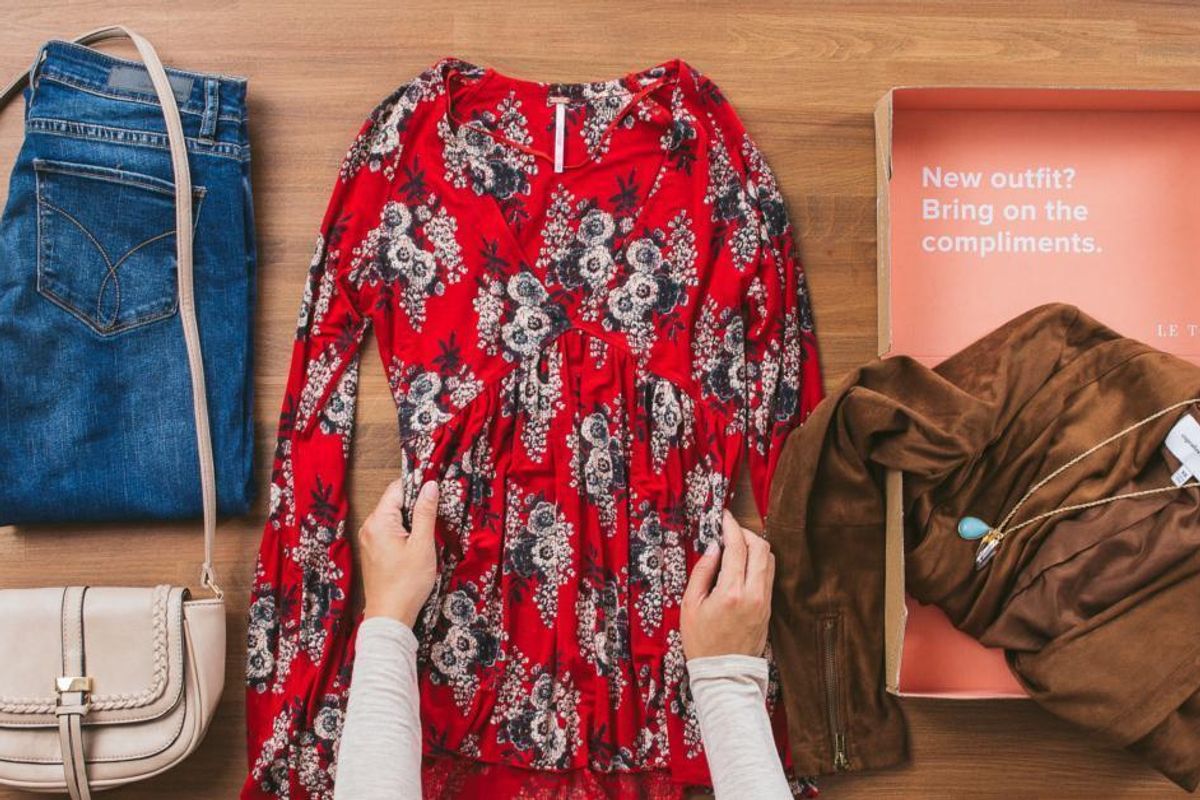 I've always had a problem hanging onto things for much longer than I really needed to. Especially, when it came to clothes. When I was younger, I always had music and dance recitals, soccer games, and cheerleading competitions. All the costumes, uniforms and special attire I had to wear for those events were sentimental for me, so I would keep EVERYTHING to keep my favorite childhood memories alive. That habit stuck with me through high school and college from my prom dress to my graduation gown. Now at 29, you can imagine how that added up over the years!
I recently moved in with my boyfriend and it's been quite an adjustment to share space. Sharing a closet was our biggest wake up call. He's a minimalist and I'm, well, "sentimental." He has always loved my style but now realized I had so many clothes, almost half of them he said he's never seen me wear over the 2 years we've known each other. Was I a clothing hoarder?! He was totally right.
Not only were we adjusting to our newly shared space, we were never home at the same time.. He just finished his Master's program, so he was spending most of the time in meetings and adjusting to city life, and I just got a promotion at work. I wanted to be supportive and make our home comfortable for the both of us. So I went through my closet over the next week, seeking through each article of clothing to determine whether or not it was worth keeping or to donate it to The Bowery Mission.
After a long week of cleansing my closet and all my emotional attachment baggage, we now had a decent "his and hers" closet set up. We made so much progress. The next thing on my now anal retentive mind was how was I going to maintain my new closet. That's where Le Tote came in.
I was speaking with my coworker about the big move in with my guy and my concern about cluttering up our shared closet space. She told me it was similar for her when she moved in with her husband and understood the importance of respecting each other's space. She recommended I try Le Tote. For her birthday, her sister bought her a subscription to Le Tote, a clothing rental service. She said it was a big surprise to her since she's never used a service like that before, but she loved that she would have a nice, customized package waiting at home every few weeks. She said it would be perfect for me!
I went on the website and signed up for my first tote. Le Tote has brands from Lucky Brand and Nike to Vince Camuto and Nine West. I picked out a beautiful, flowy Free People skirt, 2 tops, a pair of Rebecca Minkoff earrings and a scarf. 3 garments and 2 accessories. Within the next week, my tote arrived! I loved all the items, especially the skirt. I kept spinning around the apartment in it and my boyfriend thought I was the cutest thing ever. After spending a few days with the items, I was ready to return them all, except for the skirt. I was keeping that skirt! For any items you want to keep, Le Tote offers a special discount off the retail price of the item. This particular item was nearly 40% off the retail price! Score!
Le Tote helped me try new clothes without having to worry about finding space to store them. I didn't even have to put them through the laundry either! I just folded up all of my items after I was done with them, placed them in the Le Tote return bag, and drop it in the mailbox. Easy! Le Tote helped me to keep my wardrobe refreshed without all the baggage. It's now kind of a big event when my Le Tote box comes in because my boyfriend knows he gets a private fashion show from me at least once a month. Now we're creating our own sentimental memories with my clothes together! From my boyfriend and I both, thanks Le Tote!
UPDATE: The folks at Le Tote are offering subscriptions starting at $39/month! Shipping is always free, so follow this link to order yours today!