CULTURE
How Social Media Changed Celebrity Relationships
Social media has ruined celebrity relationships and built empires— from Chris Pratt to Kim Kardashian, tabloid culture has risen to explosive, new heights via Twitter and Instagram.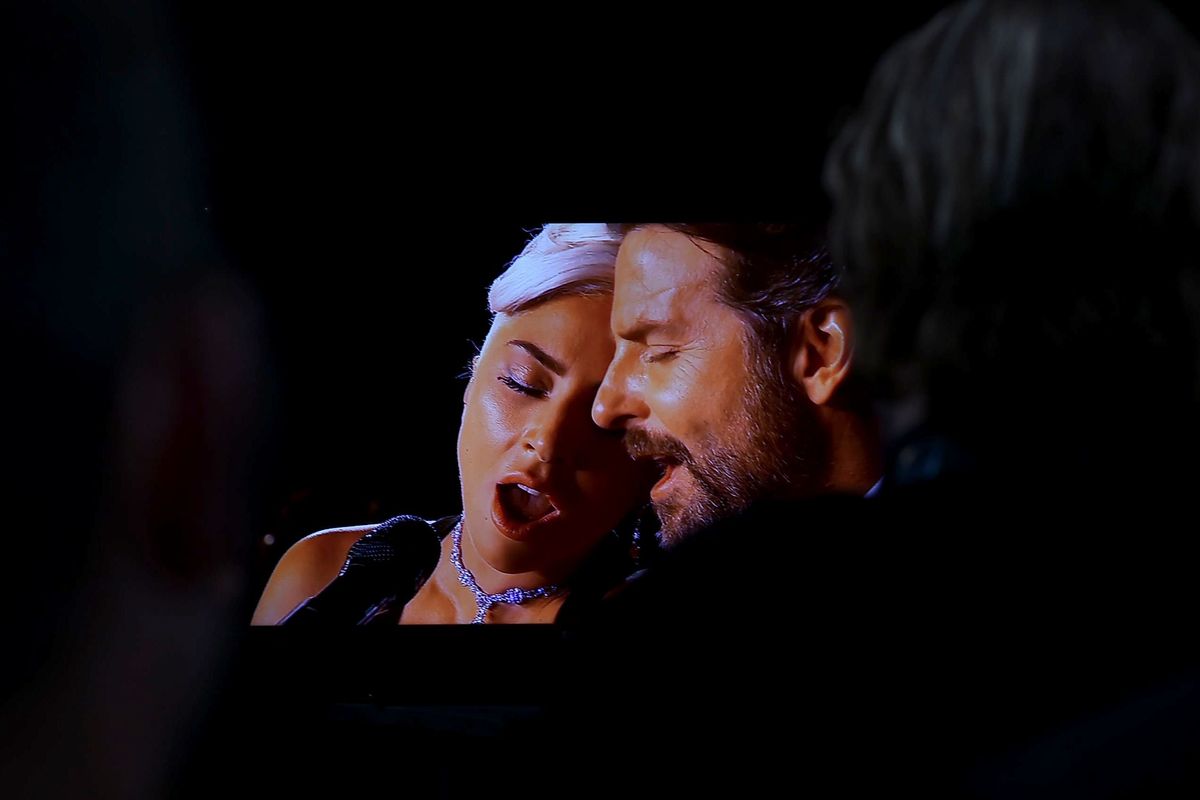 Photo by Matt Petit/A.M.P.A.S./Shutterstock
Irina Shayk and Bradley Cooper broke up after 4 years of dating, which included almost a year's worth of rumors about Cooper's friendship with costar Lady Gaga.
Gaga was eager to gush about Cooper, gazing breathlessly into his eyes anytime they were on a red carpet. Their on-screen love led to off screen speculation about their undeniable chemistry. A Star is Born's press run concluded with many awards and, honestly, has yet to entirely end. The pair's charm began to wear thin as people became annoyed by Gaga and put off by Cooper's hubris.
The movie's press run was reminiscent of older Hollywood tactics, when co-stars pretended to be in a relationship to promote their films and each other's careers. Nowadays, celebrity relationships can be mutually beneficial arrangements that not only increase the star's respective cultural relevance and fan bases, but offer the opportunity to building a corporate brand around their romance.
When famous couples do break up, fans experience a fraction of the star's heartbreak because of months or years of investment in the couple—following their relationships online, in videos, and on talk shows. One of the most notable couples in recent years to use social media to address their break up was Anna Faris and Chris Pratt. Anna posted a text message to her feed and Chris posted the same on Facebook, personalizing the PR announcement.
Social media has offered celebrities a way to directly talk to the public and vice versa. In return, fans can begin to feel like they know their favorite celebrities personally, beyond the voyeurism of magazine readers. Online, the public has a voice that intervenes in the real life relationships of celebrities. Now, social media allows fans to relentlessly weigh in on stars' personal lives with relative anonymity.

Months after her separation from her Pratt, Faris detailed her marriage's narrative, explaining how the rumors about her then-husband and his co-star, Jennifer Lawrence, made her feel "incredibly insecure" during the Passengers' press run, with tabloids constantly covering the chummy pair. The media's speculation over who is dating who can be rooted in truth, but can also have real world effects on relationships.
Similarly, rumors of a romance between Harry Styles and Louis Tomlinson percolated for a long period. In turn, fans' obsession about the two became paralyzing for the friendship. Back in 2017, Tomlinson commented on how their hyper-analyzed interactions ruined their relationship:
"It created this atmosphere between the two of us where everyone was looking into everything we did. It took away the vibe you get off anyone. It made everything, I think on both fences, a little bit more unapproachable."
The public's ability to comment whatever whenever online escalates the power of the media to insert themselves into celebrity relationships. The stampede of opinions from journalists and online trolls can be suffocating and destroy relationships, like the many who theorize to this day about Shayk and Cooper. Eventually, Lady Gaga told people to "f**k off" after being heckled, once again, about Cooper, a reaction that almost certainly came from a place of exhaustion from the constant rumors.
Meanwhile, celebrities in secure relationships are able to profit off social media by building their image around their personal lives. Chrissy Teigen became an internet sensation through Twitter, molding a career beyond modeling while expanding her family with John Legend. Last year, the husband and wife began starring in ads together, the first being for Google Duo. The pair even hosted A Very Legendary Christmas together on NBC, which proved the couple's immense marketability. Their relatability and online banter are easy selling points for those who care about a more down to earth, famous family.
Before the dominance of social media, the Kardashians were some of the first celebrities to utilize the platform to elevate their fame by connecting with fans and bringing them a step further into their "lives." At the time, Kim's relationship with Kanye was one of the first to demonstrate the possibilities for A-List influencers. Their relationship propelled Kim into another realm of celebrity and exhibited how the internet can heighten celebrities' reputations. Each Kardashian has been able to increase their visibility due to the people they date or wed. While that is not a new concept, the direct accessibility to the stars through our personal devices increases individuals' investment in following celebrities' daily lives. In the meantime, celebrities take advantage of their devoted fans. With the saturation of ads and promotional posts embedded in personal content, it can feel like one can't escape capitalism: Celebrities want us to conflate purchasing their endorsed products with being a supportive fan.
Unfortunately, the difference between social media and self promotion is becoming more difficult to differentiate. With the rise of social media, celebrity brands are more cultivated than ever, and the means of promoting those brands are through rumors and publicity about high-profile relationships rather than artistic work. The subconscious reckoning of tabloid culture manifests in a more personal, somewhat inescapable way which can ruin relationships or increase net worth, all while staying in a field of vision consumers can enjoy by taking toxic pleasure in gossip.